klia2 Kuala Lumpur is the Airport's Low Cost Carrier Terminal LCCT, opened in May 2014. Unlike its predecessor, passengers no longer have to have to worry about heavy rain and managing an umbrella, as all gates are served by aerobridges. The airport is well connected with various Transport options including road and rail services. It is also easy and convenient to transfer between KLIA & klia2 by shuttle bus and the KLIA Ekspres.
klia2 Kuala Lumpur
We've written a few pieces in klia2 in the past few years, most of which have been added to as things changed, though much of the basic information is the same.
This is an update of two earlier articles about klia2 which have additional basic information. Check the Airlines flying to Kuala Lumpur – those flying in to klia2 are at the bottom of the page. This has not been updated, as many airlines have cut services since March 2020 when Malaysia closed international borders due to Covid-19 and restricted international travel in and out of the country.
Some updates are summarised here but some of the more recent changes have been driven by Covid-19 considerations. You can also check the Malaysia Airports link for klia2 (and KLIA) for their latest information.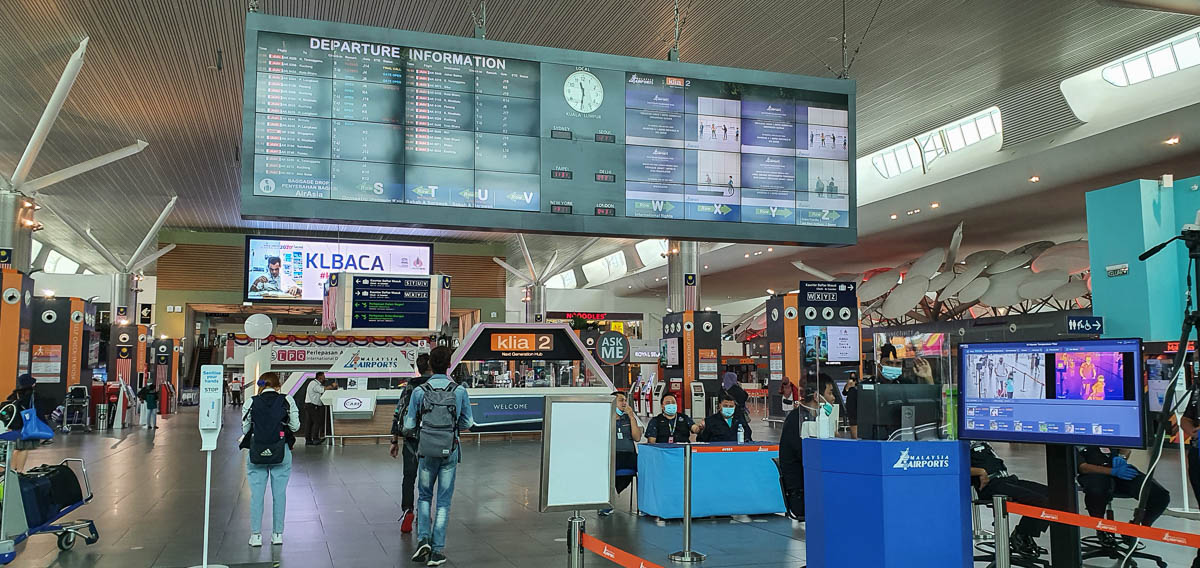 Departure
If you're Flying out of klia2, here's our original article with basic information. Post-Covid-19, entry to Gateway Mall and the Departure Hall is open to both travellers and non-travellers. However, you must be able to show a blue 'Low Risk No Symptom' display on your MySejahtera Check-In App. 
When entering the Gateway Mall from the Carpark/Transport Hub or Car Drop-off, you must check-in using

your MySejahtera App on your phone.
Masks are mandatory unless eating or drinking
At the airline Check-in Counters
Only Jetstar and AirAsia are currently flying out of klia2
The Jetstar counter is to your right, in Row Z. Only ticketed passengers may join the queue.
AirAsia has made contactless check-in a requirement for all travellers except children, and those with disability. They've also made this handy self bag-drop explainer, to show you how to use it.
A recent addition is their facial recognition App FACES, to provide a seamless process throughout the airport experience. It's recently been expanded for wider use and is easy to set up.
Arrival
Check out our earlier piece, Flying in to klia2 Kuala Lumpur Low Cost Terminal? for layouts and basic information.
Be well prepared if you are coming from overseas. We've tested this recently and you will save a lot of time if you have prepared all your documents beforehand. If you are required to quarantine other than at home, you will be transported to the quarantine hotel. However, if you've been given approval for home quarantine, there seems to be no restriction on how you actually get there.
Accommodation
Aerotel Airport Hotel offers a range of accommodation, including short term stays of at least one hour. They're located landside on Level 2M, klia2. If you're arriving/departing at KLIA, the main terminal, use the ERL to move easily between the terminals. Book direct at least an hour before you want to check-in and check out their offers for the best pricing. Right next door is the Plaza Premium lounge, where you can hang out if you don't need somewhere to stay. Their Wellness centre is great for relaxing, but is currently closed due to Covid-19 regulations.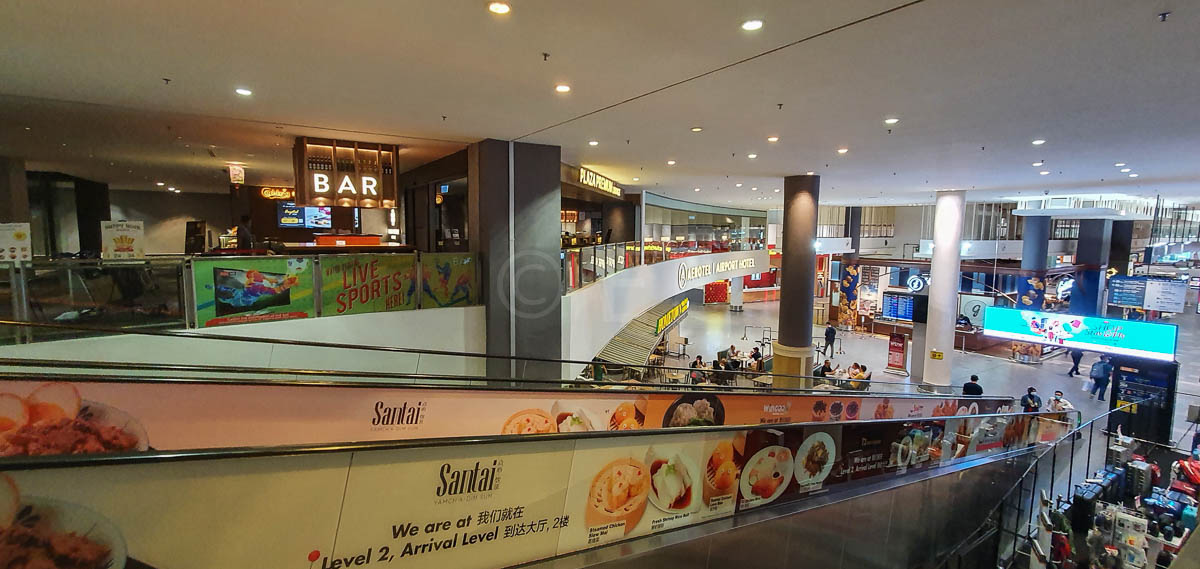 A short (covered) walk from the Terminal's main entrance on Level 1 will take you to the Tune Hotel, which we have on good authority is also a comfortable place to stay at a reasonable cost. They also offer Day Use Transit Rooms available, for 12 hours. Normal check-in is from 2:00 pm onwards to 11:00 am the next day.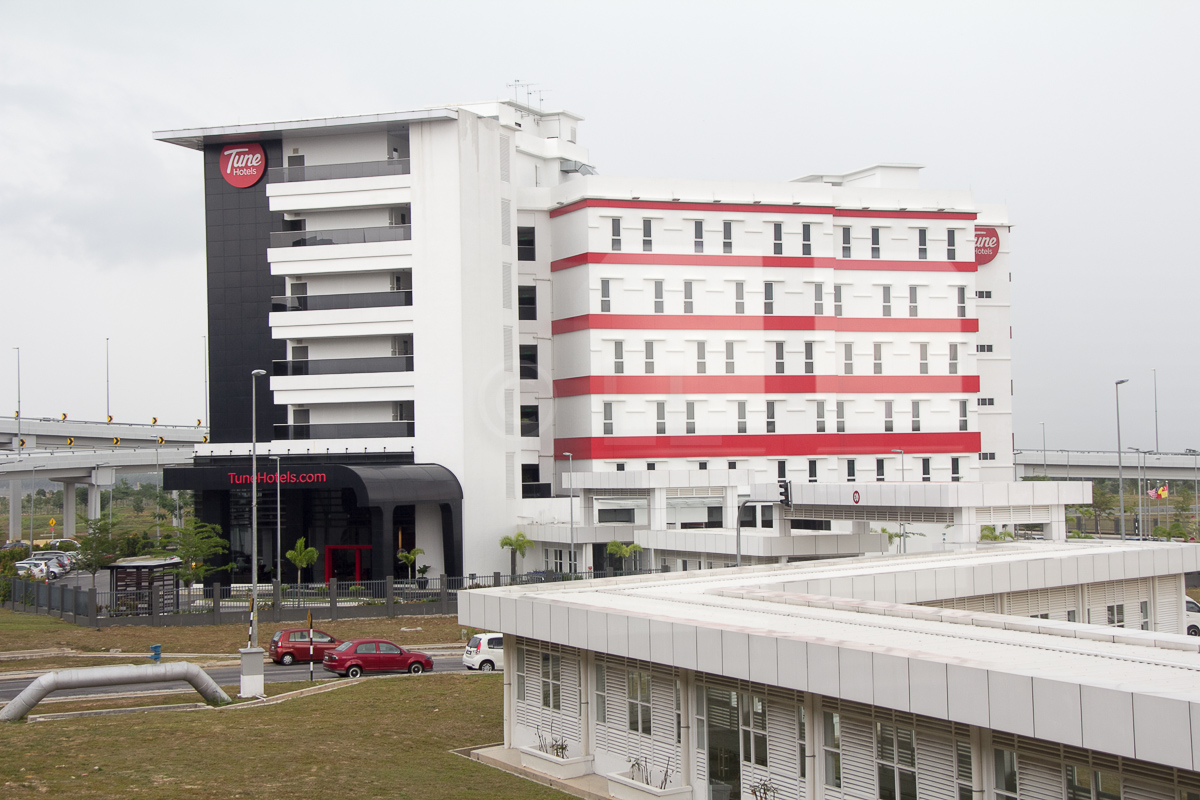 Getting transport
Need to get between klia2 and KLIA?The two best options are the KLIA Ekspres train or the free bus.
The quickest option is by KLIA Ekspres/KLIA Transit.
Find them on Level 2 (The Arrival Level)
The cost each way is MYR2 and trains run every 10-15 mins.
May vary at different times of day until normal schedules return
The journey is about 5 minutes.
Got another flight to catch?
If you've arrived from overseas and couldn't do a transit/transfer to an onward destination, here's the quickest way up to Departures from the Arrival Hall. It's not immediately obvious and initially took us a while to find.
When you exit the Arrival Hall, turn right and look for the escalators in front of the Domestic Arrival Hall. There's also a lift. They'll take you up to a corridor beside Starbucks on Level 3, Departures. The corridor is on the left if you enter the Departure area from the Mall.