International travel involves a lot more complexity than at any other time in living memory. Being travel-ready involves not only a preparedness to change your plans at the last minute, but also ensuring you have the right documentation and knowing what to do. We've outlined the process for entering Malaysia while border restrictions are in place, as at December 2021. This may be of assistance where you:
are entering Malaysia on a flight other than a VTL flight from Singapore,
enter via KLIA or klia2,
are a Malaysian Citizen, permanent resident or long-term visa holder, and
have approval for home quarantine (apply here).
Procedures vary slightly if you are coming from a high-risk country. As of December 2021, high-risk countries include:
South Africa, Botswana, Eswatini, Lesotho, Mozambique, Namibia, Zimbabwe, Malawi, United Kingdom, the United States, Australia, France, Norway.
Before your flight, you will need to:
Download and install the MySejahtera app
Obtain a certified negative RT-PCR test taken in the 72 hours prior to your departure to Malaysia. This is reduced to 48 hours if you are coming from a high-risk country. The test result needs to be in certificate form with passport and test result details – a SMS will not suffice.
Have a printed copy of your home quarantine approval letter.
Airport procedures
Checkpoint 1: Obtain Home Surveillance Order
Upon disembarkation, scan the KLIA "port of entry" QR code in your MySejahtera app.
You will find this QR code displayed in several locations throughout the terminal. As soon as you locate one, open your MySejahtera app and check in with this code. It will trigger the MySejahtera traveller mode and will direct you to a form to complete.

Complete this form before arriving at the first checkpoint, as many people will have failed to do this and will be holding up the queue.
Once you have completed the form, return to your MySejahtera app and refresh your profile. It should now a red Home Surveillance Order with the period of your quarantine shown in the black section beneath it. Show this to the checkpoint officer, who will let you through to the next checkpoint.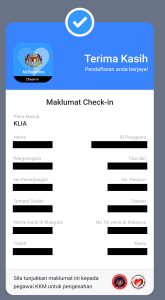 Checkpoint 2: Document Check and wristband attachment
You will now approach officers at desk who will process your documents and attach your quarantine wristband. They will ask for your passport and any necessary documents and upon completion of verification, they will:
Attach your pink quarantine wristband. All arrivals via klia2 get the pink wristband. If arriving via KLIA and have come from a high-risk country (UK, Australia, Netherlands), this will be a digital tracking device instead.
Provide you with a travel approval to get to your quarantine location by private vehicle. The reverse of this letter contains information about who you can call for questions, and the schedule for your testing.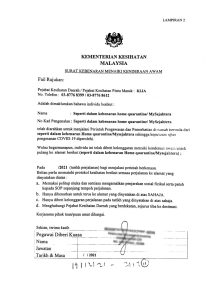 Checkpoint 3: PCR test
Give your passport to the office at the next checkpoint, which will hold it while you wait to be called for a PCR test sample collection. When your name is called, collect your passport, and enter the testing area. SOP here is a nasal swab and a throat swab.
Checkpoint 4: Payment
At this point, Malaysian citizens who have home quarantine approval can skip straight to immigration. Non-Malaysians or anyone who is performing quarantine in a hotel or quarantine centre will be required to make payment or show their receipt for prepayment, if this was done prior to travel.
Checkpoint 5: Immigration
Proceed through to immigration, where manual processing will take place. Autogates are not currently operational, so this applies to all passports regardless of nationality.
Checkpoint 6: Baggage collection and customs
These are all as they were pre-COVID, though we would recommend having disinfecting wipes or spray to sanitise your luggage as soon as you collect it.
After clearing customs, you can now exit to the Arrival Hall and depart using whatever private means of transport. You will not be able to use public transport. It will be evident to anyone in the airport that you are a "Person Under Surveillance" due to your pink wristband.
Once you are at your quarantine location, you'll have to remain there until your Day 5 test. In the meantime you will need to complete a daily health check in the MySejahtera app. Your PCR test result will be sent to you by SMS and will appear in your MySejahtera profile. This can take 24-72 hours to arrive.
You will receive a daily questionnaire for the next 14 days under the Things to Do list in MySejahtera – it is recommended that complete this each day.
Note: The day you arrive in Malaysia counts as Day 1 of your quarantine, so if you arrive on the 19th you are in quarantine until and including the 25th, for example. Your wristband will be removed on day 8, or the 26th in this case.
Day 5: PCR test
You will need to contact your nearest health district office to make an appointment for your Day 5 test. You can:
call one of the numbers available through the QR code provided at the airport – we suggest doing this on day 3 or 4 of your quarantine.
If you are in the Petaling district, you can also make this appointment online at covid19petaling.com for one of the following testing locations:

Klinik Kesihatan Seri Kembangan: Monday-Friday (except public holiday) 10:00 AM-12:00 PM
Klinik Kesihatan Kelana Jaya: Monday-Friday (except public holiday) 08:30 AM-10:00 AM
Klinik Kesihatan Seksyen 7, Shah Alam: Monday-Friday (except public holiday) 09:00 AM-10:30 AM
Dewan Serbaguna, Seksyen 2 Kota Damansara Taman Sains Selangor, 47810 Petaling Jaya: Monday, Wednesday, Friday (except public holiday): 09:00 AM-11:00 AM
At the appointed time, travel to your testing location by private vehicle.
After your test, you will be advised where to go on day 8 for the removal of your wristband, which marks the official end of your Home Surveillance Order.
Your test result will take 24-72 hours to arrive, and as with your day 1 test, will be sent by SMS and will appear in your MySejahtera app. The author received a result after 48 hours.
Day 8: Wristband removal and end of quarantine
Congratulations, you've made it to the end of your quarantine! Travel to your district health office (again by private vehicle) to have your wristband removed. Your MySejahtera app should by now have changed from a "Person Under Surveillance" status to a "Low Risk" status. Produce your MySejahtera app at the district health office and after confirming your details, you will presented with a quarantine release letter and your wristband will be removed. Once it is removed, you are free to go about your day, free of any quarantine. Your MySejahtera Home Surveillance Order section will remain, but will update to show a "Completed" status.
Updating your vaccination status in MySejahtera
The MySejahtera app is used to check you into premises that you visit and displays your vaccination status. Many premises require visitors to display a fully vaccinated status in your app when visiting. If you have an international vaccination certificate, this can be uploaded in MySejahtera. While the submission process is online, advice provided is that processing is manual and can take 5 business days (or more) to take effect. For this reason, we strongly recommend doing this as soon as you have set up your MySejahtera profile and when you have your international vaccination certificate ready. You should be able to do this prior to your arrival in Malaysia, or at least during your quarantine.
To add your vaccinated status to MySejahtera:
Prepare a PDF or JPG file that contains both your international vaccination certificate and your passport ID page. As only one file can be uploaded to MySejahtera, you will need to create a composite file containing both your vaccination certificate and your passport photo page.
From the MySejahtera home page, navigate to the Helpdesk. Select option N, "I have received my vaccination overseas and would like to obtain my digital certificate in MySejahtera". Complete the questionnaire and upload the document that you created.
Once submitted, your application ordinarily takes about 5 days to change your vaccinated status in MySejahtera.