Denpasar Airport Bali is a very popular tourist destination, not generally thought of as a hub you pass through. But there are are a number of differences and similarities if you arrive to stay, transit, or transfer in Bali. For information on visas for Indonesia, check our story here.
Doing an arrival, transit or transfer in Bali
First a few definitions.
Arrival is easy, you get off the aircraft at your destination.
Transit is when you return to the same aircraft after a brief stopover at the airport and continue on your journey.

Usually only one ticket is issued although sometimes they may give you two boarding passes.
You do not have to pass through Immigration.

Transfer is if you are changing planes or airlines.

Depending on the airport, you MAY be able to have your boarding pass issued and your luggage transferred without passing through Immigration.
These are usually larger airports serviced by many airlines and many flights.
1. Transfer/Transit passengers
Bali's Ngurah Rai International Airport, also known as Denpasar International Airport, is not really an airline hub, a hub is somewhere like Changi Airport, Singapore, or those in Kuala Lumpur or Bangkok. Very few airlines use this airport as a transfer airport, apart from Batik Air Malaysia, for flights between Kuala Lumpur and Brisbane, Sydney or Melbourne.
More common would be a transfer in Bali from one carrier to a different one, or on the same carrier, but on separate itineraries. Unless you are able to check in and get a boarding pass for your next flight before you arrive in Bali, AND you have no luggage, you may be unable to get your boarding pass validated at the Transit/Transfer Desk at the back of the Immigration Hall.
You can read more about the transfer/transit experience at Bali Airport here.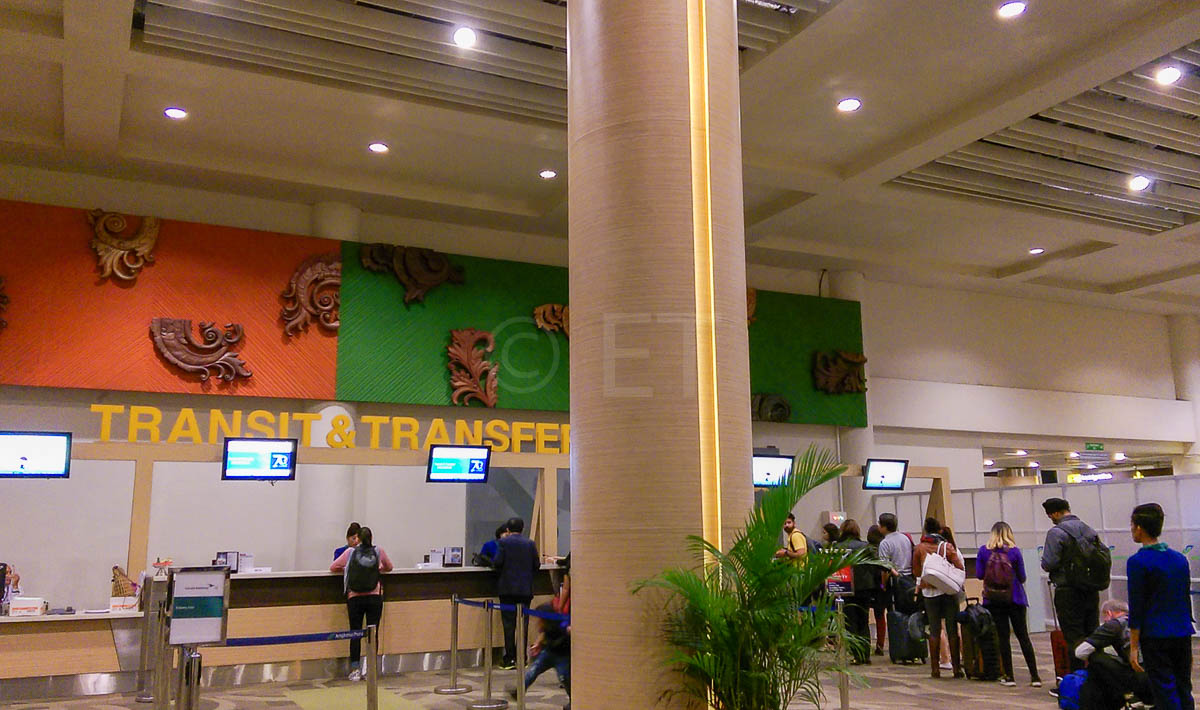 2. Transfer passengers with baggage
We passed through Bali recently, transferring from one carrier to another. We approached the transfer desk and they confirmed that, as we had checked luggage and no boarding passes issued for the onward flight, we would have to pass through Immigration and collect our baggage before checking in for the next flight.
The authorities will check your vax record before Immigration, so it's best to have a printed copy ready and you'll pass straight through. This applies to both those arriving and doing a transfer in Bali.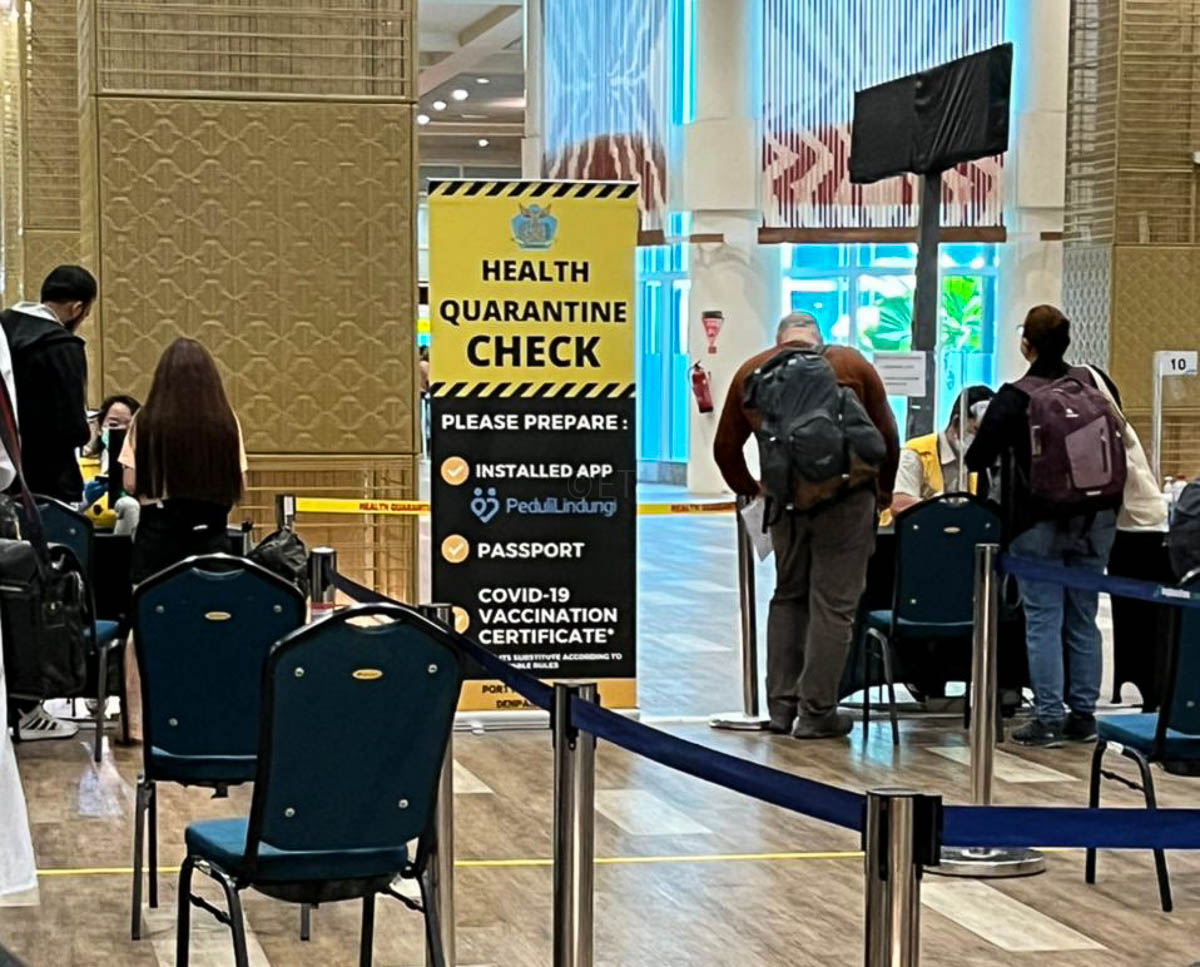 3. Visa on Arrival (VoA)
At the time of writing, citizens of many countries, including Australia, must still pay for a visa on arrival. Citizens of ASEAN countries are among those exempt from this charge. The VoA charge is currently 500,000 Rupiah, but they do accept credit cards and currency of a limited range of countries. If you are paying in Australian Dollars, have a $50 note ready with your passport and when you get to the counter it will be accepted. No form to fill and the receipt given to you will be  removed at the Immigration Counter when they stamp your passport.
You can read more about this here.
4. At the Immigration Counter
There are around twenty counters stretched across the front of the Immigration Hall. Queues are in 'snake' form, with each 'snake' filtering out to a number of counters.
Two counters are allocated for those travelling those over 65 or with children below 5 years old. These counters are on the left of the hall as you face the counters, beside the counters for air crew and other selected travellers.
Be warned that during peak travel periods, there are many family groups travelling and if these is even one person under 5, or over 65, the whole family seems to gravitate to this queue. This does not seem to be monitored and there were many who should have been in the normal queue. This made the 'special' queue much longer and slower.
5. Customs declaration
After  you pass through Immigration, the Customs declaration form will be checked. You can download and complete this form before leaving home. You may print out the QR code generated or have it ready on your phone for checking. If you have not already done this, the airport has free Wi-Fi and you can scan the QR code on the banner and complete the form online. One form is required for each family.
If the form is in order you will probably be waved straight through both stages.
6. Baggage collection
Check ALL carousels, they may have the wrong number showing on the screen. We spent about 10 minutes finding the correct carousel, which was sharing baggage from two flights, though only one was listed.
7. Up to Departure
Finding the lift up to Departure was a challenge. Pre-pandemic, the lift up to the Departure Hall on the top floor was to your left near the escalators as you exit the Customs Hall. However, you now have to pass through a winding path of shops to actually exit and we could not find the lift, or a sign. Apparently it is there, you should check the other side of the escalator, in the direction of the Domestic Departures. We eventually found a lift at the far right of the building that did not have bars blocking bags entering. It was a freight lift and a kind officer pointed us in the right direction. Make sure you have your documents ready to show the security staff at the entrance to the Departure Hall.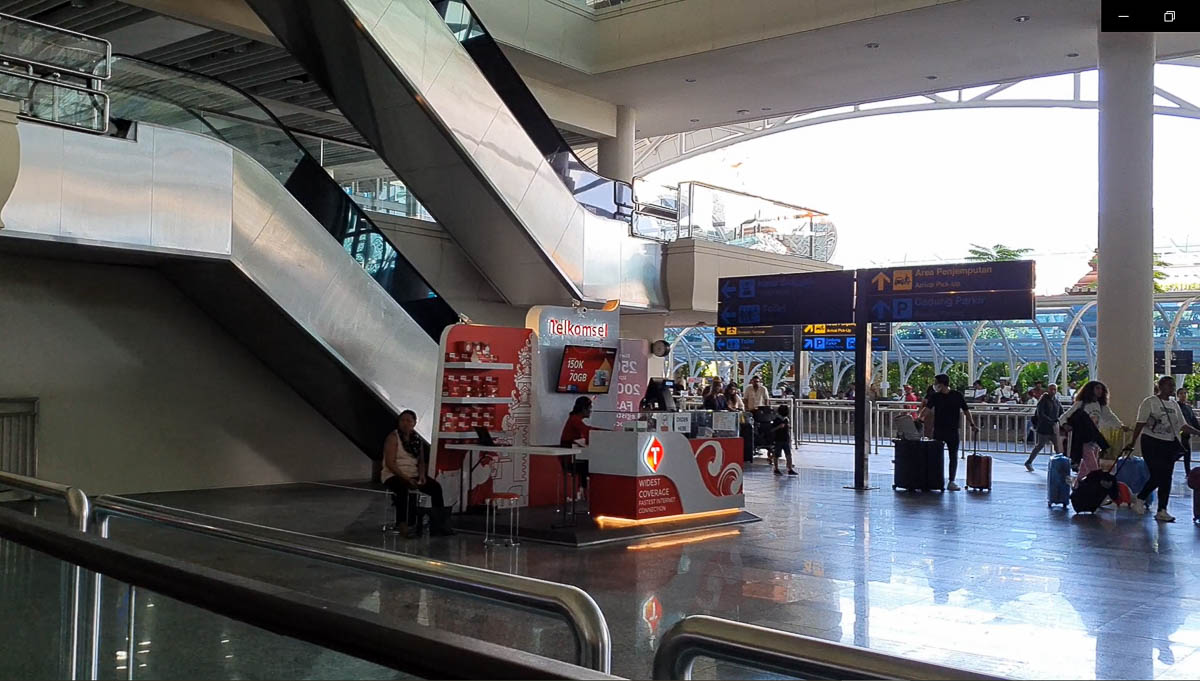 8. Go in early
Once you've checked in, do your security and immigration checks straight away in case the queues are long. It is quite a long walk through the Duty Free area and cafes, before you reach your gate.
9. Food and Drink in the Departure Lounge
We were very glad we'd brought food from home (empty out the fridge!) to eat as we had a long wait. The prices in in the departure lounge airside are much more expensive than they were pre-pandemic, and the choices are limited.
10. Filling your water bottle
This is another recent change – there are no longer any water dispensers, all have been removed and you can only get water from the sellers inside.