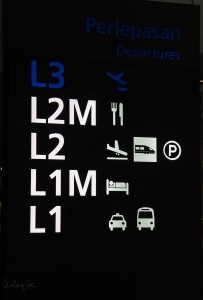 The Kuala Lumpur Airport Low Cost Terminal klia2 opened on 2nd May 2014, with the anchor tenant AirAsia moving in on 9th May. Apart from the airlines of the AirAsia group, other airlines using KLIA2 include Jetstar, Cebu Pacific and Scoot/Tiger Air.
Check our latest UPDATE as at 10th February 2022. 
Low Cost Terminal klia2
The airport has 60 gates and 80 aerobridges spread over four remote arms. It offers a lot more facilities than the cramped Low Cost Carrier Terminal (LCCT) it replaces. It is expected to be able to cater for up to 45 million passengers a year.
If you arrive at the airport by bus (Level 1) car (parking entry to terminal from Level 2) or KLIA Express/Transit (Level 2) you will need to go up to Level 3 for the Departure area. This also applies if you have parked and intend to walk up. There are plenty of lifts, escalators and travellators to make movement with luggage easier. There is also direct access by car on Level 3.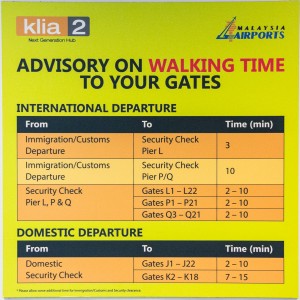 Once you have reached the entrance to the Departure Hall, you can clearly see the flight information display above you which indicates your check in counter. If you have already checked in, you will just need to drop your bags and you may proceed straight the departure entrance. Or enjoy a meal at one of the many cafes and restaurants.
The yellow sign on the left is clearly posted at the entrance to the Departure Hall. The times suggested are just walking times and don't take into account any delays at Immigration counters and Security checks or shops. If you are in a wheelchair or are not a reasonably fast walker, allow a little extra time.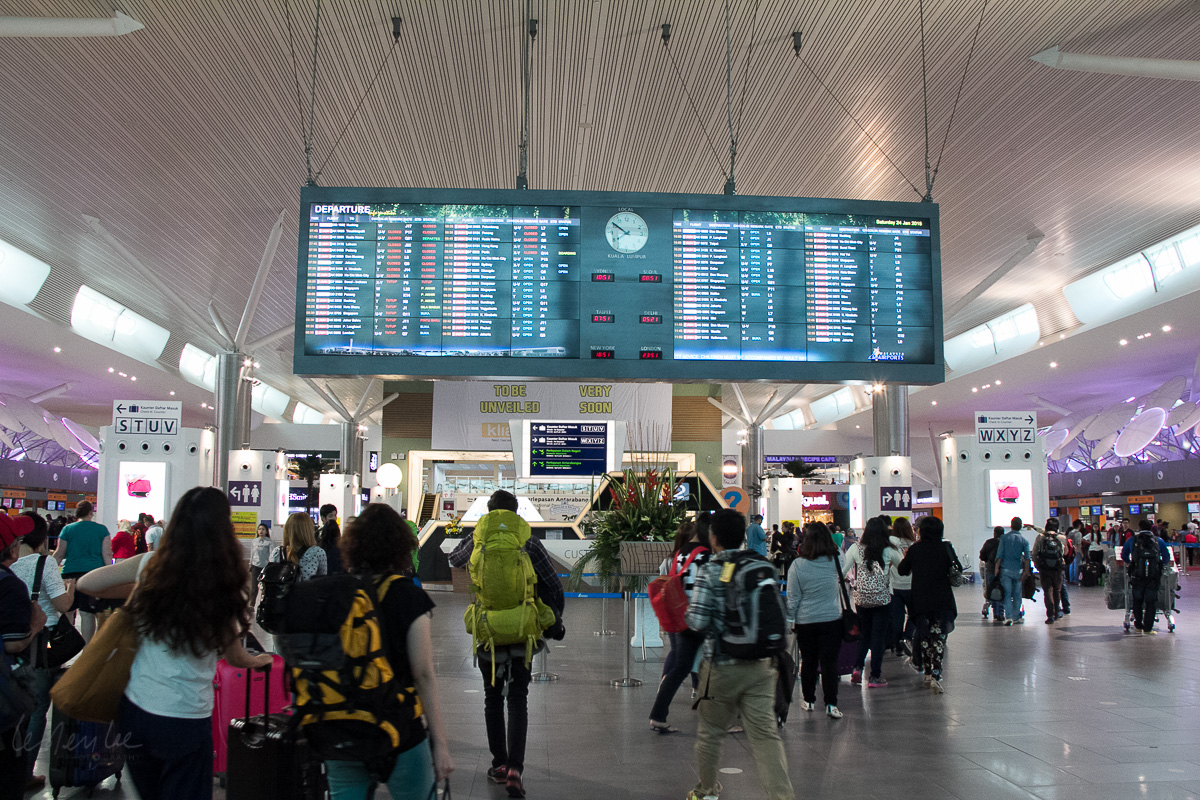 If you have not already checked in and are flying AirAsia, there are a number of self check-in kiosks available just near the entrance where you may do this and then go straight to the bag drops. This process has been updated since 9th February 2015.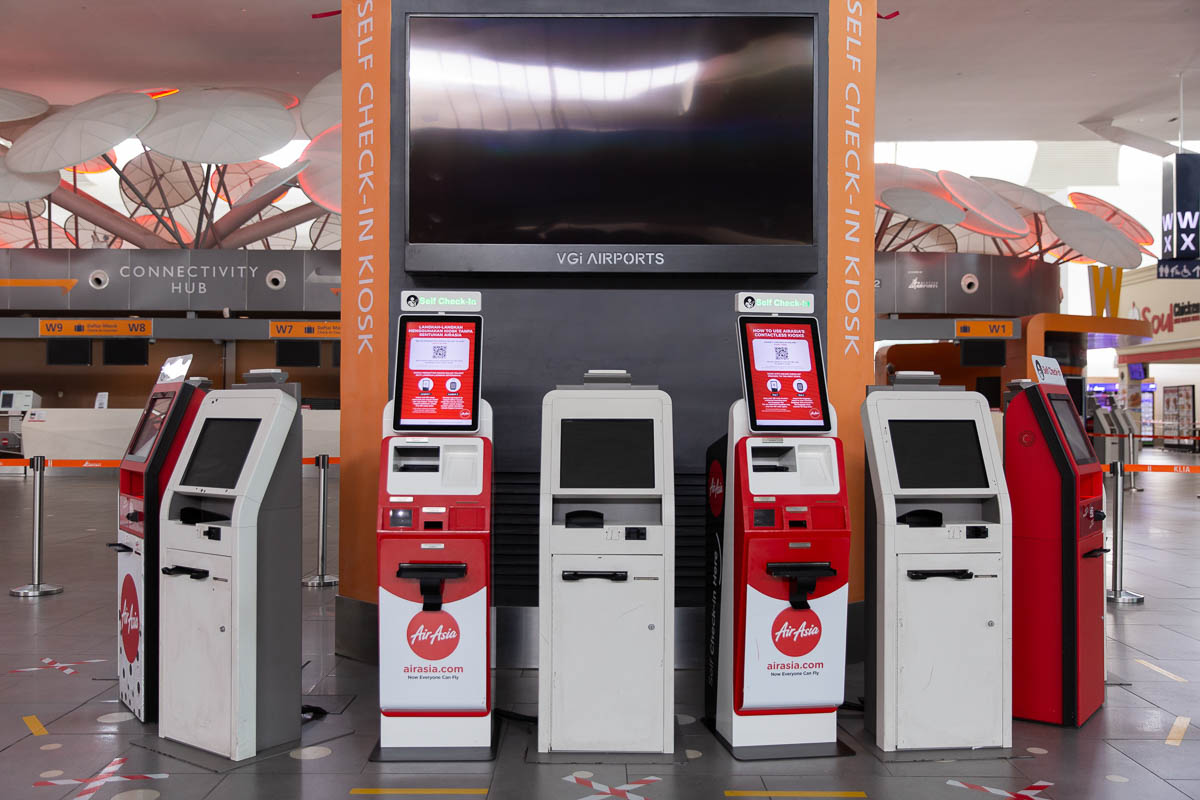 There are two outlets where you may have your luggage wrapped or strapped or even put into a box for reasonable prices. Superstrap is to the right as you enter the Hall, at the end of Check-in Rows Y/Z. Ezy-Wrap is on the left at the end of Check in Rows S/T.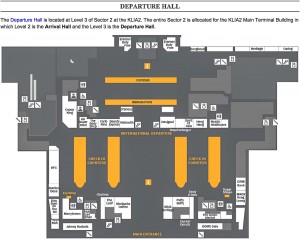 The International Departure Entrance is easy to find – it's straight ahead of the entrance into the Departure Hall. The GST office is located directly after you pass Security and Immigration formalities.  If you are leaving from Gate L (the closer gates, for shorter flights eg Singapore or Phnom Penh etc). Some of these flights do however, leave from the far building, so allow sufficient time, just in case.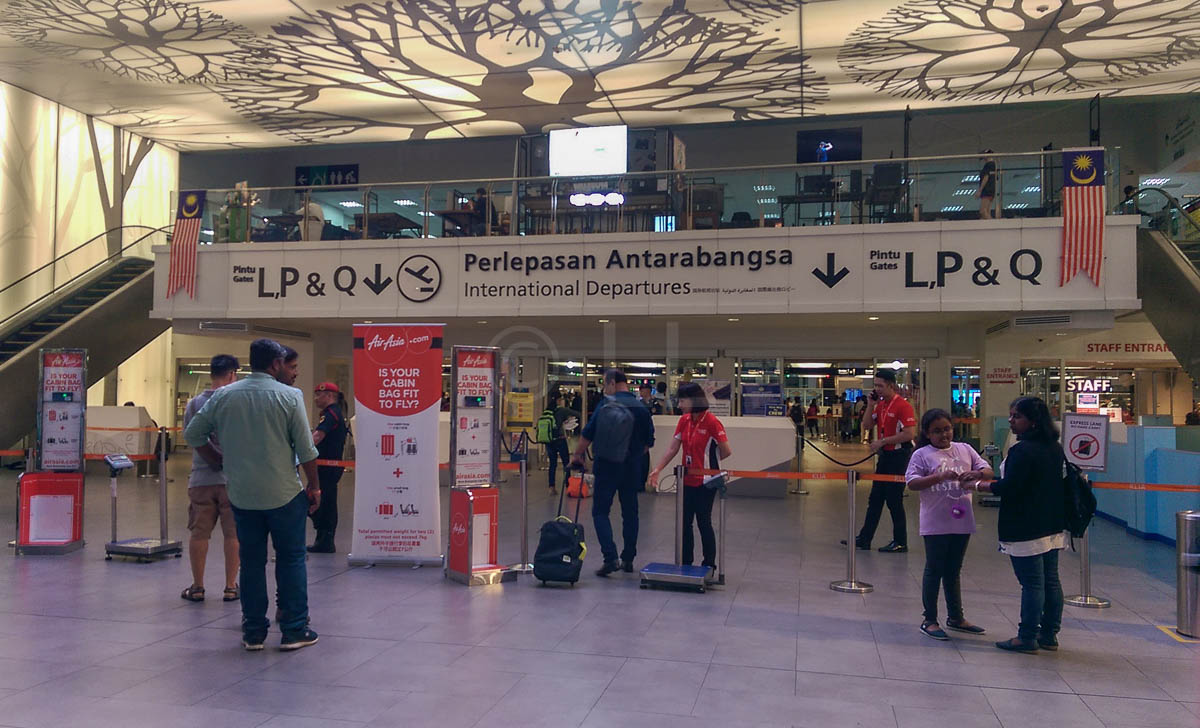 For longer flights leaving from Gates P or Q you will need to cross the skybridge. This is quite a distance and there are also plenty of distractions (shops!) so plan your time accordingly. Once you reach the Satellite hub, you will need to check the signs again and again, there are still more shops!  TIP! Look out for the chaps riding the little trolleys, they will help you with a ride if really need one.
The Domestic Departure Entrance is tucked away at the left of the Departure Hall beside KFC and Row S.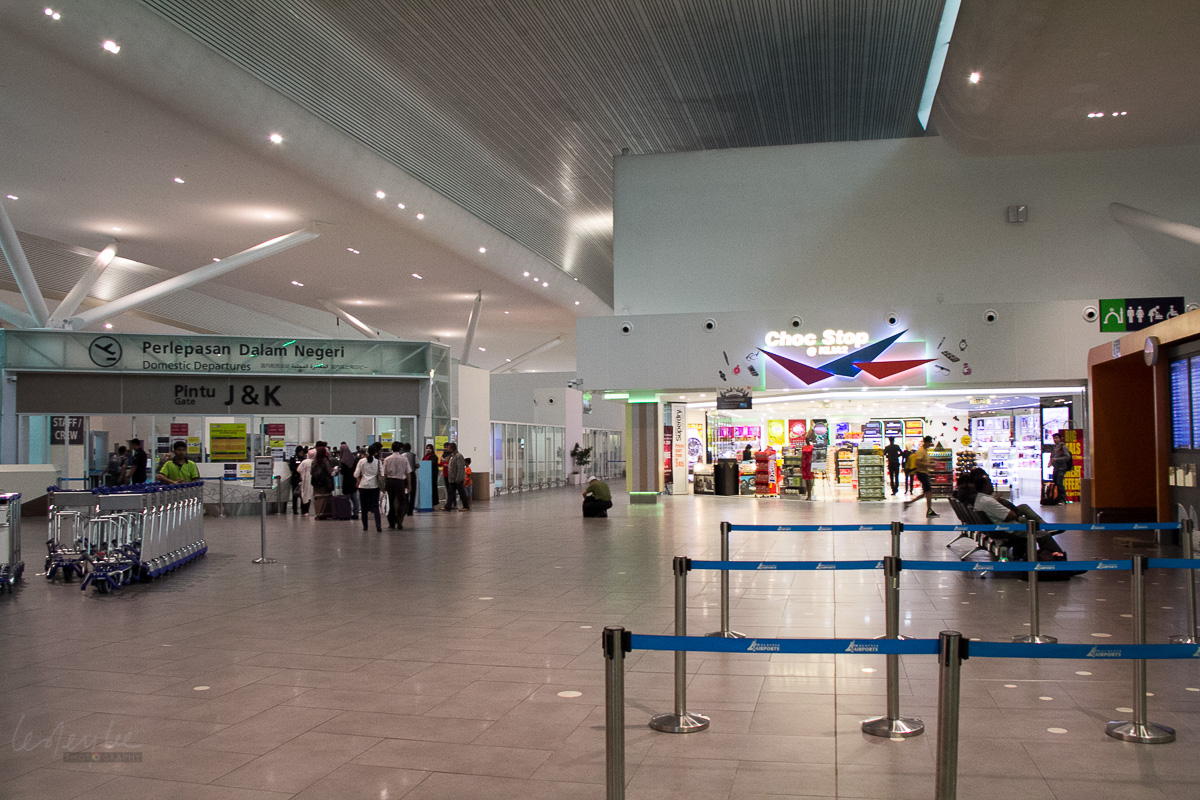 The KLIA2 website has some well laid-out diagrams to help you find your way if you still need more information on the departure process.
Toilets and other useful places to know about
There are plenty of clean toilets well signposted, throughout the airport. They are well equipped with both sitting and squatting toilets, toilet paper, soap and 'drop-in' hand dryers. Wheelchair accessible toilets are also available as are nursing and baby changing rooms.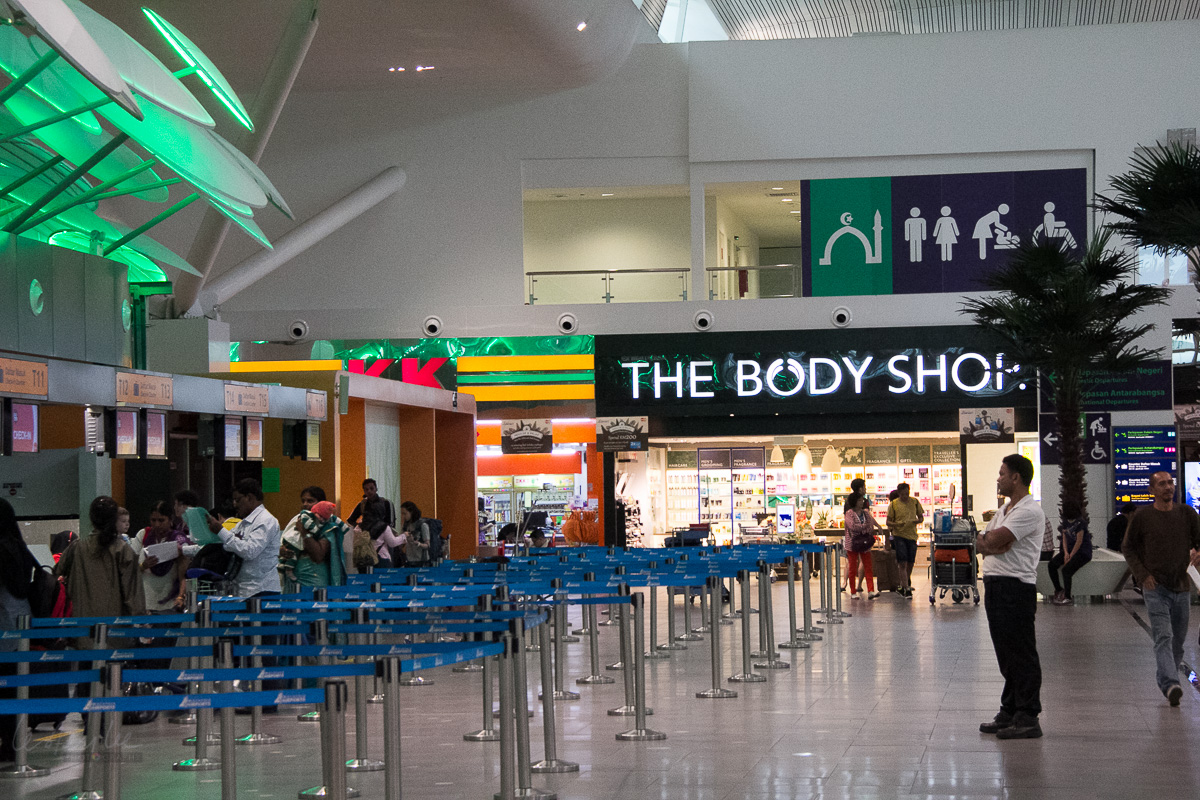 There are travelator between most floors and if you have luggage, well placed glass lifts.
The Car parks are located either side of the central hallway and are accessed from Level 2. If your car is on another level, use the lifts just inside the entrance from the shopping area. If your car is a long way away, ask one of the friendly shuttle drivers to give you a lift. They can fit a few passengers and limited luggage. As the area outside the lifts is always clear for loading / unloading, get the car and come back for the passengers. There is plenty of disabled parking and special parking for hybrid cars close to the lift. Be warned that your car WILL be clamped if you park where you aren't allowed.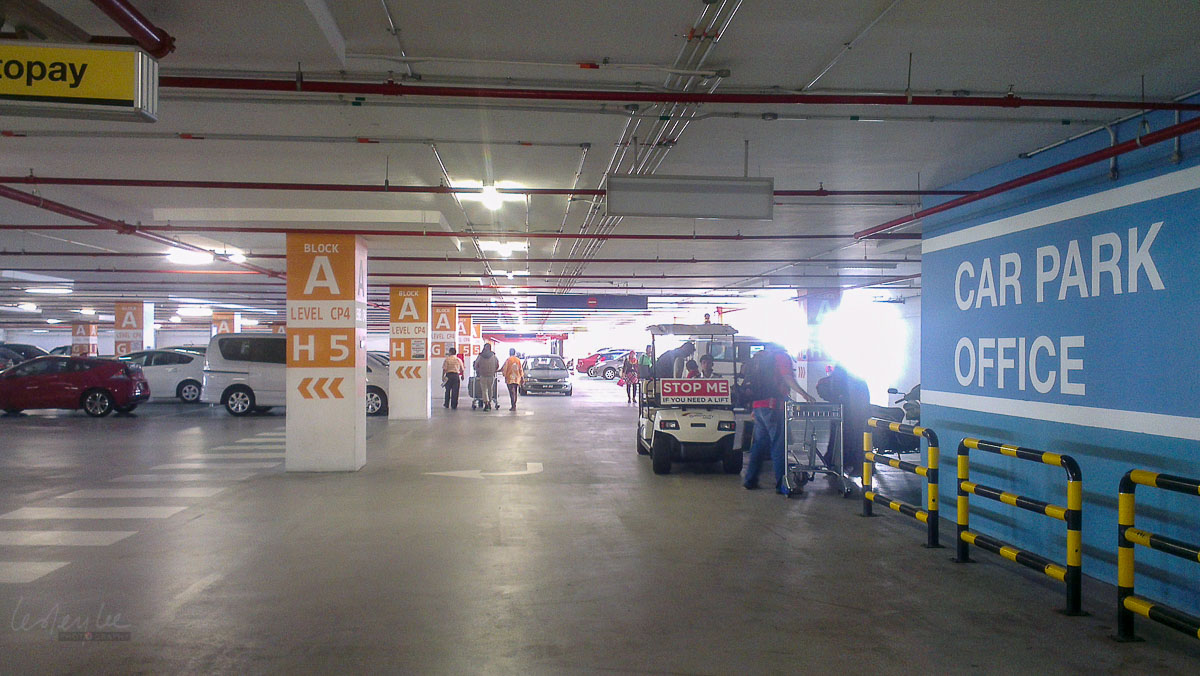 All the parking is covered and even if you have to go to another level, you shouldn't have to search too hard for a space. Touch & Go can be used for your parking as well, as long as you have a remaining balance of at least MYR20 on the card.
If you need to pick up some groceries, there is a well stocked supermarket and a number of mini-markets. If you are looking for a place to stay while waiting for an on-going flight, there are currently three hotels to choose from. These are the subject of a separate article.
Food
There are LOTS of food outlets in KLIA2. They are well spread out over all Levels, especially around the Departure Hall. There is a Food Court, Quizinn by RASA which offers a wide range of choices across various price ranges and a Premium Lounge on Level 2M. While you are waiting in the Departure Lounges you also have plenty of choice of local and international cuisines. The food offerings in KLIA2 are also worthy of their own space, so keep an eye out for this, coming up soon.