Upcoming economy class trip on a Qantas 747? These aircraft feature on medium- to long-range sectors to LA, Dallas Fort-Worth, Narita, Singapore and Johannesburg, and we can help you when it comes to selecting the best economy seat.
UPDATE: As of 2020, Qantas is no longer flying the Boeing 747. We've left this article up as a tribute to the Queen of the Skies and her countless passengers who may, from time to time, wish to reminisce.
Qantas maintain three different configurations for their 747-400 aircraft, however there are some similarities between them that cause the same seats to generally be in the same places. Here are the three layouts available as of November 2013 (click to see larger):
Config 1:  9 aircraft, 270 economy seats (A380-style interiors)

Config 2: 3 aircraft, 255 economy seats


Config 3: 3 aircraft, 275 economy seats

Whilst exit row seats always offer substantial legroom, they're often snapped up well ahead of time and have their own downsides:
The are expensive to book unless you are an ultra-high status frequent flyer
They tend to become a gymnasium/walking track for people stretching out
Not having a leg rest or anything to prop yourself up on, you tend to slide down the seat when you sleep
Seats near the doors on all aircraft can get very cold
Otherwise the best seat will depend on whether you are on a day flight, or whether you plan to get some sleep on an overnight flight (particularly the red-eyes from Singapore to Australia).
For day flights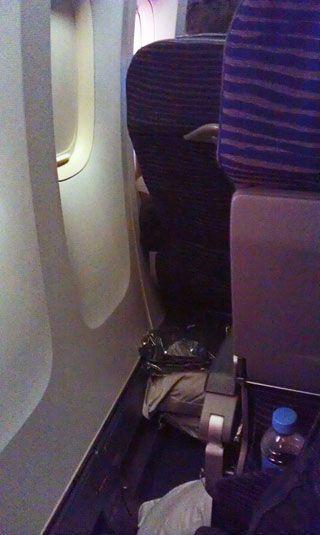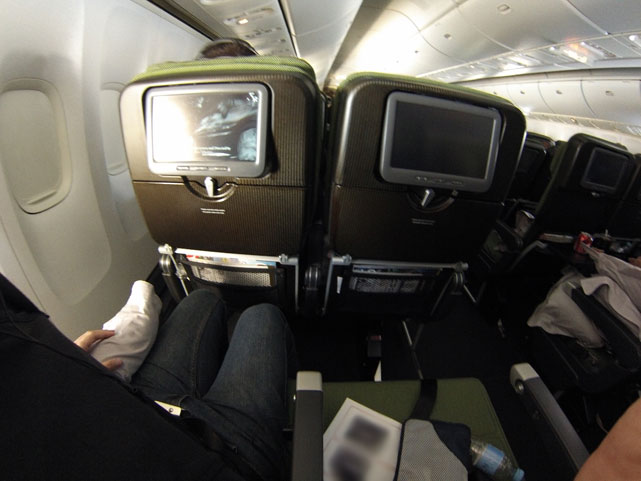 Try and pick a seat in the last few "couple" seats, even if you are travelling alone in which case the window seat is preferable (there is also an entertainment box under the B and J seats, limiting legroom). On config 1, this will place you in 70A or 70K onwards. On configs 2 and 3, you'll be in 71A or 71K onwards. I have deliberately left out the first row of couple seats for a reason – these seats have a gap between them and the wall of the aircraft because of the taper towards the tail. In the forward seats, this gives you plenty of legroom in front of you to stretch out into, and room to place your hand luggage next to you, rather than in the overhead bin. You are also not too close to the washrooms, yet near the best washrooms on the plane (marked with a B on the seat maps)… they're nice and roomy. Note that if you like leaning against something these seats are not for you, as you're quite a distance from the wall so they're not good candidates for sleeping. They also do not have the net footrests that are strangely popular, though other seats on the aircraft do have them.
For night flights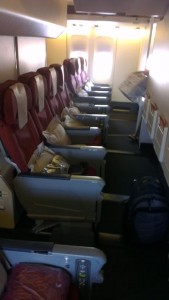 For night flights, try and get something in the "mini-cabin" towards the front of the cabin. On config 1, this will be row 43, on config 2 it's row 40 and on config 3 look out for row 38. The D and G seats are my picks because a cut-out in the bulkhead wall gives you plenty of leg room. Seats ABC (and their HJK equivalents) afford a similar level of comfort, though the C and H seats have about half the legroom as the bulkhead wall ends somewhere between your legs and becomes the narrowing aisle from the premium economy cabin. These seats are also great because you're right at the front of the cabin and will be able to beat the throngs through immigration, particularly when landing at Australian airports. Note that the DEFG seats are bassinet seats on config 1, so may not be available until you check in at the airport, and even then you may be sharing them with frazzled parents and frazzled babies. Earplugs are your friend.
Seats to avoid
The row 46 and 60 bulkhead seats look like great seats, but don't be fooled – they lack the cut-out that makes the front-of-cabin seats great. This means you actually get less legroom than any other seat, because you can't even slide your feet under the seat in front of you.
Refurbished aircraft interiors
Aircraft with config 1 have been refurbished with seats that are similar to those offered on the flagship A380 aircraft. There are, however, a few subtle differences:
there is no in-seat AC power in economy, just USB power.
there is no AV controller unlike on the A380, so the only way to interact with the screen is to touch it. Sometimes, you get someone seated behind you who feels the need to stab rather than touch. Handy hint – the screen is most responsive when you turn your palm towards you and lightly touch the on-screen buttons with your finger nail.
some seats have an under-seat entertainment box that may slightly limit legroom.
While the seats in configs 2 and 3 are still comfortable, they lack the brilliant entertainment options and large touchscreen of the newer config.
What configuration will I get?
Qantas are slowly retiring their 747 aircraft, and will eventually settle on having only the 9 that have config 1 in about 2016-17. As of November 2013, the 6 config 2 and 3 aircraft are generally used on Johannesburg and Narita runs, while the newer configurations are mostly found on Los Angeles and Dallas Fort-Worth (DFW) runs, though of course this can change depending on operational requirements. Singapore tends to get a mix of types, so log in regularly to view your booking on the Qantas website, just in case it changes as your departure date nears.