AirAsia has announced the introduction of two new Indonesia routes – reviving the Kuala Lumpur to Solo connection and further strengthening the Johor hub in the south of the country with a direct Johor Bahru to Jakarta flight. Both new routes will operate three times weekly, on Tuesday, Thursday and Saturday.
The Johor Bahru to Jakarta maiden flight is due to take off on 10th January 2017 and the Kuala Lumpur to Solo flights will commence a week later, on 17th January.
New Indonesia routes – Promotional offers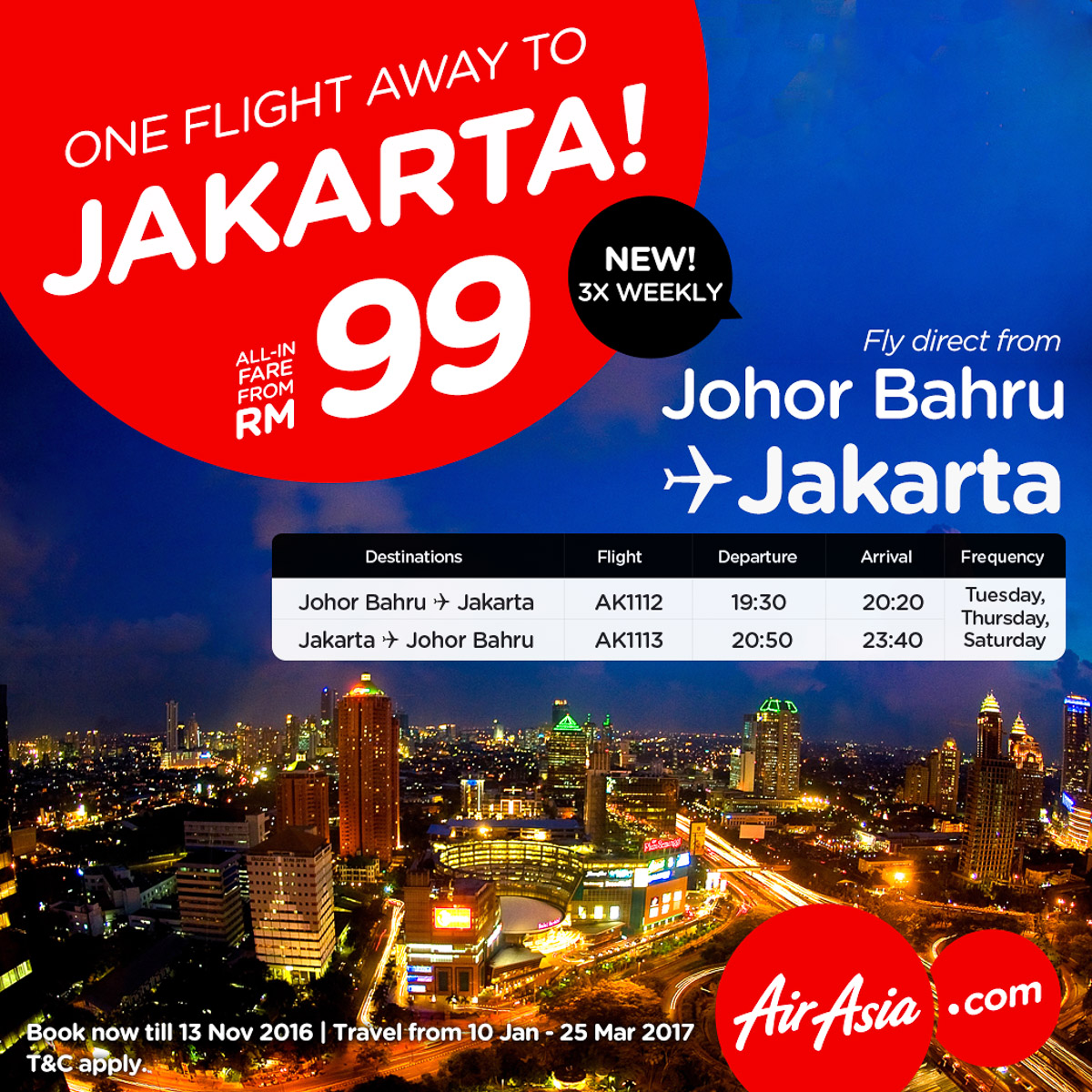 In conjunction with the announcement of these new routes, AirAsia is offering special fares with a one-way Johor Bahru to Jakarta, inclusive of taxes and fees available from MYR 99 and  one-way tax/fee inclusive fares starting from MYR149 on Kuala Lumpur to Solo  flights.
These fares are available online from the AirAsia website, AirAsia Mobile and AirAsia's mobile app on iPhone and Android devices until 13th November 2016 for travel from the maiden flights until 25th May 2017.
What's special about these destinations?
While not generally known as a tourist destination, Jakarta, the Indonesian capital, has a lot of hidden gems for the visitor. Often thought of as an overcrowded city (a population about 23 million people) with traffic problems, if you find the right location to stay, you can largely avoid the traffic problems.
Solo, also known as Surakarta is around 65 kilometres from the better known city of Yogyakarta, jumping off spot for Borobodur. These two cities are the remnants of the two major sultanates of olden times and Solo is a great place to enjoy and experience traditional Javanese culture. Visit the 18th-century Keraton Kasunanan, formerly a royal residence, now a heirloom museum. Or go shopping for batik, for which the area is famous.
Flight Schedule – Johor Bahru (JHB) – Jakarta, Indonesia (CGK)
| | | | | | |
| --- | --- | --- | --- | --- | --- |
| Flight No. | From | To | Departure | Arrival | Flight Frequency |
| AK 1112 | JHB | CGK | 1930 hrs | 2020 hrs | Tuesday, Thursday, Saturday |
| AK 1113 | CGK | JHB | 2050 hrs | 2340 hrs | Tuesday, Thursday, Saturday |
Flight Schedule – Kuala Lumpur (KUL) – Solo, Indonesia (SOC)
| | | | | | |
| --- | --- | --- | --- | --- | --- |
| Flight No. | From | To | Departure | Arrival | Flight Frequency |
| AK 356 | KUL | SOC | 1250 hrs | 1435 hrs | Tuesday, Thursday, Saturday |
| AK 357 | SOC | KUL | 1500 hrs | 1825 hrs | Tuesday, Thursday, Saturday |