Jakarta is not really a 'touristy city', but there are lots of things for the visitor to see and do. It is somewhat well known for legendary traffic jams but according to a friend who lives in the city, the new transport minister has made (or continued) efforts to help the situation. Plans are in place, making major improvements to the public transport infrastructure in the Capital to make getting around Jakarta easier.
We were in the city for three days over the New Year  period 2016, the first of which was the 1st January and even our taxi driver was astonished at the empty roads! It was as if the city had emptied for the holiday and we made it in to the centre of town in just over half an hour, normally a 1-2 hour journey. That said, we did encounter some jams, particularly in the area around the old city and also the Tanah Abang textile markets over the subsequent two days.
These are your options
Taxi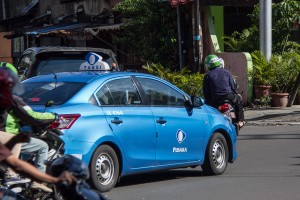 We tried out travelling by taxi a few times, using the budget Blue Bird taxis. There are plenty of them and if the taxi sign on top is lit, you can flag them down.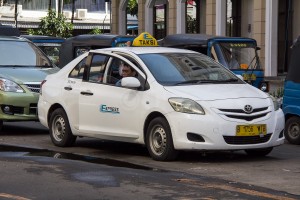 They're the most abundant, be prepared to pay more if you catch the white taxis. Blue Bird taxis can also be found in a number of other cities and if you've been to Bali, you'll be familiar with them. Blue Bird have two 'regular' taxis (Blue Bird and Pusaka) and Silver Bird, their Executive taxi. There are also other companies, including the white 'Express' taxis.
Flag Fall for regular taxis – Rp 7500 then by distance in increments of .5km. There is a minimum charge of around Rp11K or thereabouts and you will pay between 5 and 10% more if the traffic is congested.  Booking fees, airport surcharge ( if you're travelling from the airport, dependent on zone) and tolls will add to the cost. However we found the charges reasonable, the drivers tidy and polite with no arguments about destination or pricing and the taxis were clean and equipped with seat belts.
Bus
There are lots of small buses zipping around the city – all colours and all small with a narrow wheel-base. We couldn't figure out the system, but if you're adventurous, they'd certainly be an adventure! A passing knowledge of Bahasa Indonesia would be an advantage.
Between 5am and 10pm for most of the twelve routes, you can catch one of the TransJakarta buses that run on dedicated Busways in the centre lanes in main thoroughfares. The lanes have a small (one brick high) yellow wall on the traffic side to indicate the edge of the lane and stop encroachment by other vehicles. We did see a few recalcitrants, but they shifted pretty fast when they saw a bus behind them. Apparently strict enforcement has reduced this problem considerably.
The interesting feature of this system is that the bus stops are accessed by overhead bridges into the centre plant filled strip. The bus-stops are glass enclosed and much higher than road level. As a result the bus doors are also much higher and this clearly serves to stop people trying to jump in at the wrong places. The link above has a route map and other information regarding fares and how to use the system. The dedicated buses connect to feeder buses at various points.
Bajai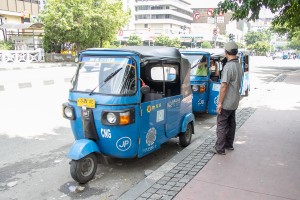 These are the Indonesian relatives of tuk-tuks, trishaws and other assorted three wheeled auto rickshaws found in many cities and towns around Asia (and inspiration for the fancier ones seen in Europe!).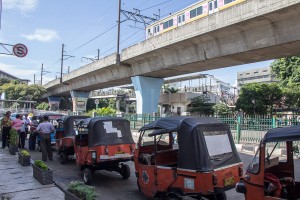 Most of the ones we saw were blue, but there was a long line of orange bajais waiting for business at the Juanda Railway station.
We would like to have tried them out, but there is only space for the driver in front, with two passengers in the back. Since we were a group of three, it was easier to walk or catch a taxi as our contacts indicated that the two bajais may cost as much, or more than the equivalent taxi ride. They don't use a meter, so you'd be best advised to ask the people at your accommodation to estimate the price to your destination before you go and negotiate.
Rent-a-bike (with rider)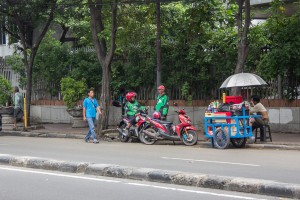 There are a number of new start-ups offering motorcycle taxi services to give a single passenger a quicker ride through the traffic. Three we identified are Gojek, GrabBike and Ojesy. They seem to carry a spare helmet and you can either hail them on the road or apparently use an app on your phone. Entrepreneurship at work – it has apparently been a practice for some time (we were fairly reliably informed) that you could grab such a service, offered by individuals if you were stuck in traffic in a car, either in a taxi or with your own driver and still make it to your meeting on time. The system seems to be more organised now, with the companies mentioned above making the service more organised and professional.
Walk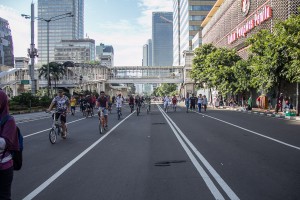 While many of the footpaths are not really walker-friendly – you need to watch for missing drain covers and potholes for starters – we found it a convenient way of getting about our immediate neighbourhood. It's also worthwhile to note that Sunday morning until 11a.m. is a car-free time along Jl M H Thamrin between Plaza Indonesia and the SW corner of the MONAS park. People come out on foot and bicycles and there are lots of hawkers staking out strategic spots in case you need a drink or snack. The buses that use the Busway are still running and the traffic lights work for cross-traffic, so you do still meed to be careful crossing at these areas and look first.
Train
Before we arrived we had the idea that catching the train in Jakarta wouldn't be a viable option. We soon found, despite suggestions by our contacts (who'd never actually tried this option) that this was not the case and travelling by the commuter train was in fact not that difficult as long as it goes near where you want to go. Initially we entertained the notion that it might be interesting to make a day trip south east to historic Bandung, reputed to be especially picturesque if you catch the early train and can enjoy watching the sun rise as you climb into the hills. The train leaves from Gambir Station on the eastern arm of the city rail system.
With limited time in the city we decided that this would have to be an expedition for another day, deciding to test the system with a short three station trip between Gondangdia Station north to Juanda Station, via Gambir. A single trip ticket will cost you Rp 2,000 for the first 25km and Rp1,000 for the next 10km whether you travel 3 stations or 10. You will also pay a Rp10,000 ticket deposit, which you get back when you return the used ticket. The schedule and fare information is displayed on large boards near the ticket counter in each station.
The trains, even on Sunday, were frequent and clean. There's also a dedicated ladies coach, decorated outside with pink banners and flowers. As the lines are elevated, this is a good way to see some of the sights as you pass by. The eastern line passes by the National Monument (MONAS) – get out at Gambir –  and the huge Masjid Istiqlal is close to Juanda Station. If you want to buy textiles at the Tanah Abang textile market there's a nearby stop on the western arm. Here's a map to help you see the connctions. Go to Jakarta Kota Station for the Old Town. There are a number of clearly identified Transit stations where you can change routes.
Construction is also underway on the MRT metro line system, with the first phase currently under construction between the big HI roundabout (Bundaran HI) near Plaza Indonesia, southward to  Lebak Bulus, scheduled to open in 2018. The next planned stage connects Bundaran HI northward via MONAS and Chinatown (Glodok) to the Old Town and Kampung Bandan and is projected to be ready by 2020.