During the announcement of the purchase of twenty-five Boeing 737 MAX in July 2016, Malaysia Airlines CEO Peter Bellew commented that the aircraft will be used on regional routes, with the capability of expanding Malaysia Airline's China routes.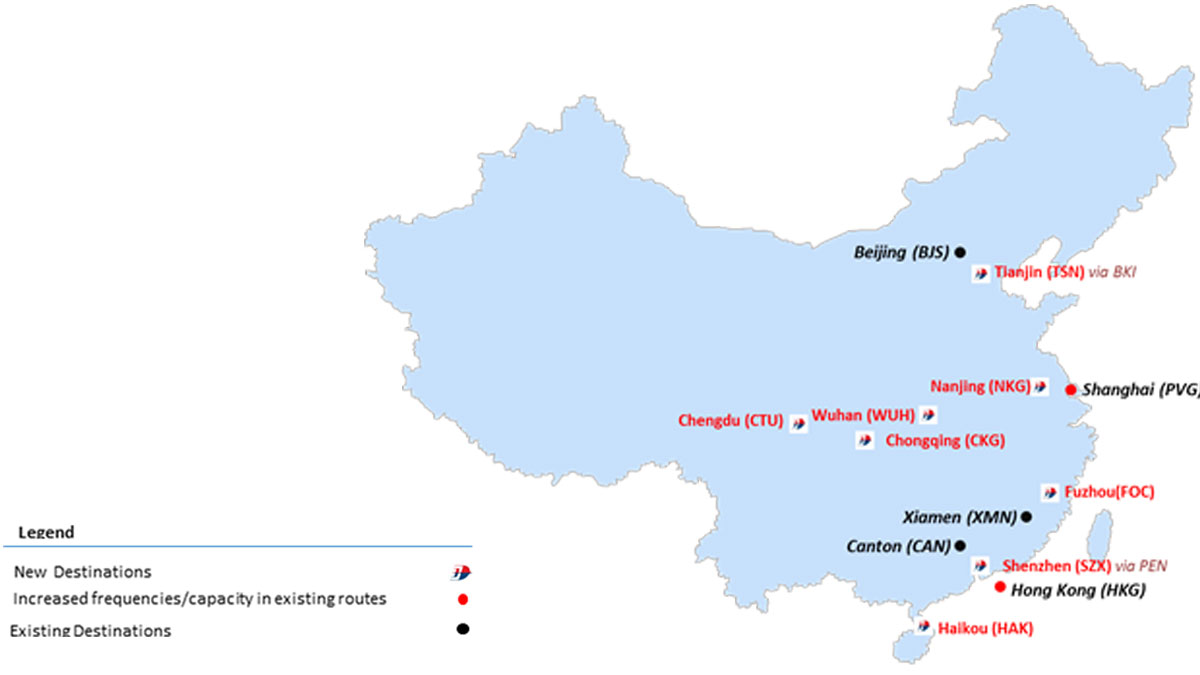 Although the new planes will only start arriving in 2019, the Chinese expansion will already have begun in 2017, with the announcement of eight new destinations to enter the lineup from December 2016.
The announcement was made in conjunction with the Malaysian Prime Minister's recent visit to Beijing. Six of the eight cities have never been served directly by any Malaysian Airline and the opening up of the new routes is expected to further enhance existing trade and tourism opportunities.
Of the six new destinations out of Kuala Lumpur, Haikou in Hainan is expected to be the first, in December 2016.
Nanjing in Jiangsu, Fuzhou in Fujian and Wuhan in Hubei province are slotted in for an April 2017 start, with Chengdu, Sichuan and Chongqing (Municipality) slated to follow in October 2017, subject to slot availability. Flights from Kota Kinabalu to Tianjin are in the lineup, but with no start date as yet, while flights from Penang to Shenzhen and Shanghai are pencilled in for August 2017, subject to slot availability.
Likewise, subject to slot availability, Malaysia hopes to double their daily flights to Shanghai from April 2017 and capacity of their Hong Kong route will be increased from January 2017, with the introduction of the Airbus A330 on the daily morning flight. Other flights will continue, for now, to use the existing Boeing 737-800.
….. In addition to this initial growth, we will promote tourism in Malaysia and China through seasonal or ad-hoc services to key leisure markets such as Langkawi, Kuching and Kota Kinabalu.
 Origin
Destination
Start
Weekly Frequency
New Routes
Kuala Lumpur
Haikou
December 2016
2
Kuala Lumpur
Nanjing
April 2017
3
Kuala Lumpur
Fuzhou
April 2017
3
Kuala Lumpur
Wuhan
April 2017
3
Kuala Lumpur
Chengdu*
October 2017
5
Kuala Lumpur
Chongqing*
October 2017
3
Kota Kinabalu
Tianjin
TBD
2
Penang
Shenzhen*
August 2017
3
Penang
Shanghai*
August 2017
4
Existing Routes
Kuala Lumpur
Shanghai*
April 2017
Increase from 7x to 14x weekly
Kuala Lumpur
Hong Kong
January 2017
Upgauge of MH 72/73 to A330
images ©LL,LBC