Following the surprise change in March 2016 to the the law which required travellers to apply for a Visa on Arrival, citizens of an extra 79 countries were granted visa-free entry. This meant these travellers could enjoy their Bali holiday (and elsewhere in Indonesia) minus the cost and queues applying for an Indonesian Visa on Arrival. Border closures during the Covid-19 pandemic shut down almost all travel to the popular island of Bali. The borders have been selectively reopened in stages in 2022 and they have reinstated the Visa on Arrival requirement for citizens of a number of countries. This requirement is still in force as at 7th November 2022.
UPDATE: They've also implemented a couple of other changes recently, including an eCustoms declaration, which we've added information and a link to download the form, at the bottom of this page. Also making life easier is the online applications for an e-visa are are now available, this link is also available below.
Indonesia Arrival Checklist
The steps you need to follow to enter Indonesia are now:
Scan PeduliLindungi app QR code at entrance to immigration

Download it before you fly, to save time

Health Quarantine Check

have passport, printed vaccination certificate ready, PeduliLindungi app on standby in case they ask for it

VOA if required (see below)
Immigration – passport and boarding pass (head to the leftmost counter if over 65)
Baggage Pickup
eCustoms Declaration

Scan a QR code that will save once you complete the online form on your phone
The details are at the end of this article

Exit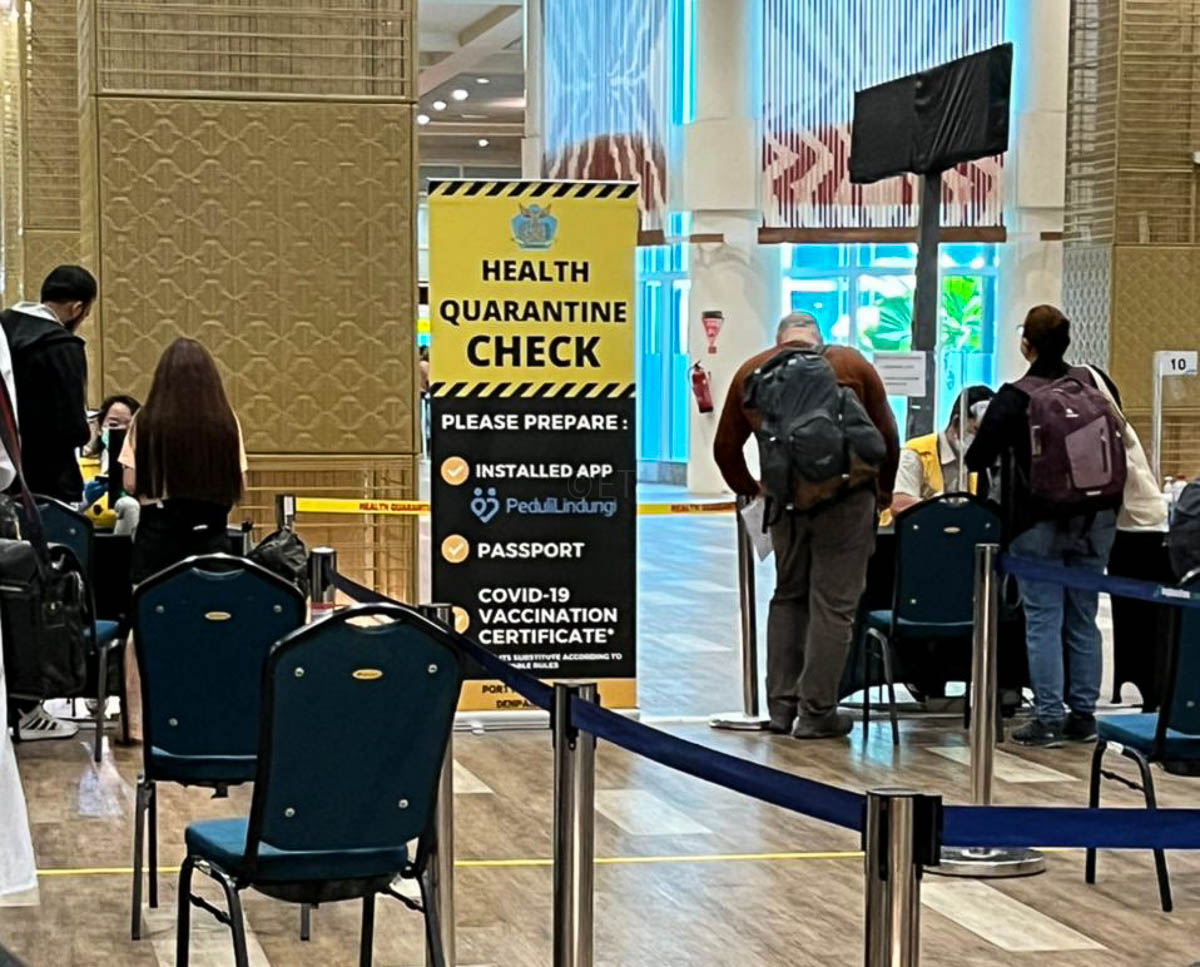 Which Indonesian Visa do I need?
While citizens of all ASEAN countries now have visa-free entry to Indonesia, the Visa on Arrival (VoA)has been re-introduced for most other countries. Use this official link for more INFO. Or this one, from the Indonesian Embassy in Switzerland, which is more recent.
These are the things you need to show, preferably in hard copy. This information is provided by the Public Relations Sub-Coordinator of the Directorate General of Immigration, Achmad Nur Saleh.
Your passport that is valid for at least 6 (six) months
Return ticket or onward ticket to another country
Covid-19 vaccination certificate (full dose)

You'll need to download the Pedulilindungi app. Save time by doing this before you fly.

Proof of payment for VoA (if required)
Applying for the VoA
As per Government Regulation No. 28 of 2019, the Visa on Arrival costs Rp 500.000.

The same charge applies any VoA extension

Apply for VoA at the Bank Rakyat Indonesia (BRI) counter

this is located before immigration check points in the arrival hall.

Payment is accepted in cash, officially in Indonesian Rupiah and US Dollars

You may request currency change first if you do not have either.
As of December 2022, the VoA counters are also accepting AUD 50 cash as full payment for the VoA.

Visa on Arrival can only be extended once, for 30 days.

Extensions are available at your closest immigration office.
VoA Online Applications
You can also pre-arrange your VoA in order to skip the VoA queue at the airport. Visit molina.imigrasi.go.id and select e-VOA to apply. Note that:
Your passport must be valid for at least 6 months from the day you enter Indonesia, and
You must have a return ticket, or a ticket exiting Indonesia within the validity of the Visa.
You will also need:

Full biodata page of your passport (format JPG/JPEG/PNG);
Passport-size photograph (format JPG/JPEG/PNG);
Email address; and
A valid Mastercard, Visa, or JCB credit card.
You can apply for your e-VOA online up to 90 days before arriving in Indonesia.
Once you have received your e-VOA approval, you can proceed straight to the immigration counters upon arrival. We recommend you keep a softcopy (on your tablet or phone) or a printed hardcopy in case of any system failures.
Can I get an e-Visa?
Visitors requiring a VoA fall into two groups when seeking to apply for an eVisa for Indonesia. Australian passport holders fall into the red group requiring more information. This is the page for all online visas currently available. Select the type of visa you require from the tabs available. The eVisa link you need is the one on the right 'Foreigners Reporting Application'. However this link is returning a blank page at the time of writing, but it is still worth trying your luck.
Unlike many other countries which appoint authorised agents for Visa applications, the Indonesian Immigration has not noted any agents on their website. However, we have noted agents offering their services including VFS Global. They do claim that the service is provided under an exclusive agreement with TLP, the partner of the Immigration Department for Republic of Indonesia and Bank Mandiri. The visa is available to both Bali and Jakarta-bound travellers. On arrival, you can use the the 'dedicated fast-track lane'.
Of course you do have to pay a 'VFS Global Fee' fee of USD30 as agent, which effectively almost doubles the cost of the Standard VoA Fee of USD35.  If you 'upgrade' the Service fee to 'Express', you'll pay USD92.50 instead of $30, to include a meet and greet service.
Can I get a Transit visa?
What is the difference between a visa on arrival and a transit visa?

The length and

purpose of your stay determine the type of visa you need. Tourist visas are generally issued to those who plan to vacation in the country, while transit visas are issued to those who are passing through en-route to another destination.

Indonesia does offer a transit visa, priced at USD10, although this seems to be only available in Jakarta.
If you are entitled to visa-free entry to Indonesia, you will not need a transit visa to pass through.
Do I need a visa to transit through Bali?

Passengers who require a visa to enter the country must have one, even if they are just passing through.
At Ngurah Rai International Airport (Denpasar, Bali), this includes travellers who do not leave the airport terminal.
You may have to pay for the VoA unless the Transit visa is available. There is conflicting information on this point.
We welcome any feedback on this topic in our Comments section. This is a very popular destination and we will update the story as things change.
We note limited circumstances where passengers have been able to transit through Bali Airport without having to exit through immigration (and therefore avoid having to get a Visa). Situations where this might be possible include:
Transiting with the same airline or an interline partner where baggage has been checked through to your destination (e.g. arriving and departing on international Garuda flights where you have an onward boarding pass and bags tagged through to your destination)
Travelling without baggage – you can proceed to the transit desk before immigration to see if they will issue your onward boarding pass.
Read more about transiting at Bali Airport here.
eCustoms Declaration
This has been implemented since we visited in September and replaces the paper form previously used. You'll need to download the form and it's best to complete it before you fly. Once you've completed the form, you'll receive a QR code which you can scan on arrival and show the officer.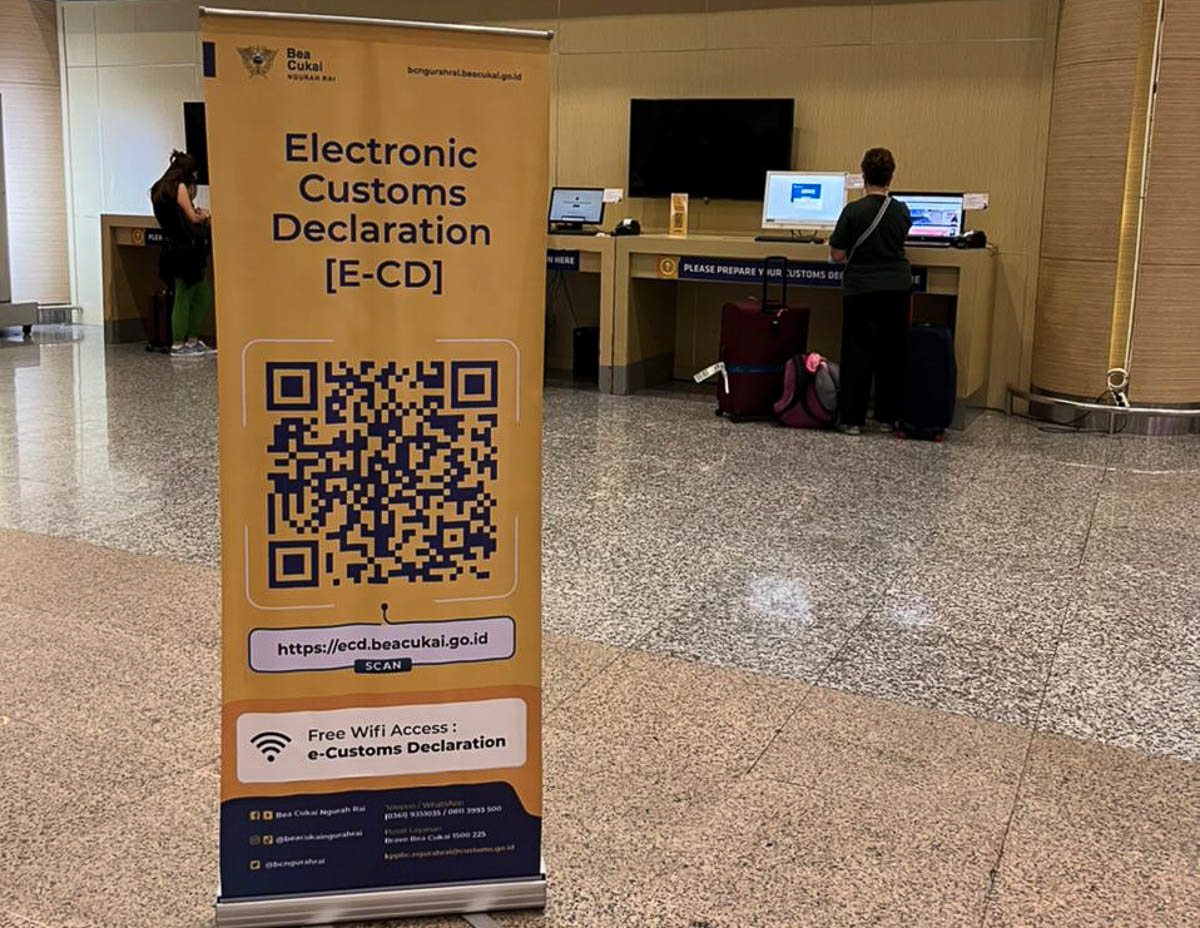 Happy travelling everyone!