When we were visiting Jakarta over the New Year weekend 2016, the city streets were amazingly clear because apparently many residents had left town for nearby holiday spots (more of this below) – even our taxi driver was astonished at how easy it was to drive. We found getting around the city relatively easy, although walking can be an issue due to the poor state of some footpaths.
Safety – as is necessary pretty much worldwide these days, you do need to be aware of your surroundings and personal safety. We felt comfortable walking about and noticed the presence of police and security staff on duty along roads and around shopping malls. Most of the upmarket malls had security checks you had to pass through at the entrance, with bag checks and scanners. They were also protected by low walls / fences along the roadside.
Sunday car-free morning
Sunday morning until 11a.m. is a car-free time along Jl M H Thamrin between Plaza Indonesia and the SW corner of the MONAS park. People come out on foot and bicycles and there are lots of hawkers staking out strategic spots in case you need a drink or snack. The buses that use the Busway are still running and the traffic lights work for cross-traffic, so you do still meed to be careful crossing at these areas and look first.
A day trip out of town
We entertained the notion of a day trip to one of the nearby holiday areas – Bandung, south east of the city, was considered top of our list as it has a number of interesting historical buildings connected with the country's colonial past and also because the journey through the hills is said to be very beautiful, especially in the morning. In the end we decided against the trip, preferring to spend the day in the city as we only had one full day out of the three we were there.
Friends later told us that had we gone, we'd have spent much of the return journey (if we caught a bus or went by car) stuck in one of the longest traffic jams (nine hours!) ever experienced on this route, a distance of around 150km which normally takes about two and a half hours. If we have the opportunity again, we will catch the train. (Leaves from Gambir Station in Jakarta, a number of trips a day. Certainly seems to be more time effective) If you have more time, perhaps you could consider a trip to Krakatau (the volcano)? You'll have to ask around for pricings, but Lonely Planet is a good places to get recommendations.
MONAS
The National Monument (MONAS) sits in the centre of Merdeka Square, surrounded by a massive park and close by the Ministry of Defence and the Presidential Palace. The monument dominates the city skyline. The tall buildings are a distance away and the whole of the city area is flat, so it's easy to see from afar. As it was a public holiday when we visited, there were many local residents out enjoying picnics under the trees, taking a horse cart ride with their family or flying kites.
The monument itself is open most days and for a small entry fee, you can visit the museum or for a little bit more, ascend to the viewing platform near the top for a panoramic view of the city. Go early if it's a holiday period as the queues are quite long and the lift is small.
National Museum
The National Museum is located along Jl Medan Merdeka Barat, on the western side of the MONAS park. the Museum is Closed on Monday, but Open 8am – 4pm Tuesday to Friday and 8am until 5pm on Saturday and Sunday. International visitors pay an entrance fee of 10,000Rp. There is a Service Desk for you to leave backpacks but you may take your camera in. There are well presented displays covering the various cultural and historical aspects of Indonesia, showing the huge range of diversity across the archipelago. We particularly enjoyed the entrance display of stone statues dating back over a thousand years through the periods of Hindu and Buddhist influence in the region. The statues and other artefacts can be seen both inside and outside in an open courtyard. 
There are also impressive displays of ceramics from around the region, showing the links with other countries and civilisations as well as examples of homes and they way of life including traditional arts and crafts and music. Look out for the free tours in various languages on certain days.
Jakarta Old Town (Jakarta Kota Tua)
Old Batavia (the Dutch colonial Capital) is to the north of the main city area of today, close to the Jakarta Chinatown, Glodok. It is a busy part of town, with some of the buildings badly in need of restoration. However, the old Town Hall, Stadhuys, is now a Historical Museum which we'd have certainly visited had it been open the day we visited. There was much else to see however. The street performers, palmists, food sellers and students practising their English on tourists by asking to interview them about their impressions, were some of the things that stood out. There are plaques set into the square, but there were too many people that day to really appreciate the inscriptions on them.
Istiqlal Mosque & Jakarta Cathedral
These two important religious icons stand facing each other, slightly to the north east of MONAS. You get a good view of them from the train when passing between Gambir and Juanda Stations, where you get off the train. It's a short walk to the Masjid Istiqlal from the station by the overhead walkway at the south end of the station. Don't try crossing the road at ground level. The mosque, which was opened in 1978 is the largest  in Southeast Asia and stands as the National Mosque of Indonesia.
The Mosque has a massive dome and a beautiful openwork design minaret, which seen from the direction of MONAS, blends perfectly with the white openwork spires on the neo-Gothic styled Catholic Cathedral, built in 1901. One of the things we found fascinating, was the bamboo flag similar to those so common in Bali and used in their festivals, propped up at the mosque gate between the mosque and church.
Have a massage
We were staying near Sarinah Shopping Mall along Jl M H Thamrin and found their food court and supermarket very handy, clean and useful so we were happy to discover a place that does foot massage just beside the food court on the lower ground floor. We tried out their services and our feet felt so good we went back for another round before we left on Sunday afternoon. The place is clean, and there is no hanky-panky. All the masseurs are young men and the comfortable recliners are in spaces partitioned with a thin curtain, open in front. You can indicate if you prefer to have your head, hands or other parts of your body included in the time you have elected for. At the end of the massage you get to enjoy a warm cup of ginger tea.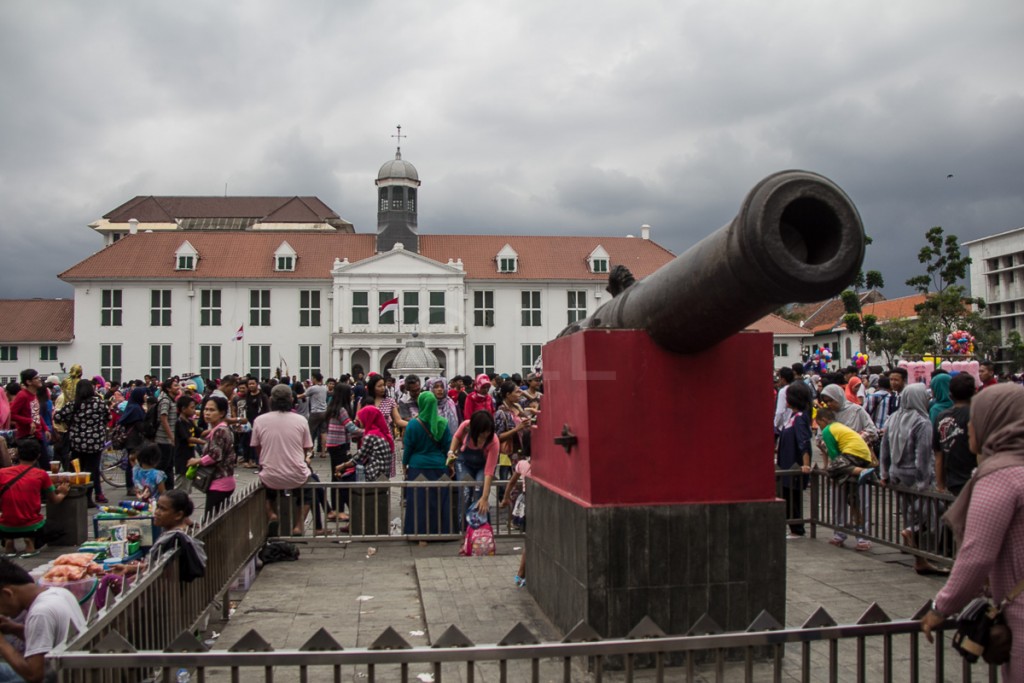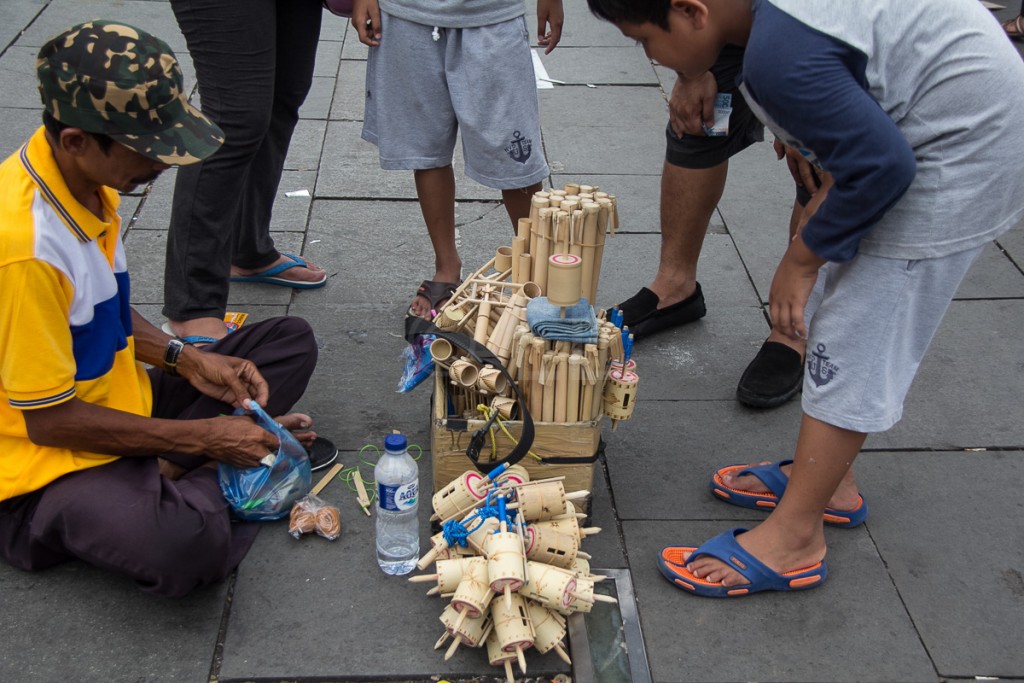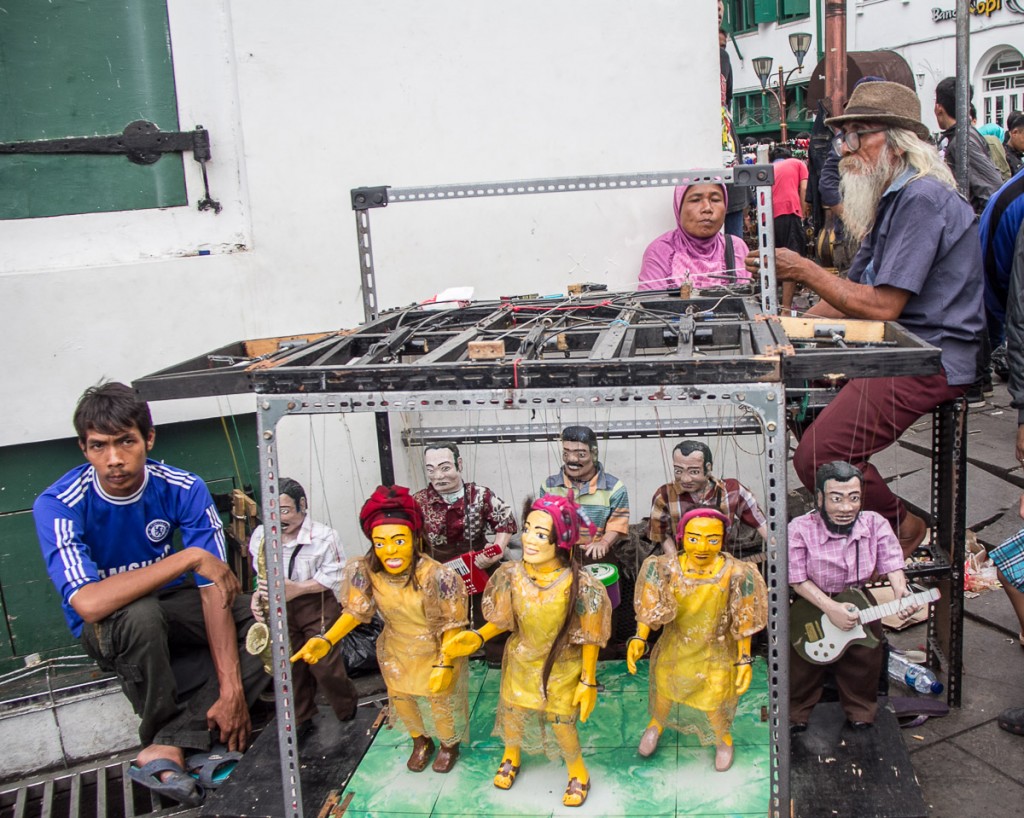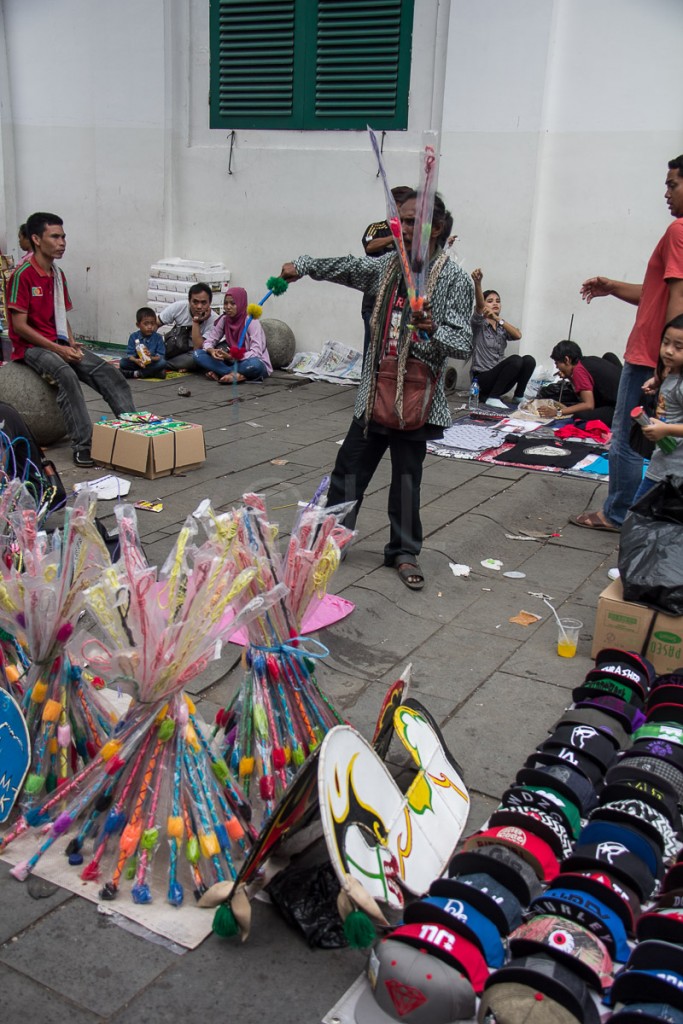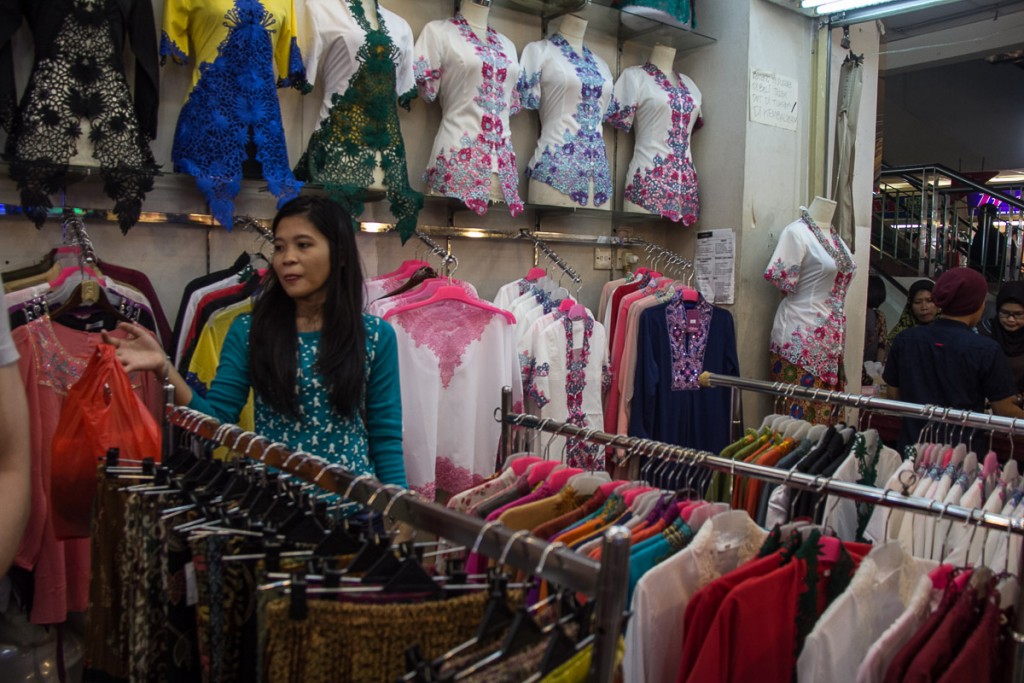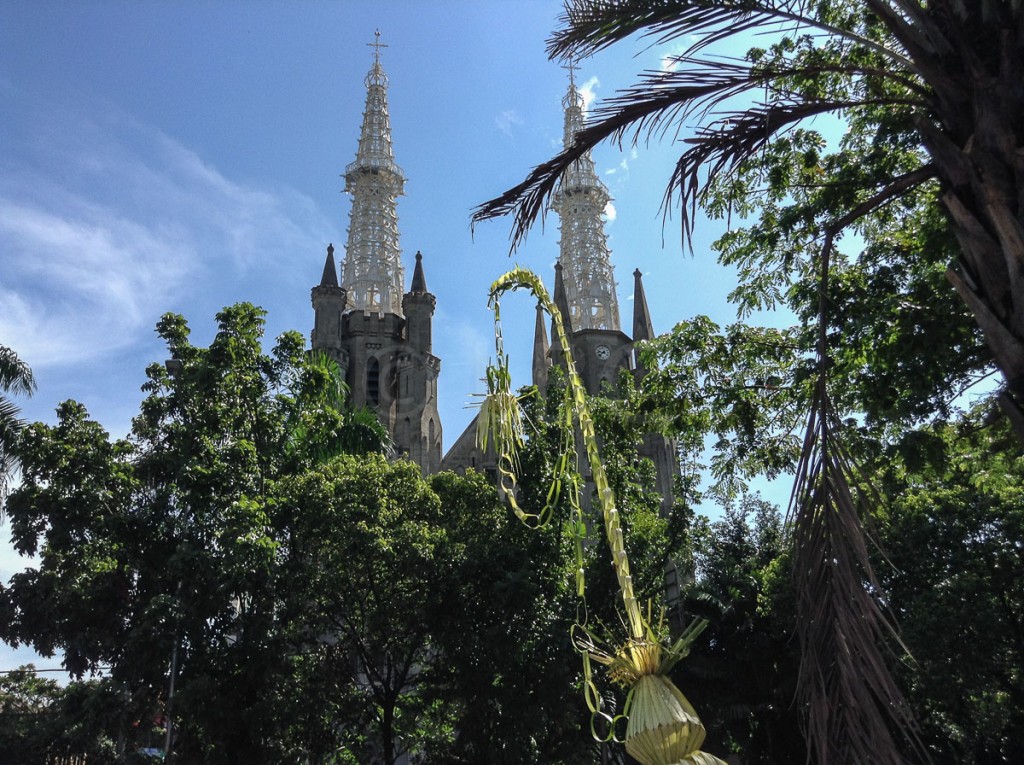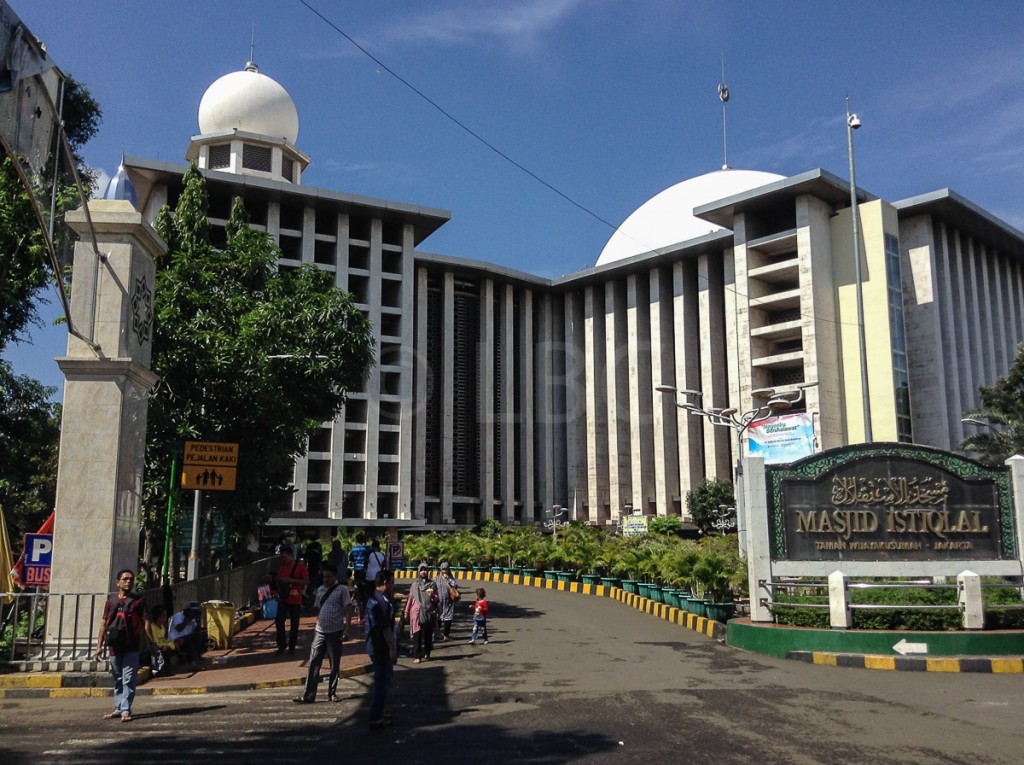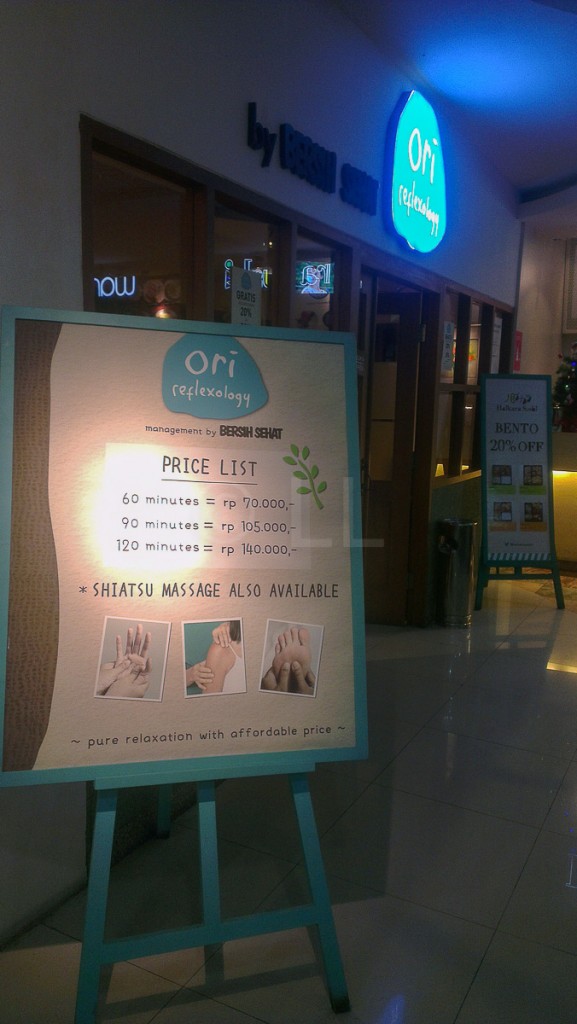 Visit the Textile Market
Although there a number of such markets in the city, some specialising in just one area e.g. fabrics by the metre, the Tanah Abang Textile Market in Central Jakarta is the grand dame of them all. A huge complex with multiple blocks and hundreds, if not thousands of stalls – we wandered through a couple of blocks and found 12 storeys in Block A, which kept us busy for hours. You can find everything to do with textiles here, from cloth to make your own and haberdashery to do it, to underwear, batik (sarongs, mens shirts and women's outfits) embroidered kebayas, jeans and all types of western style clothes, handbags and costume jewellery, even suitcases to carry the whole lot home! There are well identified toilets, which are clean and have paper, soap and running water and we had lunch at a well appointed food court on the 8th floor in Block A. They have western fast food as well as local favourites and the place is clean with plenty of seating with tables.
Catch the train
Catching the train is an interesting way to see the city from above as it passes by several places of interest. The services are frequent and the trains are clean. You need to pay a deposit for your ticket, which you can reclaim when you've finished with it. There are special carriages for women, similar to what you'll find on the KTM Kommuter in Malaysia and other cities.
Eat the food
Jakarta may not be the first place on the lips of dedicated foodies, but you don't need to go hungry. If you're hanging out for street food, you could try freshly prepared food from the many mobile hawkers along the roadsides. It might be wise to avoid those waiting outside MONAS – we found them to be rather expensive.
Generally prices were not 'cheap' but in most places they were affordable and we were recommended to a lovely restaurant for a special dinner which in every way measured up to the expectations. Seribu Rasa Restaurant in Jl H Agus Salim, serves a lovely spread of local and regional dishes and we were well satisfied with both taste and pricing. The other evening we enjoyed our dinner of rice and noodles at a small restaurant, Ruang Tengah Cafe in Sarinah Mall looking out onto Jl MH Thanrin. My 'green rice' was washed down with peach lassi. We also enjoyed breakfast and lunch in Hotel Kosenda. The resident chef and barista are both talented and professional and my companion pronounced his laksa to be the best he'd ever eaten and he's had more than a few. Definitely not cheap, but excellent food.
Look out for the drinks sellers, they either carry the makings on their heads or on the back of a bicycle – hot water in thermoses and pre-mix coffee and other drinks. They seemed to be very popular.