Malindo Air is offering some great deals from Australia, with 30% off selected destinations until 25th February. Fly out of either Brisbane or Perth between 1st March and 30th November 2018 to enjoy these prices on selected flights.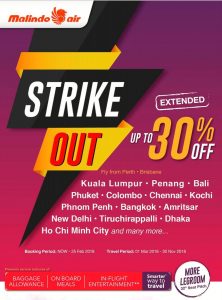 Deals from Australia
Bookings are available online on the Malindo Air website and selected travel agents.
Why not head for Bali over Easter? Or perhaps you're looking for an 'escape' over the Commonwealth Games period?
If you want to travel further afield, Malindo Air flies to various destinations across South East Asia including Phuket and recently added Phnom Penh.
Explore the sub continent, with exotic destinations like Tiruchirappalli and Amritsar on offer.
Want a holiday with that?
Ease into your holiday by pre-booking your accommodation through Malindo Air Holidays and save on the combination of flight + accommodation.