If you're looking for things to do in Phuket in Southern Thailand, you'll find much more than the beautiful sun and sea promoted by the travel brochures, though you can put them at the top of the list. We've put together a list of how to enjoy the sun and sea, and some of the other things to enjoy on this beautiful island surrounded by the Andaman Sea. *** update May 2021. Phuket reopens to International tourists from 1st July 2021.
Things to do in Phuket – our top six picks
We've identified our top six things to do in Phuket……
Island hopping
Your accommodation will most likely have operators they work with and this is a useful starting point as they will also be able to bundle in getting to the jetty. We left from the jetty at Pa Klok, which seems to be the main jump-off point for the island hopping trips.
There's quite a range of different companies offering all-in packages – the trip we joined cost 1600 Baht per person and included lunch and plenty of bottled water, bananas, tea and coffee.
You can ask for personal recommendations, or call one of the many operators who display their number in strategic locations near the hotel area and beach. Remember, you will get what you pay for, but please ensure that there are sufficient life jackets for all passengers (in different sizes).
You can also hire your own boat (longtail, catamaran or launches were among those we noticed) for the day – check out those waiting near the jetty, or ask at your hotel, they can also help you organise getting to the jetty. Don't forget your swim suit, sun screen and hat!
Relax – enjoy the beaches, the pool or have a massage
The best beaches in Phuket seem to be along the west coast of the island, with Patong Beach probably the best known. However a trip along the coastal road will take you past many other beautiful and sometimes quite secluded spots.
Patong Beach is possibly the best known and is well set up for visitors. The beach is clean – early morning walkers will see the cleaners finishing their work – but the sand is not particularly fine. The swimming areas are well marked out with flags and lifeguard's stools at intervals along the beach. The meanings of the flag colours are shown on a large sign about half way along the beach and the instructions for the red and green areas are posted at a number of highly visible spots.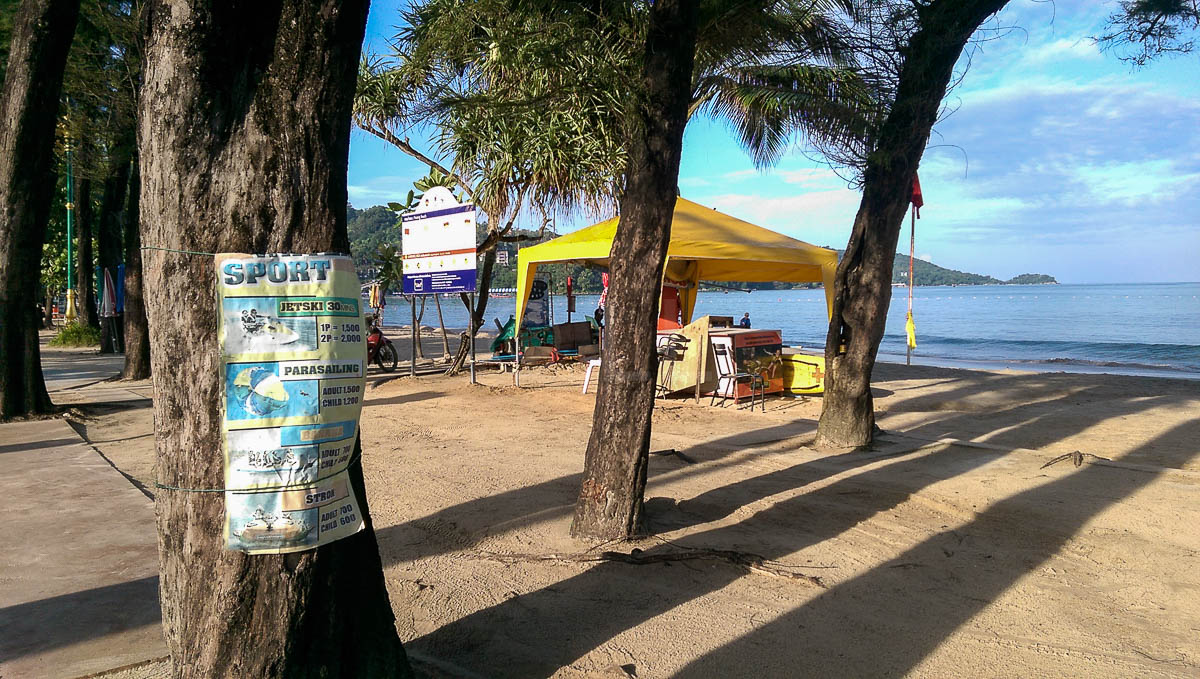 What can I do along the beach?
Apart from swimming, there are quite a few covered areas where you can have a range of beauty treatments. Look out for these about half way along the beach, particularly around the Bangla Road area.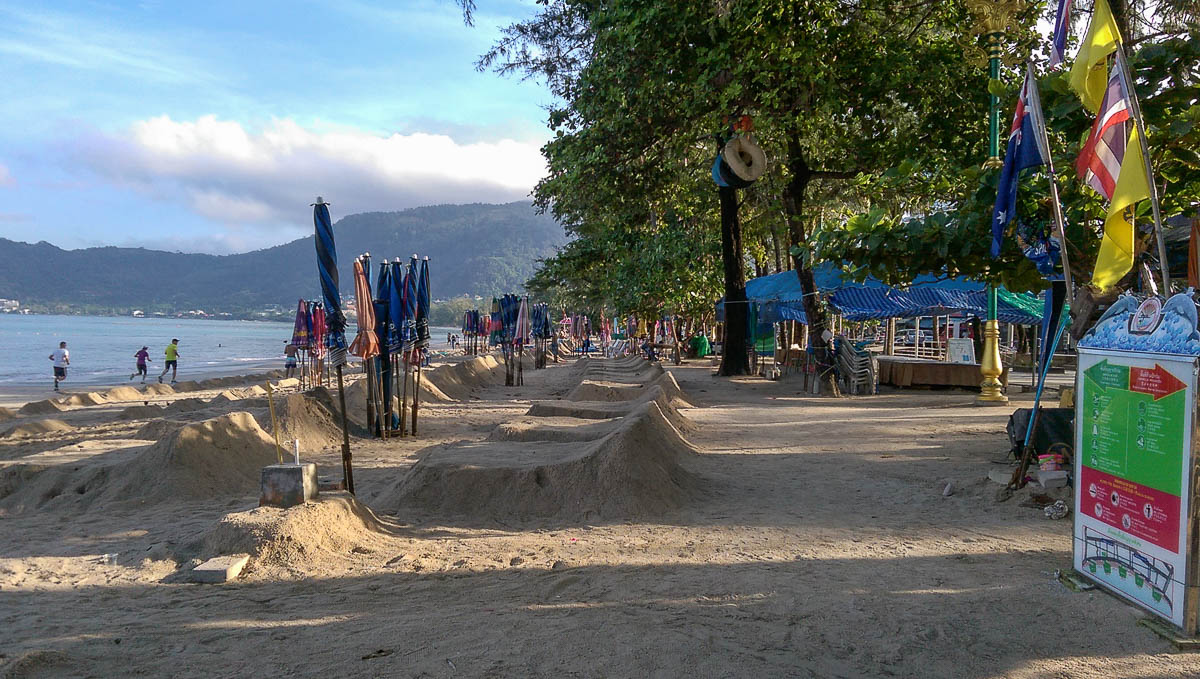 Soi Bangla (Bangla Road) –  the nightclub street, runs inland from the beach, about half way along. Although it's fairly quiet during the daytime, it really comes alive at night with a wide choice of restaurants, massage parlours, bars and nightclubs.
Look out for the jet skis, which roll up after about 8am, and if you fancy hiring one of the boats high up on the beach, their contacts are usually on the side and they'll be available when the operators turn up.
You can also rent your space at one of the nicely laid out sun bed areas. Constructed out of the sand, the operators lay a plastic mattress on top and they have umbrellas handy as well. You can also buy yourself a hat or other supplies from one of the stalls nearby.
If you feel like just lazing round your hotel pool, most of the larger hotels are well set up for relaxing. Read a book, swim and enjoy the warm weather.
Eco-tourism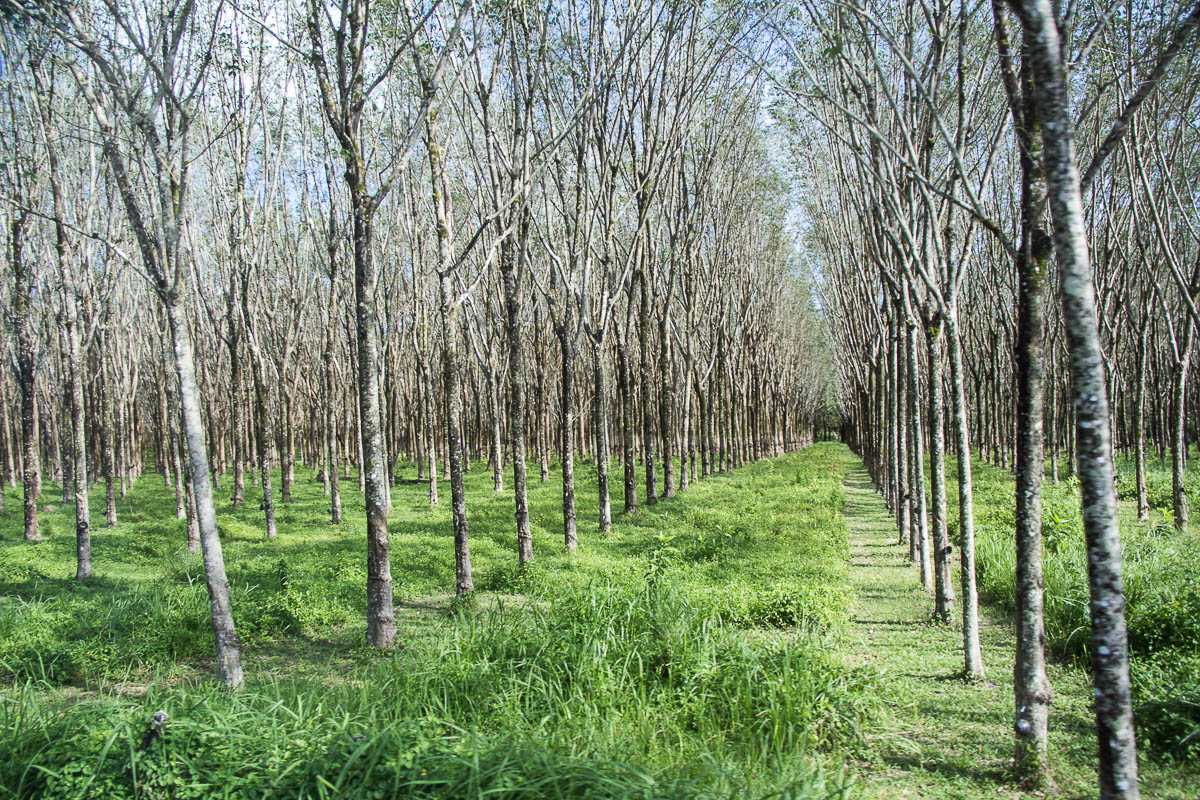 The centre of Phuket island is quite hilly and the road system really caters to the local way of life. Unless you only need to travel along the major roads, the roads are fairly narrow and you'll see a variety of types of transport from the local taxis, to the lorry buses and motorcycles modified for various purposes.
If you do venture off the main roads, as you will on the way to Pa Klok if you're going island hopping, you'll pass rubber estates and other small farms. Although the agri-tourism market in Phuket is still in its infancy, visitors who are interested in volunteering in eco and agricultural projects may be interested in the OpenMind Project which works with locals who wish to promote their own community eco and agri-tourism projects.
Go Sightseeing
If you've been to Thailand before, you've probably seen quite a few Wats (temples). Well, they have quite a number in Phuket too, some quite old and with something special that attracts visitors. Apparently the Wat Phra Nang Sang, along the road to the airport, is in an almost continuous cycle of renovation, addition and refurbishment, hence the scaffolding that you see as you arrive.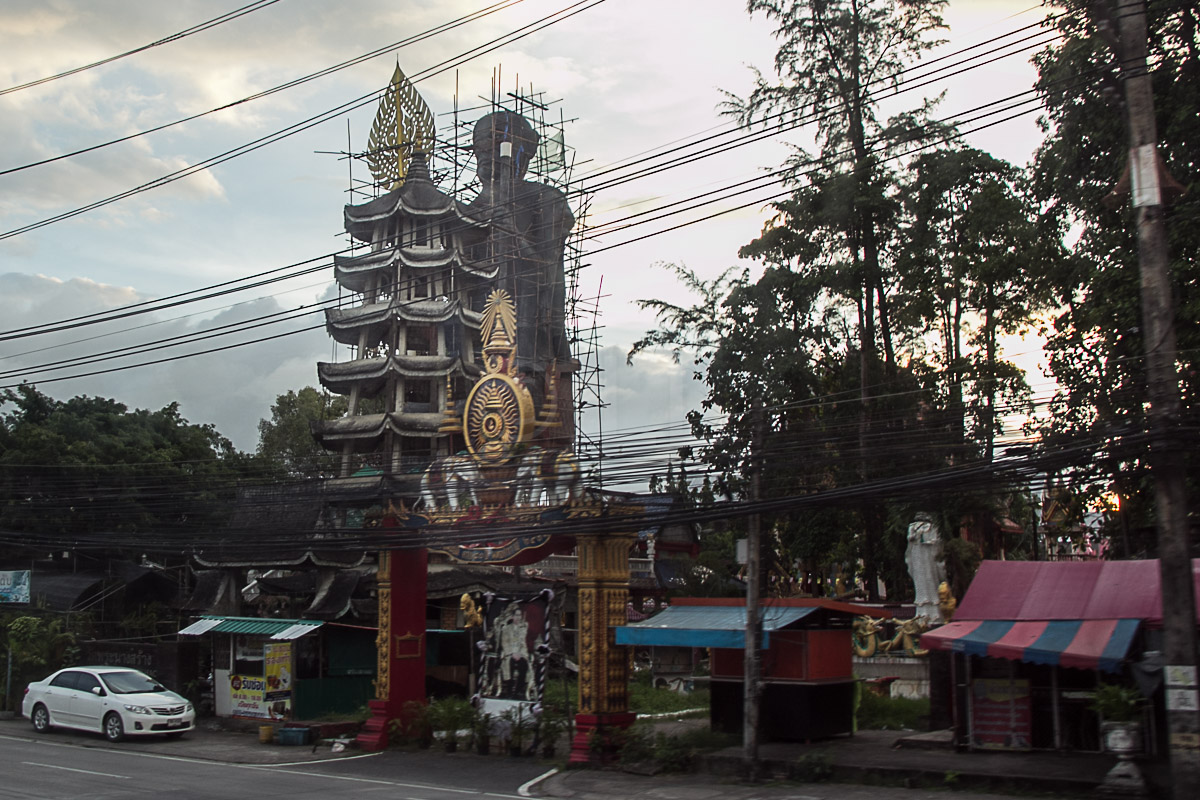 Wat Sri Sunthon, along the same road not far from the two heroes monument in the middle of a roundabout, features a reclining Buddha with long ear lobes, stretched out on the roof.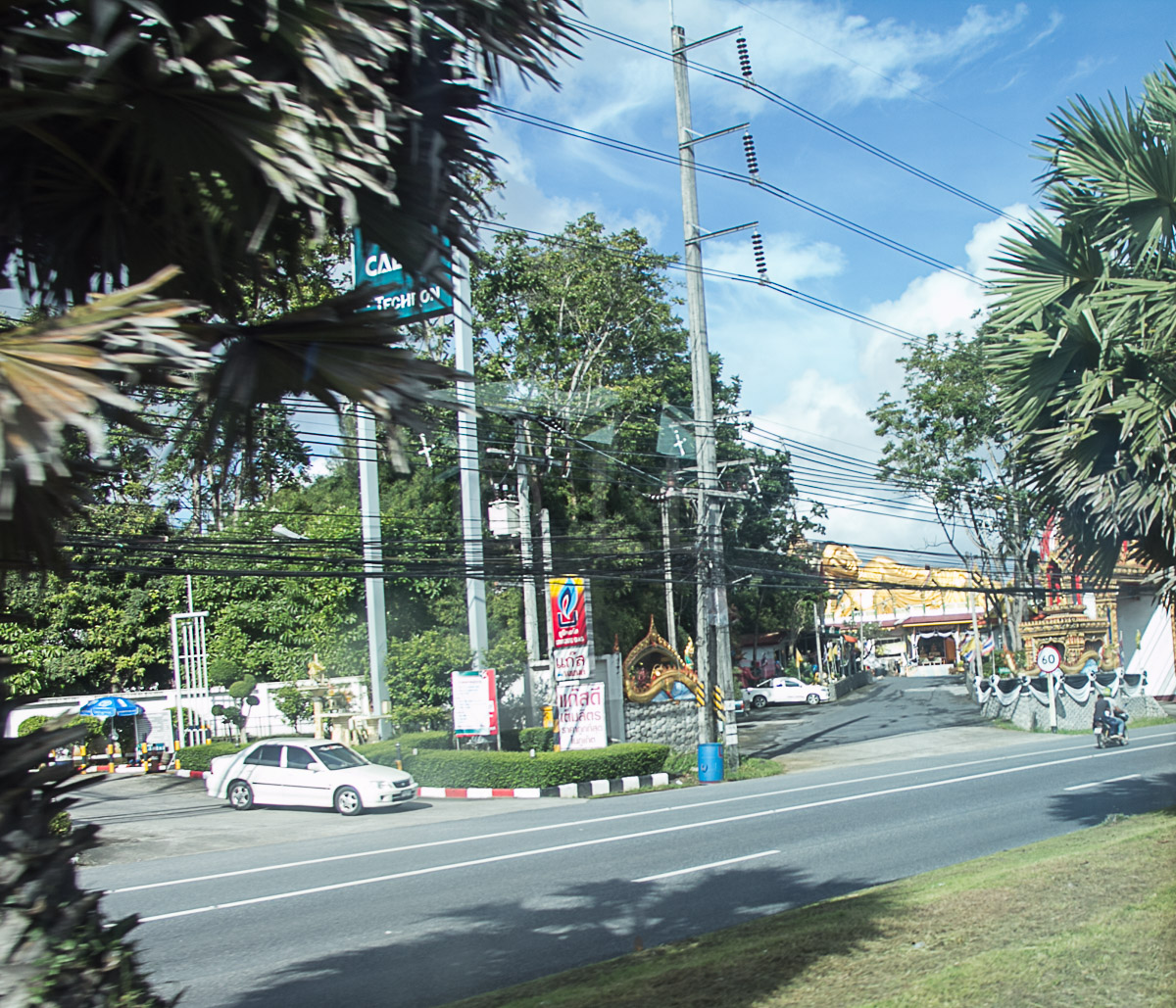 On the left as you head towards Pa Klok, you will pass the Ban Phak Chit Mosque, especially beautiful at sunset with the light shining through the stained glass panels on the minarets. There are quite a few mosques in Phuket as there is a sizeable Muslim population on the island.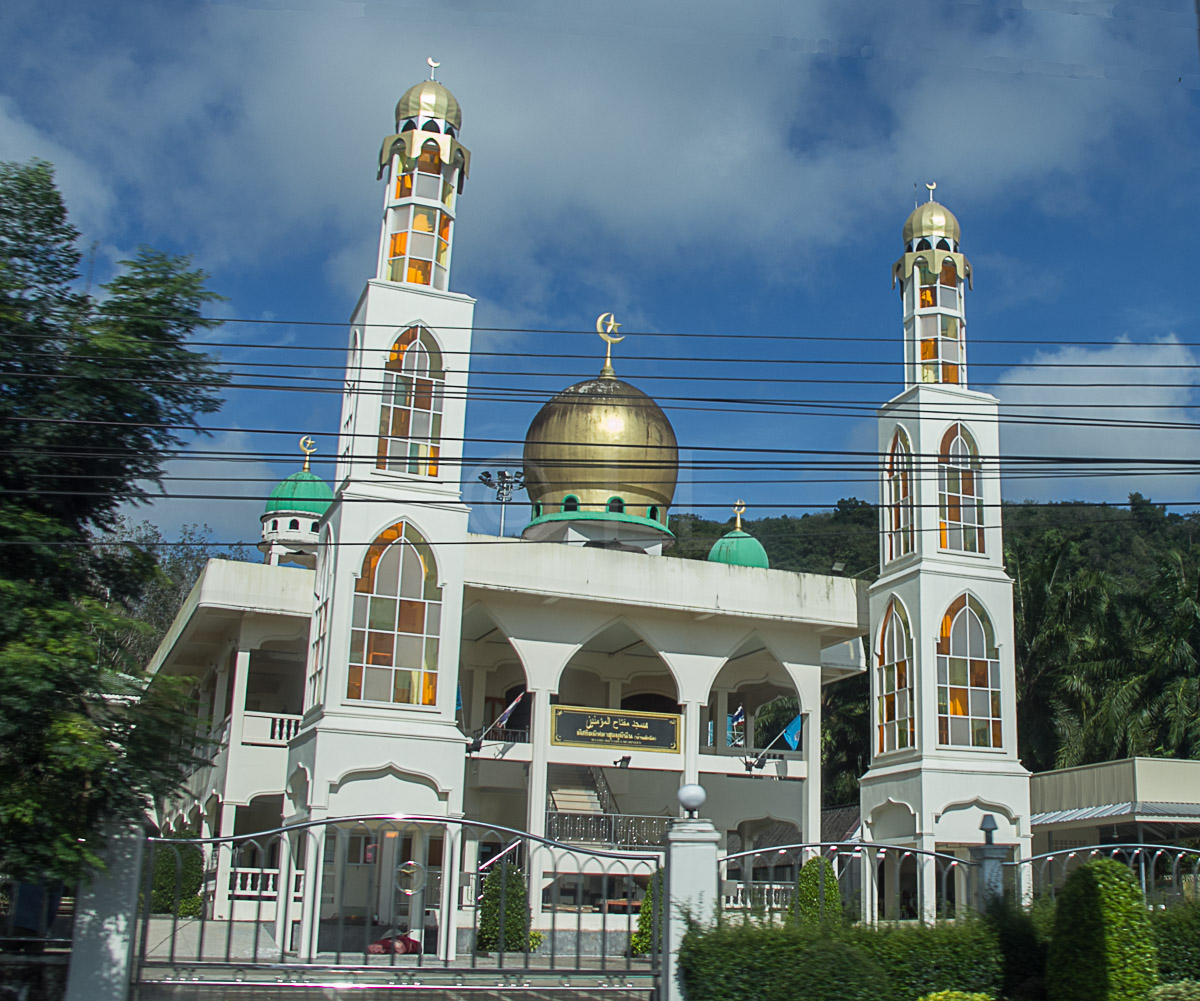 Food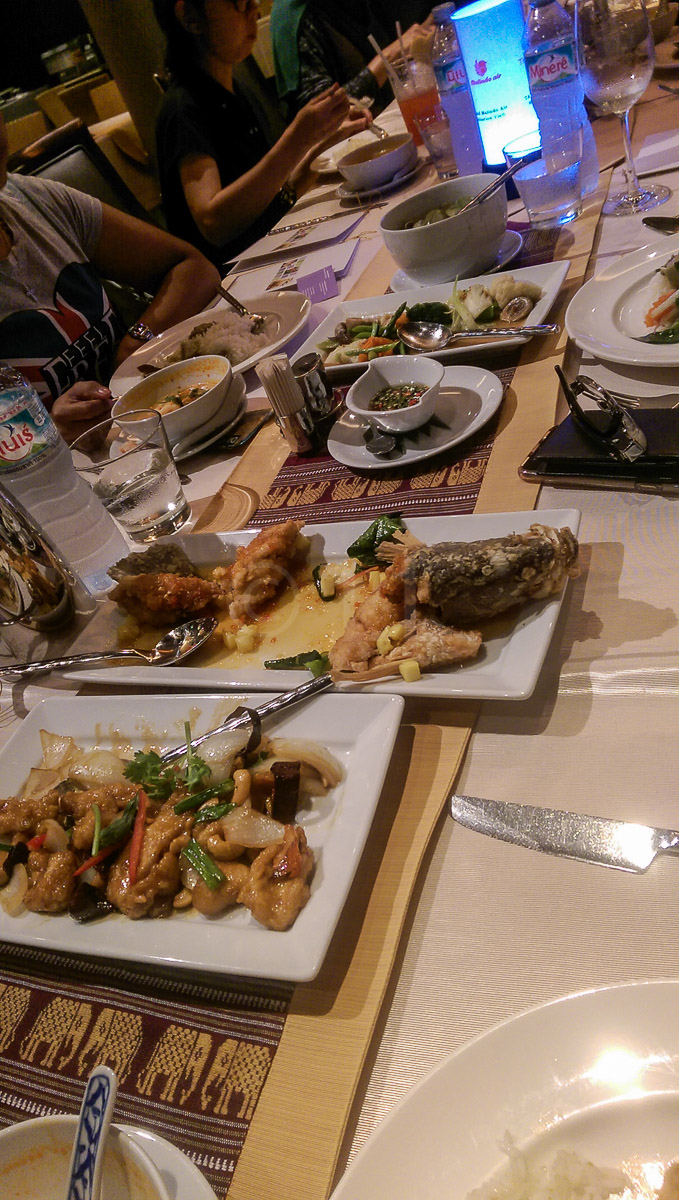 As an island destination, fresh seafood features high on the list of food on offer. While there are many seafood restaurants to choose from, across a wide price range, we ate at the Kan Eang Pier Seafood Restaurant in Rawai, where we were treated to live music while we enjoyed our food.
There's also a good choice of international cuisine on offer – we passed many roadside restaurants offering a wide variety of food from around the world, reflecting the origin of many of the visitors. A good opportunity perhaps, to try a new type of cuisine?
We ate Thai food in the Holiday Inn one evening and found that the food was authentic, beautifully presented and we discovered, comparable in price to similar restaurants outside. The hotel also has a well recommended fine dining restaurant, Sam's Steaks & Grill, which is in the higher price range.
If you're looking for local Thai Muslim food, this is also easily available and we enjoyed lunch on the way to the airport at a small clean restaurant serving spicy home style cooking. (PS it was delicious)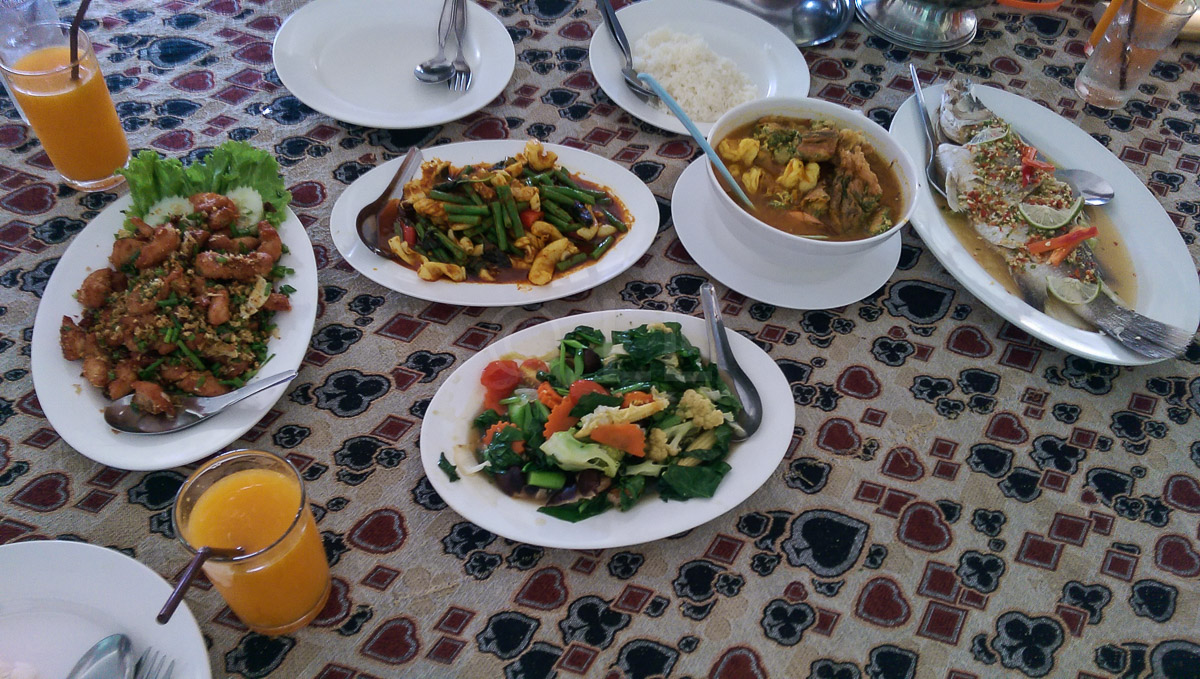 Thai food uses generous amounts of chili and fish sauce and other seafood components are popular. Look for the large brown sign on the left, close to the airport if you'd like to take some of the spices home with you. They come well packaged and depending on your destination and the intended recipient, can be a handy gift.
Shopping
Shopping is a good non-sun and sea or rainy day option. The main choices are the roadside shops and shopping centres. There are lots of small businesses along the roadside around the resort areas and if you're looking for waterproof bags for your camera / phone or other valuables, you can find a good variety available around town and also at the jetty before you leave. Bargaining is expected, so make your offer and then let it go back and forth until you are OK with the price. It's not considered good form to try and beat the seller down to a ridiculous price – leave them smiling too. Neither should you agree on a price and then not buy. That's poor form anywhere.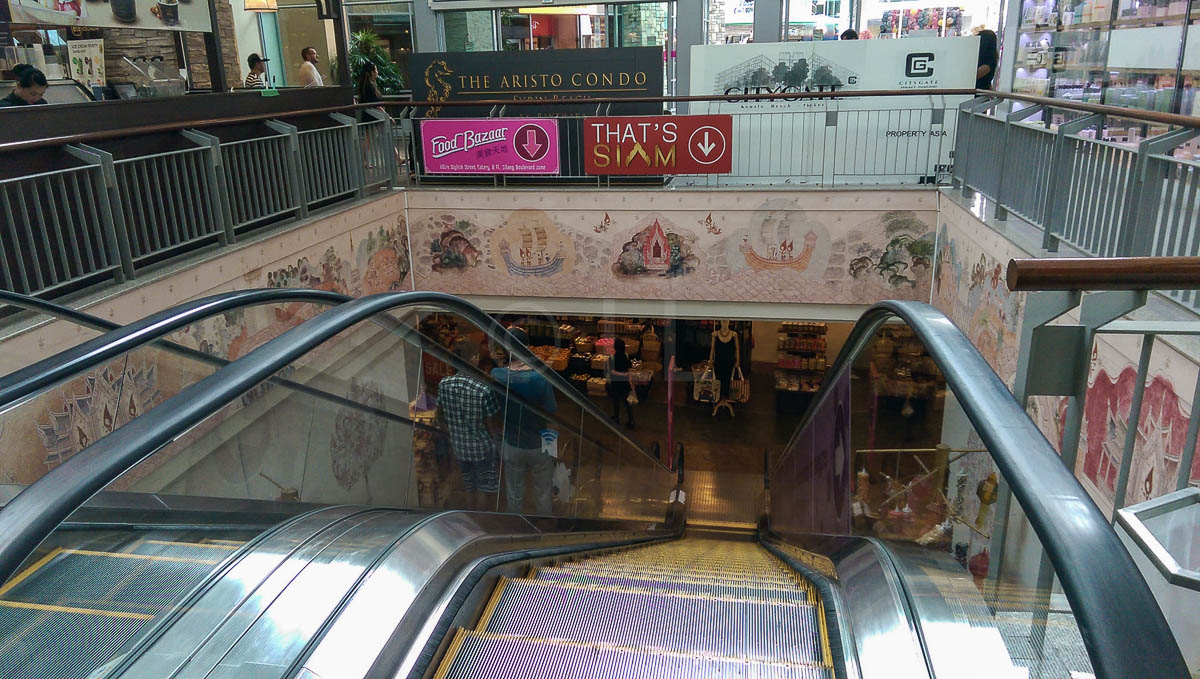 We dropped by the large shopping centre in Patong – Jungceylon. They have a range of shops ranging from cafes to international brands, a supermarket and a souvenir centre, That's Siam (opens at 11am daily) downstairs. Again, in the souvenir centre, bargaining is expected and they have a good range of goods in various price ranges.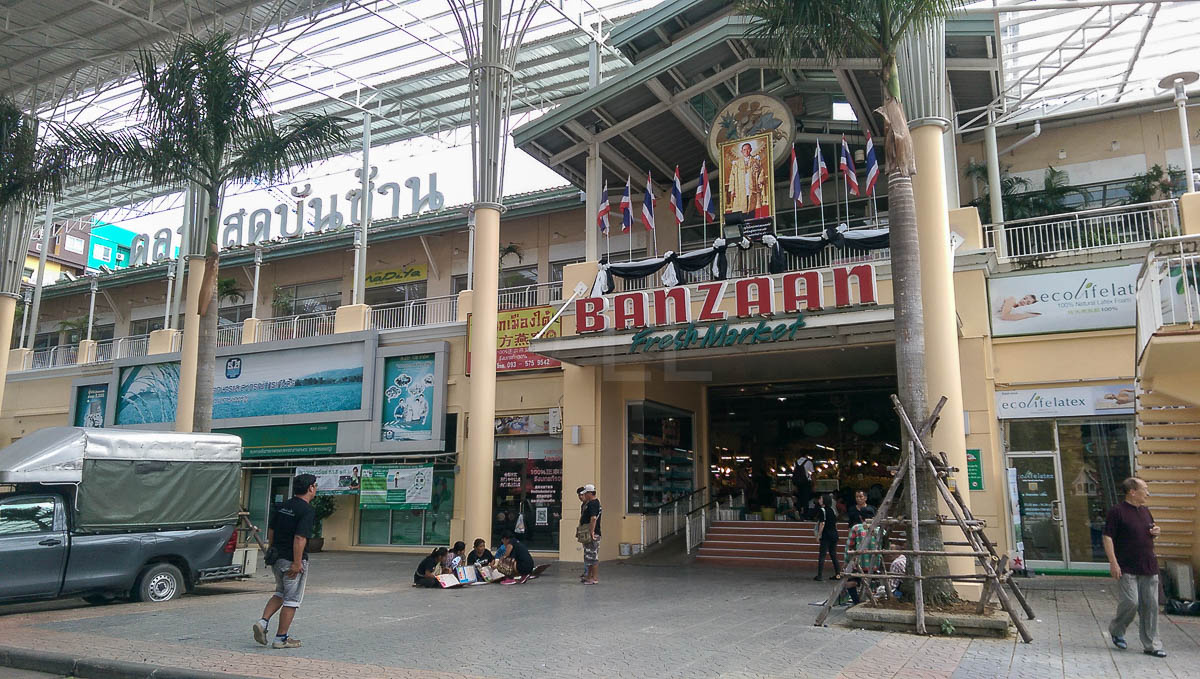 Just behind the shopping centre is the local fresh market, where you can buy local delicacies, fresh fruits and flowers, meat and seafood – there's also a food court upstairs where for a hundred baht or so, they will cook your purchases for you.
Economy Traveller travelled from Kuala Lumpur to Phuket on Malindo Air's Inaugural flight to the island in November 2016. We were extremely well looked after by Holiday Inn Resort, (they have a great breakfast buffet) and the Tourism Authority of Thailand.
images © LL