AirAsia BIG Members can now enjoy free Internet on ROKKI-enabled AirAsia flights.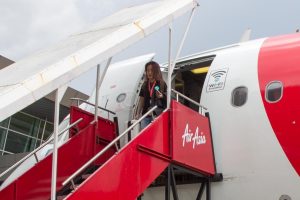 All AirAsia Wi-fi enabled flights are identified by the wi-fi symbol on the right of the aircraft door.
How do I get my free internet?
All BIG Members will receive a 2MB Chats Plan each time they fly on a ROKKI-enabled flight. This will give access to WhatsApp, WeChat, LINE, KakaoTalk and Viber applications.
Connect to the ROKKI Portal to redeem your free access.
If you want to browse the internet, you can still purchase access. Do it online before you leave to save.
How to connect?
First you need to have your own device. Only Android or iPhone though, it's not available for Windows /tablets. Hopefully that will soon change.
Second, you must be a BIG Member to get this free. Otherwise you pay, lah!
If you aren't a BIG Member, you can still follow the other instructions and check out a heap of good free stuff that's available.
Your device must be in Flight mode.
Connect to ROKKI Wi-Fi during the flight after the seat belt sign goes off.
Log in to the ROKKI portal (rokki.com) using your AirAsia BIG login details to automatically redeem the plan.
AirAsia currently has 44 ROKKI-enabled A320 aircraft in service flying AK domestic & international routes.
….. Connectivity is integral to our lives, and this is something ROKKI understands implicitly. We hope that this free inflight Internet will help guests stay in touch with their friends and family and get the latest updates no matter where they are. Lalitha Sivanaser, ROKKI CEO
Lalitha also acknowledged passengers' desire to stay connected. She added
….. ROKKI is continuously advancing the digital transformation on board, further enhancing the inflight portal that offers entertainment, news, and exciting shopping deals on their personal mobile devices while flying.
ROKKI is an inflight entertainment and connectivity platform that offers guests free entertainment, music, games and news, as well as shopping features. There are two paid options as well, giving access to chats and browsing.
For details and latest news, please visit rokki.com or airasiabig.com. You can also check out our review of the ROKKI service.