Airasia travelmall is the newest way for travellers to Langkawi to enjoy duty-free shopping online and have same-day delivery. One of the big drawcards for Langkawi is its duty-free status but if you're reluctant to pull yourself away from the beach, why not let your fingers do the walking.
Asean's first Digital Duty-Free Shopping experience
Holidaymakers in Langkawi can enjoy duty-free shopping in the resort island even more using airasia Super App, AirAsia's digital travel & lifestyle platform. The platform launched the first-of-its-kind airasia travelmall, on 30th September, offering a convenient digitised and contactless duty-free shopping experience.
For the first time in Asean, shoppers can choose tax-free products across a wide range of categories online via the airasia travelmall. You'll find unbeatable duty-free prices and enjoy same-day delivery of your purchases to your designated location or hotel at the time you choose. This is within the same day for all orders made before 4pm, giving a more convenient and safer shopping experience.
…. This is just the first step; soon there will also be a full spectrum of fulfilment from inflight seat delivery, airport pickup on top of hotel and home delivery with 13 Asean retailers on board with airasia's duty-free offerings. Amanda Woo, CEO of airasia Super App
She added that  this is the future of shopping and the airline is  proud to launch yet another industry-first service. AirAsia travelmall is part of AirAsia's unwavering support to continuously innovate and enhance our product and service offerings. The platform leverages the super app technology, connecting users directly to the comprehensive inventory of products and their preferred delivery options. The app is backed by a seamless and secure payment experience. Airasia travelmall is looking to welcome more operators who are ready to embrace the power of technology and e-commerce.
Speaking on behalf of the airasia travelmall merchants who are excited to be a part of this new initiative, Tan Min Jie, Manager of Eastern Native Duty Free Sdn Bhd added his comments.
…. It's been good to see Langkawi abuzz again after a while and we're looking forward to serve more customers in the coming months.
Sunny Yeoh, Business Development Manager of Langkawi General Supplies acknowledged that 'Things have been rough but we're coming back stronger.'
Today, together with airasia travelmall, we are excited to be able to enhance and rejuvenate the duty-free shopping experience in Langkawi. …….We've seen the power of e-commerce and we're ready to truly embrace this new channel and to continue to grow and innovate as a company.
Promo pricing
In conjunction with the launch, airasia travelmall is offering up to 70% off purchases of Langkawi duty-free items between 30th September and 31st October 2021. This comes with free delivery for orders with a minimum spend of RM50. Look too, for more special discounts for AirAsia flight guests, airasia ride passengers and those staying in partner hotels. To access the discounts, airasia Super App users can click on the 'travelmall' icon on the airasia Super App to find out more.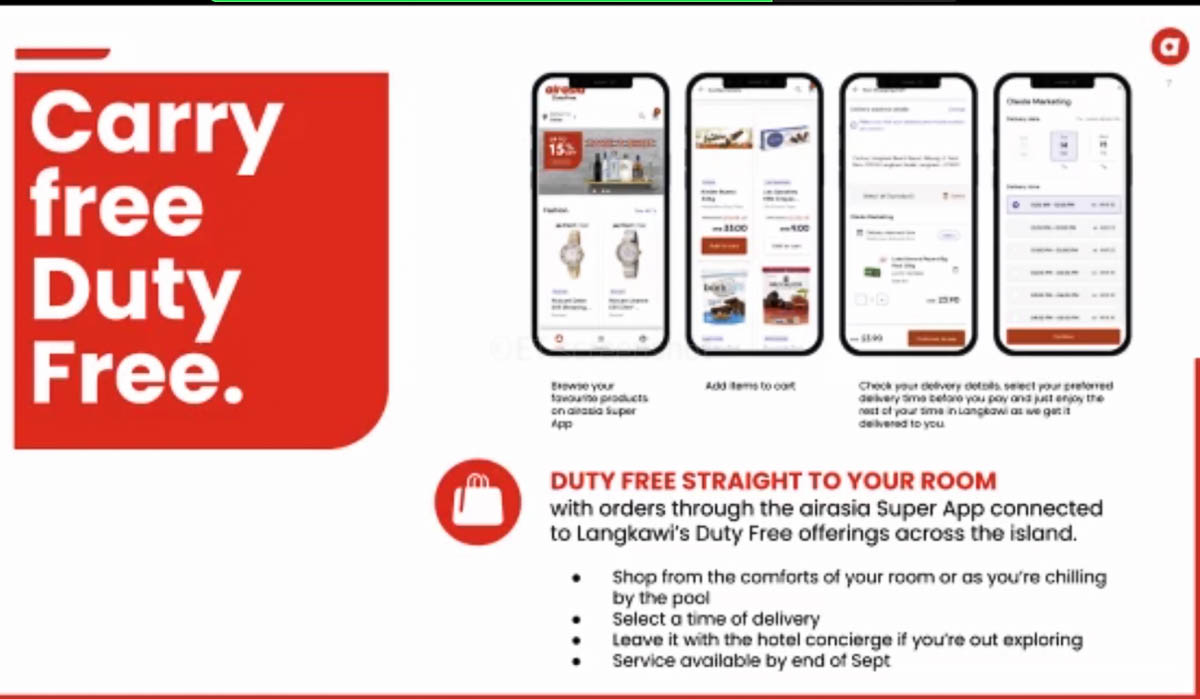 For a seamless and enhanced experience, including online check in services, download your airasia Super App from the Apple App Store, Google Play Store or Huawei AppGallery. Stay up to date with e-commerce information from the airasia super app by following @airasiasuperapp on Instagram and Facebook for the latest updates on airasia super app's e-commerce offerings.