AirAsia has revealed key initiatives to support the recently announced Langkawi travel bubble. One which will be popular with travellers is the AirAsia Langkawi duty free initiative using the airasia super app. This app digitises duty-free shopping in Langkawi and introduces island-wide duty-free delivery.
The well-received Langkawi travel bubble is seen as a catalyst towards the revival of Malaysia's domestic tourism with the AirAsia Group playing a strong role in further solidifying the return of travel.
With the transformation of AirAsia into a digital travel and lifestyle group now complete, travellers can now
book their ride to the airport and within Langkawi island,
confirm their flights and accommodation to Langkawi,
complete their duty-free shopping
These can all be completed within one platform, the airasia Super App, with some great deals and prices.
AirAsia Langkawi duty free and more
Look for these icons in the airasia Super App
to enjoy these on-going Promotions
Flights

Click on the 'Flights' icon

Fly into Langkawi from Kuala Lumpur, Penang, Johor Bahru, Ipoh and Kota Bharu from as low as RM12 one way from now until 19th September 2021
SNAP

Click on the 'SNAP' icon

SNAP deals with 3D/2N return flights and stay in 4-5 star hotels in Langkawi from RM99 per guest* start travelling from 16th September – 31st December 2021
Hotels

Click on the 'Hotels' icon

Enjoy an additional 10% discount on all Langkawi hotels by using this promo code VAX8TION10 from now until 19th September 2021
airasia ride

Click on the 'Ride' icon

RM55 two-way (applicable in the Klang Valley only for now) by using the promo code RIDE55 from now until 30th September 2021.

Enjoy RM5 off for up to two rides booked within Langkawi with the promo code LANGKAWI5.
AirAsia Malaysia (flight code AK) resumes its flights to and from Langkawi with a initial offering of 90 weekly flights.
These flights (and return) are departing from:
Kuala Lumpur (63x weekly)
Penang (14x weekly)
Johor Bahru (7x weekly)
Ipoh (3x weekly)
Kota Bharu (3x weekly)
Additional routes and frequencies will be introduced as travel demand grows in tandem with the reopening of more leisure destinations.
To help travellers enjoy an improved, more exciting travel experience, the airasia Super App is collaborating with the Langkawi Development Authority to offer a new digitized and contactless duty-free shopping experience. This island-wide and same-day delivery across Langkawi hotels will be rolled out by the end of September.
Following up, look for the full spectrum of fulfilment from
inflight seat delivery,
airport pickup
hotel and home delivery
There are currently 13 Asean retailers on board with airasia's duty free offerings.
The airasia Super App now offers e-hailing with the recent launch of airasia ride, also operating in Langkawi beginning 16th September 2021. The airasia ride e-hailing service can be booked by clicking on the 'Ride' icon on the airasia Super App, or visiting airasia.com/ride.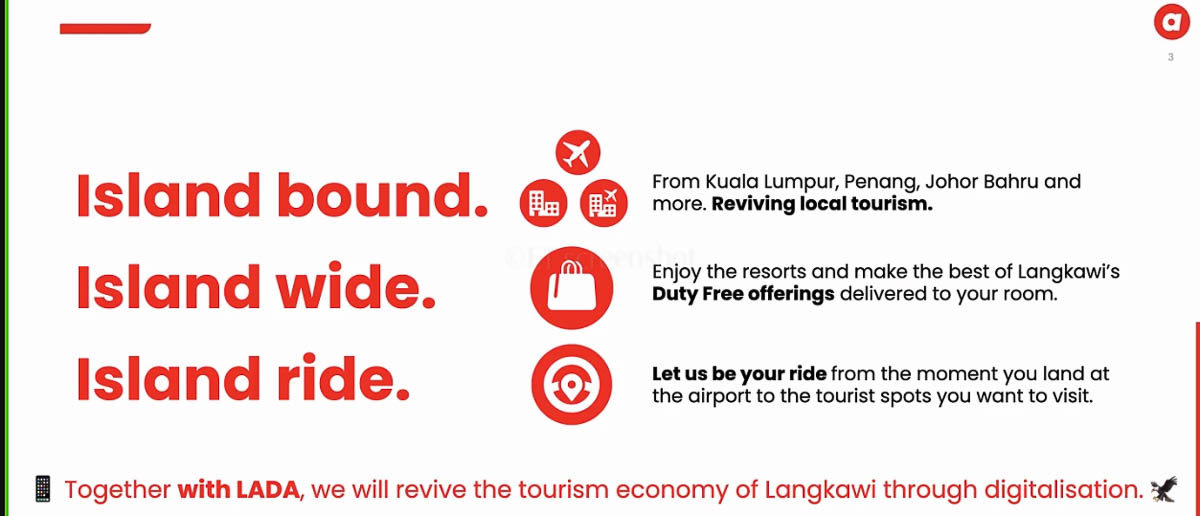 Announcing the initiatives at an online press conference, Riad Asmat, CEO AirAsia Malaysia said that the airline had seen very strong uptake for seats to Langkawi, especially with the RM12 low fares and RM99 SNAP deals. Pent up demand is seen as a strong driver, perhaps even revenge travel, for those eager to travel again.
He also added that AirAsia has prepared extensively in the operational area and implemented robust and comprehensive health and safety protocols to ensure guest safety.
…. Our self check-in system on the airasia Super App is our latest innovation that integrates data from certified healthcare providers to seamlessly verify a guest's travel eligibility based on their test certificate and/or vaccination certificate.
Amanda Woo, CEO of airasia Super App spoke about the AirAsia Langkawi duty-free initiative.
…. The digitalisation of duty-free shopping in Langkawi through our airasia super app will power Langkawi up as the Asean's first online duty-free shopping destination, and this is just one of the many things we look forward to collaborating with LADA in the long-term.
Teleport, AirAsia logistics partner, will make deliveries with a 6-hour express service. Customers can select their preferred delivery time or engage concierge services by partner hotels to receive on their behalf. Free delivery for all purchases, as well as special discounts to airasia guests at partner hotels will be available during the launch campaign.
So get your suitcases out and have your vaccination certificates ready to go and enjoy Langkawi's mountains and beaches, sights and shopping.
As Nasaruddin Abdul Muttalib, CEO, Lembaga Pembangunan Langkawi (LADA) says
….. To all tourists, please adhere to the SOPs enforced while enjoying your holiday on our pristine island. We look forward to offering an amazing, safe, and healthy tourism experience to all visitors. Do come to Langkawi. Langkawi misses everyone!
Sign up to join airasia Ride as a driver by downloading the airasia ride driver app or click here.
For more information on AirAsia's safety measures and Langkawi SOPs, please click here. A couple of questions you'll find answers for relate to vaccinations and accompanying children. You'll be pleased to know that "Children below the age of 18 are allowed to travel with their parents/guardians who are fully vaccinated.".
You must also undergo an RT-PCR or RTK-Antigen Covid-19 test 48 hours before your flight. The results must be brought to the airport for inspection prior to departure. This was confirmed by the Minister of Health on 15th September.