Phnom Penh International Airport hasrecently been rebuilt, with the new buildings opening in early 2016. By the time we passed through, any early 'bugs' has been sorted out and we found it easy enough to negotiate, both for arrival and departure.
Arrivals
The airport is equipped with sky-bridges, so you walk straight into the terminal, not across the tarmac. Signage in Khmer and English, is clear.  There are people available to direct you whether you're a transit passenger, 'Visa free' or need a Visa or unsure.
When you reach the entrance to the Immigration area, you will probably be approached by one of the 'runners' who can assist with the process, for a fee of course. I overheard one gentleman accepting the additional charge of USD10, plus USD 2 for a photo. The process is actually easy and quick. If you don't have a photo, you pay the extra USD 2, but apart from this, it's just the appropriate visa fee and as it was a quiet period, the wait was only around 10-15 minutes.
Other Immigration information:
Exit tax is now included in your plane fare, so you no longer have to keep cash to pay this on departure. The Immigration counters have notices stating this and also add that the officers do not accept any payments. You will also be fingerprinted, all ten fingers.
The Phnom Penh Airport is new, having only been opened in early 2016. As such, the layout is similar to most international airports worldwide, signage is clear and there are plenty of clean, western style toilets, including a washroom close to the Visa on Arrival counter.
Amenities
There are well placed clean toilets close to the 

visa on arrival 

counter and in the baggage claim area.

There are a number of 

Arrival Duty Free shops close to the 

Baggage Claim area as well as Currency exchange counters.

As you exit the Arrival Hall at Phnom Penh Airport, you will see a row of stalls selling phone cards (local SIM). The prices for the phone SIM are all clearly displayed and start from USD2 for a card that will last 7 days, for calls and data.
There are a number of companies offering pre-paid SIM cards, we had a look at the reviews before we arrived and chose to go for Cellcard, which promised the widest and most reliable access. Despite travelling to Bokor (near Kampot) and Oudong Mountain, both well out of the city, we did not lose coverage.
Departure / Check-in
If you arrive at the airport by car, taxi or tuk-tuk, you will be dropped close to the entrance to the Departure Hall. The check-in desks are opposite the entrance and if you arrive before your counter opens, there are plenty of seatsto wait. There's also a donut stand to the left of the entrance doors, opposite the toilet entrance. A small cafe is at the right of the entrance, below the escalator up to the departure Lounge.
Whether you have checked in online, or have yet to collect your boarding pass, ensure that you know what is in your bags. Packed your bag yourself. Don't carry unknown packages for anyone else.
Your carry-on bag

 

should be within the size and weight limits stated by your carrier.

Baggage wrapping services are available in the Check-in area between 5am and midnight. You can find the stand near the entrance to the Departure Hall.
To reach the Departure lounge and departure gates, use the escalator to the right of the entrance doors. You will find the Immigration and security checks as you come off the escalator.
**Important: A number of items need to be declared (e.g. More than USD10,000 equivalent in foreign currency). Ask for a Passenger's Declaration Form and ensure that you have all supporting documents.
Artefacts, statues, antiques and ancient items are required to have an authorisation and permit issued before the exportation by the Ministry of Culture and Fine Arts and an export permit by the General Department of Customs and Excise.
Getting to and from Phnom Penh International Airport
You can get to and from the airport by taxi or three wheeled vehicle (tuk-tuk). A taxi between the airport and most parts of the city will cost you from USD 9, rising to USD 12 and USD 15 if you need to travel outside the main city, or across the river. Pricing may vary within the area depending on distance and traffic.
A new rail service connects the airport with the main station in Phnom Penh. The fare each way is US$2.50. We haven't tried it yet, but it certainly offers an alternative if you're unsure about the other options.
We caught a tuk-tuk, which has pricing starting from USD 7. If you want to make a detour on the way to your destination, be prepared to negotiate upwards, especially if it will make the journey longer.
Use the services which are waiting at the designated pick-up areas. The drivers will have uniforms and their Registration details will be displayed. If you are able to communicate with the driver in a common language, it may be useful to get his number so you can use his services later to get around the city and later return to the airport.
To get back to the airport, you will pay a premium if you book through your accommodation. Taxis and tuk-tuks normally wait near hotels and hostels.There is a large transport hub for cars / taxis / long distance buses at the New Market, the large yellow market in the city.
There is no train services to the airport, and there is no formal bus service within Phnom Penh.
Services and facilities
Plaza Premium have airside lounge facilities in Phnom Penh International Airport. You can find them in the Departure Lounge, opposite Gate 9.
Duty Free Shops
You have plenty of choice of Duty Free stores in this airport. There's a wide choice of international goods, as well as local handicrafts, food and souvenirs. The local products are more expensive than those in shops downtown, but there's a good range of high quality items.
Where to eat?
We weren't really looking for food on arrival, as we were more focused on getting transport and phones connected. However, when we were leaving, we found quite a few options, both in the Departure Hall and after you pass through security into the Departure Lounge.
Here are some useful practical tips to get the best out of your visit to Cambodia. You can also get more information from the Airport website.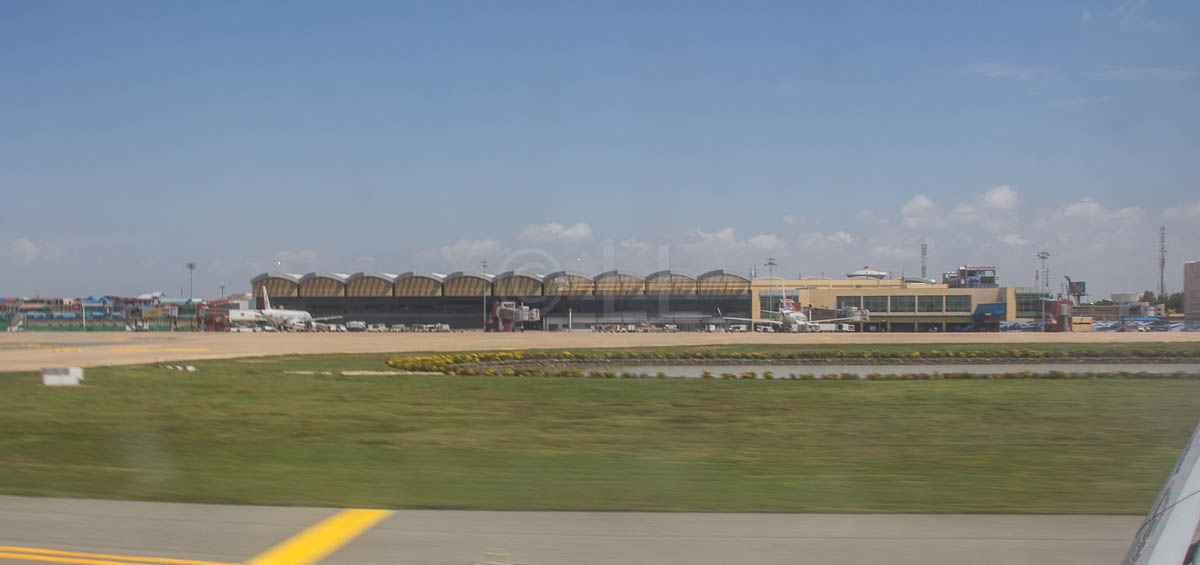 images © LL