If you're taking a trip that requires a Bali airport transit or transfer it helps to know what to look out for. Malindo Air's flights to the eastern cities of Australia, currently Brisbane and Melbourne stop for an hour each way in Bali's Ngurah Rai International Airport. Adelaide flights started in mid April 2019 with Sydney following in August. Malindo Air is one of the few airlines offering this type of transit. Check our latest info HERE.
Bali airport transit – how does it work?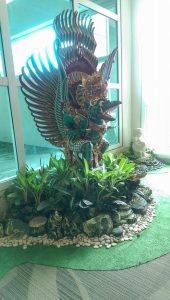 Tickets for these Malindo Air routes are sold as straight through tickets, or one leg only. Therefore if you are travelling all the way through, you may have different seat mates for each part of your journey. Passengers with the same flight number for both legs will only have a short one hour transit.
Passengers who purchase a straight through ticket, with an earlier flight on the Kuala Lumpur/Bali leg will be able to exit the airport.  These travellers will have a different aircraft for the second leg of their journey.
These tips are for those making an international transit/transfer. Passengers making an international/domestic transfer should follow the signs for this type of transfer as you will have to pass through immigration checks. Transfer passengers are those who are changing aircraft or airline for the next stage of their journey.
Things to note for Transfer passengers:
If you are transferring to a different airline, either or the same or a different booking, you will have to exit and check-in again. Hopefully a full airside transit service will be available in the near future.
Immigration queues are often long
Luggage collection can take a long time

You may have a customs check

If your aircraft is parked at a remote bay you will have to be bussed to the terminal

It is a long walk to the immigration counters from the drop point

You need to pass a security check to enter the departure area (upstairs)

Queues are often long and people push.
Allow at least three hours if you have this type of connection.
Do I have to leave the aircraft?
You must leave the aircraft at Bali Airport. On an earlier flight to Brisbane with Malindo Air, we were not allowed to leave the aircraft in either direction. However, this policy has changed and all passengers are required to leave the aircraft. On subsequent trips we received new boarding passes for the onward leg, on board on the first trip. An airline representative meets the flight to direct passengers and issue a new boarding pass. These must be endorsed at the transit desk.
The Transit area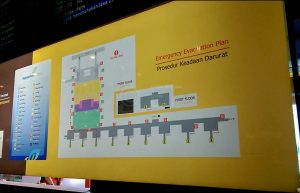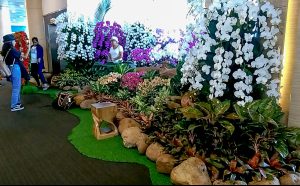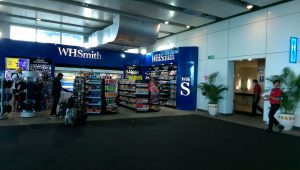 So you must leave the aircraft. These are eight useful things to know.
Bali Airport Transit Process
Take all your hand carry items with you. The aircraft is cleaned while you're gone.

Remember to take your phone and cables/earphones or other small items from the seat pocket.

You will receive a new boarding pass, even if your seat remains the same.

Your new boarding pass must be stamped at a second counter. You will be directed where to go.

You may have to walk a long way.

If you need assistance or a wheel chair, advise your airline to request assistance.
The queue may be long and slow moving.

If you are parked at Bay 9 or a remote gate, it is a long walk to the transit counter.

You'll have time only to go up to the departure lounge and back to your aircraft.
If you're lucky and are in a low numbered bay, you should have time to enjoy the departure lounge.
Aircraft in Remote Bays (no direct access, buses only) board from Gate 6A/B.
This is accessed by escalator on your left. It is down one level.

Transit Passengers pass through the security check after getting their new boarding pass.

Go up the departure lounge close to Boarding gate 1.
Passengers who've just checked in enter through the Duty Free area from the security controls.
Entrance to the duty free shops area is clearly marked.
If you have the time…
There are no further security checks before re-boarding your aircraft/onward flight (except to  Australia)
Travellers to Australia may not carry water.

You must empty or discard your bottle.

You can fill a water bottle before you board your aircraft en-route to other destinations.

There is a filling station just outside the washroom entrance. (update 2023 – all the water fountains have been removed)

What's on offer in the Departure Lounge?

A wide range of duty free items on sale, from international brands to good quality local products and souvenirs.
Food and drinks outlets, bars and a newsagent
Shops selling other sundry items.
If you have Lounge access and the time to spare, they can be found upstairs in the central area of the departure lounge.

The boarding gate seating is spacious and the windows have a good view of the tarmac.
images©LL