This is not the first time this writer has waxed lyrical about the food in Penang and it probably won't be the last. In fact, when you are anywhere in Malaysia, you still have to eat, right, so be brave and follow your nose. And breakfast in Penang has a huge range of possibilities.
Breakfast is the meal that gets you started for the day, so you need to stoke up. For sheer variety, you really can't go past the Pulau Tikus market area. Take your time to wander by the stalls at the market before or after you've filled your stomach, you can pick up some snacks for breakfast or later and perhaps buy some fruits -there are many types of bananas and papayas and even durians, which is an education in itself.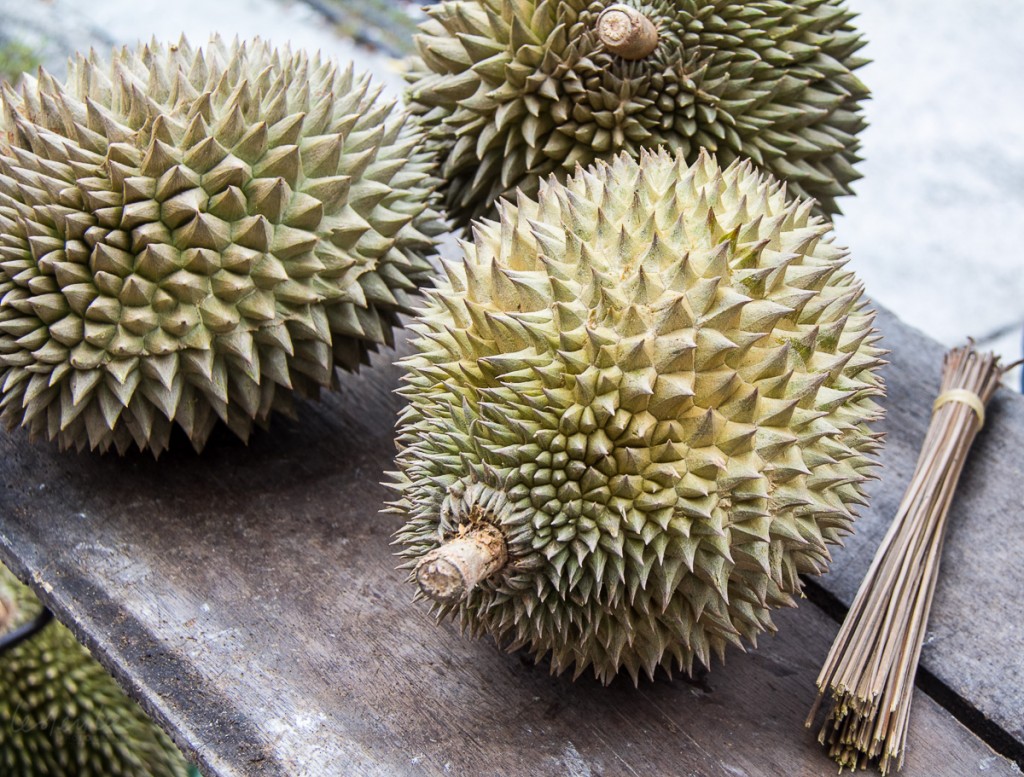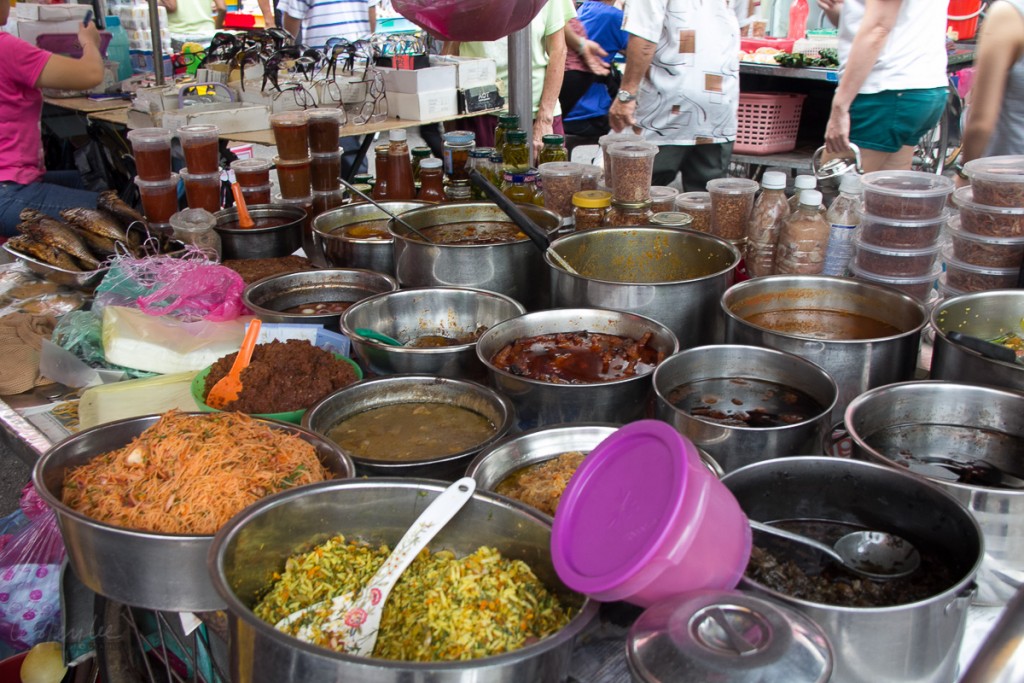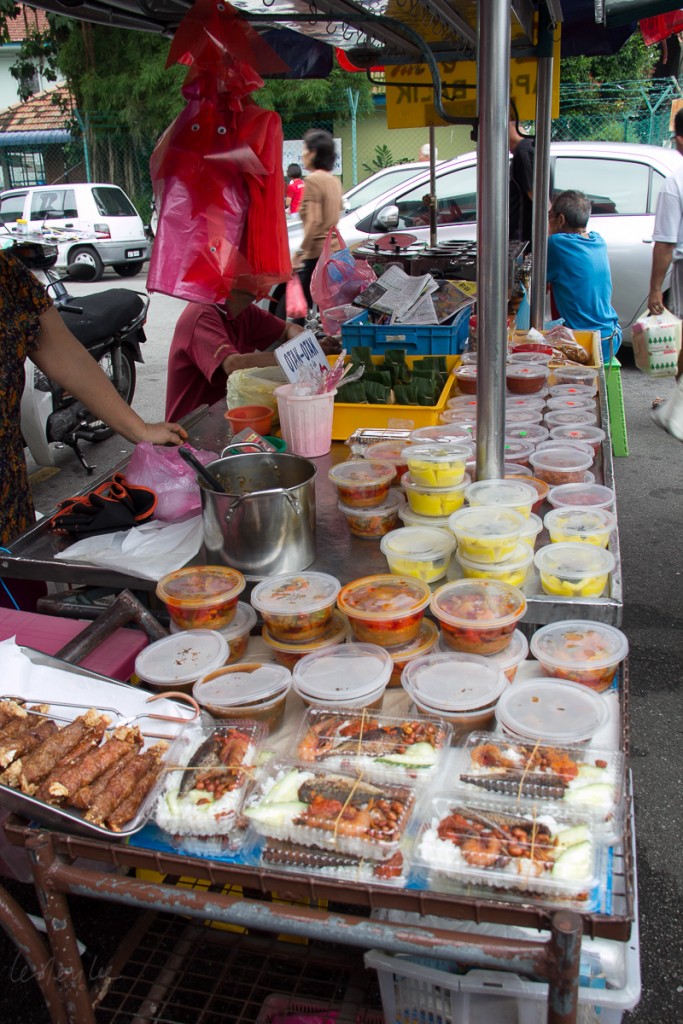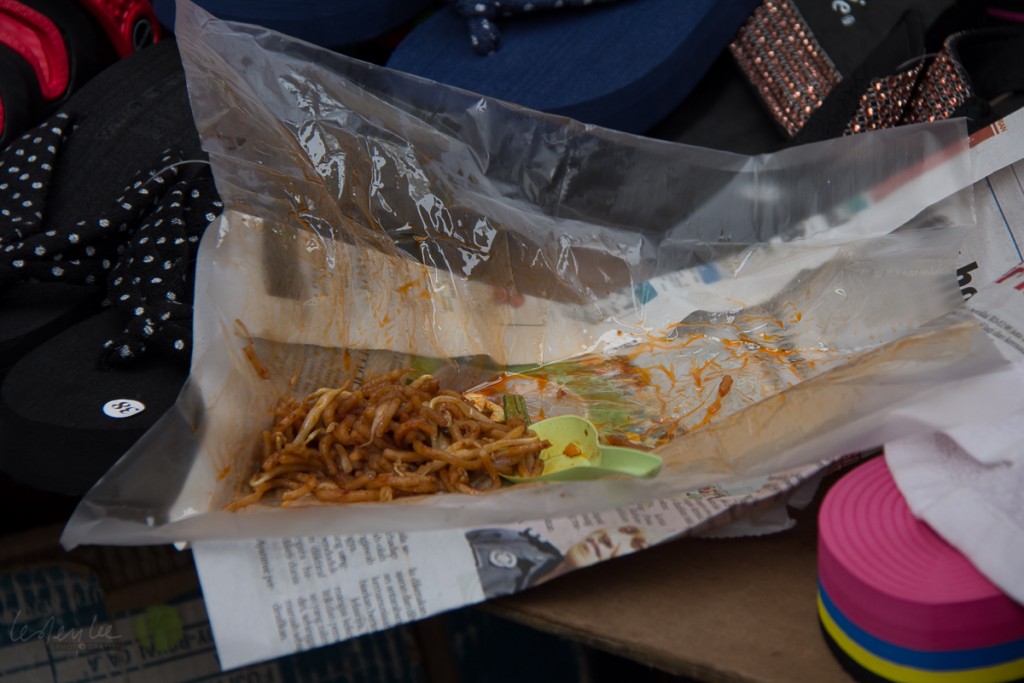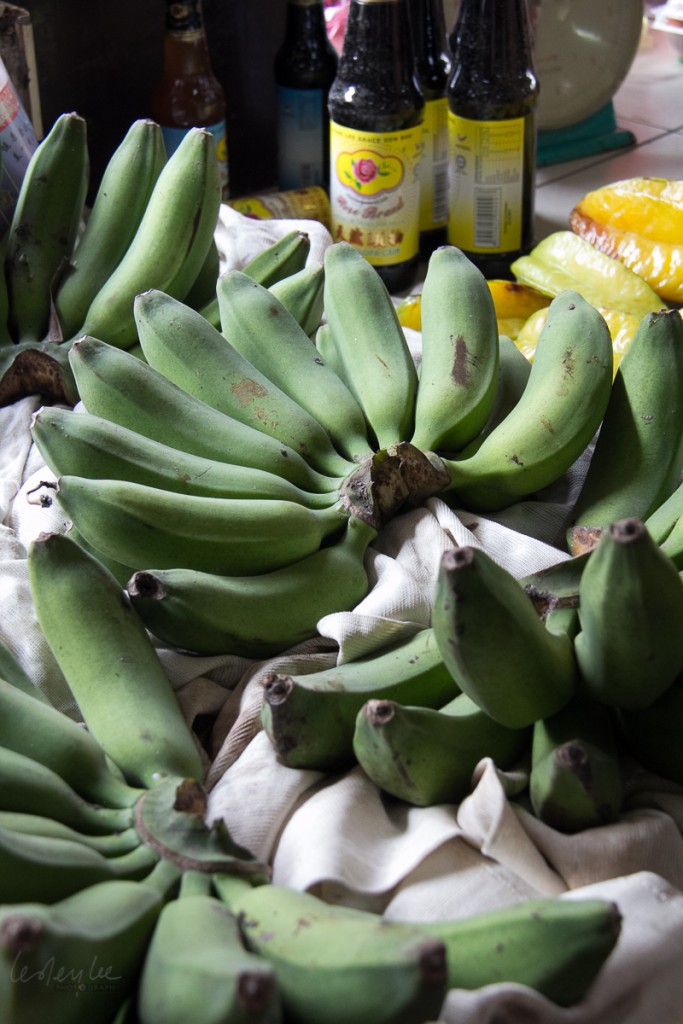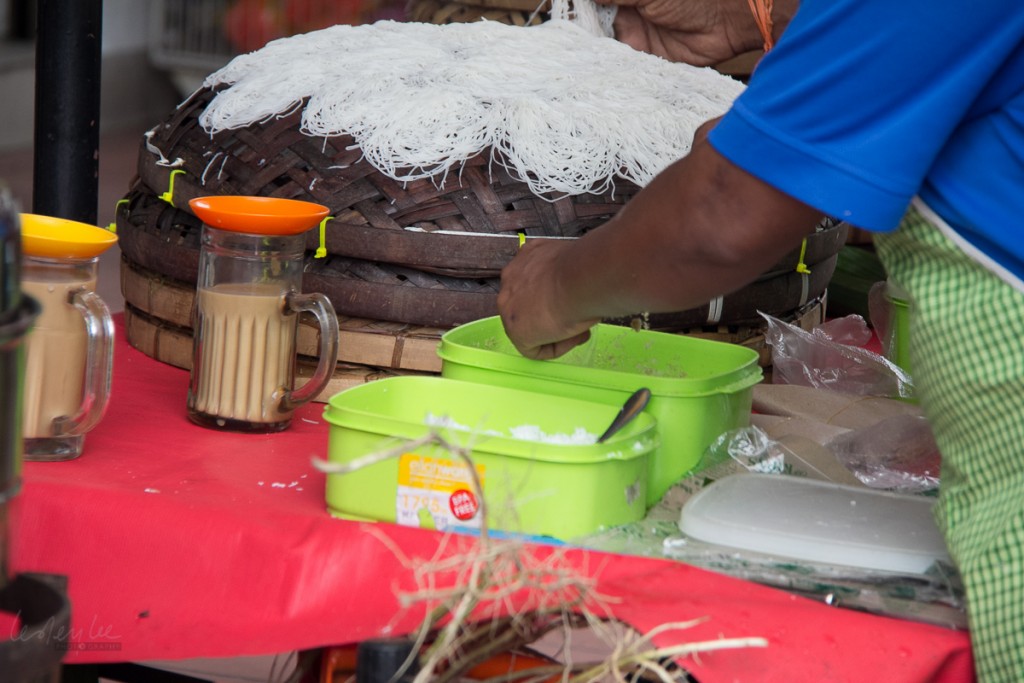 We have a couple of favourite kopitiams (coffee shops).  Sin Hup Aun Cafe is located on the corner of Solok Moulmein and Jalan Pasar and has a number of independent stalls operating along with the drinks sold by the shop owner. Along with our kopi 'O' (black local coffee, hot) or kopi peng (iced local coffee with milk/creamer) we had plenty of variety to choose from. With your coffee you can also have kaya toast (toasted hainanese bread with coconut jam and butter), or soft boiled eggs. Other drinks are available, including tea and hot local coffee with milk or black with ice. Milo is popular or you could ask for nestlo – a mix of instant coffee and the popular chocolate drink.
The food choices include Indian fried mee and chicken rice or you might enjoy the wantan mee with yellow noodles and pork stuffed dumplings. If you like curry noodles, there is a stall selling a light curry bihun soup garnished with cuttlefish tentacles and solidified blood if you're adventurous. Another stall sells a slightly spicy fried kway teow (flat rice noodles) served with a garnish of lime and shredded lettuce. There is also a stall selling a good range of Nyonya (Straits Chinese) dishes with rice which would also be welcome at lunchtime. We spied Inche Kabin and a tasty looking sambal belacan kangkong which means on our nest trip we will be wanting to try. because there are quite a few stalls within this shop, they don't allow 'outside food' and they also charge you for not ordering drinks with your food.
The other shop we visit is the Kwai Lock kopitiam on the other corner of Solok Moulmein and Jln Burma. You can collect your food from one of the stalls outside, the pancake maker has a great selection of fillings available and makes his crispy pancakes as you wait. Or you can choose from the stalls inside. perhaps some steamed herbal soup? Or some curry bihun with prawns and soy cake? The fried radish cake is also tasty. There are also stalls selling delicious goreng pisang (banan fritters), chee chong fun and and the doughy but tasty muar chee rolled in crushed peanuts.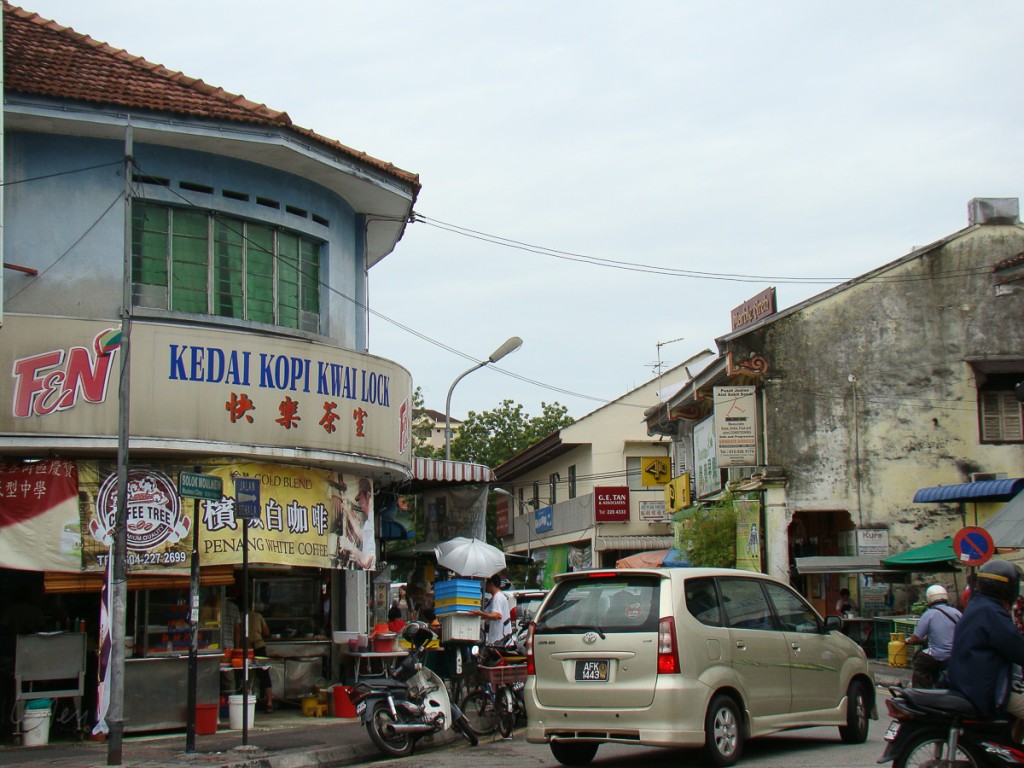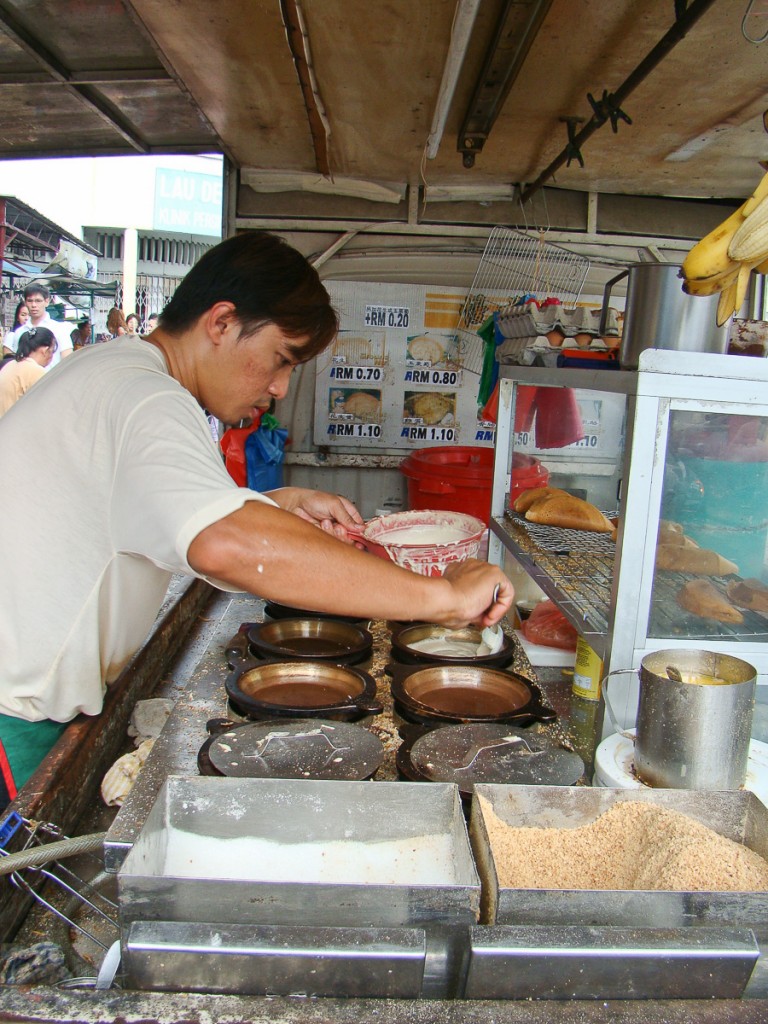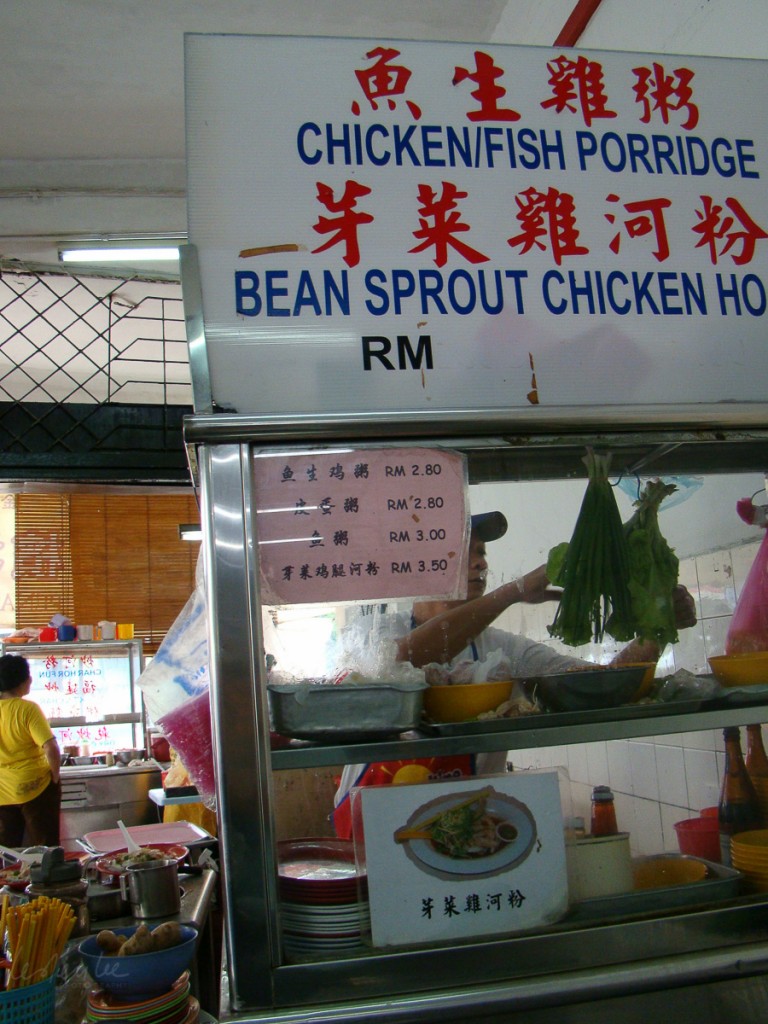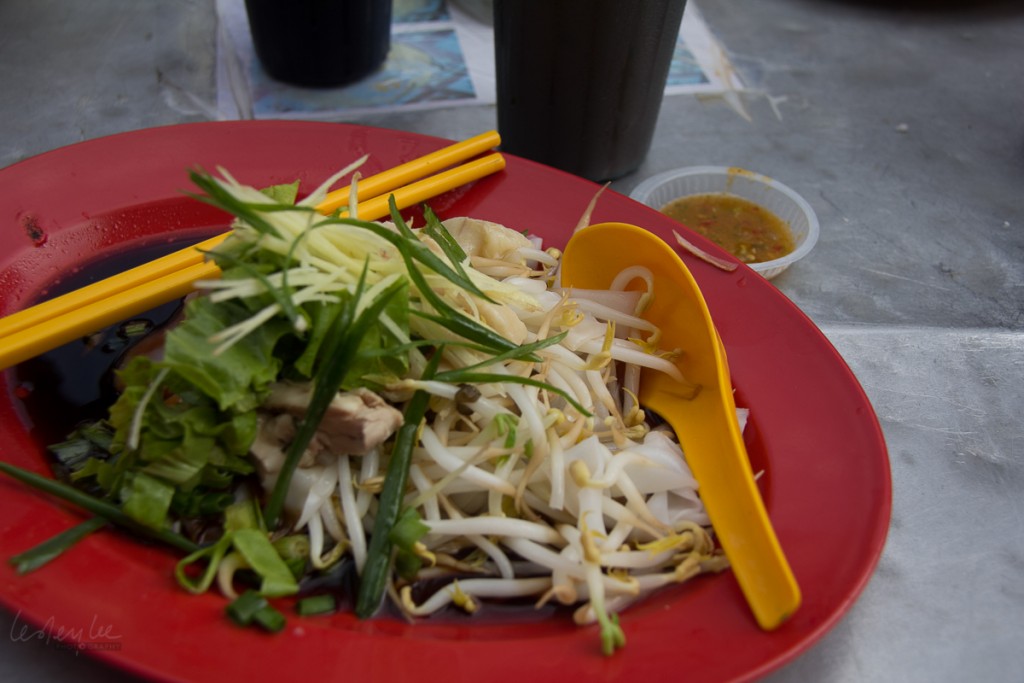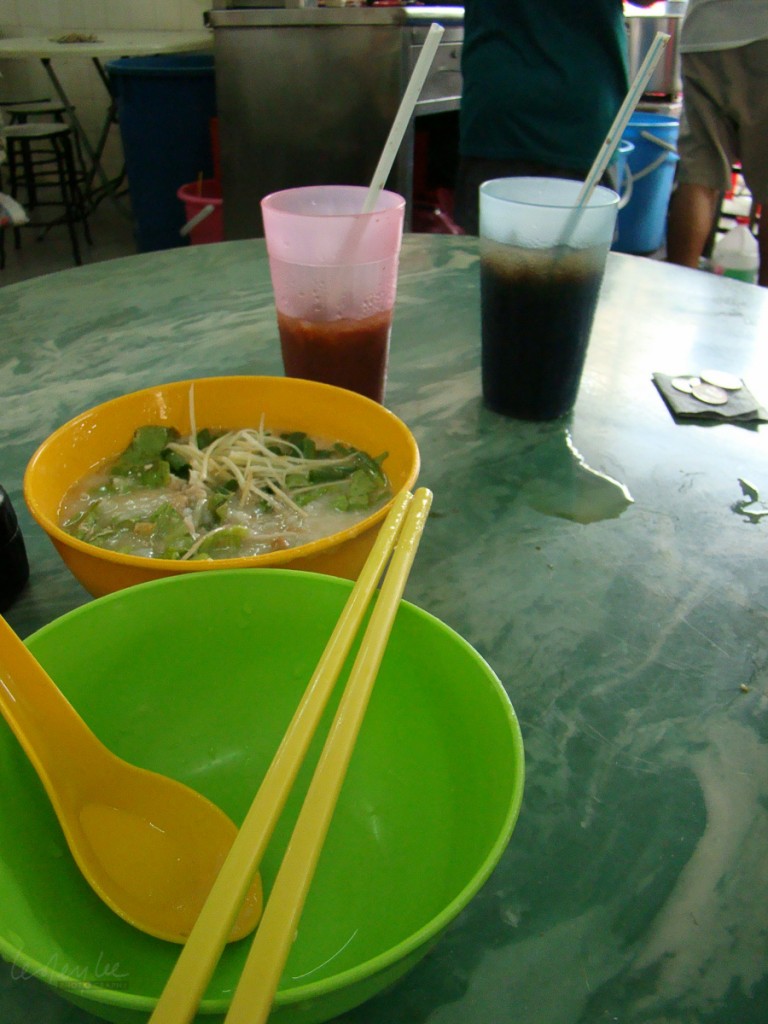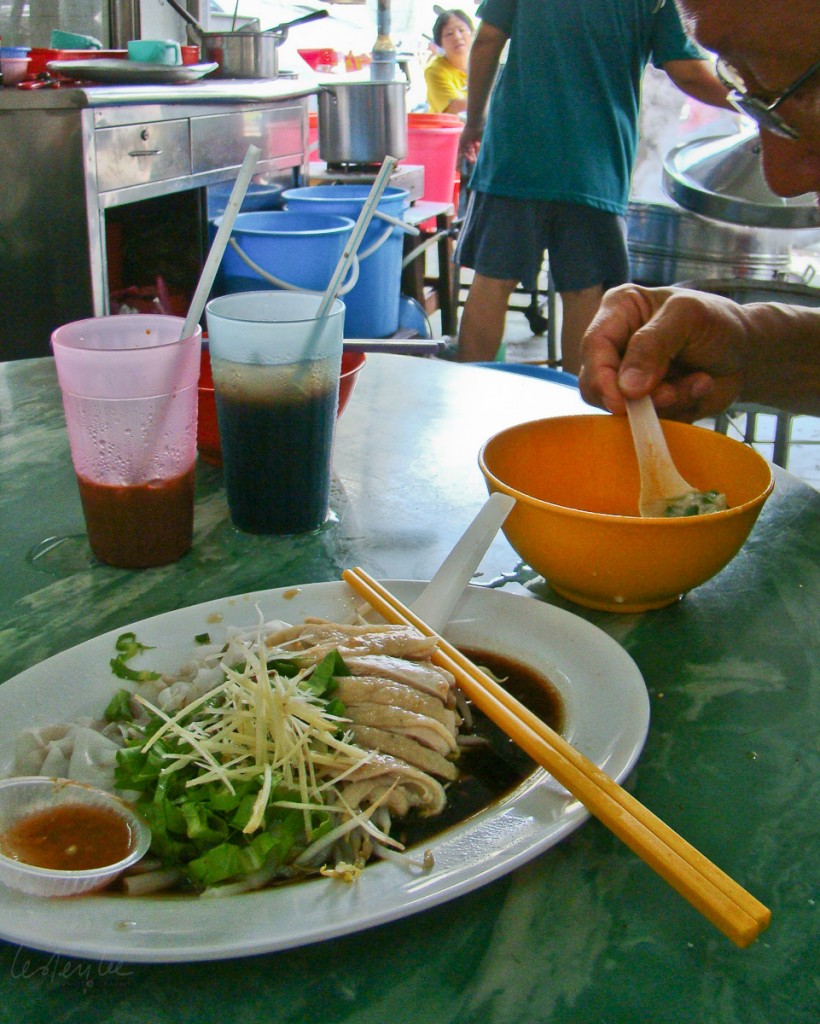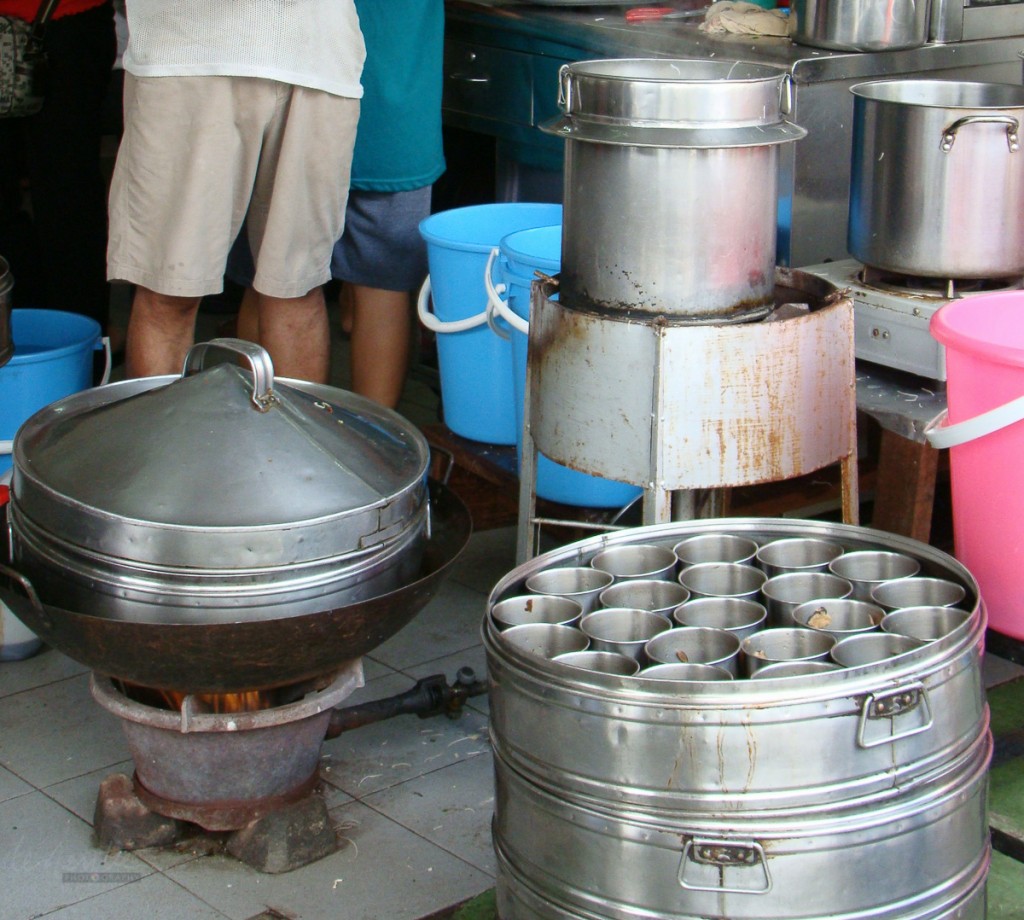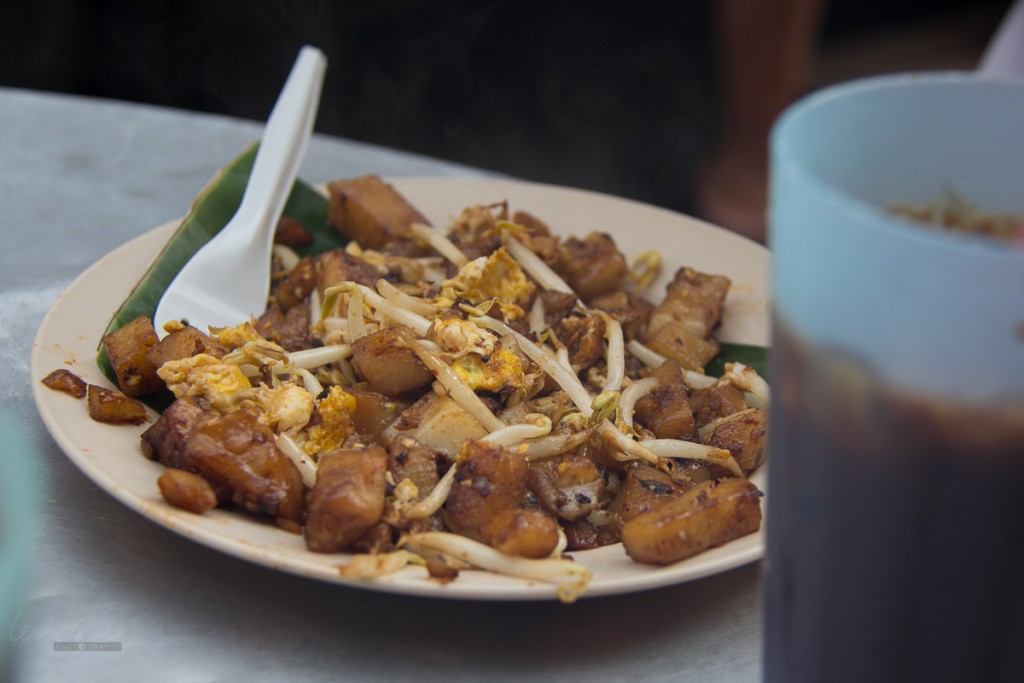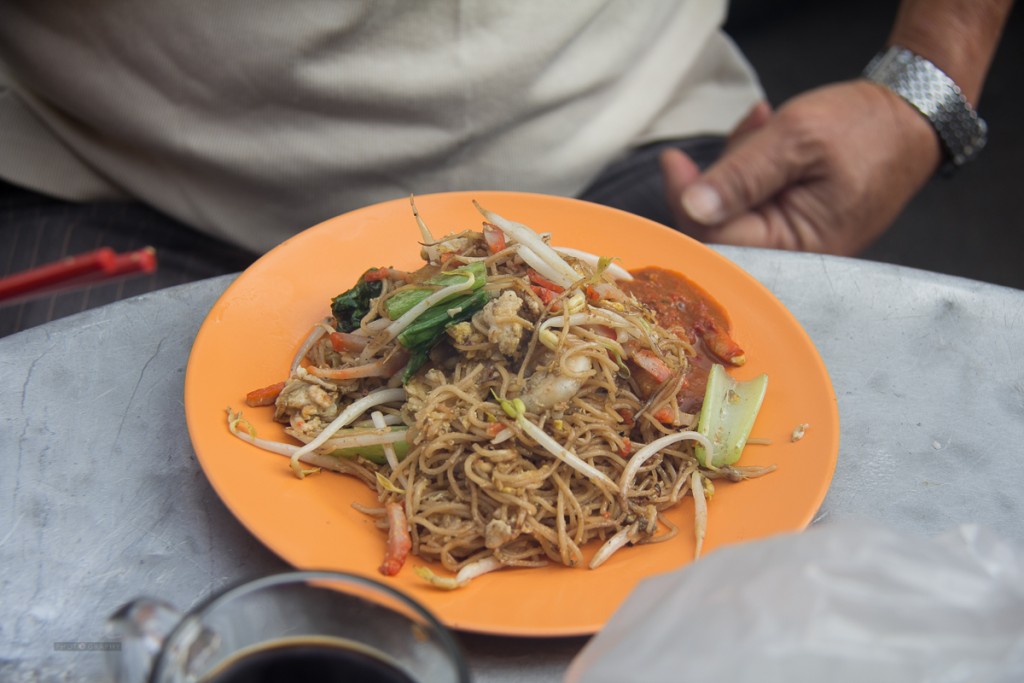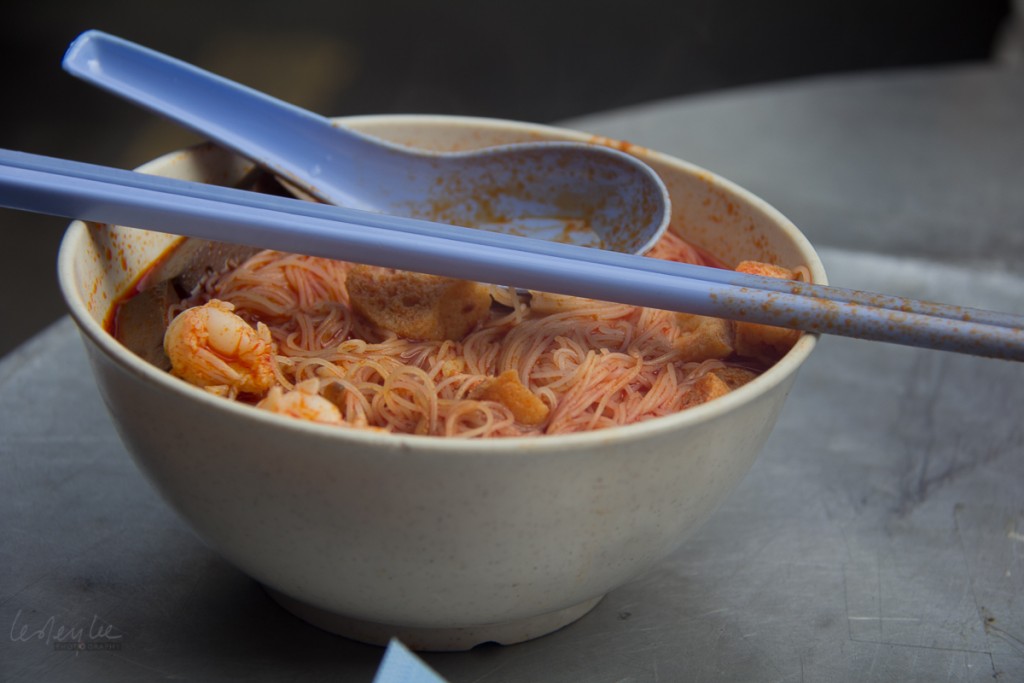 Despite many visits we still haven't tried all the food on offer. I think I feel a need to visit again soon. For earlier pieces on Penang food, visit our articles on 'Good food in Penang that won't wreck your budget.' Part 1 and Part 2.
P.S. If you're a Penangite and have some favourites we've left out, please drop us a line so we'll do a road test next trip.