I'm a street food addict when I travel and fortunately my travel companion is cut from the same cloth. In Asia this makes life quite easy as long as you remember the cardinal rules:
1. Eat freshly prepared food.
2. See where the locals are eating.
3. Be careful about taking iced drinks or desserts. This is a relaxation from advice travellers would normally receive which insisted that ice be avoided at all costs because it was often made from unboiled water and not properly kept. Nowadays, at least in Malaysia, establishments serving iced drinks are required to use commercially produced ice and they do have a good safety record. If you can't see the ice, feel free to ask the vendor if you're worried. I've never had any ill-effects from any of the stalls/restaurants included here.
4. Is the place clean and are the food handlers neat and tidy and paying attention to hygeine for food storage and during preparation.
If, despite your precautions, your tummy does play up, it's useful to have some charcoal tablets just in case. If you're brave enough drop into a Chinese Medical Hall where you can purchase little vials of evil tasting medicine which I find, always do the trick. For a day or so, a diet of plain rice liquid also calms the stomach. That's the water the rice is boiled in when making a rice gruel, without eating the grains.
When we visit Georgetown (Penang) we walk a lot and pass many roadside stalls and kopitiams (local coffee shops). Our favourite haunts are all around the historical area (UNESCO listed), Jln Burma, Gurney Drive and Batu Feringgi night markets and Ayer Itam area. That said, the whole of the island is a foodie paradise.
Penang specialties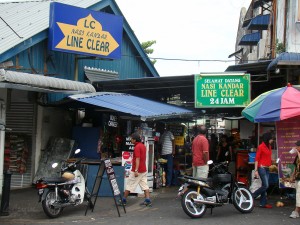 Nasi Kandar is Indian Muslim food served in numerous locations. Penang Road (Jln Penang) is a great place to start and there are a number of famous stalls located at the northern end of the road. Take your plate of rice and choose your dishes to pile on top. Hot and spicy with lots of beef, mutton,chicken and seafood choices. Generally not a lot of vege though. The stalls are usually open for lunch and dinner til late and the dishes are replenished as they run out.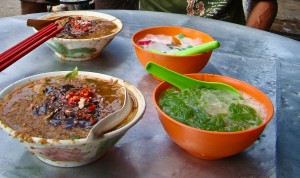 Assam Laksa (Penang laksa) Laksa is a noodle dish with different incarnations in different states of Malaysia. Most are curry based and the noodles are either yellow mee or thin white bihun. In Penang, if that's what you want, you have to ask for 'curry mee' or 'curry bihun (meehoon)'. Penang Laksa uses fat white noodles in a soup made with a base of shredded fish with a good dose of assam (tamarind) and garnished with strips of cucumber, mint some fish paste and various other tasty herbs. Feel free to try this dish wherever you see it, because 'the best' is the subject of serious discussion whenever lovers of this dish meet. To balance the sourness, ask for a bowl of chendol, served over shaved ice in a bowl with palm sugar, coconut milk. Personally, I would catch the bus to Ayer Itam market (then visit the Kek Lok Si temple) and stop at the stall just round the corner from the bus stop, opposite the market. Don't go on a Wednesday though as that's their day off.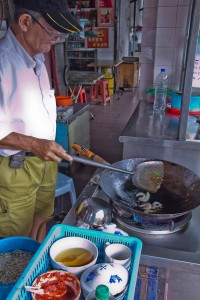 Char Koay Teow, a dish of flat noodles fried with egg, small clams (or prawns) and bean sprouts is cooked slightly differently in Penang as well. The dish is lighter in colour than that found in other parts of the country and if the cook isn't busy he/she may be happy to chat away as they cook. The frying is done very quickly over quite a high flame and some cooks are real artists to watch. We've tasted great char koay teow at lots of locations and you can get both halal and non-halal versions at the night markets. The cook will generally ask if you want a little chilli, none, or lots when you place your order.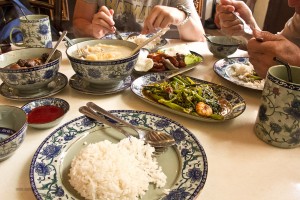 Penang has a history as an international port and as a result you can see the influences of the different communities in the food on offer. The other great cuisine to look out for is that offered by the Peranakans. The local Chinese who intermarried with the local Malays generations ago developed a culture which takes influences from both backgrounds which make if unique. Similar to that found in Melaka (Malacca) Penang cuisine uses a lot of fish, tamarind and other local herbs and spices to flavour the food, known colloquially as  Nyonya food. The best places to eat Nyonya food are usually restaurants which will indicate that they serve Nyonya food.
You can find other favourite Malaysian food tucked in little corners all over Penang, both on the island and over the bridges or ferry on the mainland side. Look out for Part 2 where we will share a few of our favourites to get you started.