Malaysia's Merdeka celebrations fall on 31st August and it's a good reason to celebrate. airasia's Santan has come to the party, bringing back their popular Nasi Lemak Ice Cream and introducing a new one. Gula Melaka Boba Ice Cream joins the line-up in conjunction with Malaysia's 65th National Day.
Nasi Lemak Ice Cream and friend
Santan, supplier of food to AirAsia, is already known for its Pak Nasser's Nasi Lemak, said to be the 'best nasi lemak in town' and while you won't be able to get your ice cream in flight, you can enjoy it in their on-ground restaurants. airasia's Santan's Ice Cream comes with a scoop of creamy coconut-based 'santan' ice cream, topped with a generous heaping of Pak Nasser's signature sambal and paired with crunchy anchovies and fried peanuts. The new Gula Melaka Boba flavour is made with the same smooth ice cream, topped with a drizzle of gula melaka sauce and homemade boba.
airasia's Santan first introduced Pak Nasser's Nasi Lemak Ice Cream  in 2020, garnering the attention of nasi-lemak-loving patrons who lined up for a taste of this sweet and savoury combo. The eatery has since revamped the recipe and for a more enhanced taste and look. The Gula Melaka Boba flavour has replaced the former 'friend', dodol ice cream.
….. We've brought back Pak Nasser's Nasi Lemak Ice Cream after popular demand and introduced a new flavour we're sure will be a hit. Catherine Goh, General Manager, airasia's Santan
The verdict
We tried out both ice creams recently and wish they'd stay on the menu long term. Both ice cream flavours come in a single-serve cup, with a clear domed top, different from the plastic screw top packaging of the original. While the original nasi lemak version had the sambal on the bottom, with only the kacang (nuts) and ikan bilis on top, the generous scoop of sambal/boba gula melaka is now added on top, so you can eat it first, or mix in as you prefer. 
Decision time:
The jury's out on the nasi lemak version, because somehow the sambal overrides the ice cream, but the ikan bilis and nuts go really well, a pleasant combination of sweet and savoury. There seems to be more of the sambal too, compared to the earlier offering. See below for further comments. The boba gula melaka ice cream is, for this writer, a winner. A well balanced mix of 'sweet' and 'sweet' – gula melaka has a different flavour which blended well with the coconut ice cream.
In July airasia's Santan unveiled a convenient new packaging for its Pak Nasser's Nasi Lemak. Dubbed 'Nasi Lemak On-The-Go', the easy-to-hold triangle shaped packet allows for busy foodies to grab their favourite meal anytime, anywhere. Grab yours now for RM4.90.
Both ice cream flavours are priced at RM4.50 each, and are available exclusively at all 9 Santan Restaurant and 3 Santan Cafes from 24th August 2022 until the end of September 2022. From now until 16th September 2022, airasia's Santan's patrons will get to enjoy a '65 Merdeka Special' combo deal of one Nasi Lemak On-The-Go, a glass of chilled Pandan Cooler and a serving of either Pak Nasser's Nasi Lemak Ice Cream or Gula Melaka Boba Ice Cream for RM6.50.
We picked up a '65 Merdeka Special' to take home, but although the drink and On-The-Go packs travelled well, the ice cream was (unsurprisingly) on the south side of soft. But, although it wasn't fully melted, it was more like a thick smoothie and the sambal had filtered through the ice cream. This was actually surprisingly good, so if you're willing to wait for your 'smoothie', it's worth it.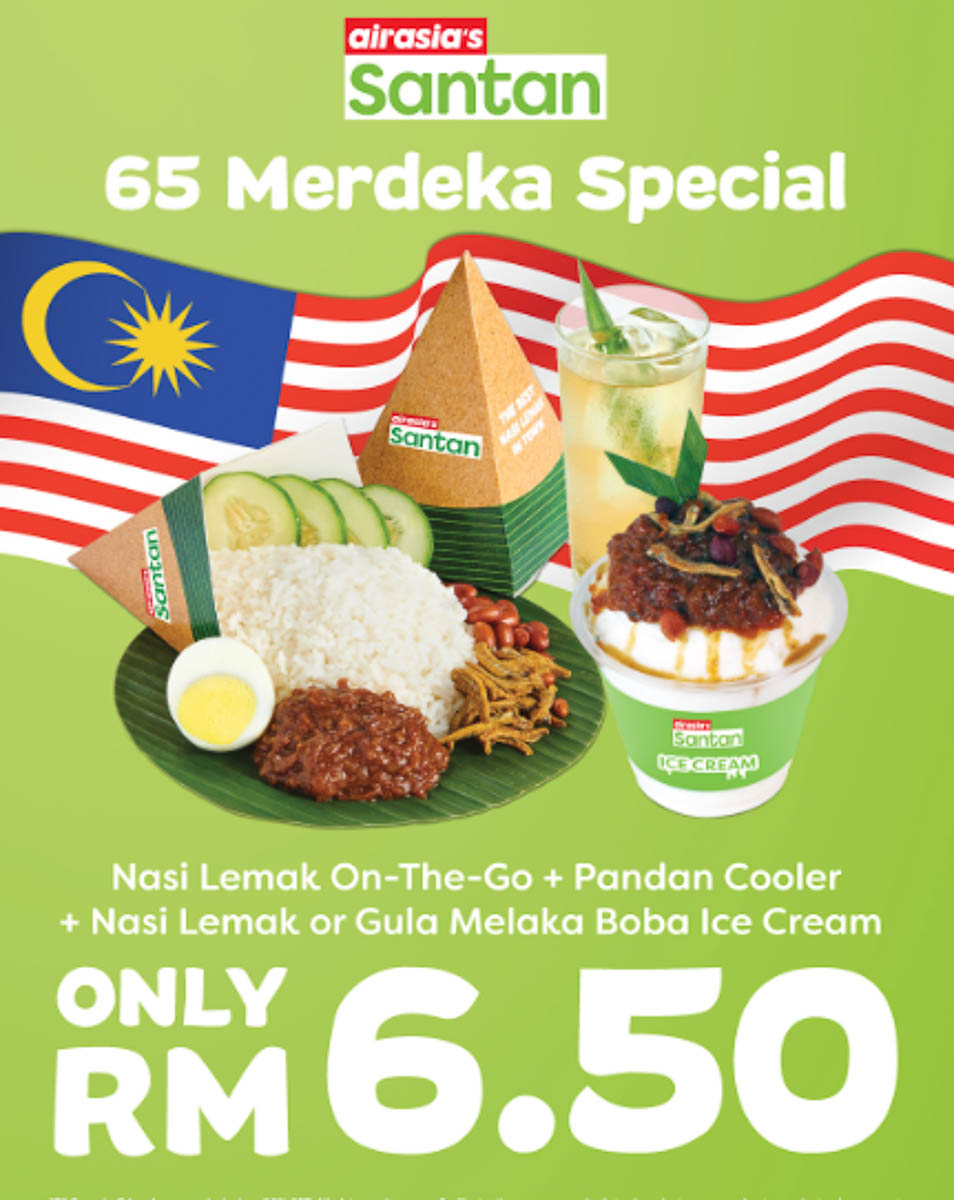 airasia's Santan first opened its flagship store in 2019 and they now have 12 outlets across the Klang Valley. airasia's Santan Restaurants can be found at
AEON Shah Alam,
IOI Mall Puchong,
KL East Mall,
Kompleks PKNS,
NU Sentral,
RedQ (AirAsia's headquarters),
Setia City Mall and
Sunway Pyramid,
an outlet in Wisma Tune, KL

to be opened in mid September 2022
Santan Cafes are located at
The Gardens,
RedQ
RedStation

airasia Super App headquarters in KL Sentral.
All airasia's Santan meals are Halal certified, produced and packed hygienically following strict food safety requirements. They are also are available on the airasia Super App under the 'Food' icon or airasia.com/food as well as other delivery platforms.
For the latest news, activities and promotions, follow airasia's Santan on TikTok, Instagram and Facebook (facebook.com/santan.airasia).