AirAsia's Santan & ZUS Coffee have joined forces inflight & on ground to bring you a fresh new coffee blend designed to elevate the in-flight coffee experience. Not only will they be available onboard AirAsia Malaysia (AK) and AirAsia X (D7) flights, but at selected outlets on the ground.
Santan & ZUS Coffee tastes
This exclusive new blend of ZUS Coffee's Iced Spanish Latte and creamy splash of coconut milk is available onboard all AirAsia flights. You can also pair it with Santan's signature Pak Nasser's Nasi Lemak in a 'Hero meets Hero' bundle ‒ available at ZUS Coffee Outlets nationwide. Whether you're a fan of rich and robust flavours or you prefer a smoother, milder taste, the new coffee blend from Santan and ZUS Coffee should hit the spot.
The new blend joins Santan's newly launched 92' Signature Blend coffee has also been making waves both on the ground and in the skies with its newly launched one-of-a-kind brew. Santan's 92' Signature Blend is apparently selling an average of one cup per minute to to travellers on board. Believable, as we were only able to taste them on a recent trip on the return leg. Launched in July together and paired with their popular 'Plant Based Nasi Lemak', the new edition to the menu has been well received, collecting a 92-point rating from the world leading Coffee Review.
Is it good? Where can I get it?
This writer recently had the opportunity to do a taste test of the new blend and is very glad that there's a ZUS Coffee outlet close enough to get a regular fix. The coconut really does take the coffee to a new level.
Made through freeze-dried technology, the 92' Signature Blend is designed to elevate the in-flight coffee experience and is freshly prepared upon order by AirAsia's Cabin Crew. It's additive-free and we found it to be smooth with an authenticity not usually expected in a pre-mixed drink. They'll also give you the little plastic container to take home. You can purchase yours onboard all AirAsia flights as well at Santan Cafes in The Gardens, Wisma Tune, RedStation (KL Sentral) and RedQ (Sepang).
…. Thanks to Santan, we're able to now make specialty coffee accessible in-flight too, starting with Santan's iconic Pak Nasser's Nasi Lemak and ZUS Coffee's fans' favourite -the Iced Spanish Latte in a meaningful way of introducing Malaysian flavours to a wider community. We're truly grateful that in this collaboration between two Malaysian home-grown brands,  we're creating unique twists to local drinks that everyone can enjoy.Stephy Foong, Vice President, Growth & Marketing, ZUS Coffee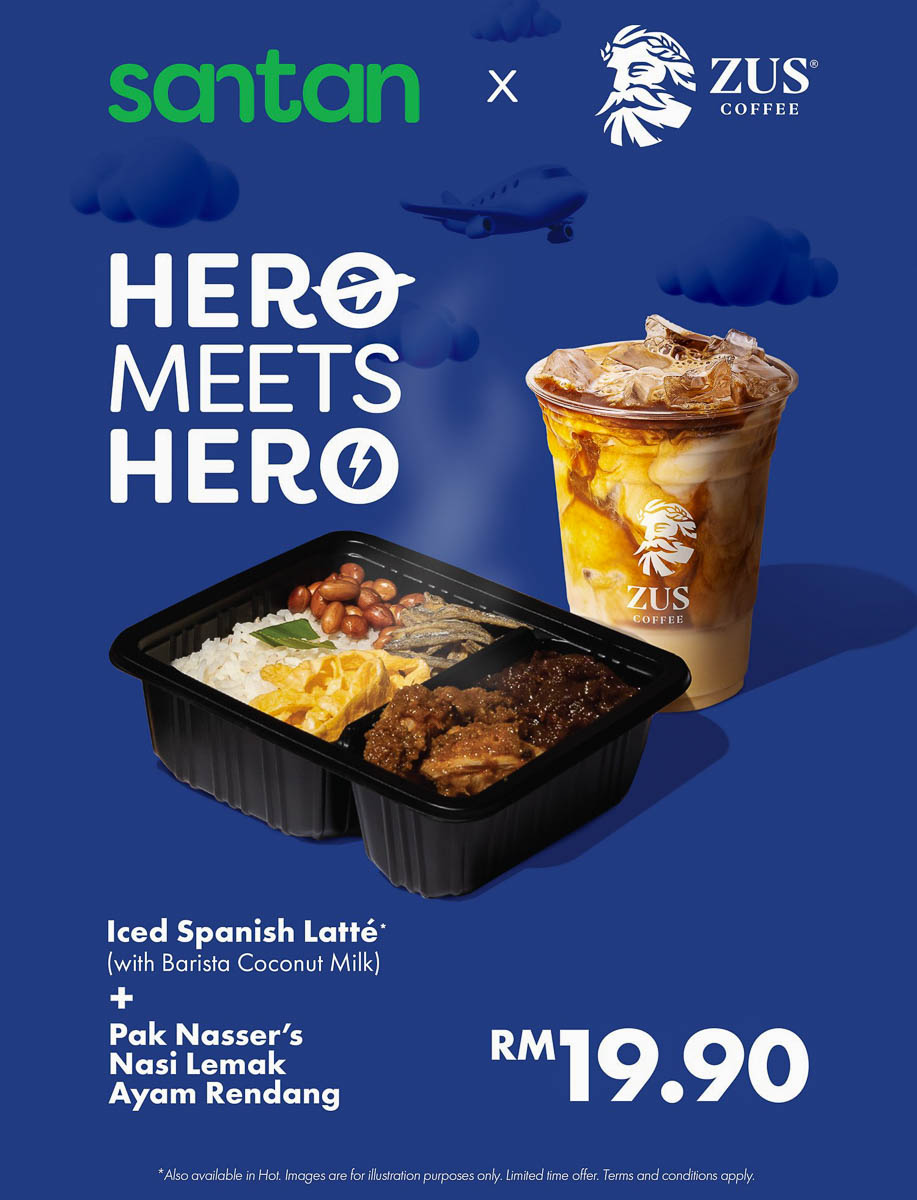 Santan has also unveiled a flaming-hot new addition to the menu. The 'Mala Stir Fried Hotpot Noodles' are now available for pre-booking onboard AirAsia Malaysia (AK) and AirAsia X (D7) flights. Fans of Santan's 'Roasted Chicken with Black Pepper Sauce' will be also be pleased to know it is now available onboard all AK & D7 flights for a limited time only.
New Duty Free offerings as well
In addition to this exciting collaboration, AirAsia's Duty Free is also set to unveil a range of new in-flight duty-free products  to choose from. Fashionistas will love Chuck's beauty products ‒ from its best selling 'Lucky Lip Jelly' to its 'Very Important Sunscreen' and wellness enthusiasts can check out Jynn's 'Youfinity Golden Bird's Nest' drink and 'Stingless Bee Honey'. Pet owners, treat your furries to Street Paw's premium human-grade bites, made from premium and 100% natural ingredients. They start from RM30 per packet, with 20% of the proceeds to be donated to animal shelters.
Follow santan.asean on Instagram for all things Santan and more.