KLIA2 opened on 2nd May 2014 and has now settled down to doing the job it was planned for. If you're arriving or flying through (fly-thru) KLIA2, this guide will help you on your way. If you're departing, or needing transport, they're covered here too.
If you haven't done your homework, Kuala Lumpur (KUL) can be a confusing airport to fly into. It consists of two terminals, which could realistically be seen as two airports, were it not for the fact that they share runways and an airport code. In every other respect they are unlike each other, and connectivity between them is in every practical sense unworkable. UPDATE! No longer true – see our updated pieces from the links above.
For a major hub airport, it's not something you'd expect. In 1998, the old Kuala Lumpur airport at Subang shut down, and its ICAO airport code of KUL was transferred to a newly-built dual-runway airport some 70km south of the city, at Sepang. This beautiful airport of steel, glass and granite was christened Kuala Lumpur International Airport, or KLIA. It even had a young rainforest planted in the middle of it, which on every transits appear to me to look more and more stunning.
Low-cost terminal separation in Kuala Lumpur
In 2006, as AirAsia expanded rapidly at its Kuala Lumpur hub, it was deemed an unnecessary burden on KLIA and a decision was taken to erect a tin shed temporary terminal to handle the burgeoning growth of no-frills passenger traffic. The new terminal was built on the cargo apron only a kilometre or so as the crow flies, but nearly 20km away by car owing to the need to circumnavigate the Eastern runway.
This new terminal was called the Low Cost Carrier Terminal, or LCC-T, and differentiated itself by being devoted to low-cost airlines, primary amongst which was AirAsia. To this day, AirAsia dominates this terminal, and is joined by Tiger Airways and Cebu Pacific. Jetstar Asia and Malindo have chosen to remain at KLIA, which is understandable due to severe congestion at the LCC-T.
When it was built, KLIA itself had a design capacity of 25 million passengers. The LCC-T had an original capacity of 10 million, which was expanded to 15 million a couple of years after opening. Yet in spite if KLIA being widely regarded as underutilised, in 2013 combined passenger movements at both terminals hit and exceeded the 40 million mark, with the LCC-T bearing the brunt of the congestion. Clearly this was a situation ripe for addressing.
Enter KLIA2
It's not like anyone hadn't planned for a solution – ground was broken in 2010 for a completely new and permanent replacement for the LCC-T. The new terminal was to be called KLIA2, and it was due to be completed in late 2011 at a cost of MYR 2 billion. Design capacity was projected at 30 million passengers per annum, and its model was to be along the lines of the terminal it was replacing – simple, no-frills and cheap to operate. Just bigger.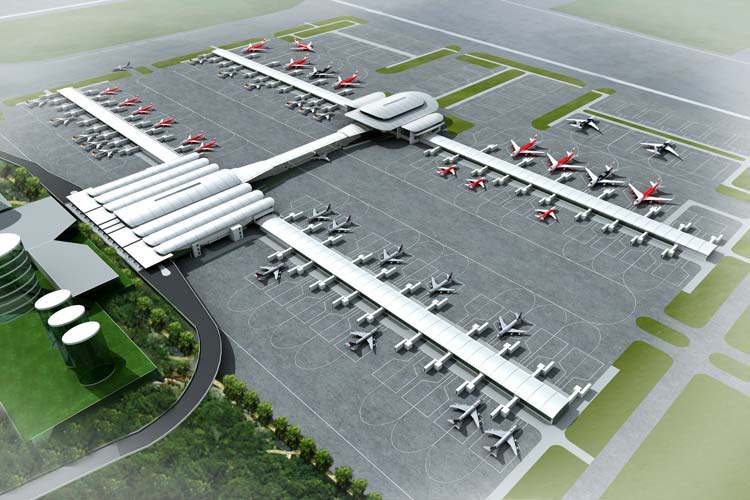 Early on it was clear that the cost and completion date targets were not going to be met. Various stakeholders offered modifications to the plans long after work had begun, resulting in a franken-terminal that is no longer a low-cost carrier terminal at all. KLIA2 is now slated to be a "hybrid" terminal, catering to airlines of persuasions. Aerobridges, airline lounges, 45 million passengers and a fully automated baggage handling system sit amongst a list of new additions that didn't exist on the original plans.
Here's a list of promised opening dates:
September 2011
April 2012
October 2012
May 1 2013
June 28 2013
May 2 2014
What I've spent on Air Asia flights into and out of the LCC-T since the first announced opening date would ironically have paid for at least one business class airfare into KLIA. And still I have no KLIA2 review to present to you.
So when will it open?
At press time of February 5, a "soft" target leading up to the latest opening date (May 2, 2014) has been missed. The airport was supposed to be handed over to the airport operator nearly a week ago, in order for a 3-month Operation Readiness and Airport Transfer (ORAT) to take place. Clearly, chances of us seeing an official (and problem-free) opening on May 2 are becoming slimmer by the day.
We'll continue to monitor the situation at KLIA2, and can't wait to report on answers to the following questions:
When will KLIA2 open, and how will the transition will take place?
What airlines will fly from KLIA2, and whether Jetstar Asia and Malindo will remain at KLIA or transfer to KLIA?
Whether Firefly will return to KUL after a long absence (operating only from Subang Airport)?
Some useful related reading