Can you make an economy flight a premium experience on a low cost airline? The short answer – yes, but you have to pay for it. AirAsia X however has made this extremely affordable through an ever-diversifying range of 'upgrade options' through Optiontown.
Anyone who has booked an AirAsia X flight will know those constant pre-flight emails about upgrading for up to 75% less. The lucky few who are successful in their upgrade bid will get to experience all the perks of the pointy end, namely the premium flatbed and exclusive cabin, but there is a soft landing who don't make it to premium. The Empty Seat Option (ESo) upgrade through Optiontown is an extremely economical way of getting some extra space on a long haul flight.
Typically costing between MYR20 and AUD20 (depending on routing and refundable if not upgraded) one can enjoy the comfort of the 2 spare seats and for a much lower outlay than a bid for premium (UTo). The chances of upgrade are also significantly higher given the number of spare seats in the economy cabin. It's worth pointing out that successfully upgraded passengers will be given a boarding pass encompassing all 3 seat numbers, which is particularly handy if anybody decides they like the look of your empty space.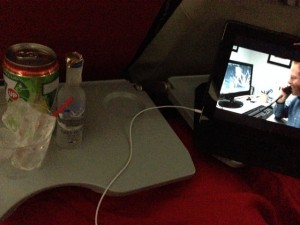 I have been successful in upgrading to ESo in January and October of 2013. My January flight took me from Kuala Lumpur to Gold Coast and whilst this was mainly a day flight, the 3 seats served as more of a couch than a bed. I had run into two friends at KLIA in transit from India and it was great having the room for them to come and visit me throughout the flight.
The October flight was when the upgrade really made all the difference, as this was the overnight Sydney to Kuala Lumpur flight. I've never been able to sleep well on planes (vertically or horizontally) but I was able to get a solid few hours in. I had brought on board my AirAsia blanket from a previous flight and also purchased a very plush little pillow for MYR25 (AUD9) which fits perfectly into the lid compartment of my carry on suitcase. So with my 'bed' set, some yummy buy-on-board food and drink and BYO entertainment (iPad) I was one happy economy traveller. Savvy travellers can now make the most of their AirAsia flights, even if they got their tickets for a steal.