You've booked yourself a sweet deal on Air Asia X and are planning your Asian getaway on what is probably your first long haul flight on a low cost carrier, when out of the blue you get an email. These emails are starting to arrive more and more often, and like spam you initially think the content is too good to be true. Upgrade to Premium at up to 75% off? What's this all about? Air Asia is among a growing list of airlines which are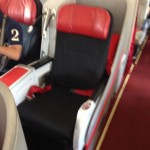 affiliated with an upgrading service known as OptionTown. Essentially, when the airline cannot sell all their premium seats they turn to the upgrading service that collects bids from the economy passengers, even those on the most basic promo fare. The upgrade through Optiontown prices are extremely reasonable, typically $100-$150USD on most Air Asia X routes. When compared to the usual upfront cost of approximately $800AUD of booking premium one-way, it's a huge bargain.
What you get
Just to get you on to speed on the benefits of flying Premium over Economy; Priority Boarding, Priority Baggage, Complimentary Meal and of course Flat Bed seats are all included. Not to mention your own cabin crew and toilets in a cosy cabin of 12 seats. Make no mistake, it's not "first class" (no caviar or champagne will be found) but the seat makes you feel about 90% there.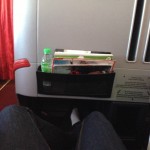 Notification of an upgrade will occur 1-3 days before travel and in some cases as late as 4 hours prior. The good news about this offer is that upgrade prices are fully refundable if not successfully upgraded, expect for the program's sign up price of $3USD. I can only assume this scheme makes only money of the interest of holding your money for a few months, but that's for them to worry about.
If you're flying out of Kuala Lumpur's KLIA 2, or using the hub as a fly-thru point, if you're travelling on an AirAsia X Premium ticket, even one you upgrade through OptionTown, you have complimentary access to their recently opened Premium RED lounge in the KLIA 2 satellite building.
The Optiontown Experience
I first experienced an upgrade through OptionTown in September of 2012 when travelling from Gold Coast to Tokyo via Kuala Lumpur. This was a four sector return journey and luckily I was upgraded to Premium on the first two legs. Whilst these were daytime flights for the most part, the flat bed made all the difference. I remember sitting in my comfy 2D seat watching the rest of the passengers board, when a young boy perched himself on an empty premium seat saying "mum this is my seat" followed by a chuckled reply "oh dream on". But the fact is this scheme makes a standard of travel normally reserved for those who pay several thousand for their fare a reality (again, when it comes to the actual seat).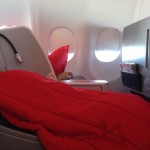 Whilst fancy cuisine and IFE is nowhere to be seen, the staff seem to really give it their all. Our captain for the OOL-KUL flight was most enthusiastic, wandering about the premium cabin greeting passengers for a short time. The crew were also lovely, full of travel tips for my onward journey and ready at any moments to offer more refreshments. Remember you only share them with 11 others! One other inclusion I haven't mentioned is a very comfortable, bright red AirAsia duvet and pillow; it really is a bed in the sky.
I have to admit though I never actually slept on either flight because as far as I was concerned I wasn't wasting the experience in slumber land. The only flight I slept on was my Tokyo to Kuala Lumpur overnight flight, which brings me to my next point. OptionTown offers another service called EmptySeatOption. ESO is where you pay a small upgrade bid (typically $20) to receive 2 spare seats next to you if availability permits this. Whilst I did not actually book this service, coincidence provided me the ESO experience. En route from Tokyo to Kuala Lumpur I enjoyed 6 solid hours of sleep, credit also owed to my blanket and neck pillow comfort kit which I purchased for 30MYR (10AUD).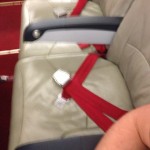 One quirk of the OptionTown upgrade system is in the case of when you have to change flights. The upgrade bid price is refundable, but only after you have completed your flight. So if you change your Air Asia X flight you will need to change it with OptionTown as well. I was surprised to learn that it is not automatically synchronised. They will also charge any difference in the bid cost of the new date so you may need pay extra as I have for my flights this January (64MYR – 19AUD). Another issue with the OptionTown website is that I not able to find in any part of the site, instruction on what to do if you do change your flight. All of this information I learnt during a lengthy call to the OptionTown call centre. Whilst I'm not thrilled with their website (my email query returned no response) I must commend their phone service. If you have an issue just call them.
Trip Tips
So what tips could I offer if you're looking at purchasing an upgrade through Optiontown.
Whilst I have no official information, logic tells me it's a 'first come – first serve' system. The further out from your flight you book your upgrade the better your chances. This was certainly evident when I compared the dates I booked the upgrade for the flights on which I was successfully upgraded and for those where I was not.
Buy the ESO option as well! It's a soft landing from a declined upgrade when you can at least put your feet up or get some snooze time.
If you have a pending upgrade do not use web check in until you've been notified of an upgrade decision as this may affect it.
If you are a fussier economy traveller you will need to decide on whether to purchase your ancillaries (which would be complientary when upgraded) in case your upgrade is unsuccessful. For Example; when my upgrade bid was denied for my overnight Tokyo to KL flight, I sure was glad I'd still purchased a comfort kit and purchased my luggage online. Ultimately I purchase all my extras regarless of whether I have a pending optiontown upgrade because if I do get upgraded to flatbed and those purchases are money lost, I'm still hundreds of dollars in front.
So that's about all on the subject of optiontown upgrades, my final advice would be – by all means go for out, but just make sure you understand how it works. Happy Travels!