We tried out AirAsia's ROKKI Wi-Fi and free in-flight entertainment during the recent launch of their new tonton streaming service on board a recent flight to Kota Kinabalu, Sabah. The service has been in place for some time, but the addition of the tonton streaming service widens the appeal. Members of the media on board were each given a card to access and test the on-board ROKKI Wi-Fi internet.
ROKKI Wi-Fi & tonton – does it satisfy?
Rokki (and by extension, tonton content) is only available on domestic/international AirAsia flights with the AK code. Fifty AirAsia A320 aircraft are currently Wi-Fi enabled. AirAsia Indonesia have recently launched their first ROKKI enabled aircraft.
It's not currently available on AirAsia X flights. There are indications this could change with the introduction of upgrades using Inmarsat's high-speed Ka-band platform, GX Aviation. These are currently underway for A320 aircraft, hopefully extended to A330 aircraft by the end of 2020.
What's free, what's not?
There are a few free options from across the region, in various languages. You can check out News, Travel guides and Games, listen to Music or watch a Movie. Content is provided by a number of sources, of which the newest, tonton streams mostly popular local TV shows. They have a selection of films, dramas, lifestyle, documentary and children's programmes available, including the kids' favourite Ejen Ali.
You can also browse the portal to check the duty-free catalogues, Santan menu and click through to connect to the Internet.
We checked out the free offerings and found them quick and responsive. This writer uses an Android phone which was quick enough. Apple users reported a similar experience with the streamed content.
The paid services
Want to go online? If you pre-purchase online you'll save MYR 1 for each available option. Pre-purchased access can be used within a 12 month window. Again, it's currently only available on WiFi enabled A320 aircraft in the AirAsia fleet. The ROKKI wifi works in flight mode.
We ran the test using two devices – a Microsoft Surface running Windows 10 and a HTC Android phone.
Microsoft Surface: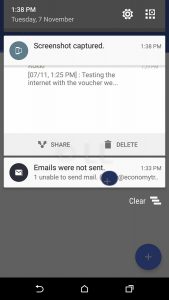 We were able to access the opening page of the portal and see the rotating rectangles showing what's available. Connecting to the internet, however, didn't work. The Rokki representative on board confirmed the service isn't available for tablets.
As one who prefers a larger screen, this writer is hopeful this will change, as the choices available are good. You can see a brief view of the test in the accompanying video.
Android phone:
You need to be in 'Flight mode' before selecting Rokki.com in Networks available. Then you need to follow all the prompts to get connected.
If you've already got your pre-paid voucher, select 'Cash' when prompted and you're good to go. Otherwise pay by Credit Card on the ROKKI Portal. Include your email to receive your receipt.
You'll have either 3MB (chat) or 10MB (internet) data to play with depending on your plan. So get messaging or send those important emails. Unfortunately, this writer was able to access both WhatsApp and Outlook to send messages and emails, but neither was delivered to the recipient. This issue has been flagged with Rokki Wi-Fi.
The verdict:
Since this was the launch flight, introducing the new content provider, everyone was trying to access the services, both free and paid.
You u

se your own personal mobile device – Android or iPhone. It isn't available for Windows or tablets yet.

The free streaming choices are good, delivery is fast and smooth.
There's plenty of variety for people of various cultures, speaking different languages.
We hope that tablets and other Windows devices may be included in future.
Android users reported slower connections with internet/chat than iPhone users. This may be due to 'everyone' trying to use Wi-Fi.
iPhone users generally gave the thumbs up with good speeds and smooth connection.
There are no charging facilities on board AirAsia A320 aircraft.
So……
Make sure you have plenty of juice in your device battery, so you can binge watch your favourite tonton shows and other content. Otherwise, charge up your power bank and have it handy!
It's a good idea to pre-purchase a wifi plan before you leave (you save MYR by pre-booking). However, you can purchase a plan on board if you prefer.
Economy Traveller flew to Kota Kinabalu for the launch courtesy of AirAsia. images ©LL