The world has changed enormously since we last booked some Airbnb accommodation and so has AirBnB. Though it's probably more fair to say they've moved with the times and done a reinvention of sorts like we've all had to do, no thanks to Covid-19.
Since we looked at the ups and downs of making an Airbnb booking, way back in 2015, and we described our experiences around Europe the same year, much of the travel experience has changed too.
Airbnb has changed
The whole world has changed, after the Covid-19 pandemic closed borders across the world. Many countries are still closed and are flagging this to remain the case for up to 2022 or longer. Airlines and the hospitality industries have suffered massively and will continue to do so, but after weathering the first shocks, Airbnb has used the time to evaluate the changing situation to develop a product that delivers for our changes in travel needs. 
Let's look at the numbers: Data on International Tourist Arrivals show tremendous growth in the past 40 years, to 1.58 Billion arrivals, which dropped like a stone with the arrival of Covid-19. The current level of 394million for 2020, is similar to that of the early 1980s. However, Brian Chesky, Co-founder and CEO of Airbnb, feels we are at the start of a new travel wave, given the rise in domestic travel traffic in many countries.
… we believe this will be the biggest travel rebound in a century.  Brian Chesky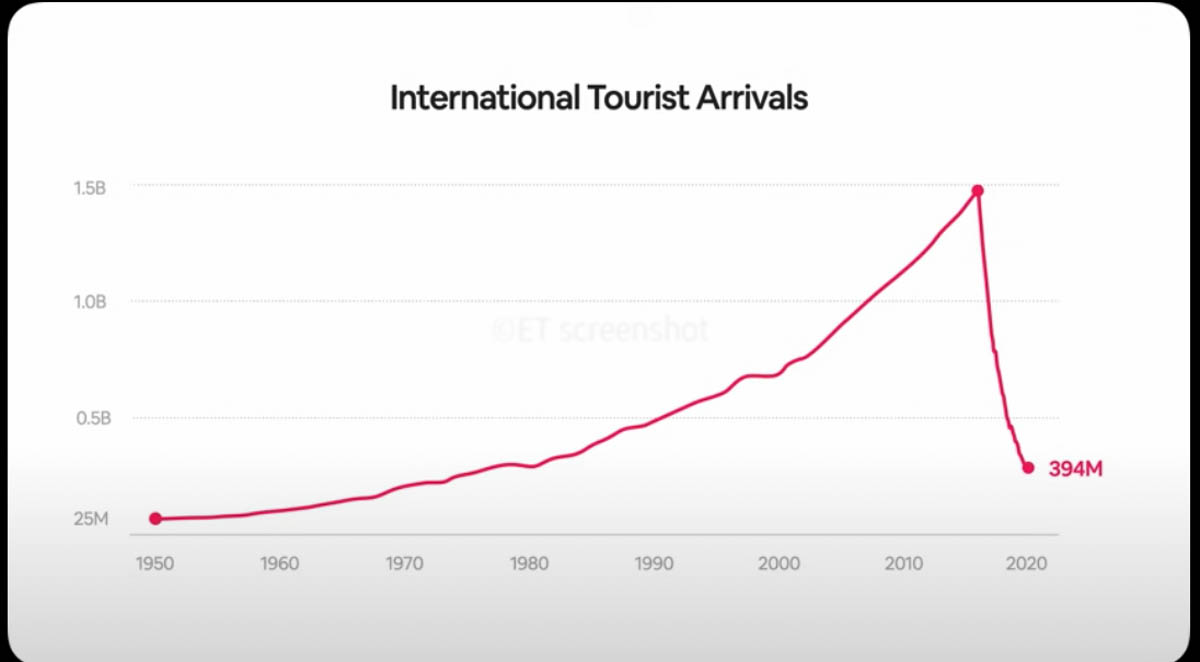 Chesky added:
….. We are seeing three fundamental shifts in travel as people become less tethered and more flexible.
Why? Maybe it's Revenge travel, or you just want a change of scenery, or like 'working at home', so you move 'home'.
Because additional research by Airbnb shows that this flexibility is expressed by a willingness to 

travel any time.

They're also more willing to try some place not on the beaten tourist track and they're more likely to accept a break near to home – a staycation.

Even low

density urban areas and small locations are seeing a large growth.

People are staying longer.

Up t

o a quarter of bookings in Q1 in 2021, were for long term stays longer than 28 days.
One or the most noticeable changes is the move towards flexibility. This is clearly a response to the shocking downturn in international travel since March 2020, which has seen traveller arrivals drop to levels not seen since 1980. (Check the graph)
In response, has Airbnb has introduced three new ways to search for stays on their platform. 
Flexible Destinations
They've introduced a new way of categorised offerings into types of homes. The first one in the example shown is 'treehouses', followed by 'boats", cabins" and "farms"…… They even have "yurts", though an 'original' yurt might be in a distant country. Obviously opening up a range of choices you may or may not have considered. Each type of property is then listed showing how far it is from your current location. Interestingly, the search radius varies, depending on the type of accommodation you're checking out.
As everything on offer depends on your location, you'll see different types of homes on offers. You'll see Castles in Spain, but certainly not in Australia. You might find a treehouse in Australia, but certainly not in a desert location.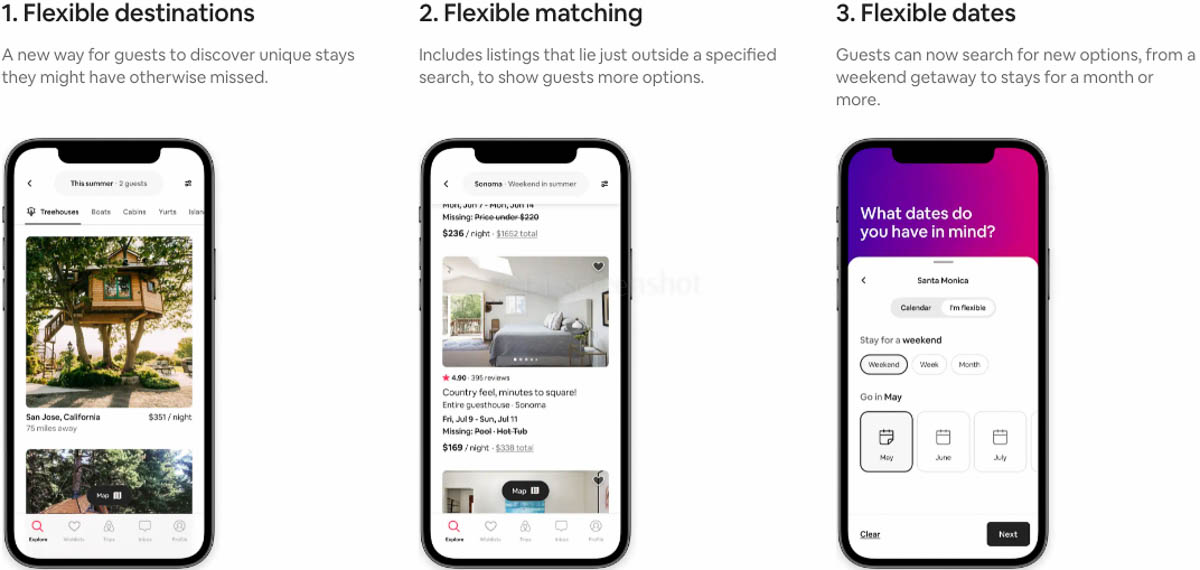 **** Please note that the flexible Destinations option will only be available from 30th June 2021, so we couldn't try it out. But if you don't mind where you're going, this could be the one for you. One of the best holidays we've had was 8 days in Hanoi, because it was the cheapest flight/hotel combination on offer when we wanted to get away. It's certainly an option we'll be looking forward to trying out.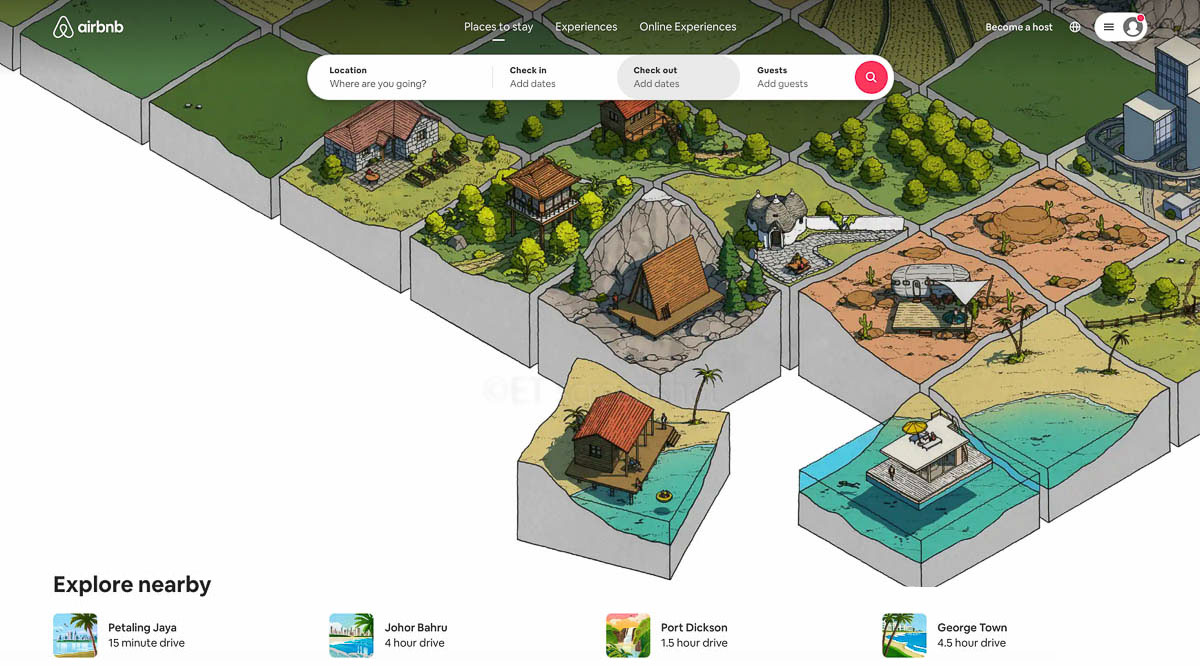 Flexible Matching
People are travelling everywhere. Low density urban areas and small locations are seeing a large growth.
When you filter in the things you really want (he used wifi, pool, pet and hot tub) you remove all the places that don't offer all. That's a fixed search.  But if you're flexible, you can loosen the search fields to include most of the things you want. This will increase the choices available. Relaxing the price filter can give you offerings that are just a little over your range.
This allows you to find something just a little over your price range that may tick other boxes that end up saving you the extra you paid. As an example, the more expensive offering may be closer to places you really want to visit, or near a public transport stop. They may also include a washer/dryer or give you access to a swimming pool.
Flexible Dates
Likewise, if you're flexible with your dates, you may open up more possibilities. How many times have you booked something and had to either reschedule or cancel, this past year or more? If you're lucky, you got your money back. Or you may have travel credits with airlines or accommodation, or you may have lost the lot.
Many countries in our part of the world, the Asia/Pacific, still have borders partially or completely closed and changes can happen at very short notice. At the time of writing, Australia has just flagged the possibility of opening up a travel bubble with Singapore. If this happens and Malaysia and Singapore open their bubble, we decided to try using flexible dates to find suitable dates to meet up with friends and family from both outposts, in Singapore.
The search parameters are initially set to 'weekend', 'week', or 'month' in whichever month/s you prefer, up to 6 months ahead. You can fine these up if you like the look of what comes up and even expand your dates by 1, 3 or 7 days Since Jan, this search capability has been used 100million times. But with the ever-present possibility of sudden changes, it's wise to check the cancellation policy, before you commit.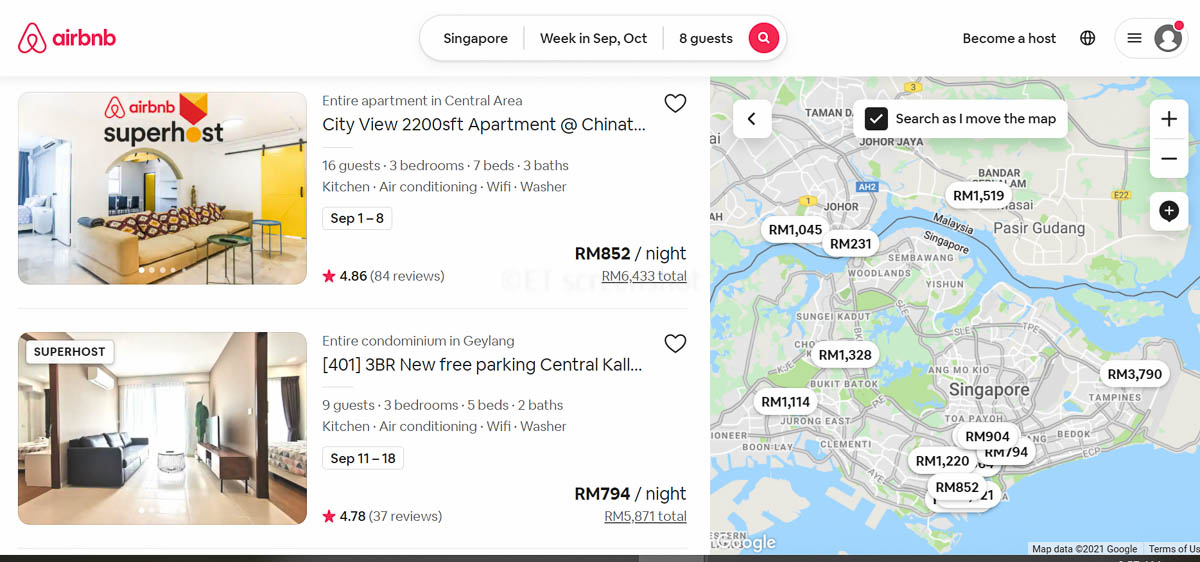 Other changes
Airbnb has also added other choices to help you find the holiday you want or give suggestions you may not have considered. They've also made it easier for their hosts to make the various calculations clearer and include an Arrival Guide, which is one of the biggest issues for some. A faster checkout process, has also been added.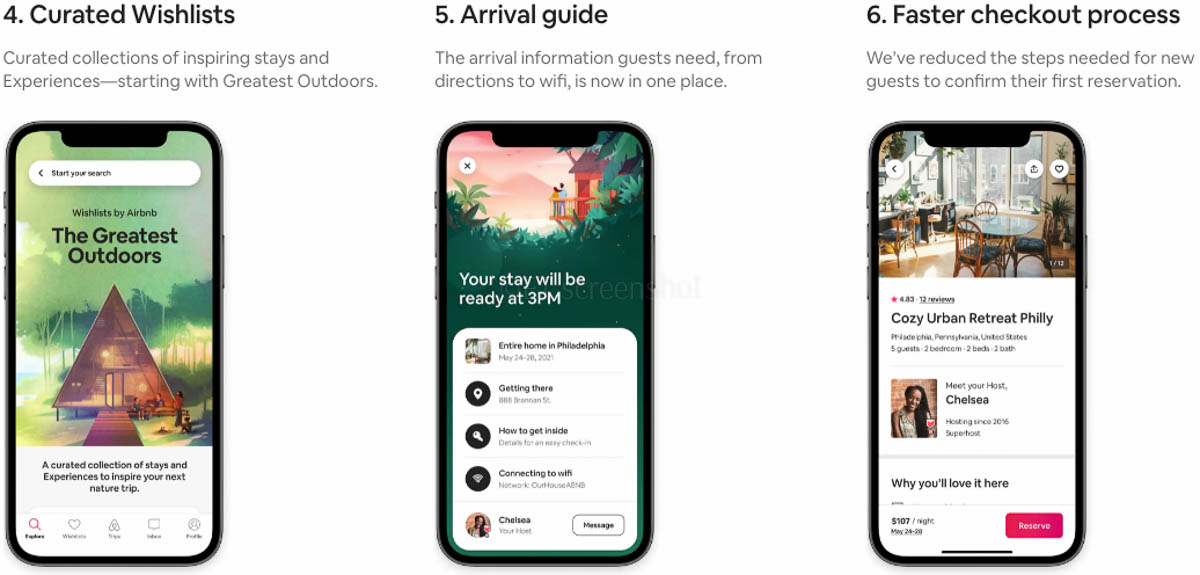 Becoming a Host
Where do they get all these amazing properties? Many of them are people just like 'us'. Not all live in 'amazing' places, or have designer homes. Their visitors may be looking for a regular safe, clean place to stay and your place could be perfect! So how about being a host?Airbnb has changed their on-boarding process for new Hosts, by upgrading and simplifying the system. 
…. Nearly 90% of our four million hosts are individuals, not professionals…….. 55% are women, they're global and they're diverse and they come from all walks of life.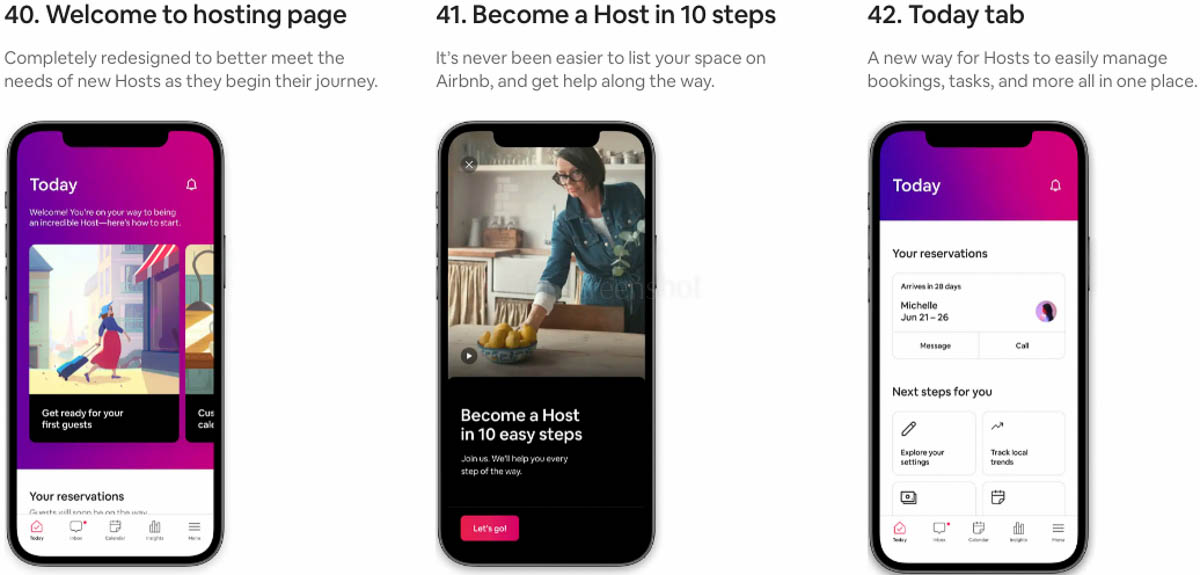 To encourage people to become hosts (they are, after all, the lifeblood of Airbnb), they've made it easier to sign up. The instructions are clear and easy to follow on their new Hosting page. Brian uses his parents' home as an example (I'm sure he asked them first.) to show how to identify your home and where you can get assistance from existing hosts to complete the process.
For existing hosts, they've also made a lot of upgrades. Feedback from existing hosts has clearly driven these. The Inbox is claimed to be up to ten times faster following an adjustment of the tab with 'scheduled messages' and 'quick replies' and a new feature called the 'Today Tab'. The Today tab locates all the To Do list in one place, helping hosts to be on top of things, like preparing for new guests. If you're interested, check out the details on their 2021 upgrades page.
Help & Support
A redesigned Help centre now offers world-class support for Airbnb's global community. They've doubled the number of support staff and support is now available in 42 languages, up from the original eleven.
Support Languages (Original support Languages)

Albanian

Arabic *

Bosnian
Bulgarian
Catalan

Chinese (Simplified) *

Chinese(Traditional)
Croatian
Czech
Danish
Dutch

English *

Estonian
Finnish

French *

German *

Greek
Hebrew
Hungarian
Icelandic
Indonesian

Italian *

Japanese *

Korean *

Latvian
Lithuanian
Macedonian
Malay
Maltese
Norwegian
Polish

Portuguese *

Romanian

Russian *

Serbian
Slovenian

Spanish *

Swedish
Thai
Turkish
Ukrainian
Vietnamese
For more information on the latest upgrades, go to this page. Or head over to their website main page to make a booking or sign up as a host. Happy travelling and Stay safe!