AirAsia welcomes international travellers to Malaysia from 1st April 2022 with a water salute to AK381, which flew in to Kuala Lumpur International Airport klia2 at 11.37am with 140 passengers on board.
Altogether, twelve international AirAsia flights from eight countries, including Cambodia, Vietnam, Indonesia, Singapore, Thailand, Bangladesh, the Philippines and India flew into klia2 the same day. This marked the revival of the airline's international operations after more than two years of flying downtime due to the pandemic. Scheduled flights will be increased from 1st May, with more destinations being added to the list. Check them out at the bottom of the page.
AirAsia welcomes international travellers
The first arriving passengers were met by a group of AirAsia's team of fully-vaccinated staff including pilots, cabin crew and ground personnel. These are also the AirAsia staff supporting the significant pent-up demand response to AirAsia's resumption of international air travel services across the region. Similar welcoming and sending-off events for the inaugural post-pandemic international services also took place in other destinations including in Thailand,  the Philippines, Singapore and Vietnam.
Reconnect with Promo fares
In conjunction with the reopening of international borders, AirAsia is offering promotional fares to help you reconnect with friends and families or just have a holiday. One-way fares are on offer to regional destinations including Thailand, Indonesia, Singapore, Brunei, the Philippines, the Maldives starting from RM89 one-way, with domestic routes on sale from RM39 one-way. Book your flights on the 'Flights' option in the website or airasia Super App until 3rd April 2022, for travel between until 25 March 2023.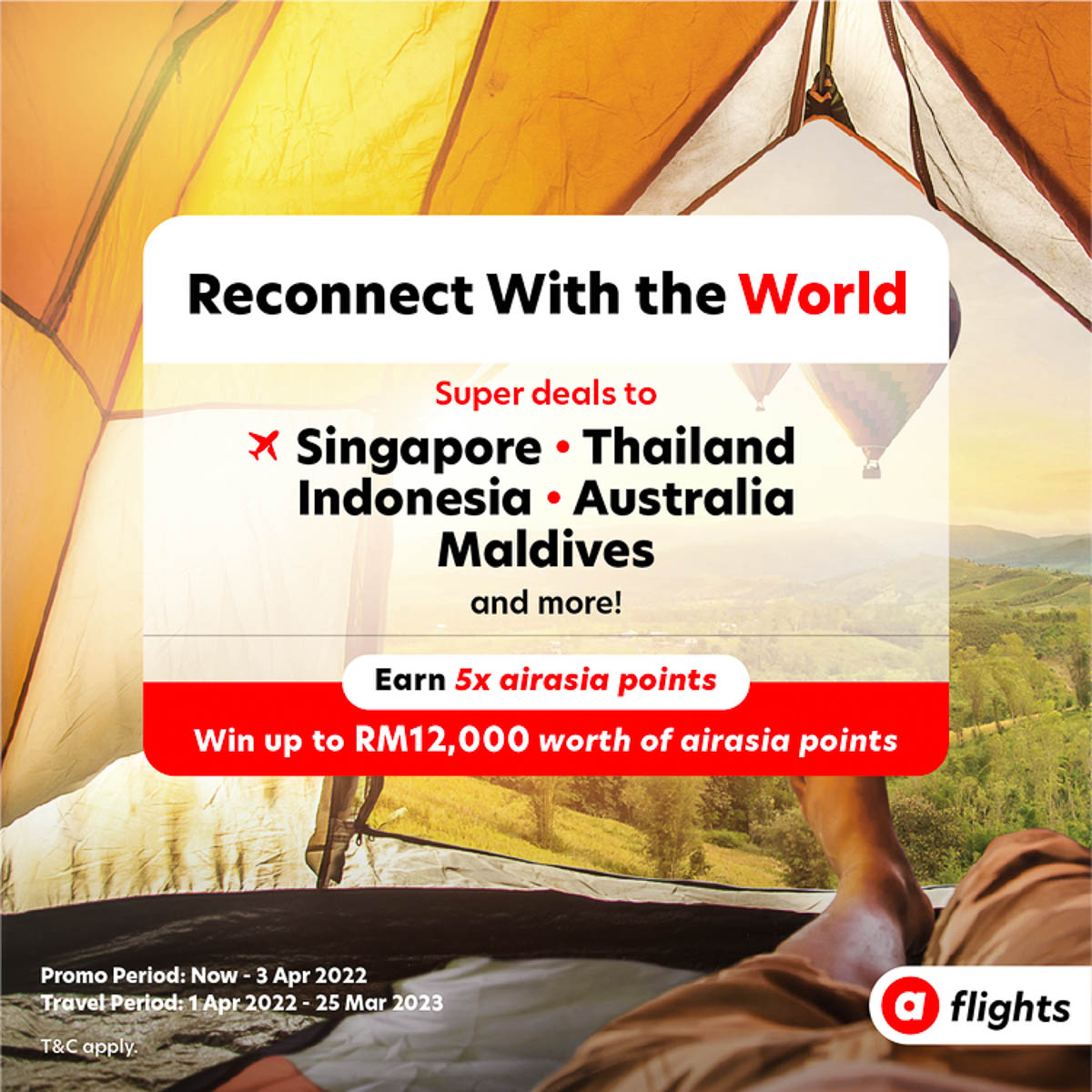 There's more!
Travellers who book an AirAsia international flight (flight code AK) on the super app by 10th April 2022, will be automatically included a lucky draw contest, where they will stand a chance to win RM12,000 worth of airasia points. Travellers can also save RM10 off their next ride to or from the airport through airasia ride, the e-hailing service of airasia Super App.
Fully vaccinated international travellers to Malaysia must meet the requirements of the the Malaysian Government, following the reopening of the country's borders on 1st April. You might also find this AirAsia Travel advice useful. It's also important to meet the requirements of the Governments of all origin and arrival countries, regardless of your destination.
As part of its robust health and safety protocols, AirAsia Malaysia has successfully migrated over 95% of its guests to use contactless self-check-in service via the airasia Super App and its website. The airline will continue to promote its contactless procedures as an integral part of its efforts to further strengthen its Covid-19 mitigation plan.
AirAsia's counter check-in service will be strictly for exempted categories of guests only at all airports in Malaysia from 1st April 2022.
Among the exempted groups are:
Senior citizens aged 70 and above,
People with disabilities registered with the Welfare Department,
Young passengers travelling alone,
Group bookings of 10 guests and more,
Charter flight passengers.
Book your tickets at AirAsia's website or using their Super App. Usage of the airasia Super App is free of charge. Download it from the Apple App Store, Google Play Store or Huawei AppGallery at no cost.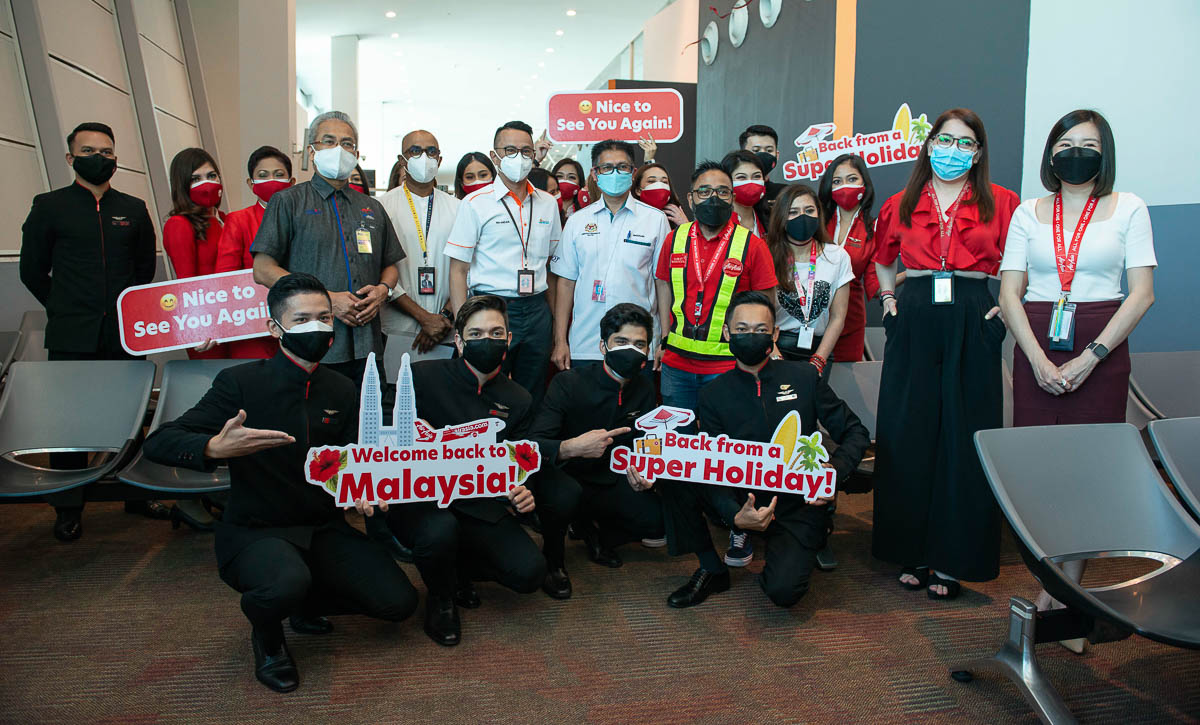 Stay up to date with everything e-commerce from the airasia Super App by following @airasiasuperapp on Instagram and Facebook for the latest updates on airasia super app's e-commerce offerings.
Flight Schedules April/May 2022
Extra flights will be added to Singapore from 1st May from various locations across Malaysia.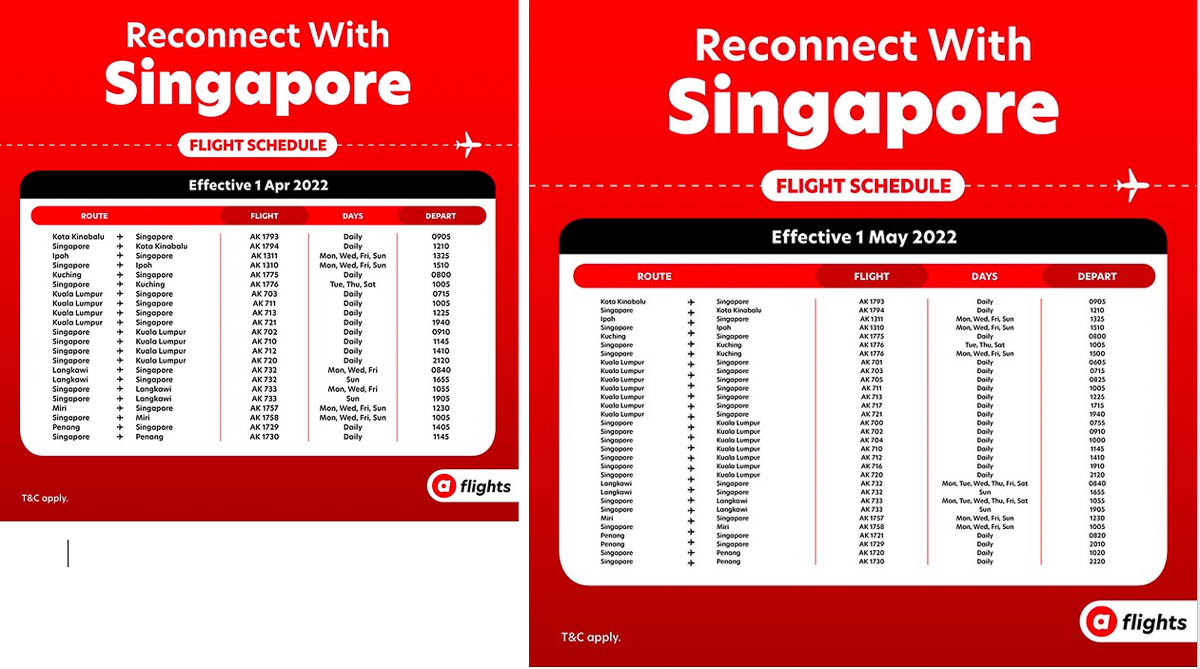 Thailand sees various destinations available, with Chiang Mai added in May.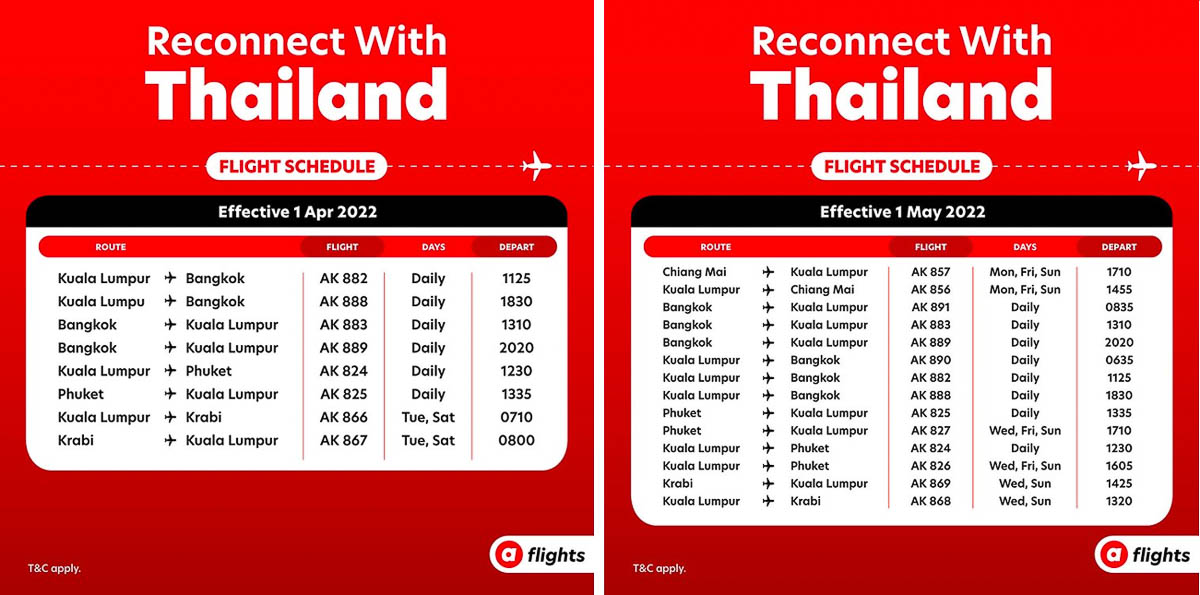 Indonesia gets extra services to Jakarta and Bali in May.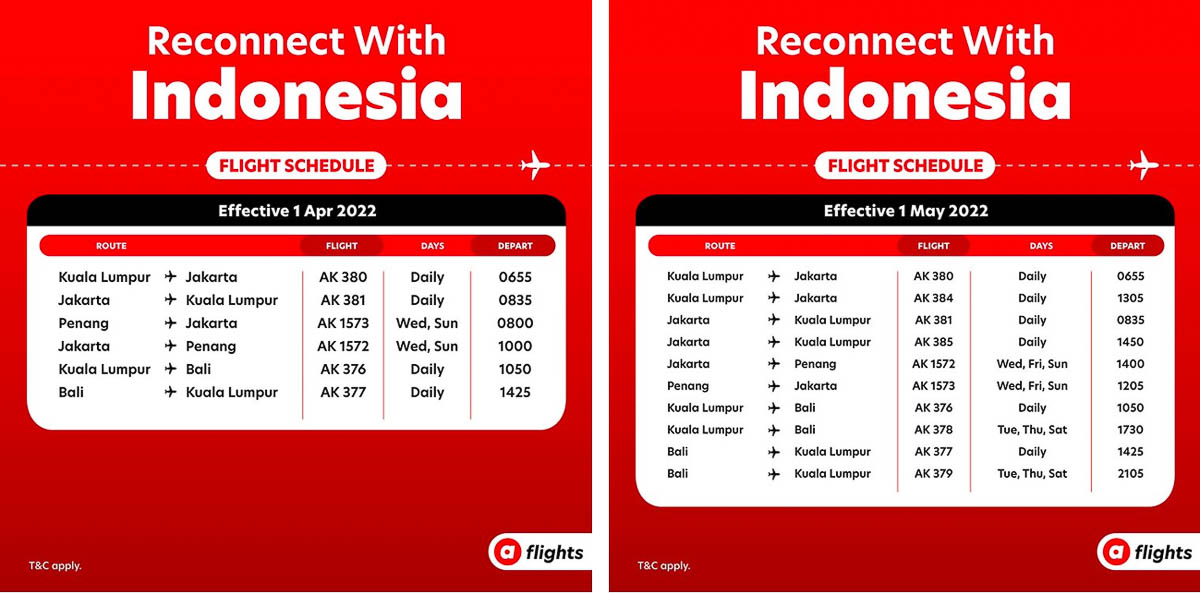 Manila is currently the only destination available in the Philippines.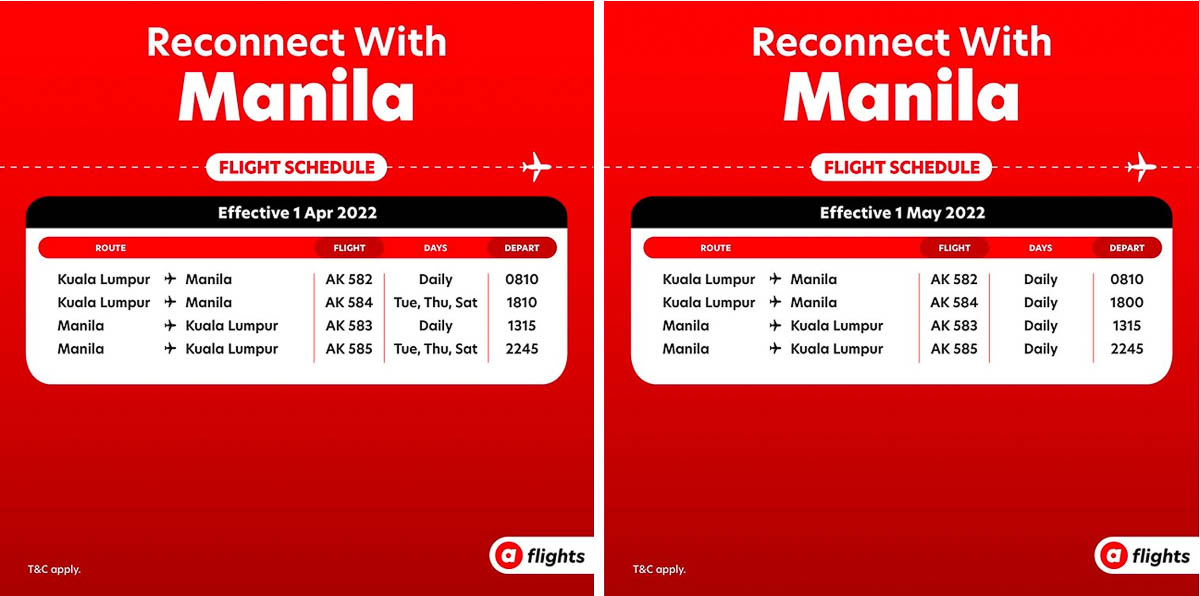 Indochina – Yangon and extra destinations in Cambodia and Vietnam are added in May.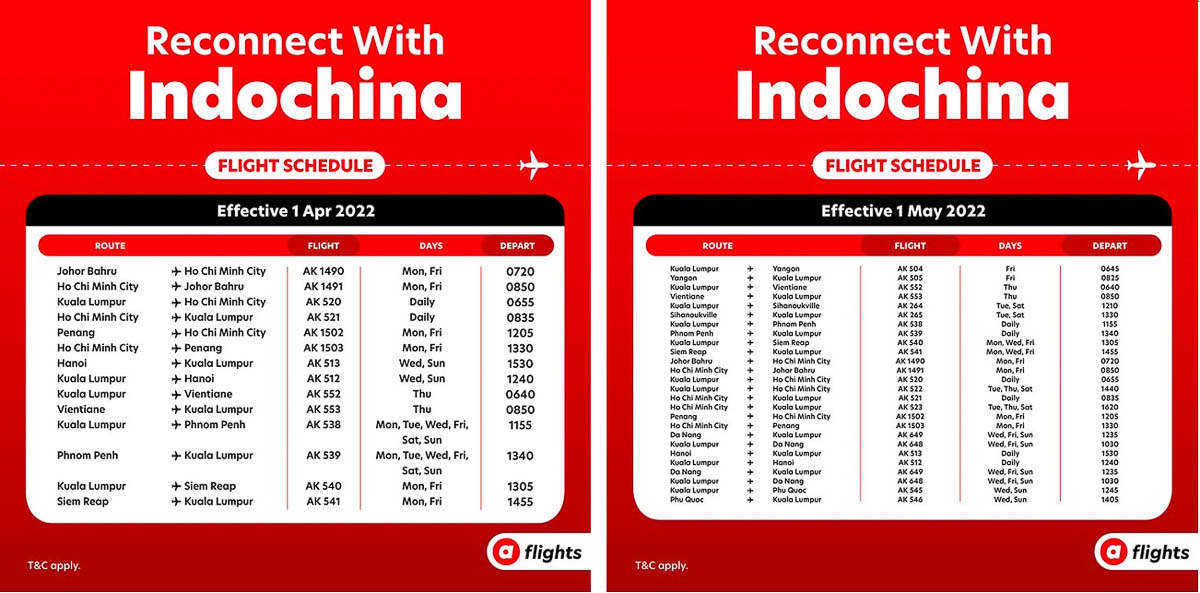 India – Hyderabad joins the lineup in May, along with extra flights to other destinations.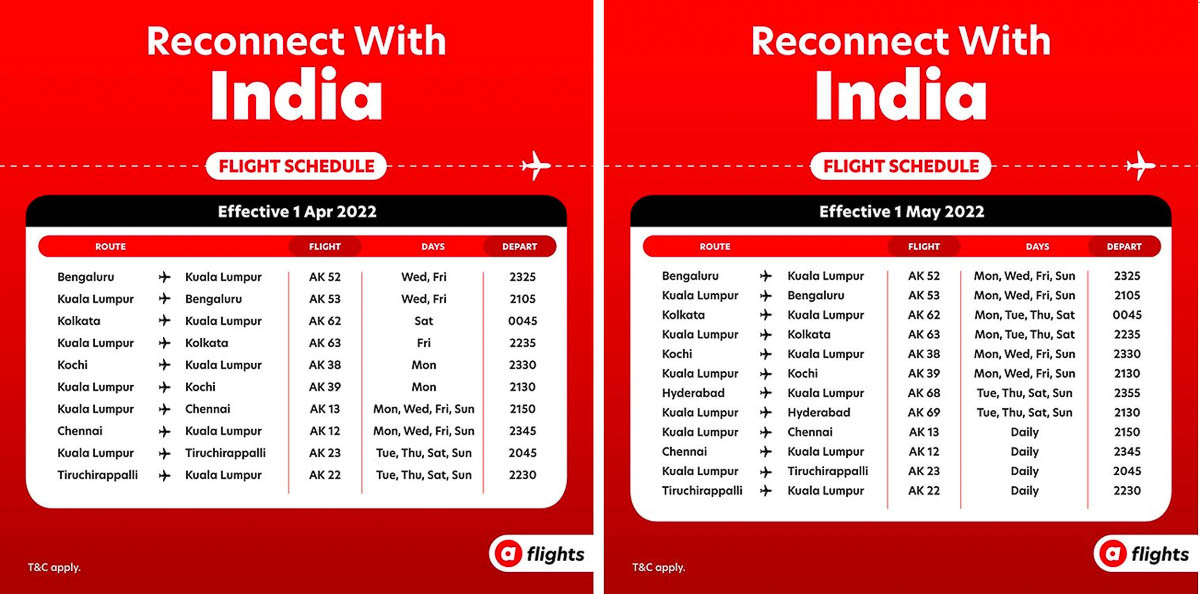 Services to Brunei, Dhaka and Colombo will be joined by twice weekly flights to Maldives in May.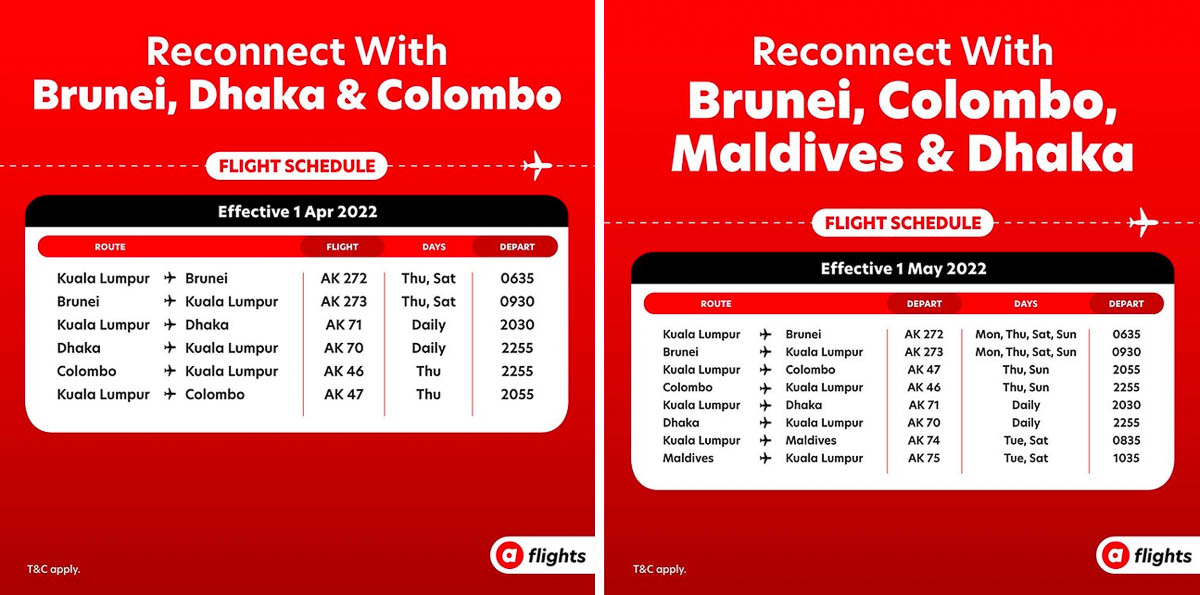 Happy Holidays everyone!