Arrival procedures at Malaysia's International airports will be streamlined from the current processes when the borders reopen on 1st April 2022. The country's Transport and Health Ministries have worked together to reduce travellers movement through the airport to between 35 and 40 minutes from the current average of around one hour.
 Arrival procedures – the changes
Health minister Khairy Jamaluddin said the new protocol involves the use of the MySejahtera app, pre-departure Covid-19 test and filling in pre-release forms. He added that the free RT-PCR provided by the ministry for the last two years was no longer available for travellers.
Land travellers
Please note that quarantine and testing requirements have been dropped for fully vaccinated land travellers between Malaysia and Singapore. Land travellers who commute or travel frequently across Malaysia's northern border with Thailand, are subjected to Thailand's protocols for general travellers.
…. From 1 April 2022, for travel across the land border between Singapore and Malaysia, both countries will allow fully vaccinated travellers to enter without the need to undergo quarantine or testing, including pre-departure and on-arrival tests. This will apply to all categories of travellers and modes of transport via the land border. Joint statement from Singapore & Malaysian Prime Ministers, 24th March 2022
The Malaysian Health Ministry has clarified requirements for travellers from Singapore in this infographic issued on 30th March.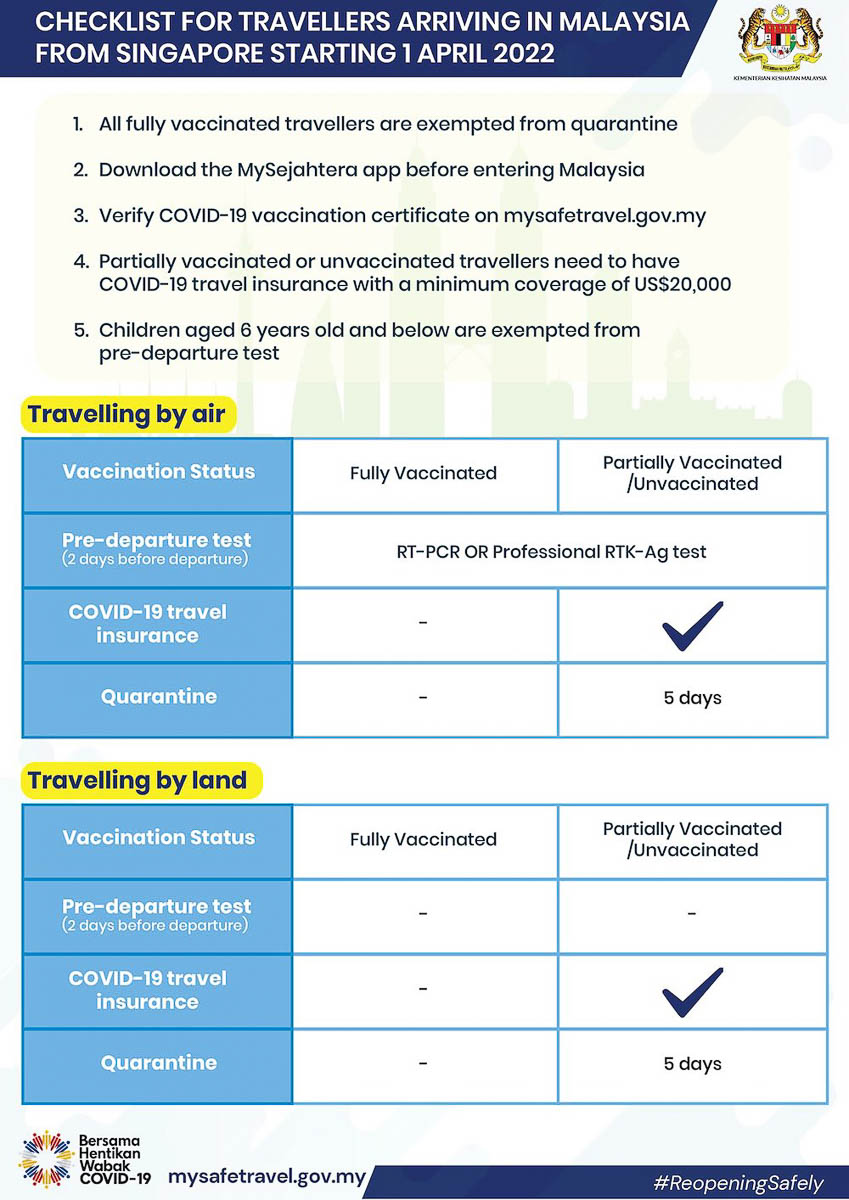 The changes, which also cover pre-arrival requirements can be summarised into pre and post arrival requirements:
Pre-Arrival
Visitors and Malaysians who have been fully vaccinated against Covid-19 will no longer have to quarantine upon arrival. However, taking an RT-PCR test two days before departure is still required. and a professional rapid test (RTK-Antigen) within 24-hours upon arrival.
The travel pre-requirements set by both included compulsory pre-boarding instructions for travellers on the mandatory download and use of MySejahtera application and to provide the Covid-19 RT-PCR test results via the Traveller's Card.
It will be a pre-departure condition for travellers intending to visit the country to download the MySejahtera app and upload their test results and fill in a 'pre-release' form.
Travellers will therefore need to:
Download the MySejahtera application,
Upload the real-time Reverse Transcription Polymerase Chain Reaction (RT-PCR) test results before departure

This must be taken 2 days before departure

Travellers who have had Covid-19 six to sixty days prior to travel may take a professional RTK Antigen (Ag) test
Complete the pre-departure forms accessed through the 'Traveller' icon.

Fully vaccinated travellers will receive a "Digital Travellers Card"
non-vaccinated or partially vaccinated travellers will be issued a Home Surveillance Order for five days.

They must perform a self-test after day four (day 1 is the day of arrival)

If all conditions are met, the passenger will be issued a traveller card in the MySejahtera app.

This will allow them to check-in.

Non-Malaysian travellers must purchase travel insurance
Malaysia will recognise all WHO Listed vaccines as well as full regimen Covid-19 vaccines not listed under the World Health Organization's Emergency Use Listing.
These include:
Zifivac
Minhai
CoviVac
Medigen
ZyCoV-D
Turkovac
Covifenz
Upon Arrival
Malaysia is taking a cautious approach to Covid-19 testing despite the country moving into the endemic phase. However they have streamlined the testing on arrival procedures.
RT-PCR tests would no longer be carried out upon arrival, as testing would be only be conducted using RTK antigen and breath tests.
This must either be done either at the airport's private general practitioners or outside using professional RTK-Antigen.
Travellers will have 24 hours from arrival to take the test and upload the result to MySejahtera.

Failure to do so will make the MySejahtera status turn red

The cost of testing is to be borne by the traveller.

This has been indicated as RM120 at the airport, or you can do it at an outside clinic for RM70-120.
What if the Arrival test is positive?
Fully vaccinated travellers who test negative for Covid-19 are exempt from quarantine.
Travellers who test positive for Covid-19 will be issued a Home Surveillance Order
Fully vaccinated travellers under Category 1 and 2 will be issued a home surveillance order for seven days at their selected place of residence.
Those in Category 3 and above must seek treatment at a quarantine centre or private hospital
Partially or non-vaccinated travellers will be issued a 10 day home surveillance order.
Children aged six years and below are not required to take the test.
Covid-19 breathalyser test
The introduction of this new testing option is part of a pilot project which is currently available only at KLIA as an alternative test to the professional rapid test (RTK-Antigen). The Health Minister says:
….. "Travellers will have the option to take the breathalyser test at the airport instead of the RTK test which is required to be done within 24-hours upon arrival…….. We have tested the accuracy of the breathalysers, and are satisfied with the results.
He added that this new protocol would speed up the process of managing arrivals at the airport and the results would have to be uploaded to the Traveller's Card in My Sejahtera.
We received these cool graphics laying out the procedures and would like to share: