Unsurprisingly, airlines are now finding their costs surging as prices of fuel, including jet fuel, shoots up due to the ongoing war in Ukraine. Combined with the return of air travel in earnest as Covid-19 becomes endemic, it's not surprising that they add fuel surcharges to cover the increases. We've received information from various airlines that the surcharges will be added and these are disclosed in the fare breakdown on their website. However, not all airlines are as transparent.
Did they add fuel surcharges?
It's not always easy to find out, because quite a few airlines don't itemise their extra charges, even if they give a 'fare breakdown'. We had a look around the region and found that reporting the breakdown of fees varies from 'Clarity' to 'Muddy' to 'No information at all'.
We compared flights originating in Kuala Lumpur. We checked out four main carriers in Malaysia based on a one way fight to Penang from Kuala Lumpur International Airport (KLIA/klia2) or Subang Skypark (the nearby commuter airport). Firefly is part of the Malaysia Airlines Group. We also looked at Jetstar Asia for a flight on the same day to Singapore from klia2 and their parent company Qantas for a flight to Sydney. We've also included Myanmar Airways International as they have also advised that they have added fuel surcharges and are offering flights to/from Kuala Lumpur to Yangon.
Clarity on fuel surcharges
AirAsia
AirAsia added fuel surcharges to tickets booked from 8th March 2022. Hopefully prices will stabilise and drop and these will be removed when it happens. This has been their practice in the past. As a low-cost airline, AirAsia is used to itemising extras, so at least we know what we're paying for. For the sale of fairness, we have used only fares with add-ons that cannot be removed.

Firefly
Firefly has been flying their ATR 72 aircraft out of Subang Skypark for many years, to nearby destinations, mostly in Peninsula Malaysia. They're not a low-cost carrier, but they've also clearly identified  their fuel surcharge.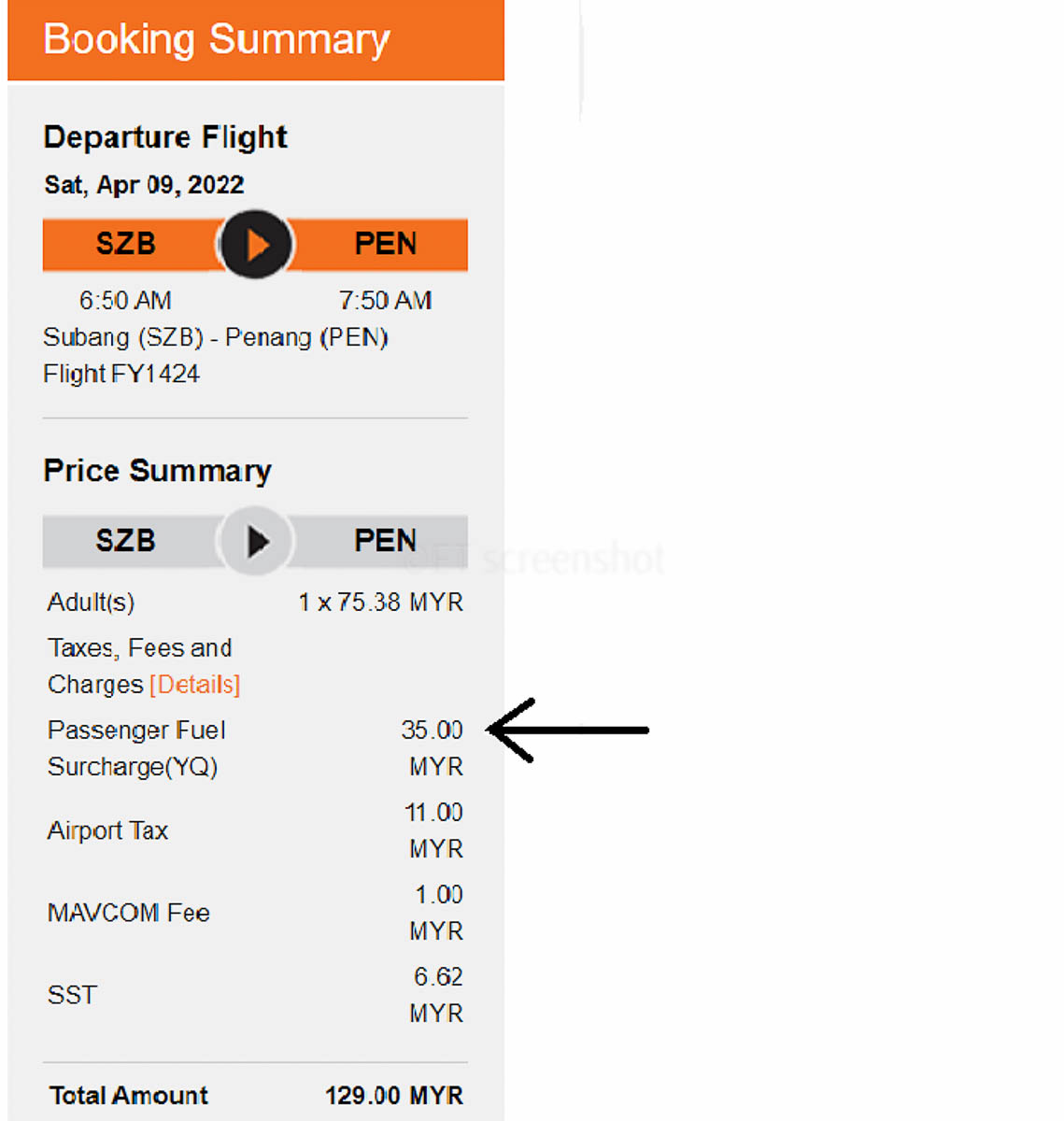 Malindo Air
Malindo Air flies ATR 72 aircraft offering commuter services, out of Subang Skypark and Boeing 737-800 out of Kuala Lumpur International Airport (KLIA). They have recently reinstated flights to some Australian destinations, either direct or via Bali. They have also revised their fuel surcharge on flights out of  to AUD20.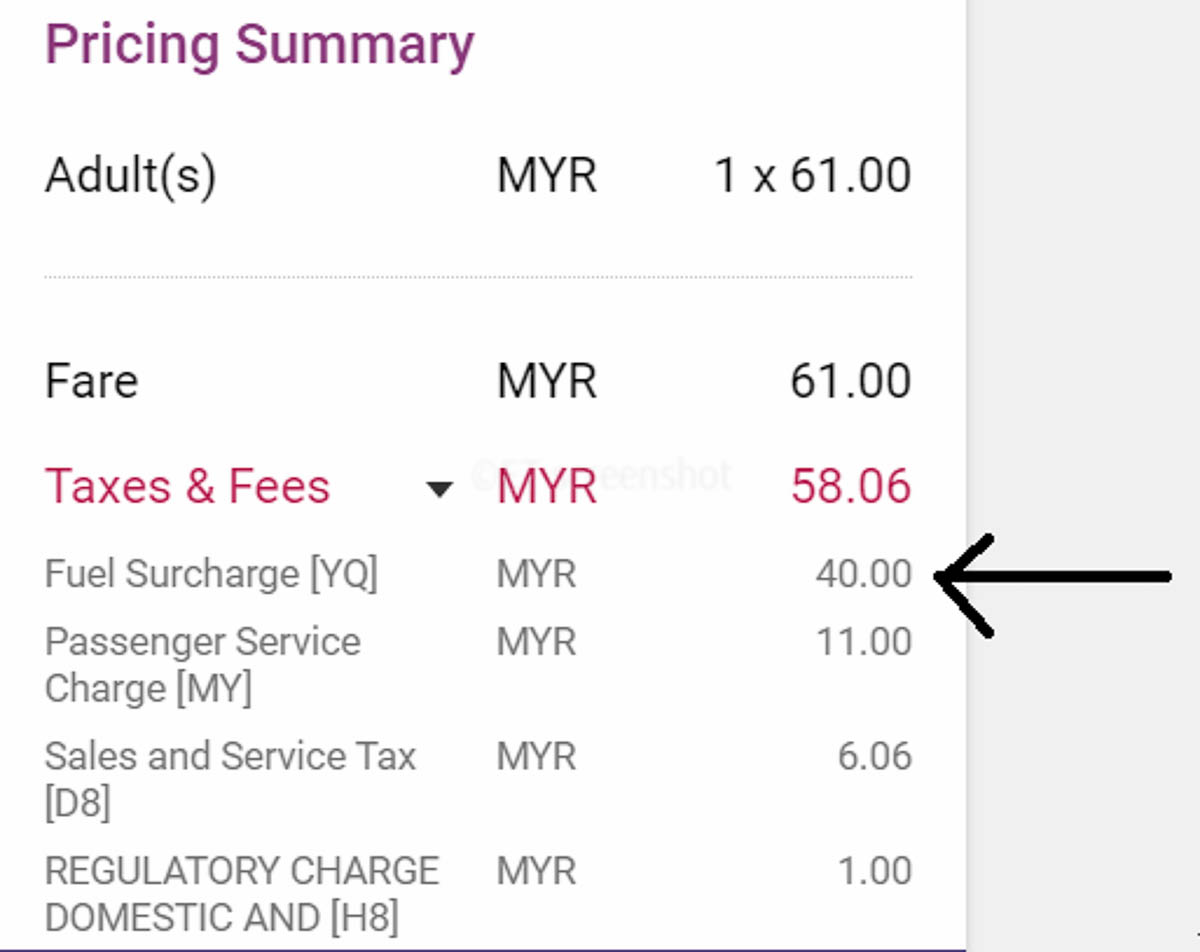 From the itemised breakdowns, it is easy to see what portion of our fare paid, is for a fuel surcharge. This may be why many airlines are reluctant to share the figures, so they are not under the same pressure to remove them when they're no longer required. Interestingly, the airlines operating ATR72 aircraft are charging higher surcharges that the B737 jets used by AirAsia, despite burning 60% less fuel than that of an equivalent-sized jet plane.
Muddy on surcharges
Jetstar
Jetstar flies between Kuala Lumpur or Penang to Singapore, often acting as a feeder flight for passengers joining a Qantas flight out of Changi Airport. So it's impossible to tell if Jetstar is adding any fuel surcharge, though the listing of other charges and levies suggest it is not. However, it may well be bundled in the base fare, but any breakdown of this is not available. They do note on their homepage, that "Payment options and fees may differ by currency.".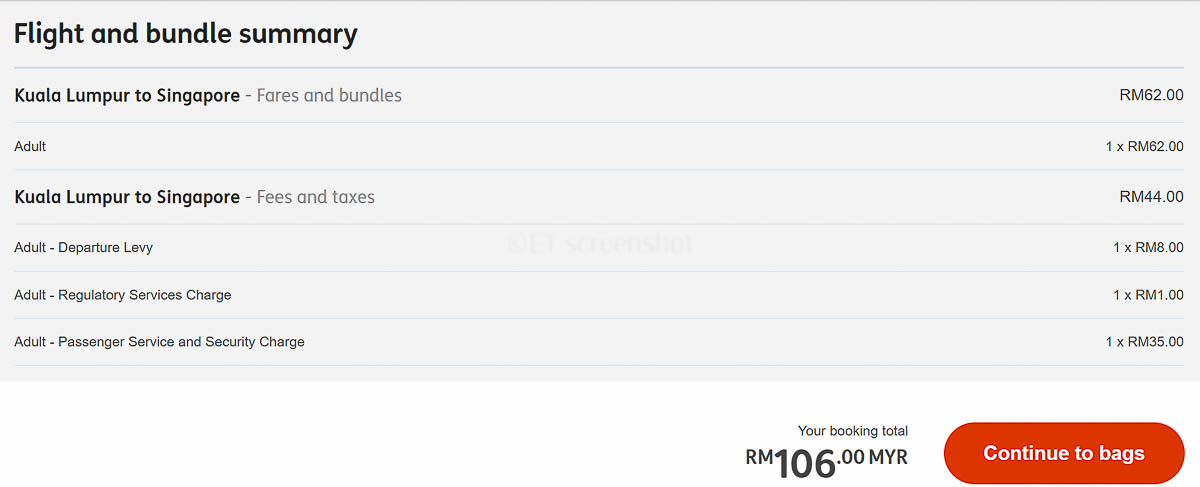 Qantas
Qantas used to fly into Kuala Lumpur in years gone by, but now routes all its passengers from Kuala Lumpur and Penang via Singapore using their subsidiary, Jetstar Asia. This fare breakdown is for a flight from Kuala Lumpur to Sydney via Singapore, denominated in Ringgit Malaysia. They have a lot of Passenger / Service Charges!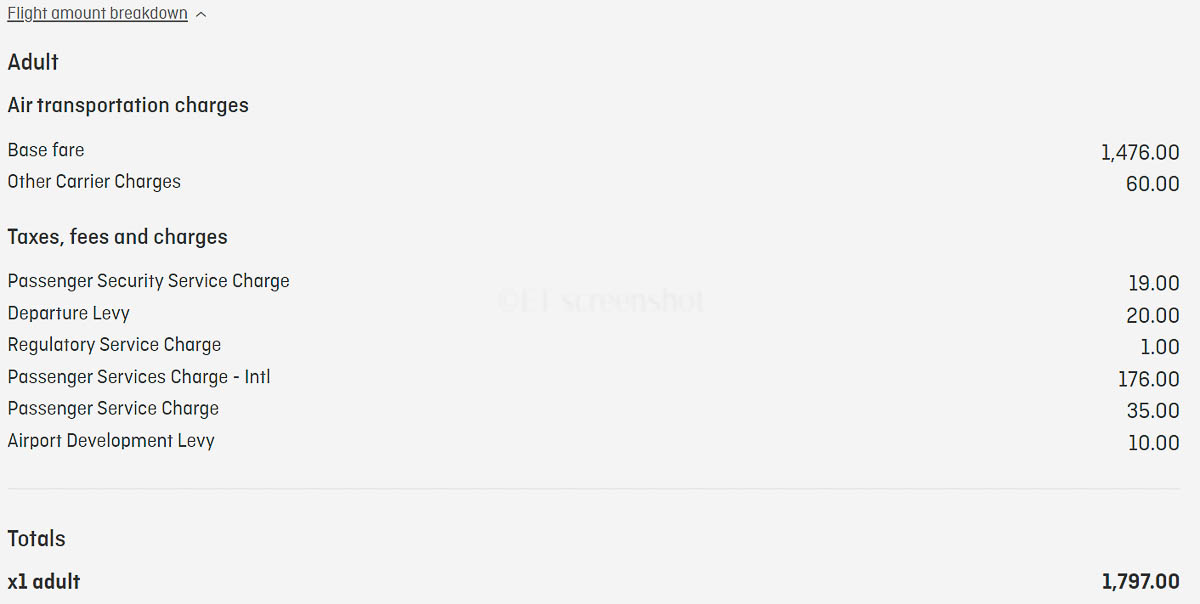 Malaysia Airlines
Surprisingly, given that Firefly does itemise, Malaysia Airlines just lumps all its taxes, fees and charges into one listing. However, given the other non-fuel charges that Firefly adds which add up to around RM17, it is possible that there is a charge of RM10 for fuel. It would be good it these could be itemised.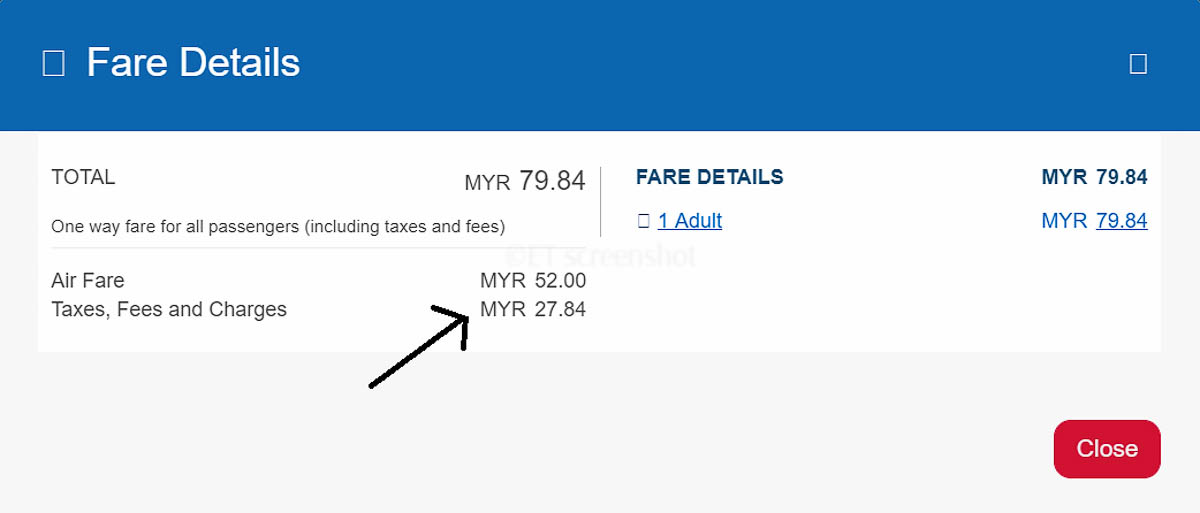 Opaque on all fees
Myanmar Airways International
We do know that a fuel surcharge has been added for Myanmar Airways International tickets issued from 10th March 2022. You may see this as a YQ code in your ticket, but the details are missing in the fare information during booking. They do not add fuel surcharge for infants. We've added this airline as just one example of a lack of clarity regarding your fare.
But don't get excited about a holiday in Yangon, currently there are no seats available on flights out of from Kuala Lumpur, at least for April/May, to Yangon. They are only available for flights from Yangon to Kuala Lumpur. Prices are designated in USD.
The fuel surcharge on flights out of Yangon varies depending on destination:
Bangkok RGN – BKK

USD20 or equivalent Local currency

Singapore RGN – SIN

USD50 or equivalent Local currency

Kuala Lumpur RGN – KUL

USD36 or equivalent Local currency

Conclusions
Let's just hope the fuel prices come down and those airlines that do add fuel surcharges remove them when they drop. But even when we read the fine print, we'll only know if they share the information.
Happy travels everyone!