Economy Traveller had the opportunity to try out AirAsia's new Mirus Slimline seating to be installed progressively in all their A320 aircraft. AirAsia will be the launch customer for the German aircraft seating manufacturer's new Hawk slimline economy seat.  We were pleasantly surprised to find some thoughtful inclusions that weren't evident in the material available during the signing.
Update November 2019: Check out the reality in the new Airbus A321, latest aircraft in the AirAsa fleet. 
Mirus Slimline seating: features
When compared with the current seating, seen in the background of the picture above, it's immediately obvious that the new seat is smaller. And yes, both the seat back and the seat itself noticeably slimmer. In addition, the leather covering is textured and not slippery. We found the seat to be firm but comfortable.
The benefits to passengers include more space available between you and the back of the seat in front thanks to
[lists style="tag" color="#dd3333″]
a tidier seat back which includes a fold away mobile device shelf offers
the mobile device shelf has three slots for more choice of angle and different devices
when tested with a device in place, bumping the seat back (think wriggling child) the device remained in place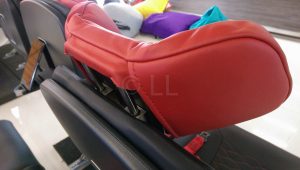 [/lists]
The headrest
[lists style="tag" color="#dd3333″]
the headrest is also slimmer and easier to raise
the fold in 'wings' seem to stay in place once positioned
[/lists]
A shorter slimmer armrest includes
[lists style="tag" color="#dd3333″]
a usb port (no socket for your laptop, sorry)
use to keep for device in juice as you browse or watch a movie
makes getting in and out easier even without raising the armrest.
the aisle seat armrest raise button is easier to find
[/lists]
Other things we like
You can already use your device to access free content on wifi provider roKKi enabled flights, currently available on an increasing number of A320 aircraft used for AK flights. RoKKi also provided the paid services available on these flights. The addition of the supports and usb port will make this easier.
The new seats are expected to start appearing in AirAsia A320 aircraft from September 2017 and it is hoped that they will also be used in the long distance AirAsia X A330s.
RedQ Innovation Lab is the AirAsia ideas incubator. It's located at the new Group Headquarters, RedQ at KLIA2 and encourages ideas from staff, known as Allstars.
Images © LL, LKY