The rain stopped just in time for AirAsia's first Airbus A321neo 9M-VAA to make its appearance at a welcome in Sepang on 22nd November 2019. After flying in from Hamburg the previous day, it had one more day rest before going into commercial service.
Passengers on their way from Kuala Lumpur to Kuching will be the first to try out this new aircraft on 23rd November. This new aircraft will be joined by one more before the end of 2019 with two more due in 2020.
AirAsia's Airbus A321neo – what's new?
At just under 7m longer than the current workhorse, the new A321neos offer an extra 50 seats, fitting in 236 seats in the single aisle aircraft. The A320s carry 180 passengers and the A320neo can carry 186. The extra space will help address rising demand on busy routes without adding extra flights, improving operational efficiencies with over 10% fuel savings.
We were also fortunate to have a quick peek inside the aircraft.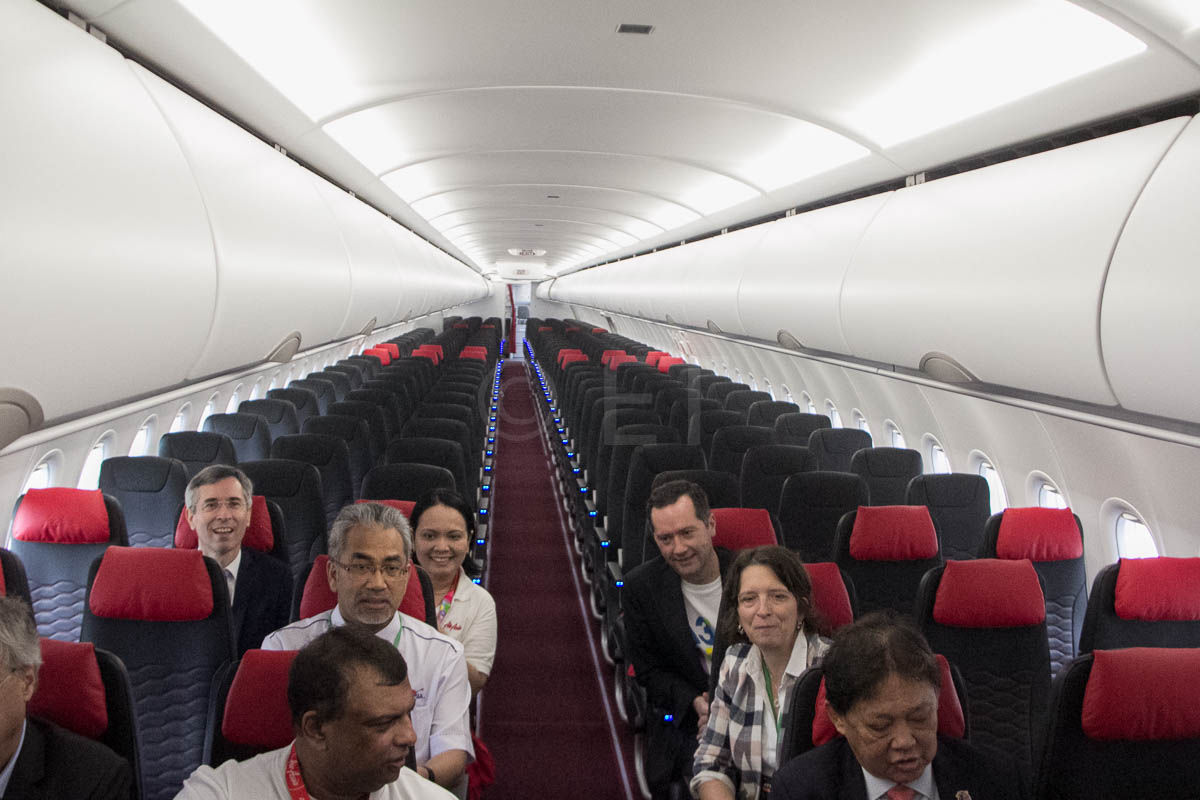 Mirus Hawk seating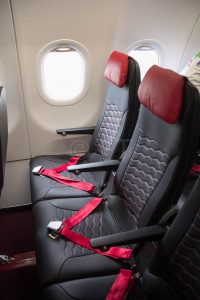 When we heard that the new seating may not have all the features seen in the initially proposed model, we were very disappointed. Our disappointment was misplaced however, as the hoped for personal electronic device holder and high power 2A USB ports have been included. In fact, the ones in place are better designed than the original proposal.
The USB ports are available in the end of the armrests for all seats in the new aircraft. Currently, only AirAsia X A330 aircraft offer USBs in their premium flatbed seats. You will have to bring your own content for now as this aircraft is not yet wifi equipped. Wifi is being progressively rolled out across the fleet.
The leather seats are firm, but very comfortable, even for a lengthy flight. One who was on-board during the trip from Hamburg gave them the thumbs-up. The 28in seat (71 cm) pitch is still comfortable, given the seat backs are slimmer. Seat width is 18 inches.
The tray table
What we like best about the personal space is the tray table design. We've all had to contend with loose tray tables that move around easily, are difficult to close, have no drink space and are not easy to use with a PED.  This tray table ticks all the right boxes.
Opening and closing the tray table is positive. The catch has been modified with a small notch that neatly clicks into a hole, holding it firmly in place. The dual purpose hole is perfect for pulling the table out to the positing you want. There's a drink depression, always handy and best of all, a flip up device holder, fitted in to the tray. As there's a decent sized groove in front, you can easily fit in a tablet or a phone.
For bulkhead seat passengers, the tray table is, as usual, in the armrest. The PED holder is modified as small fold up arms to hold your device. It's one size fits all though, so you can't use it for a tablet.
Where can I fly on the A321neo?
The new aircraft also has a greater range, with a 1000km advantage over its predecessors. This opens opportunities to explore new destinations. AirAsia will operate the aircraft from its Kuala Lumpur hub to cities across Asia, with the first destinations including Kuching, Kota Kinabalu, Singapore, Bangkok and Shenzhen. These are among AirAsia's busiest routes, but with 353 A321neos on order, they will eventually replace the existing fleet of A320 and A320neo aircraft throughout the network covering Malaysia, Thailand, Indonesia, the Philippines, India and Japan.
… We are proud to welcome our first A321neo today as the backbone of our future operations. This new aircraft will be deployed on popular routes delivering growth opportunities to new markets and add extra capacity in existing markets, particularly where there are expansion constraints due to infrastructure or slot availability limitations… As our cost is reduced we can pass on any savings to our guests in the form of even lower airfares. AirAsia Group CEO Tony Fernandes
He added:
The new generation state-of-the-art aircraft will allow AirAsia to further boost air connectivity to and from Malaysia ahead of Visit Malaysia 2020, at the same time deliver greater opportunities for tourism, business and trade in line with the government's Shared Prosperity Vision 2030.
AirAsia has converted 253 orders for the A320neo to the larger A321neo version, with 353 aircraft on order. This makes AirAsia one of the world's largest customer for the A321neo.