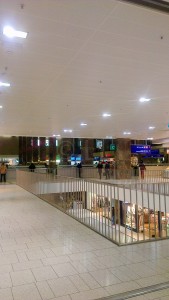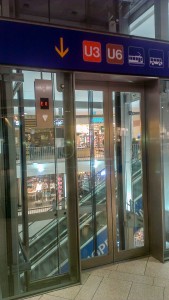 When we were planning our train trip into Vienna, we weren't sure which station to select in the city as both Wien Westbahnhof and Wien Hbf were both available for our trip from Zürich. Fortunately we made the correct choice as it was easy to reach our accommodation in the Rochusmarkt area using one direct Underground train (U-Bahn) on the U3 line heading for Simmering. This line & direction will also take you to Erdberg Station, where you can find the International Bus Terminal.
The Public Transport in Vienna is all integrated under Wiener Linien.
The U6 line also runs from this station, and you can catch a bus, suburban train or a fast CAT train to the airport from here as well. If a tram will be your best option, there are six different lines from the Europaplatz in front of the station.
The station is new and well equipped with services including a supermarket where we were able to buy breakfast supplies. The lifts were helpful for people with luggage or in a wheelchair, although we had some trouble with the signs pointing our way to the platform for the U3 line we needed and had to ask for clarification.
The first thing we did after getting our bearings was to look for a travel card.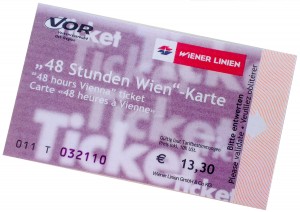 The Options:
We discovered from the Information Counter that it is necessary to go to a tobacconist (Tabaktrafik Shop) to buy a public transport card.
Your Pass is good for unlimited travel by tram, bus and rail inside Vienna's Zone 100 for the length of time you have purchased.
We found the tobacconist after a bit of a search and paid our €13.30 each for our 48 hour tickets. Had we been staying longer, a 72 hour ticket which costs €16.50 would certainly have made sense.
You need to validate your ticket as you enter the platform or the bus/tram etc and again when you leave.
It's not usable on the Vienna Ring Tram, a dedicated tram with headphones and commentary in various languages. A complete loop takes about half an hour and tickets may be purchased on board.
If you think you will have time for museum visits, you may prefer to purchase a Vienna Card which gives you transport and some small discounts to various museums and other places.  A 48 hour Vienna Card will cost 

€18.90 and a 72 hour card will set you back 

€21.90.

If you're staying longer, a weekly transport ticket looks like a good buy at€16.20.
You can get more information on types of tickets and pricing as well as download apps for iOS and Android devices at the Wiener Linien website.
Was it worth it?
It was dark when we arrived, but our Air BnB landlady had given us quite good instructions on how to find our way, and we were very glad our stop was on a line from Wien Westbahnhof and we just had to watch for the right station. We forgot to ask which exit to use, so we had to do a bit of exploration of the neighbourhood before finding our destination.
We woke up the next morning to an overcast sky and a light rain which got heavier during the day. After walking for a while in the direction of the main city, and discovering a beautiful old church and the eye-popping Hundertwasserhaus apartment block, the rain became heavier and we hopped on a passing tram which stopped at what looked like an interesting place we discovered to be the Schottentor Station, in front of the impressive twin spired Votivkirche. So, Trams, Tick.
As we planned to visit the Schönbrunn Palace, we made our way back along the road and underground walkways (though we could have caught the U2 U-Bahn train) to the Schottering Station where we caught the U4 Hütteldorf U-Bahn to the Schönbrunn Station.
On the way back we got off at Karlsplatz and changed to the U1 line in the direction of Leopoldau to visit the iconic Prater Amusement Park. We got out at Praterstern.
To get back to the U3 line to go home, we could have caught the suburban train S-Bahn one stop and changed at Landstrasse, used the U4 and changed at Stephansplatz, or the U2, changing at Volks-theater.
Integration was quite seamless and once we were used to the system (don't forget to pick up a route map when you buy your pass), it was very easy to find our way around and get where we wanted to go. U-Bahn, Tick.
The next morning was overcast but not raining so we spent the morning walking round the neighbourhood. Walking is pleasant and easy and had we been so inclined, we could even have tried a ride in one of the horse drawn carriages that passed by from time to time.
We used our passes one more time to get to the Vienna Main Station Wien Hbf, again using the U3 line to Stephansplatz, changing to the U1 line.
The Verdict
Had it not been for the rain, we may have walked more and used the pass more for getting to and from the main stations, and out to Schönbrunn Palace. We'd probably have tried the trams at least once and would likely have paid the extra to take a ride on the Ring Tram, which would be an excellent way to get your bearings.