Is this you when you fly-thru KLIA2?
With up to five thousand transit passengers using the fly-thru facility at Kuala Lumpur's low cost airport KLIA2, there are quite a large number who will have a few hours between connections and would appreciate having a place to rest, shower, work or fiddle with their phone. At the moment they don't have a lot of choices, apart from shifting from the comfy seats in the general waiting area to a different seat in one of the various cafes spread about the Departure area. There is finally an answer that ticks all these boxes. Enter – The AirAsia Premium Red Lounge.
AirAsia Premium Red Lounge
Members of the media had a sneak preview today into the latest AirAsia offering, targeted largely at the Premium end of their market with the unveiling of their new AirAsia Premium Red Lounge. Three years in discussion and planning, the Lounge opens just after midnight on Friday 2nd September 2016. To find it, coming across to the KLIA 2 Satellite building, you need to turn left before the escalators down to the Departure gates. If you're already downstairs having recently flown in, you need to go up the escalator, stairs or in the lift at the P side of the building.
Turn right and you can't possibly miss the big red spot.
What's on offer?
The Lounge can accommodate around a hundred and ten people at a time in a cosy layout with 302m2 of floor space offering the opportunity to work, either looking out at the planes coming and going, or at one of the work tables or workstations in a nearby side room, or on a table near the buffet. All are equipped with 3 pin 240V sockets (three pin, British/Malaysian socket) and we were assured that the free wifi is strong and fast. There's also a VIP room if you're with a group, that can be booked for MYR25 per hour.
You can climb upstairs to a mezzanine Sun Room they call the 'chill room' where you'll have a view over the Skybridge and taxiway which you can enjoy from one of the orange bean bags on offer. There's a large departure display board showing flights out of both KLIA and KLIA2, so you don't have to worry about missing your flight.
If you need a shower or want to freshen up, collect a towel and head to the showers (two each for male and female) tucked behind the buffet area, where you can enjoy a decent spread and a cup of good coffee.
How can I access the facility?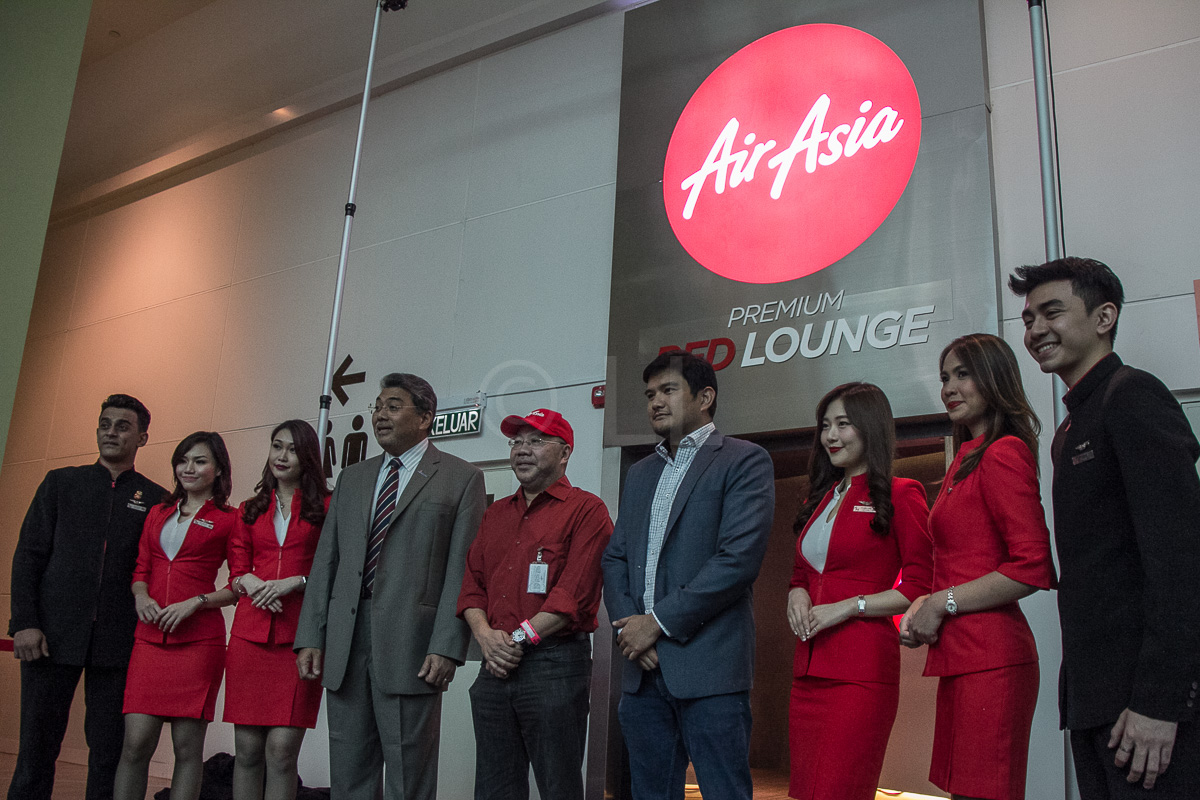 The Premium Red Lounge will be open 24 hours a day from 2nd September 2016 with complimentary access for all Premium Flatbed and Premium Flex passengers. If you're flying on a regular ticket, or even another airline, walk-in guests are welcome at MYR79 per person. This is a per use charge rather than time based, which is great if you need the space for a few hours.
This is the first such AirAsia Premium Red Lounge and if it is well received, look out for similar lounges appearing in other locations, with the fly-thru hubs likely to be first making them available.
We did a check on behalf of those passengers who've bought a basic ticket and later upgraded it using a service such as OptionTown and were assured that 'as long as the guests are Premium Flatbed guests which should be shown on the boarding pass, they will be eligible to enjoy the facilities in AirAsia Premium Red Lounge on complimentary basis.'.
images ©LL