Malaysians travelling home to vote this weekend now have more GE15 travel options as transport providers have added extra buses and trains to their services.  With 18th November announced as a public holiday, voters from Selangor, Negri Sembilan and Penang have more time to make it home to vote. In addition, the Higher Education Ministry (MOHE) is allowing five-day leave for students from 17th – 21st November to encourage them to vote.
GE15 travel options
Various commercial bus ticketing websites have shown that routes towards the northeast and northwest States of Malaysia were sold out. Sani Express bus tickets have been sold out for dates between 16th and 21st November as many voters bought their tickets as soon as the announcement of the polling date was made to avoid missing out. However, the company says they will provide extra buses according to demand , at least one bus to each destination. Most bus companies are doing the same, depending on their capacity.
You can also try your luck with Redbus Malaysia, which of offering a special GE15 discount and they offer bus tickets from a number of companies.
KTM train service
Keretapi Tanah Melayu Berhad (KTMB) has limited seats available, although they are providing additional special train services to the East Coast and electric train services (ETS) north. These will add a total of 716 tickets for the special East Coast train services and 2,520 tickets for ETS train services. They are reporting heavy bookings to East Coast destinations, as for those north and south, with very few seats left.
Jom Balik Mengundi on Malaysia Airlines
Malaysia Airlines has increased the number of flights from 26 to 44  from 16 to 24 domestic services and upgraded the aircraft to wide-body A330 aircraft on several routes in Peninsular Malaysia, Sabah, and Sarawak. In addition, those returning home to vote in GE15 on 19th November, will enjoy 20% discount on one-way, with all-inclusive fares starting at RM104 through the airline's "Jom Balik Mengundi" campaign. This offer is for bookings made by 19th November for travel between 11th and 27th November. The 20% discount applies to all fare categories, including Lite, Basic, and Flex for Economy Class as well as Basic and Flex for Business Class, and is now available on the Malaysia Airlines website. The link also shows you the extra flights on each route.
Students between 18 and 26 years old who sign up as MHexplorer members, get up to 30% off on Malaysia Airlines and Firefly flights year round, among other benefits.
….. Since the launch of "Jom Balik Mengundi" on 20 October 2022, bookings on Malaysia Airlines have surged by 7% over our daily average, with nearly 70,000 passenger bookings. Group CEO of Malaysia Airlines Berhad, Captain Izham Ismail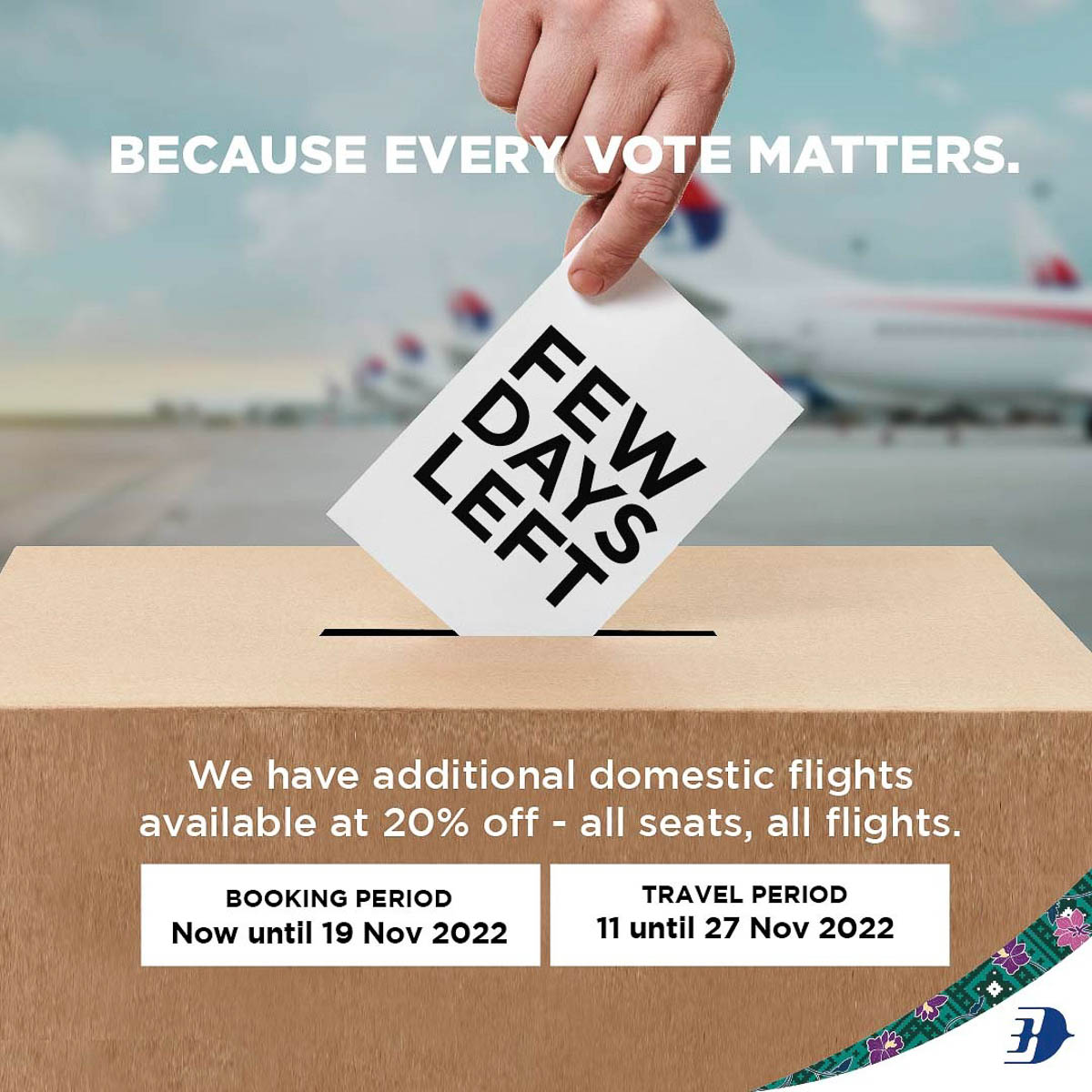 Tickets are moving fast, so be quick, regardless of which of the GE15 travel options you choose.
Getting to the airport
KLIA Ekspres, the dedicated airport transfer between KL Sentral and KLIA/klia2 is offering RM10 off their tickets until 31st December. The offer is available online, for Malaysian citizens travelling domestically. Single and Return fares are available and you'll get a QR code on your phone. This makes it completely contactless travel as you only have to scan the code when you enter.