AirAsia has brought back their popular Kuala Lumpur – Kaohsiung route since 12th November 2022, to be followed by services from Kuala Lumpur and Kota Kinabalu to Taipei from 1st December. After a two year hiatus, the inaugural flight was very well received and offer fares are now available for this service the new Taipei flights as well.
Kuala Lumpur – Kaohsiung on sale
Flights between Kuala Lumpur and Kaohsiung take about four and a half hours, taking off in late afternoon, to land just before 10pm local time. Taipei takes a little longer from Kuala Lumpur, but is a quick trip from Kota Kinabalu. There is no time difference between Malaysia and Taiwan.
To celebrate the resumption of flights to Kaohsiung and Taipei, you can pick up value-for-money all-in, one-way fares to both destinations from RM349 until 20th November for travel for various periods depending on route.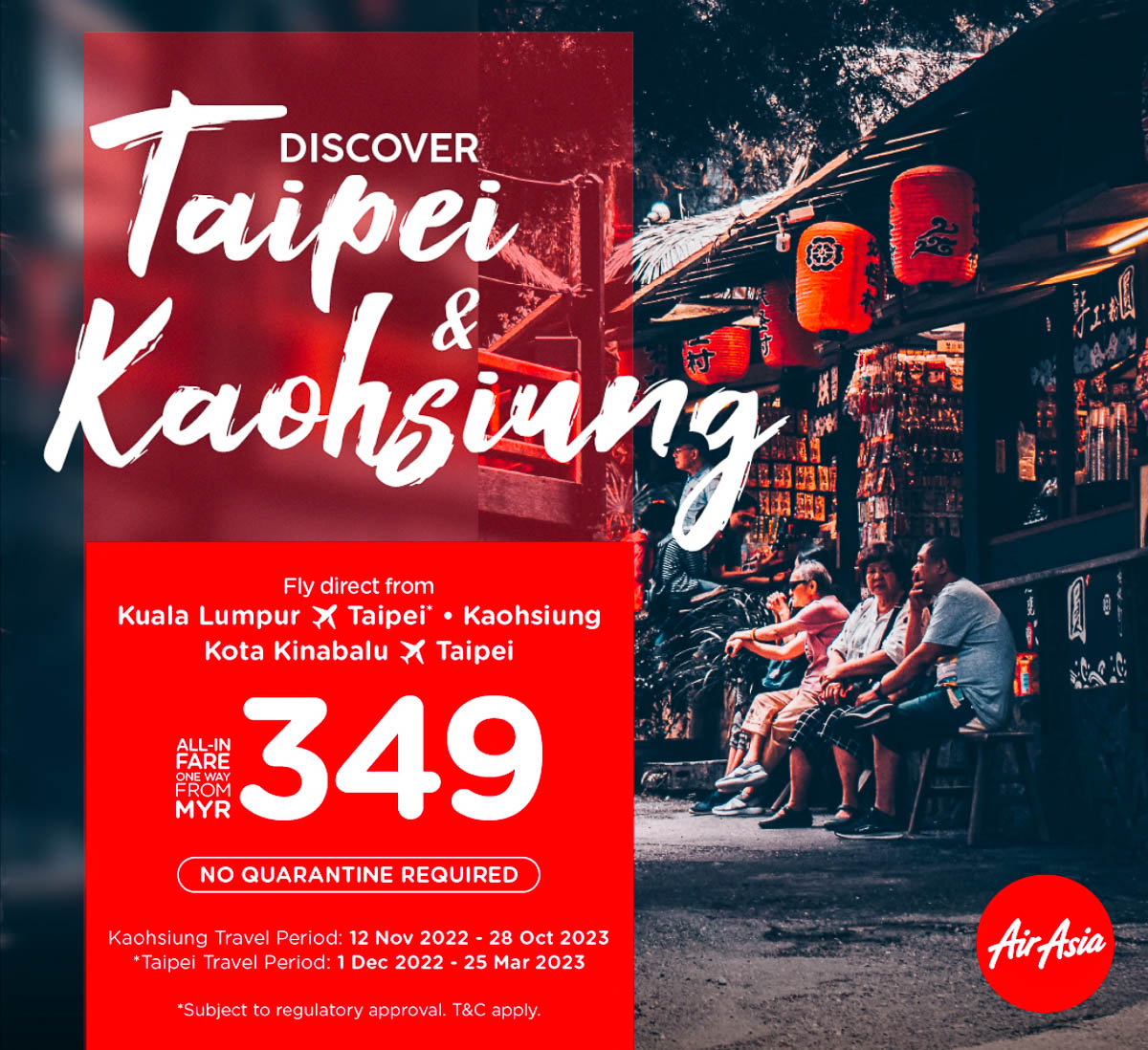 Taipei and Kaoshiung are in the same time zone as Kuala Lumpur
…. This inaugural flight from Kuala Lumpur to Kaohsiung is a long-awaited occasion for us. Our Kaohshiung and Taipei routes were amongst our most popular and frequented by many since we commenced operations in the region in 2005.  Riad Asmat, CEO of AirAsia Malaysia
Kaohsiung is famed for its picturesque harbour and sprawling landscape and is one of AirAsia's most popular destinations in the North Asia region. Both Kaohsiung and Taipei are often a preferred choice for travellers who are looking for affordable food options, apart from local delicacies, there's a good choice of Japanese food and plenty of muslim-friendly options. Their night markets are legendary! These two bustling cities are also home to a unique attraction ‒ free internet access is available throughout the cities with thousands of WiFi access points placed at various locations. In addition getting around is not difficult or expensive, the city is well supported by a fast, efficient rail and bus network.
Since 13th October 2022, travel restrictions have been eased for the majority of international visitors to Kaohshiung and Taipei. Malaysians (as well as citizens from selected countries) can visit these cities without any visa, vaccinations, COVID-19 tests or quarantine requirements. Read more about the travel advisory here.
Taipei and Kaohsiung booking & travel period
[table]
Route
Flight code
Booking period
Travel period
Kuala Lumpur – Taipei
D7
14th Nov – 20th Nov 2022
1st Dec 2022 – 25th Mar 2023
Kota Kinabalu – Taipei
AK
10th Dec 2022 – 28th Oct 2023
Kuala Lumpur – Kaohsiung
AK
12th Nov 2022 – 28th Oct 2023
[/table]
Stay up to date on the latest in flights, travel, lifestyle and more by following @flyairasia on Instagram or @airasia on Twitter and WeChat/Weibo for the latest updates.