Redeem a free flight with your AirAsia Unlimited Pass as domestic flights restart as Covid-19 travel rules relax for Malaysia's interstate travellers. This initiative supports the revitalisation of Malaysia's domestic tourism as it gears towards eventual full reopening of nationwide & international travel.
How to redeem a free flight
AirAsia Unlimited Pass (Cuti-Cuti Malaysia) holders may now redeem a  free flight to Langkawi or any domestic destination to compensate for the missed travel opportunities lost through quarantine restrictions imposed over the past year.
There are a few things to note:
Current travel period: 11 October 2021 – 30 June 2022.
Only AK flights are currently allowed for redemption.
14 days advance purchase is required during the booking period of 27th September 2021 – 27 December 2021.
This initiative is AirAsia's way of rewarding its loyal customers for their continued support amidst the global health crisis. Launched in June 2020, the AirAsia Unlimited Pass allows all Malaysia-based BIG Rewards members who purchased the pass to redeem unlimited flights within Malaysia from the date of purchase until 30th June 2021. As all Malaysian residents, are aware, interstate travel apart from those for essential purposes, have not been allowed for the past few months.
…. We received an overwhelming response when we introduced the AirAsia Unlimited Pass (cuti cuti Malaysia) last year. Many guests were able to take advantage of the pass where they were able to travel and enjoy cuti cuti Malaysia within our domestic network across 16 destinations. Unfortunately, some were not able to maximise the usage of the pass due to travel restrictions. Amanda Woo, CEO of airasia Super App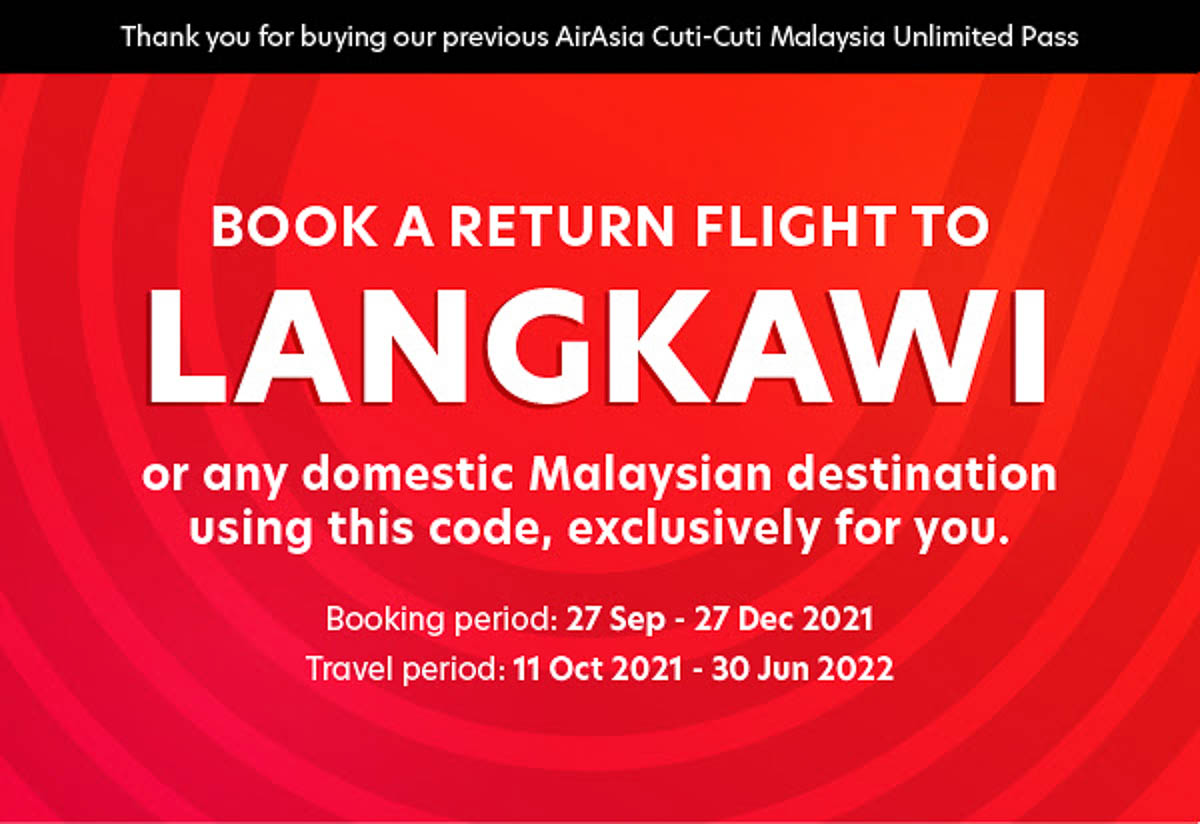 So here's your chance to go for a long overdue holiday in Langkawi or for any essential travel to other domestic destinations. This initiative supports both the Langkawi travel bubble and other destinations that will follow soon. Pass holders will be notified directly via their registered email address regarding new passes and added benefits, or click on the 'Unlimited' icon on the airasia Super App or visit airasia.com/unlimited for more information.
If you're worried about flying right now, AirAsia has enhanced existing contactless technological innovations and implemented new procedures. These seek to provide a hassle-free door-to-door experience.
Among these:
a convenient and seamless self-check-in feature through the airasia Super App
FACES facial recognition for boarding
robust procedures to maintain the highest safety standards at all times
all flights operated by only fully-vaccinated crew
built-in safety features of the aircraft 
Stay up to date with e-commerce information from the airasia super app by following @airasiasuperapp on Instagram and Facebook for the latest updates on airasia super app's e-commerce offerings. Download your airasia Super App from the Apple App Store, Google Play Store or Huawei AppGallery.