We discovered this latest entry into the potential 'best backpack' race and it boasts some impressive claims as it aims to turn the backpack choice list on its head.
The time is running down to invest in this new Kickstarter product – the ProGoBackpack, so if you're interested, you can  Back the Project until Saturday 30th January 2016 at 12:08 am AWST. No – we don't know why this time is the cutoff!
So what are the claims?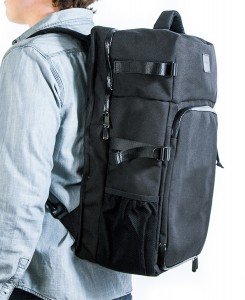 It's fitted with end and side handles so you can carry it like a regular bag and it fits neatly into the measuring frames they handily place near check-in counters.
Have a look at their webpage on Kickstarter and see if this is the one you've been waiting for.
Despite the fact that it's got a name that may make you perk up your ears before you look closer, we like quite a few of the features included. The camera storage is a useful idea. No photographer really wants to advertise the fact that they're carrying all that valuable equipment, but they need to keep it safe. This seems to offer a suitable solution. The shoe storage is also a handy feature.
For those who want to have their things handy when they arrive the removable shelf makes it really easy. The main downside we noticed (if it can be so called) is that the backpack appears to be more ergonomically and design wise, aimed at a masculine market. Perhaps a slightly different design with softer lines and a more comfortably positioned chest strap would be a useful future development.