Kickstarter have just had one of their most successful crowd funding projects yet, which raised over US$9Million (Yes, that's NINE MILLION US DOLLARS!) in less than three months – for a travel jacket.
Baubax, a pair of American entrepreneurs based in Chicago Illinois, have come up with a fifteen feature, nine pocket jacket that seems to tick all the boxes if you're thinking how you can wear everything instead of adding to the weight of your hand carry bag.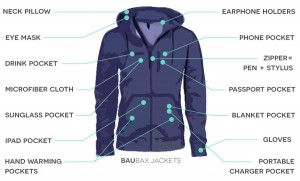 Now, I can see why it would be useful to have a pocket for my phone and it's good to tuck your hands in warm pockets when it's chilly, but do you really need fingerless gloves? Isn't it the fingers that feel cold first?
I can also see why it's handy to have a pen, glasses and even earphones handy, but they (like the iPad, passport and portable charger) aren't really bendable and if you want to curl up at all when you sleep, it might be a tad uncomfortable.
The designs are quite attractive and there's a range of colours and sizes available, which is good, especially as they give a good indication of what each size actually means. I am a bit concerned though, that if you have a lovely fluffy blanket you want to take in the blanket pocket, it might somewhat spoil the elegant lines on the design .
Jacket Images from Baubax
The jury is currently here out on the Baubax Travel Jacket. I'd need to 'road-test the real thing, I think. I see how it can be said to fulfil a need, but for now, I think I'll stick to my good old cosy jacket that's long enough to keep my backside warm, has pockets big enough to stick my hands in and rolls up tight without turning into a crumpled mess, so I can zip it into the bag I made out of some left-over fabric. Takes up very little space and is not heavy either.