Frequent international travellers are familiar with LAG restrictions – no flying with more than 100ml of liquids, aerosols and gels in cabin bags. We also have a ready stash of clear plastic bags for our LAGs so they can be whipped out for security inspections. Travellers leaving Australia now have another restricted item to remember: powders.
What's restricted?
From June 30, 2018, if you're flying out of Australia you will need to adhere to new limits on powders in your cabin baggage. The authorities have separated powders into two broad categories: organic and inorganic. An inorganic powder is a powder not consisting of, or derived from, living matter. Here are some examples, and their limits:
[table style="table-condensed"]
Inorganic
Organic
Salt
Salt scrub
Sand
Some talcum powders
Some powdered deodorant
Certain foot powders
Detergent and cleaning products
Baby formula
Powdered food
Coffee
Protein powder
Flour, spices, sugar
Most cosmetics
Epsom salt
Restrictions apply


Max 350ml or 350g based on container size

No restrictions
[/table]
If you're unsure how to classify a powder, pack it in your checked luggage.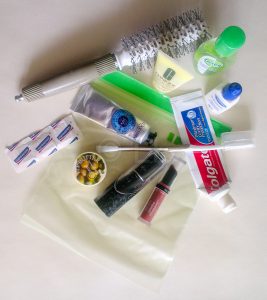 Regardless of the type you're carrying in your cabin baggage, all powders must be presented for screening. However, they don't need to be in your clear plastic LAG bag. If the powder you're carrying is restricted and it exceeds the allowed amount, tipping some out won't help: the restriction is calculated on total container volume.
Am I affected?
These restrictions only apply to people leaving Australia by air. In other words, anyone who is:
on an international departure,
transiting through Australia on their way to another international destination (e.g. Singapore to Auckland via Sydney),
flying domestically, but from an international terminal (e.g. Qantas QF9, Melbourne to Perth).
If you are flying domestically within Australia from a domestic terminal, you won't need to limit or declare your powders.
For more information, contact your airline, or visit the Department of Infrastructure and Regional Development website here.