How's this for cool hand carry luggage?
It won't come cheap, but the packed with features Barracuda which is now in pre-production after successful funding by Kickstarter is planned to start shipping around February 2016. Even if you missed out on the chance to get in at the backer level, you can preorder on their website for a Pre-order price of US$280, a discount or US$200. (The discount is likely to reduce as February approaches, according to the website)
The basic bag comes with features that already look and sound pretty impressive:
It's collapsible –  stores small, you can tuck it under a low bed easily, but the soft middle pulls up to take quite a bit of 'stuff'.
It has a pull-up ergonomic handle with a turning ring for you to hold. (No more getting those straight handles going crooked when you bump something and they take a piece out of your ankle)
Now this is the bit that got me – the handle has a zipper that pulls down to reveal a great little built-in fold out tray, perfect for you to put your laptop or a book perhaps?
Even better – just so you don't run out of juice, there's a USB charger you can connect your phone or laptop to while you work. Presumably you do need to remember to charge that up before you leave home.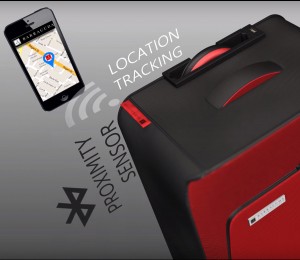 For an extra US$50, you can add on Location tracking and a Proximity sensor modules.
The Specifications (because we need to make sure it's not too heavy or too big to hand carry.)
The Dimensions: Height 55cm (22″), Width 36cm (14″) and Depth 23cm (9″) giving a capacity of 44 litres.
 The Weight: 3.8kg (8.5lb), a little on the heavy side if you're restricted to 7kg total.
It's made from: Lightweight Polycarbonate, Ballistic Nylon and Aircraft Grade Aluminium.
The Charger: 10,000 mAh, (you can charge your smart phone a few times with that) and it's compatible with rechargeable devices – phones, tablets and so on.
Connectivity: Using Bluetooth Smart/Low Energy Bluetooth, GSM/GPRS
There is a proviso that as these are the pre-production specs, there may be some changes as the product moves into mass production.