Malindo Air has opened bookings for Australian flights out of Kuala Lumpur as well as Flights from Perth, Brisbane and Melbourne to Kuala Lumpur. The Perth flight is a direct service, while those between Kuala Lumpur and the other two cities follow the original routing via Bali. While Australia has not yet opened its international borders, it is expected that this will be before the end of the year.
Australian flights to Bali and Kuala Lumpur
Malindo Air chose Perth as it's first Australian destination, with the first service landing in Perth on 19th November 2015.This is the airline's only direct service between Kuala Lumpur and any Australian city. They are hoping to begin their first resumed Australian flights to Perth on 1st December, although this may be hopeful at the current time. This date is dependent on the decision of the West Australian State Government to open their borders to international travellers. Bookings may be made on their website.
All other flights have a short stopover in Bali, making this an excellent way to get to the tourist island, with arrivals and departures in both directions in the afternoon. Tickets will also be available for just the Melbourne – Denpasar and Brisbane – Denpasar and will tickets between Kuala Lumpur and Denpasar.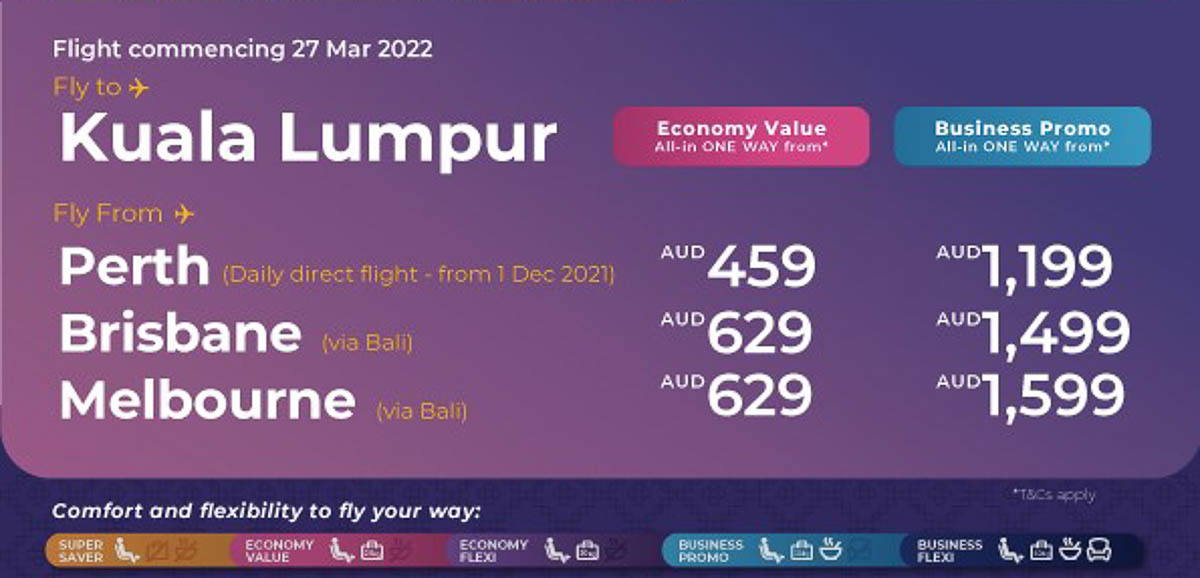 Melbourne and Brisbane are both targeted to begin 27th March 2022. These are realistic dates given that Australia is beginning to announce 'opening dates' before the summer holiday season.
The airline has confirmed that travellers holding flight vouchers for flights they weren't able to take when borders closed, may use the vouchers for online booking purchases. If you purchased your flight through an agent, contact them to use your credits.