Jetstar Asia (3K) has issued a travel alert dated 15th October 2021, which included information regarding Jetstar transit through Singapore. At the time of writing, thirteen airlines, including Jetstar, are approved to provide transit services through Singapore Changi Airport. 
Jetstar Asia (3K) passengers can now transit through Singapore Changi Airport to cities within the Jetstar Asia network, if their connection is within 48 hours. As listed in the travel alert, these cities are those originating from
Bangkok
Clark
Ho Chi Minh City
Jakarta
Kuala Lumpur
Manila
Penang
Phnom Penh
Phuket
Surabaya
Please note that services have yet to return to pre-covid levels, but will be increased as the situation eases.
Codeshare and interline customers travelling on Jetstar Asia (3K) services to or from these cities can transit through Singapore Changi Airport onto the respective airlines' services including
Air France (AF)
British Airways (BA)
Emirates (EK)
KLM Royal Dutch Airlines (KL)
Qatar Airways (QR)
Turkish Airlines (TK)
Expected to be added soon, subject to regulatory approval:
Swiss International Air Lines (LX) 25th October 2021
Finnair (AY) as of 1st November 2021
Qantas (QF) as of 18th December 2021
Jetstar transit through Singapore
Post-Covid transit through Singapore, one of the region's busiest airline hubs, is well organised as testified by a number of travellers who have reported their experience to Economy Traveller, including this couple who passed through in July 2020. Transit was only available on Singapore Airlines flights at the time and this has only recently been expanded to include the additional airlines.
There are a number of conditions you must keep in mind:
Book the full journey on one booking
Check with the relevant authorities to ensure you meet the entry requirements for your final destination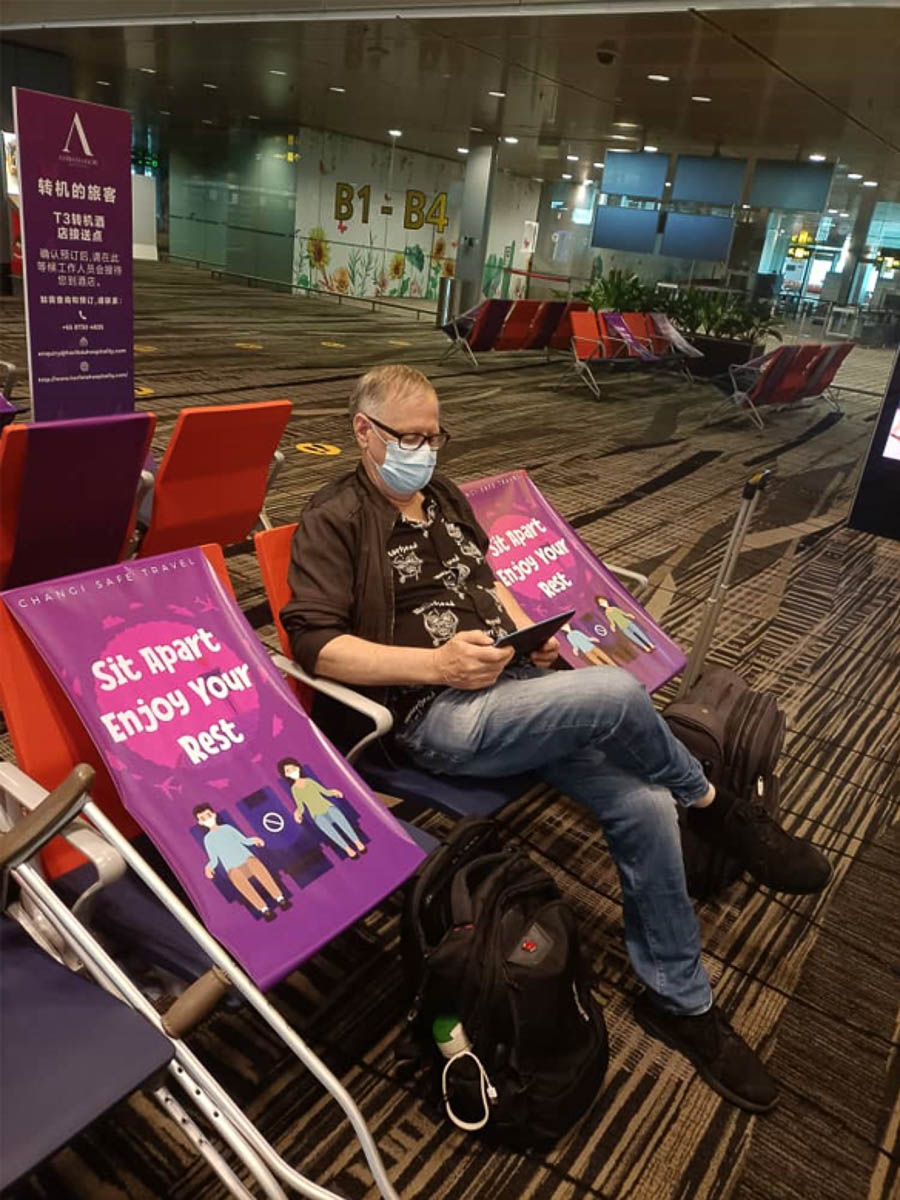 Transit passengers must adhere to the following measures:
Travellers to Singapore must present a valid negative COVID-19 Polymerase Chain Reaction (PCR) test taken within 48 hours before departure.
At port of origin check-in, transit passengers will be provided a wristband they must wear for the duration of their journey

This allows easy identification by the airport and airline staff

On board, transit passengers will be seated at the front of the aircraft and will disembark first
On arrival in Singapore, all transit passengers will be met by airport staff and guided to a Transit Holding Area or Transit Hotel
Transit passengers with a tight connection time will be ushered to the departure gate directly
When the onward flight is ready for boarding, transit passengers will be escorted to their departure gate and ushered to a designated zone before boarding

They will board the aircraft after all other passengers
Please note while in Singapore, all travellers are required to wear a mask at all times and practice social distancing. These measures are in line with government regulations and enhance Jetstar Asia's Fly Well program. For more information, visit the Fly Well page.