International flights are now welcome to Perth and bookings are now open for the relaunch of Malindo Air's Kuala Lumpur-Perth-Kuala Lumpur service on 3rd March 2022. The twice weekly service marks the airline's return to Australia after a hiatus of two years due to the international border closure due to the Covid-19 pandemic. From 28th March onwards, the frequency will be ramped up to 4 times weekly.
Malindo Air launched its inaugural flight from Kuala Lumpur to Perth on 19th November 2015, its first Australian destination.
Return to Australia fares
One-way all-in flexi fares on this new relaunched route KUL – Perth start from RM1,299 for Economy Class and RM2,559 for Business Class, inclusive of in-flight entertainment, meals and 30 kg baggage allowance. Flights will be operated using the airline's narrow-body Boeing 737-800NG aircraft. These have a seat capacity of 162, including 12 Business Class and 150 Economy Class seats. All flights are served with a full set of vaccinated crew.
Passengers must comply with entry requirements into Western Australia.  All passengers arriving by air into Australia should complete the Digital Passenger Declaration and you can also get more information on the regularly updated www.smartraveller.gov.au website. 
Malindo Air Scheduled Flights KUL-Perth-KUL
[table style="table-striped"]
Route
Flight No
Departure
Arrival
Days of service
Flight time
Kuala Lumpur – Perth
OD155
18:45 (6.45pm)
00:30 (12.30am)
(Thurs/Sun)
5:45
Perth –

Kuala Lumpur

OD156
01:20 (1.20am)
07:10 (7.10am)
Mon/Fri
5:50
Perth –

Kuala Lumpur

OD156
01:20 (1.20am)
07:15 (7.15am)
Mon/Tue/Wed/Thur
5:55
Kuala Lumpur – Perth
OD155
18:45 (6.45pm)
00:30 (12.30am)
Mon/Tue/Wed/Thur
5:45
[/table]
All timings are local
More Australian services
Bali has also reopened to tourists and Malindo Air can fly you there from 27th March 2022, when they resume their services from Brisbane and Melbourne.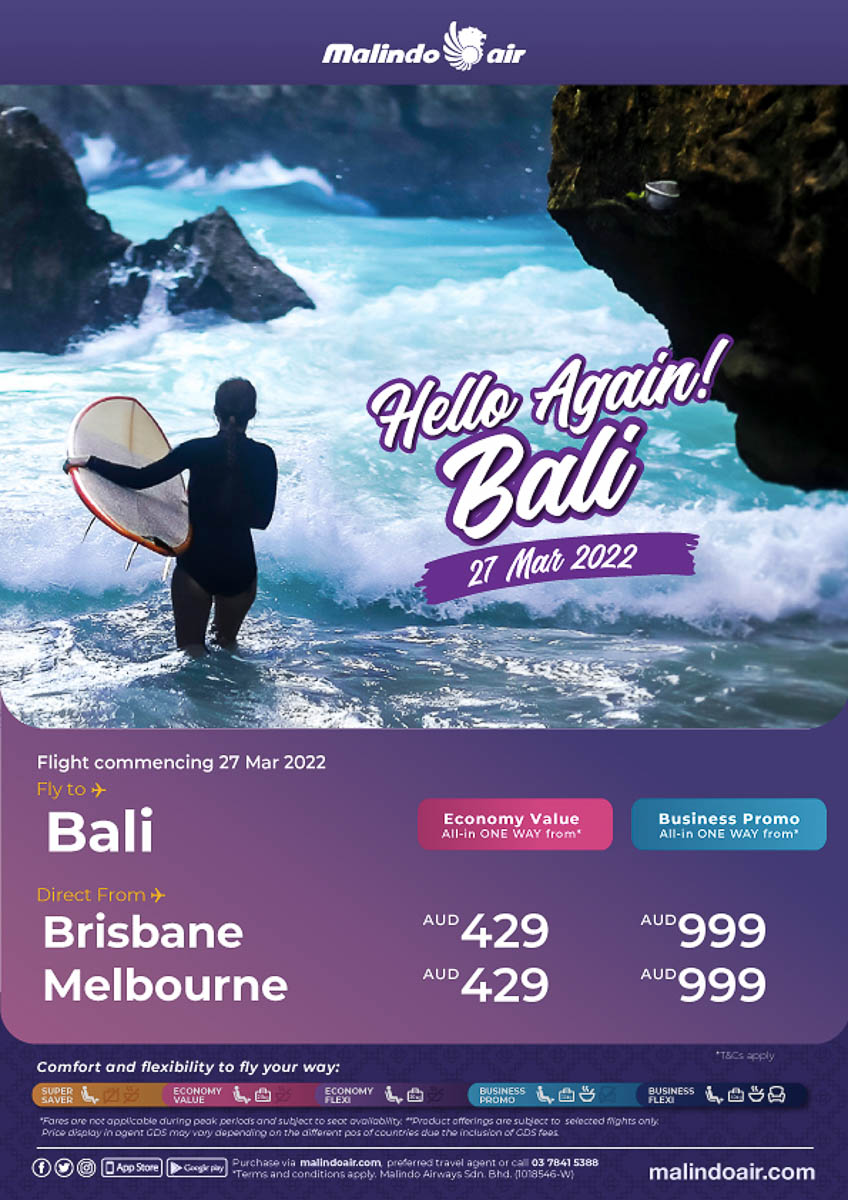 …. We are very optimistic about the travel outlook. We anticipate a rebound and an uptick in leisure travel demand which should see business travel pick up again. Capt Mushafiz Bin Mustafa Bakri, Malindo Air CEO
To make your bookings, (for which you can also use travel credits), go to the Malindo Air website.