If you're visiting Vientiane, the capital of Laos, South East Asia's only land-locked country you will need to eat. Obviously! Our hotel didn't include breakfast, so we had to go out to find breakfast in Vientiane.
Despite being one of the poorest countries in the region and holding the unenviable status of the most heavily bombed country in the world, Laos grows some of the best rice in the region – try the sticky rice served in a steamer basket, which goes perfectly with the curry gravy and other dishes.
The country, like neighbouring Vietnam also grows some excellent coffee. Also, like its neighbour, there is a heritage of French occupation which has introduced some of the best baguettes and croissants East of Paris.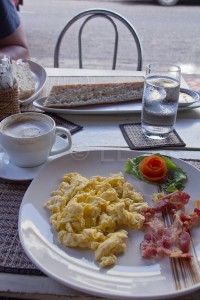 If you are staying anywhere near the bank of the Mekong, fronted by Quai Fa Ngum, you can find the cuisines of not only the French colonialists, but that of many of the South East Asian countries and even places offering a stack of American pancakes. We tried one of these, verdict – so-so, better to go French for breakfast, local for lunch.
We were recommended to Le Banneton, Rue Nokeokoummane and you can size up or down, depending on your appetite and budget. We very much enjoyed their full breakfast, complete with bacon and scrambled egg, baguette jam and coffee. Their outlet in Luang Prabang is also popular for breakfast and we visited both for coffee and pastries.
Excellent coffee in the French style can be found in many restaurants and cafes in both cities as well as a great range of pastries. The almond croissants at the cafe on the corner of Quai Fa Ngum in Vientiane, opposite the Mekong, are excellent and we didn't get a poor cup of coffee at any of the many stops we made in either Vientiane or Luang Prabang.