You have a number of transport options when you fly in to Soekarno-Hatta Airport. There are a few tips to get you started. Please note that a number of airlines have now moved to the new Terminal 3.
Getting between terminals
There is a FREE Shuttle bus that runs between the three terminals at Soekarno-Hatta Airport. It's bright yellow and has FREE OF CHARGE written across the front. Ask at the Information Counter for the location for the Terminal you are in. There is also a free Skytrain between terminals which stops at SHIA station from where you can connect to the city.
Getting to the city
There is now a direct train service connection between the airport terminals and Jakarta city. Connect to the Shia station by Skytrain. The train runs between 3:51am and 9:51pm, making 42 trips daily. The city terminus is Sudirman Baru Station and there is one stop at Batu Ceper station. Tickets are currently priced at approx USD5 each way and they accept credit and debit cards. 
Therefore you may need to rely on taxi, bus or hire cars. As Jakarta traffic is likely to be challenging to those unfamiliar, if you hire a car, a driver would be a useful addition. You may also find it useful to arrange with your accommodation to set up transport.  We didn't find it difficult, although apparently if you arrive at a peak time or during peak travel periods, you may have quite a wait, especially in the taxi queues.
Buses
A number of bus services connect to the airport. These services visit each terminal and depending on your destination, you will select the service you need. The Airport website has all the information, although the translation is somewhat creative.
Taxis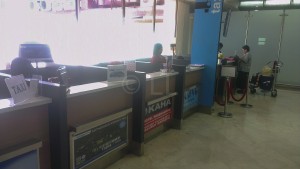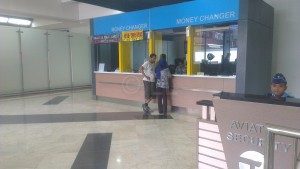 We arrived at Terminal 2, but the information here would be similar for each terminal.
Taxi counters are located on the Arrivals level after Customs and outside at the taxi stand. As you exit the Arrival Hall, you will see the taxi coupon counters on your right. We asked about the price of the coupons and were quoted 300,000Rupiah. We were aware that you can get a metered regular taxi outside for less than that so we said 'no thanks' The lady then offered the coupon for 200K Rupiah, but we decided to get the taxi anyway. There's also a money changer just opposite the counter, if you need local currency.
Several Taxi companies operate at Jakarta Soekarno-Hatta Airport, including Blue Bird, Silver Bird, Golden Bird and Gamya.
Blue Bird taxis are blue and provide basic taxi service from a reliable company.
Silver Bird taxis are black and provide premium taxi service at slightly higher rates.
Golden Bird is a limousine service.
We opted to go by Blue Bird taxi which was a good decision as it was the 1st January and there was, by anyone's standards, very little traffic. By Jakarta standards, the roads were almost deserted. Consequently, the journey was very fast and we arrived at our destination in North Jakarta in just over half an hour. Apparently it's wise to allow at least an hour, our upwards of two, in peak hours.
What you need to know:
Flag fall for the Blue Bird taxis is 7,500 Rupiah.
There is an surcharge from the airport which varies depending on the zone of your destination. Zone 1: Rp 10,500, Zone 2: Rp 9,000, Zone 3: Rp7,500Rp. (We paid Rp9,000 to Zone 2, added to the total)
If you use the toll roads, you will pay the Toll. We paid Rp15,000.
Our total fare came to a bit less than Rp 150,000  including flag-fall and surcharge, plus Rp15K for toll – considerably less than if we'd used the coupon system and worthwhile when compared with a bus trip, given that there were three of us.
The Taxi:
The driver immediately started the meter
The taxi was clean and equipped with working seat belts
There's a TV in the backseat behind the passenger headrest, though we didn't really try to establish how it worked.