We recently visited Langkawi in conjunction with the Langkawi UNESCO Global Geopark revalidation. We spent three nights in the Royale Chenang Resort Langkawi, conveniently located in Jln Tengah, near Pantai Chenang. While the hotel doesn't have a beachfront location, they have other comforts including a great little swimming pool. Pantai Chenang is about 20 minutes away on foot, walking under shade on proper footpaths.
Location
Jalan Pantai Tengah
Pantai Tengah
07000 Langkawi
Phone: 04-955 1365
Facebook: Royale-Chenang-Resort
---
Overview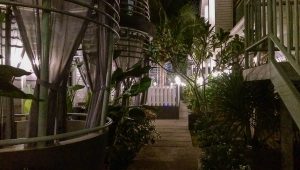 This is a small hotel with fewer than 50 rooms. There are no lifts as the layout is villa style, with ground floor and upper level rooms available. There is at least one unit with connecting rooms and some rooms have an outdoor balcony. Some have a small dipping pool, one has both the pool and a balcony. The balcony has light pull-round curtains.
Lighting at night is minimal, good for ambiance, but be careful as you walk. The swimming pool is un-fenced and there's no pool attendant, however, it's cleaned regularly. The pool isn't deep and was popular even early morning or late evening.
Although the hotel is open round the clock and the Reception is manned, they don't have a range of facilities like a 24 hour coffee house. We received a warm welcome and were quickly handed our room keys.
---
Rooms
As the hotel was full, we had to squeeze a extra person into a couple of rooms. This was a (reasonably comfortable) mattress on the floor and wasn't a particular concern as we were out much of the time. Our room was clean, offering two pillows per person(firm and soft), a decent sized luggage bench and an open wardrobe. An iron and ironing board were provided, with tea & coffee and a small fridge. The fridge had no mini-bar supplies.  This is good as Langkawi is a duty free island and you can fill it with your own duty free drinks and snacks.
The staff are helpful and responded quickly to requests for extra towels etc.They also added extra toiletries. Air conditioning is set low when you arrive and resets each time you leave as it turns off when you're out. The controls are easy to adjust and the vent angle was easy to adjust.
Free High Speed Internet (WiFi) is provided in-room and throughout the area. The speed was consistent throughout our stay, including the middle of the night. 
---
Food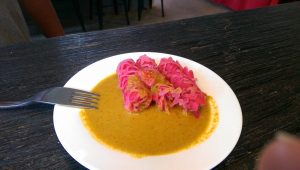 Royale Chenang Resort doesn't have a full restaurant. This is not a big problem as it's a small hotel and there are plenty of local options available for lunch and dinner. Breakfast is available in the cafe, with an à la carte breakfast from 7am. Tea, coffee and juice are available on a side bench and you can collect a side dish from the table in front of the display cabinet. The side dish is usually local cakes and something savoury, like roti jala, a popular lacy pancake served with curry. Normally, roti jala is yellow, but we were surprised one morning with pink ones. They taste exactly the same. Just as good.
The cafe also offers a limited range of cakes and snacks through out the day and you can get coffee and other drinks to go with your selection.
---
Conclusions
We enjoyed our stay, It is an attractive hotel, comfortable and clean. Sit by the pool in the early morning on the deck chairs and enjoy the sunrise. The cafe has both bar style benches and cafes under the trees outside.
Looking for things to do in Langkawi during your stay? Here are 8 different ideas to try that will give you a good look at this island paradise.
#naturallylangkawi #langkawiunescoglobalgeopark #langkawigeopark #royalechenangresortlangkawi #luggp #obit #unescoglobalgeopark @gayattravel
images©ET