We recently visited Langkawi in conjunction with the Langkawi UNESCO Global Geopark revalidation. As a result we found some very out of the ordinary things to do, discovering that Langkawi has something for everyone. Langkawi is home to Malaysia's two UNESCO global Geoparks. Machinchang Cambrian Geoforest Park is in the west part of Langkawi and the Kilim Geoforest Park is in the north-east. These have to be revalidated every four years to ensure that they are being effectively maintained as a world heritage.
A few out of the ordinary things to do
There's no public bus service in Langkawi, so you'll need to find your own way to move around Langkawi. Taxis, vans, rental cars and motorcycles are easily available at the airport, Kuah Jetty, hotels, lodgings. Book ahead if you want to use one of the international companies, or approach the counters at the airport/ferry etc when you arrive. Remember to check your insurance coverage to ensure you will be protected if anything untoward happens. This is especially important if you rent a motorcycle or vehicle from a small operator. The road conditions in Langkawi are good, but some sections are winding and monkeys like to sit by the roadside in the evening. Remember, in Malaysia, including Langkawi, drive on the left side of the road.
If you are coming from the mainland and have a car, there are two vehicular ferry services from Kuala Perlis. They also carry walk-on passengers. Contact Langkawi Ro-Ro or Langkawi Auto Express for more information and schedules.
Discover
Agro Technology Park MARDI Langkawi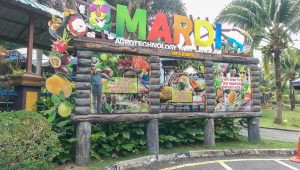 Jalan Padang Gaong,
Lubuk Semilang,
07000 Langkawi
Phone: +604 – 953 2550 / +604 – 953 2551
Open:
Saturday – Thursday 8.30am – 5pm.
Closed on Friday
Website : www.tatml.mardi.gov.my
Email: [email protected]
---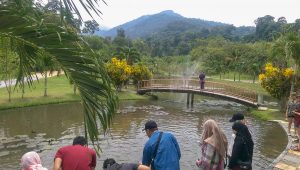 MARDI (Malaysian Agricultural Research and Development Institute) has a number of locations around the country, with this one focusing on fruits.
You can find the farm at the foothills of Gunung Raya, in the north eastern part of the island. You will need a car to reach the area, but we've included a number of other nearby places to visit, which can be combined. Tour packages are available and Langkawi also has a number of freelance registered tour guides who 'know their stuff'.
Ticket prices range from MYR 5 up to MYR 30 (cash only). You'll have access to their Farm tour shuttle, which takes you to see the different orchards, with a stop at their Fruit tasting corner. There's also an information centre, a meeting room and a souvenir shop. A Buggy Service is available for MYR130 per Buggy, with no time limit. We found the toilets to be clean and accessible for disabled visitors. 
What fruits can I discover?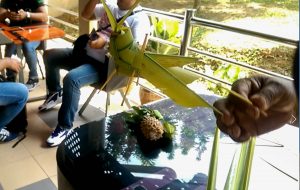 The orchard species include star fruit, guava, citrus, mango, rambutan, pulasan, durian, cempedak, jack fruits, longan, mangosteen, dokong, duku langsat and kedondong. They also have a wide range of climbing fruit plants, including grapes, and many types of melons.
You can also feed the fish and goats when you visit the food testing corner.
Now what's out of the ordinary at this MARDI farm is discovering what can be done with coconut fronds. If you're lucky, one of their talented staff will be around to make you a ring or bracelet from the leaves. Or a big grasshopper! Then he'll help you take a creative photo to show it off.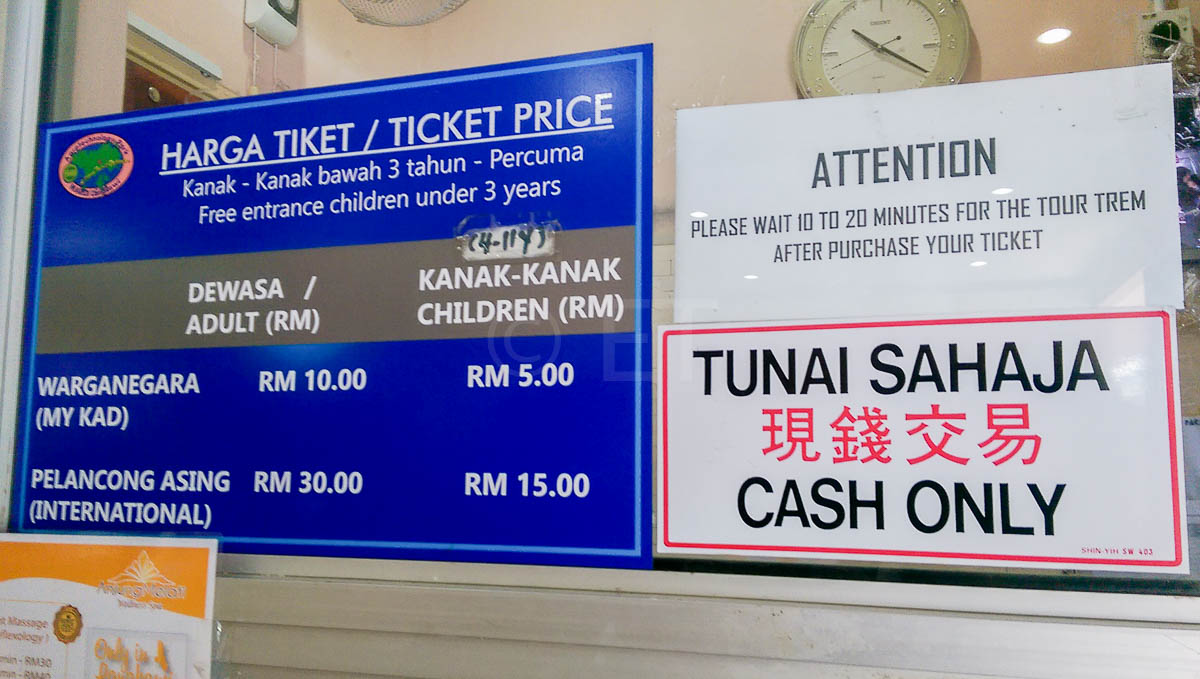 ---
Darulaman Sanctuary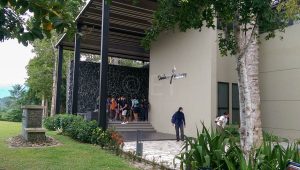 Lubuk Semilang,
07000 Langkawi
Phone : +604-9558080
Open:
Sunday – Thursday 8.30am-5.30pm
Closed on Friday & Saturday
Website: www.sanctuary.bdb.com.my
Email: [email protected]
WhatsApp : 019-4412080
---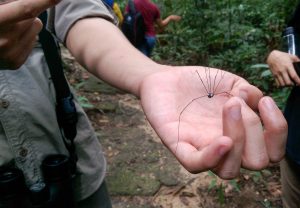 The sanctuary is not far from the MARDI Agro Technology Park in the foothills of Gunung Raya, so you could combine both locations on the same day. Bring binoculars if you have them, because Fendi, one of your guides, will point out birds including the various types of hornbills found in Langkawi. He'll also stop you to see spiders like the beautiful Golden Orb spider and snakes, like a tiny yellow vine snake.
The visit begins with a briefing on the 'dos and don'ts', do listen carefully. And please don't bring things you're not prepared to bring out with you, like disposable water bottles. Too many people have discarded their rubbish as they go, it's not a lot, but even one piece of plastic is too much. You'll end your bush walk at the waterfall, a perfect spot for a paddle. A BBQ Lunch can also be arranged. The walk back is along an internal road, which has different things to see.
A confession here!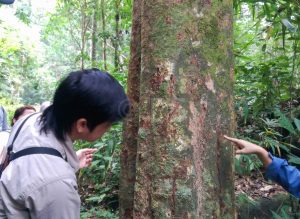 This writer fell behind the others because I was walking with Haji, who pointed out some very useful plants to know. He showed me the aeroplane leaf plant – kapal terbang (Chromolaena odorata), which is useful for stopping bleeding fast, as well as treating snakebite. Haji says jungle trekkers usually carry a few leaves, 'just in case'. 
He also pointed out plants that villagers use to help treat breast cancer and one which he says cures shingles quickly. When I caught up with Fendi and the others, he was showing off a harvestman, an arachnid that isn't a spider, but a Opiliones. It's in the same group as the common daddy long legs.
Then came a warning for unwary travellers. Fendi pointed out a tall rengas (Gluta renghas) tree. This whole tree is poisonous, so we were advised not to shelter under this tree if it's raining as the rainwater will collect the poison from the black sap and produce a nasty burning sensation.
---
Kilim Geoforest Park – Ecological park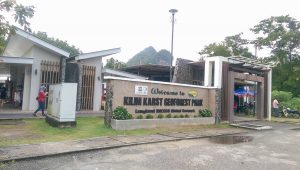 Kampung Kilim,
Jln Ayer Hangat,
Kilim Sungai Kilim
07000 Langkawi
Phone: +604-959 2323
Hours: Mon – Sun 9.00 am – 5.00 pm
Website : www.kilimgeoforestpark.com/
---
The Kilim Geoforest Park has been part of UNESCO's Network of Global Geoparks since 2006. The Langkawi UNESCO Global Geopark Revalidation is currently on-going. We joined the two geologists at events to mark the revalidation exercise and enjoyed a walk in the park and the opening of the new Discovery Centre with them. There was also a cultural performance at the opening and the evening before during the welcome dinner. The dinner also showcased stalls offering works by local artists and products like the trilobyte and gastropod shaped cookies. They are regular cookies and are very tasty.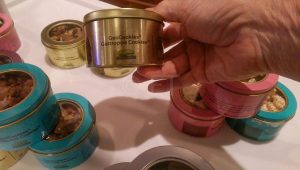 Visit the Langkawi Geopark Discovery Centre to discover the geological and cultural history of Langkawi, then head off for a Mangrove tour. On the way in, you'll walk through a mangrove forest and the surrounding park, which is also home to lagoons & beaches and a floating restaurant.
Again, you'll need your own transport to reach the Kilim Geoforest Park. From Kuah. turn right onto Ayer Hangat Road and head north until you reach the Galeri Perdana building on your right. This is around 11 km. The turn to Kilim River Tourist Jetty is on your right just after you pass the Galeri.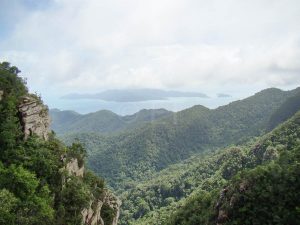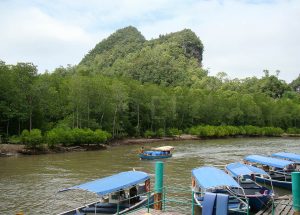 Get some exercise
Skytrex at Pantai Kok, Langkawi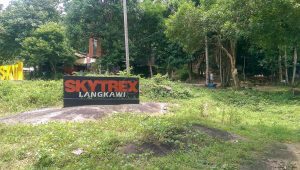 Pantai Kok
Burau Bay
Langkawi
Open: Daily and most public holidays.
Please refer to social media announcements for updates re closure.
(It takes a couple of hours to complete the course, so times are based on departure from the base.)
First Departure: 0900h
Last Departure: 1500h
Website: www.skytrex-adventure.org/langkawi
Facebook: @skytrexadventure
Twitter: @skytrexadv
Instagram: @skytrexadventure
---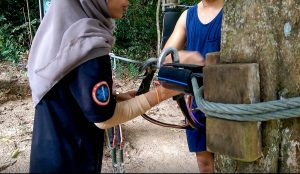 Skytrex outlets are not all the same, because they use the surroundings to help determine the type of activity available. The Langkawi Skytrex is located in an area of tall, strong trees and all the activities use ropes. Above the ground ropes! So here's a chance to conquer your vertigo.
Although each park is different, they have a number of common features:
Skytrex is an outdoor recreational activity for all ages

There is a focus on safety in 

construction and management. 

These are

in accordance with international safety standards.

Skytrex pays respect to the environment, with thoughtful 

forest

 management and conservation.

You can learn about the rain forest, creating awareness about the fragile eco system.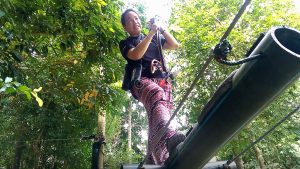 How do I choose?
There are three levels available, with varying heights from 5m – 18metres above ground.
You can choose your own level (if you're tall enough for it) and they'll give you a full safety briefing before you head out. There are instructors along the way to help you and ensure you're safe and also to help you to a 'Chicken exit'. There's no shame. If your legs suddenly go wobbly or you know the next one isn't for you……..
Little Legends (Beginner)– 22 challenges
Eagle Thrill (Intermediate) – 24 challenges
Island Extreme (Advanced) – 30 challenges
Book online for the best pricing and confirmed booking.
Relax
---
Your Cruise Langkawi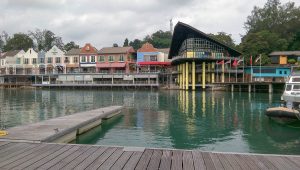 Cruise Operation:
Royal Langkawi Yacht Club
Jalan Dato Syed Omar
07000 Kuah
Office:
No 31 Tingkat Atas
Jalan Pandak Mayah
Mukim Kuah
For the Sunset cruise
Phone: +60126313142 /+60168353313 /+60122531312
Website: www.yourcruiseservices.com/
Email: [email protected]
Twitter: @ycs_langkawi
Facebook: @yourcruiseserviceslangkawi/
---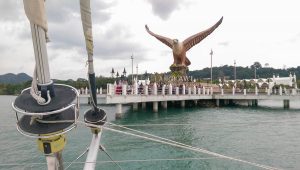 We enjoyed a Sunset Dinner Cruise on the beautiful catamaran @mantablulangkawi (Manta Blu). After a swing around Dataran Helang to view the Langkawi Eagle, we relaxed with a salt water Jacuzzi, followed by a buffet dinner cooked on board. Langkawi takes its name from the red brown eagle. In old Malay language, 'Helang' means Eagle, and 'Kawi' is the word for reddish brown.
The cruise is organised by Your Cruise Langkawi in collaboration with Royal Langkawi Yacht Club. The company offers a variety of cruise packages, including a halal cruise. Apart from the Sunset cruise, you can enjoy a Private Cruise, perfect to 'pop the question' perhaps, or include a stop at a private beach.
The saltwater jacuzzi is fun and easy. As the catamaran moves slowly along, you can relax in a large net pulled behind. You have a life jacket and need do nothing but hold the ropes with your toes and relax. The sunset the evening we went out didn't look at all promising at first, but suddenly the colours began to appear and we ended up with a really spectacular show. As we waited, we were amused by a group of ladies on a boat nearby who enjoyed our clapping for their dance demonstration.
Place your booking online or get more information through their website or by email.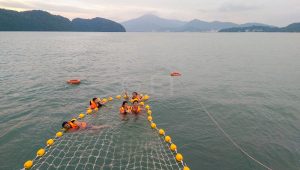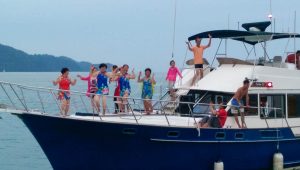 ---
Paradise 101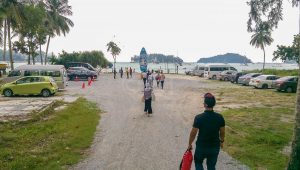 Jln Pantai Kok
Burau Bay
(enter through Perdana Quay)
Langkawi
Phone: 04-963 9200
Opens: 10am
website: www.paradise101.com
Instagram: @paradise101langkawi
Facebook: paradise101langkawi/
---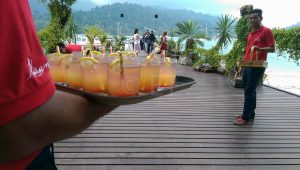 Paradise 101 is a small sandy island just outside Telaga Harbour opposite Pantai Kok. Fun Fact: Pantai Kok is named for the sound the hornbills make, especially early morning and evening. While many people spend the whole day at Paradise 101, we were only there for a few hours in the late afternoon. The plan was to enjoy the beach and water sports and enjoy a BBQ Dinner after watching the sunset. Everything went to plan until just before sunset when it was clear it was too cloudy and the waves were a bit bouncy. We'd had a great time exploring the island and riding the banana boat and jet skis. So we sat down to enjoy our delicious dinner.
Then the rain hit! There was no warning and the rain was almost horizontal with choppy noisy winds. The staff were very calm and professional. They moved everyone inside quickly and gave everyone a clean dry towel to keep us warm, while we waited it out. When the rain stopped and the wind dropped, they took us out to the covered boat with our life jackets already in place. A staff member accompanied the smaller members of the group as the jetty was still a bit 'bouncy'. Ten out of ten for their professionalism!
Facilities and getting there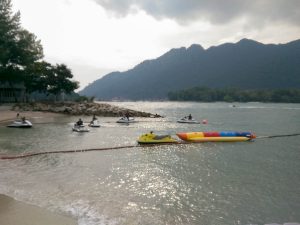 To visit Paradise 101, you need to book. They do both Private and Shared packages, however only Private packages are inclusive of hotel pick up. Private Transfers can be booked separately if you book a shared package. All packages include the beach and non mechanical activities. That is, activities like the Jet Ski Fun Ride (15 minutes) are charged separately if you have the basic package. These activities are included in the higher level packages.
The minimum age for all water sports activities is 8 years old. Paradise 101 advise that their insurance coverage covers visitors from 4 – 75 years old. Come prepared with your swimwear and a change of clothes if you want to try the water activities. They provide towels and clean Shower & Changing Room, Toilet and Surau are available on site. Bring a little extra cash as there is a small cafe/bar serving cool drinks.
---
Go shopping!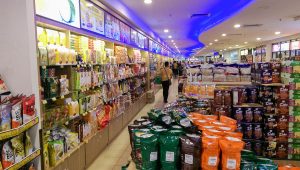 Kuah Town is a good place to start. Try the Jetty or the large shopping centre in town, or the streets close to the LADA building. There are a number of shops facing the water along the main road and the area around Pantai Chenang has many shopping opportunities. If you're looking for something out of the ordinary, keep your eyes open for small businesses elsewhere as you drive around. The airport also has a good range of products, but they are more expensive than the shops in town.
Langkawi is a duty free island and consumer items, chocolates, alcohol, cigarettes and household goods are popular purchases
---
Chocolates are probably the top item on most visitor's shopping list. The range is huge with varieties you may never have seen before. They're least expensive in the town area where there's more competition.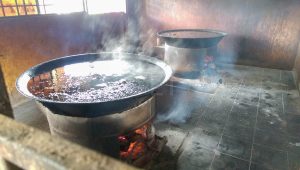 For something really different, stop by Nusantara Maju Enterprise in Jln Padang Matsirat. It's about halfway between Kuah town and Padang Matsirat. Their main product is Gamat oil and its associated products. Sea cucumbers, which are abundant in the waters around Langkawi, are collected and boiled. The boiling process takes two weeks to render out the oil and you can see it in progress beside the shop. Two large woks bubble away gently on wood fires. It seems the oil may be bubbling, but's it's not hot enough to burn. You are invited to stick your finger in to try!
Souvenirs
Pick up some Geopark souvenirs, including cookies either at the Kilim Forest Geopark or the shops near the cable car at the Machinchang Cambrian Geoforest Park.
There's a thriving artists community in Langkawi with artists producing quality work in a variety of media. We were impressed by works of mixed media, oils and acrylics and wood carving. Drop by the National Art Gallery of Langkawi, close to the Kilim Geoforest Park.
---
Go to the Pasar Malam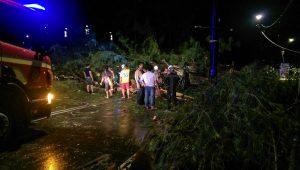 Go to a night market. This was our plan anyway. We have been to one in Pantai Chenang on an earlier visit, but our plans this time were scuttled by the storm. We intended to visit the Pasar Malam Air Hangat, but with trees down across the island, it was probably closed early anyway.
To find Pasar Malam in Langkawi and their locations. Pasar Malam are the night markets. They're a lively community event across Malaysia and are usually set up in different locations on different evenings of the week. Some traders move from market to market, others focus only on their local market.
You can find a range of great fresh food, vegetables, fish etc cooked food and household goods. Buy a few inexpensive t-shirts or sundresses for your holiday. Do feel free to test your bargaining skills, but offer a fair price.
---
There are a few of the Pasar Malam in Langkawi. You can find at least one every evening, but you'll have more choice over the weekend, which in Langkawi is Thursday/Friday/Saturday.
Monday:
Ulu Melaka Night Market
2, Taman Wawasan Indah,
Kampung Padang Gaong       Opens 5pm
Tuesday:
Kedawang Night Market
Kampung Chenek Kura        Opens 5pm
Wednesday:
Pekan Kuah Night Market
Lencongan Putra 3, Kuah       Opens 5:30pm
Thursday:
Pasar Malam Bukit, Malut
Jalan Lencongan Bukit Malut,
Kampung Sungai Batu       Opens 4:30pm
Temoyong Night Market
Kampung Lubok Buaya (near Pantai Cenang)       Opens 6pm
Friday:
Bayas Night Market
Kampung Perana       Opens 5pm
Ayer Hangat Friday Night Market
(near Tanjung Rhu)
Jalan Padang Gaong       Opens 5pm
Saturday:
Pekan Kuah Night Market
Lencongan Putra 3, Kuah       Opens 5:30pm
Sunday:
Padang Matsirat Night Market
Padang Matsirat       Opens 6pm
---
#gayatravel #naturallylangkawi #langkawiunescoglobalgeopark #langkawigeopark #royalechenangresortlangkawi #luggp #obit #unescoglobalgeopark #paradise101
images/video©ET