Airlines are starting to post warnings to International travellers in and out of Australia, warning them of possible delays over the school holiday period between 26th September and 9th October 2016 as a result of industrial action affecting Immigration clearance and customs checks for international travellers. The action also affects Cruise and Cargo terminals.
Unlike earlier similar industrial action these most recent stoppages are likely to be random in nature as no specific stoppage times have been advised. The action is being taken by staff of the Australian  Department of Immigration and Border Protection including the Australian Border Force in all states and territories, and no times are specified, other than '00.00  to 24.00 hours local time'.
How can I prepare?
If you are travelling overseas during this period, there are a few precautions you can take:
Check your airline's website to see if they have any information regarding delays.
Go to the airport early, at least three hours, if you must do a counter check-in.
Check-in online or at an airport kiosk so you can drop any baggage early.
If the airline has self check-in and bag-drop facilities, use them.
If you can travel without checked bags, do so.
Get into the Immigration queue early, say your goodbyes and go.
Check to see if your travel insurance covers delays or missed flights as a result of industrial action.
A couple of possible bottlenecks
If you have a Domestic to International transfer that is longer than a short walk, (e.g.Sydney Kingsford Smith Airport) you could see if it's possible to get your airline to transfer you to an earlier connecting flight.
The Gold Coast Airport is another airport that can be slow – all passengers and their friends enter the domestic departure area, but must go through a security check. There is a second security check from the domestic departure area for international passengers before you reach the Immigration lines. This check is very thorough and queues can be long and slow.
How to check for information
Some airlines are starting to put Travel Advisories on their website, so check for updates  before you head to the airport.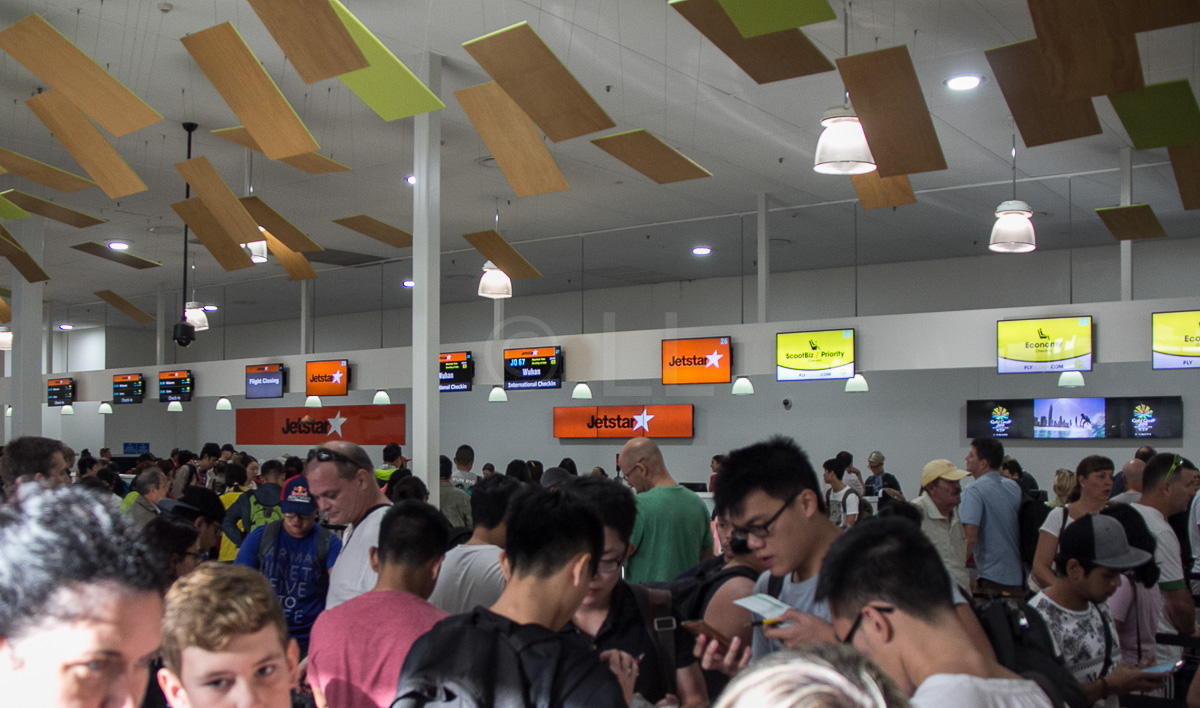 Scoot is one of these. If you're travelling with them, make sure you check and be early, as they are one of the airlines that requires counter check-in and the queues can be long and slow.
AirAsia doesn't have any information at the time of writing, but this may be updated. You should do a web or mobile check-in anyway, if you are flying with them, then just drop your bag.
Qantas have advised of possible small delays, in their travel updates. This may be updates if more information becomes available. Do use their self check-in and bag-drop facilities if they are available at the airport you are using.
If you're travelling with Jetstar or Virgin Australia, check for updates closer to your date of travel, as neither has advised of any disruptions as at time of writing.
You could also check the Advisory on the Department of Immigration and Border Protection website, in case they are able to confirm times of disruption (or cancellation of the industrial action)
So Remember…..
Check in early (an extra hour would be good) to allow time for Customs and Immigration checks and if you are transferring between domestic and international flights ensure you have sufficient time for transfer as well as go through all formalities.