The beautiful Gold Coast in Queensland, Australia is probably one of the country's most recognised destinations for both domestic and overseas visitors, because of its year round warm weather and gorgeous beaches. We recently had the opportunity to spend a couple of days exploring some of the great things on offer at the end of winter.
We stayed overnight and had the opportunity to try various public transport options as well as a more tailored option. Walking is easy if you don't need to go far. There are plenty of walking paths and footpaths are wide and well maintained. A number of locations are car free, including part of the popular Cavill Avenue in Surfers Paradise.
Getting to the beautiful Gold Coast
The Gold Coast is a 57km long strip along the coast of South East Queensland between Beenleigh in the north and Coolangatta in the south, on the border with New South Wales. The Gold Coast International Airport (OOL) also known as Coolangatta Airport straddles the state border. There is a marker on the floor of the International Arrival Hall as you enter the Customs Hall.
Gold Coast Airport
The Gold Coast Airport is serviced by a number of airlines offering both domestic and international arrivals. Currently, these airlines –  AirAsia X, Air New Zealand, Jetstar, Qantas, Rex, Virgin Australia and the new airline, Bonza are providing these services. Scoot has suspended its service to Gold Coast. All international flights pull in to the new International terminal, an extension of the existing building. Watch for our upcoming review of the airport and services.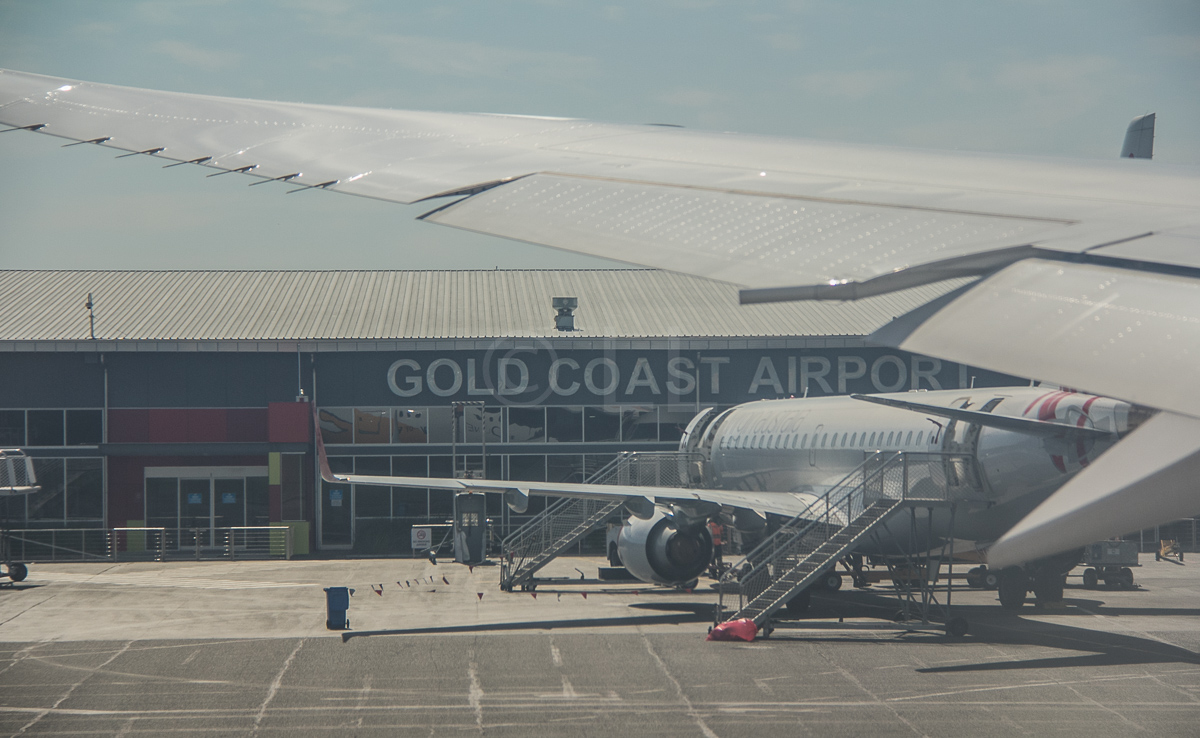 Travellers have a number of options when choosing how to reach their accommodation in the Gold Coast, from the airport. Apart from transfers with private operators, you'll find car rental desks opposite the domestic arrivals area and a taxi rank at the southern end of the terminal, close to the International and Domestic Arrivals. A rideshare pick-up point is located at the northern end of the terminal, close to the check-in counters.
Public Transport
Buses and G-Link tram
The Gold Coast is serviced by the TransLink bus network and a 13-kilometre integrated tram system, although the tram service does not extend to the Gold Coast Airport. To catch a public bus into the Gold Coast, you can catch a 777 bus to Broadbeach at the stop at the North end of the terminal, outside the Check-in area. This is the fastest and most direct trip. From there, connect to other buses or the G-Link tram system.
You can also catch a 760 and transfer to a 700 service. This will save you a bit of a walk unless you prefer to catch the 700 directly, but there's no difference in the fare as it's a 'follow-on' trip. Plan your journey and select the mode of transport, or combination you need using the Translink Journey Planner.
Train service
If you're coming from Brisbane, the Brisbane Airport train to Varsity Lakes runs half hourly. You can catch the train at all stops from the Brisbane Domestic Airport to Roma St and then from selected stations until it ends at Varsity Lakes. The trip takes 1 hour 44 minutes and you can connect to buses at Varsity Lakes and Nerang, or exit at Helensvale to connect with the G-link tram.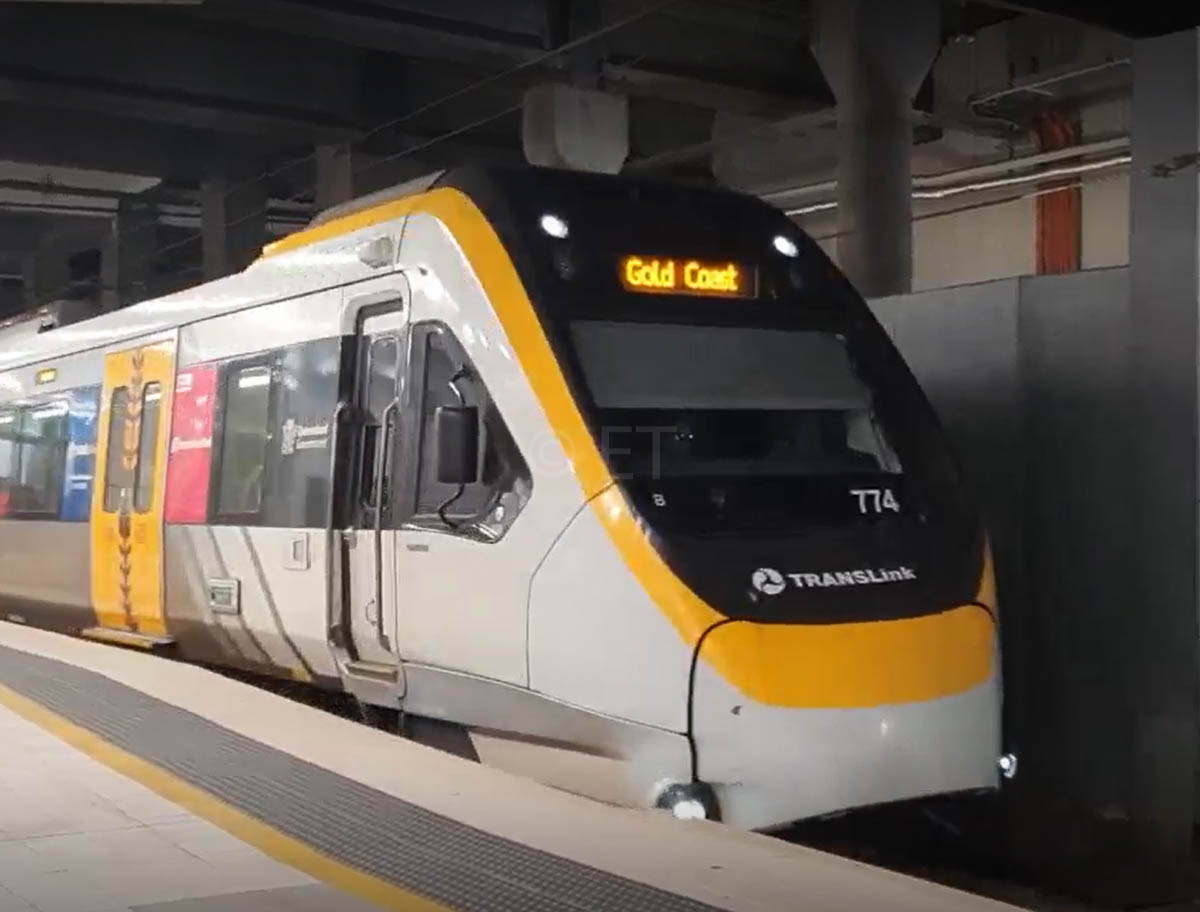 Where to Stay?
Peppers Broadbeach
21 Elizabeth Avenue, Broadbeach
@PeppersBroadbeach
#peppersbroadbeach
As can be expected for such an in-demand destination, finding a great place to stay affordably can be challenging. This is why we chose an apartment for our overnight stay. Peppers Broadbeach fitted the bill perfectly, especially as it was close to the beach as well as the bus and tram routes and a short walk to Pacific Fair Shopping Centre. There's a large supermarket just over the road from the hotel as well, and lots of wonderful food options. Peppers is part of the Mantra group.
Nearby transport and services
We travelled down from Brisbane on the Gold Coast train, electing to leave the train at Nerang Station and change to the 745 bus to Pacific Fair, Broadbeach, just outside the Nerang Station. The walk is covered and if you have time, there's an opportunity to buy coffee at a small stall, though you'll have to finish it before getting on the bus. The bus journey takes around 17 mins dropping you at Pacific Fair, Stop B, Broadbeach Waters. Walk back a few steps to Stop C. Route 705 heads to Broadbeach, Surfers Paradise, Main Beach and Sea World. You'll arrive at the bus stop just outside entrance  at Peppers Broadbeach Tower 2 in about 6 mins. Tell the bus driver where you want to go, they are usually very good at alerting you when your stop is coming up.
You can also take a G-Link tram from Helensvale to Broadbeach North and it's a short walk to Elizabeth St. We opted for this combination for our return to Brisbane and like the Nerang Station, the short walk between the tram and the train station is completely under cover. In both cases, make sure you tap off the first leg and tap on again for the second which gives you a cheaper follow-on fare. If you're self-driving, complimentary underground parking is available for one vehicle per booking.
Our Stay at Peppers Broadbeach
Reception is in Tower Two, available 24 hours a day. This tower is set back from the seafront, while Tower One is closer to the beach. The two aren't physically connected, but it's only a 2 minute (covered) walk between buildings. Check in was quick and easy but as our room wasn't ready, they put our bags in the luggage room and gave us passes to access Level 4 (with the swimming pool) to freshen up before we went out.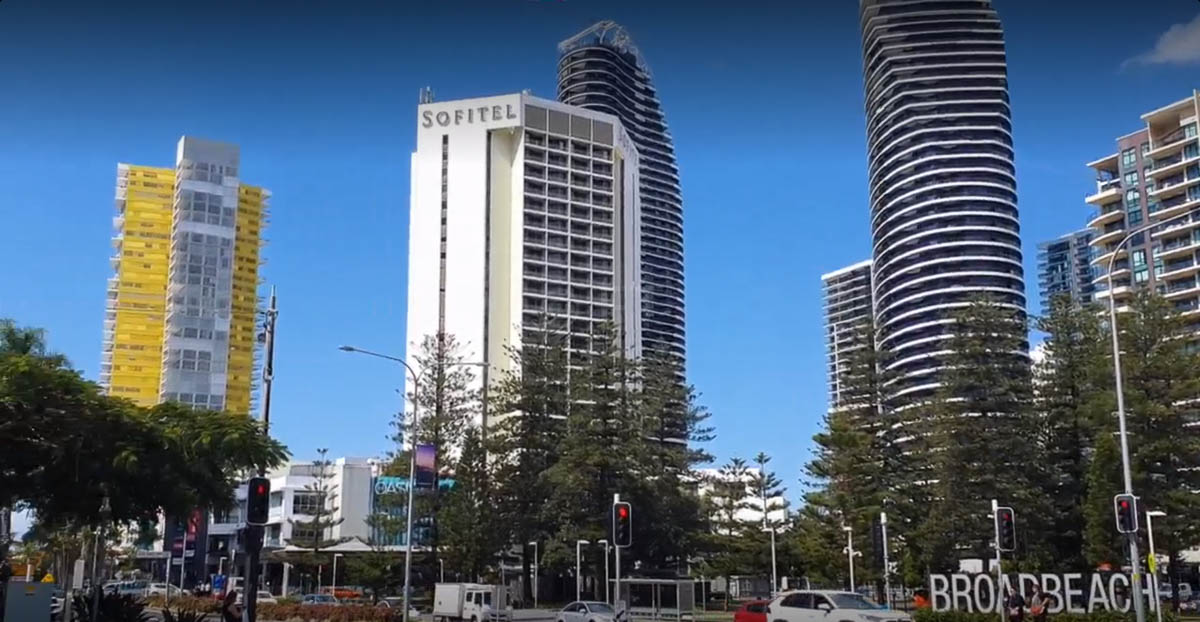 The hotel is 100% non-smoking and WiFi access is included with your suite.
As we only stayed one night, we weren't able to check out t
he resort's theatrette which offers the
latest release movies for the exclusive use of guests. We'd love to have tried the Tai Chi lawn and Zen gardens and there's also a
Sauna, Steam Room & Outdoor Spa available. We did look in at the open air swimming pool (it's heated), but didn't have our gear with us. 
As Peppers is a suite only hotel, there's no in-house restaurant, but the nearby area has a wide range of good restaurants and food outlets. There is a supermarket close by in the next door block, this is a handy place to stock up for your stay.
Our Suite
Our two room suite was located in Tower One, where we  had a lovely seaside view from the 14th floor, though a higher level, probably Level 16 and above would be better to see the sunrise, if that's your thing. Check out our video (coming soon) for a tour. You'll see a well appointed suite with everything we needed for up to four people. The kitchen is well laid out, with gas hob (and wok stand), dishwasher and a full sized fridge. We were very happy to see they'd thoughtfully included some milk in the fridge, which we used straight away to make coffee with the machine on the bench. Along with the 4 coffee pods, the welcome box contained tea, coffee and hot chocolate sachets.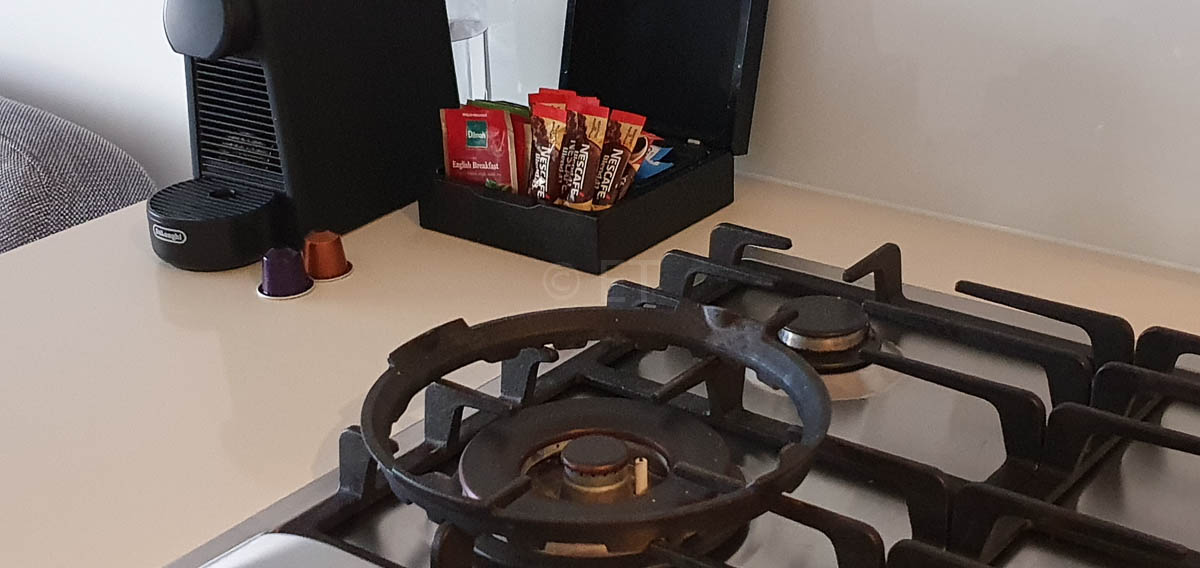 If you like to self-cater, the suite had all the equipment necessary for a family of four to live comfortably for an extended stay. The big fridge was definitely a plus. There is plenty of wardrobe space for the two bedrooms and enough room for everyone to have some quiet privacy. There is a shared bathroom, with toiletries provided.
The toilet, shower and bathtub each have their own space, but unless you're comfortable with sharing, you might prefer to close the bedroom doors. We specially liked the cotton towels. They were soft and absorbent, but not fluffy. As were the pillows. One soft, one firm for each. The beds were comfortable and the curtains did their job well keeping things nice and dark.
Based on our brief stay, we'd have to say we'd like to have had at least a couple of days to enjoy this suite. Not only were the amenities good, it's also a fantastic location for the beach, public transport and shopping.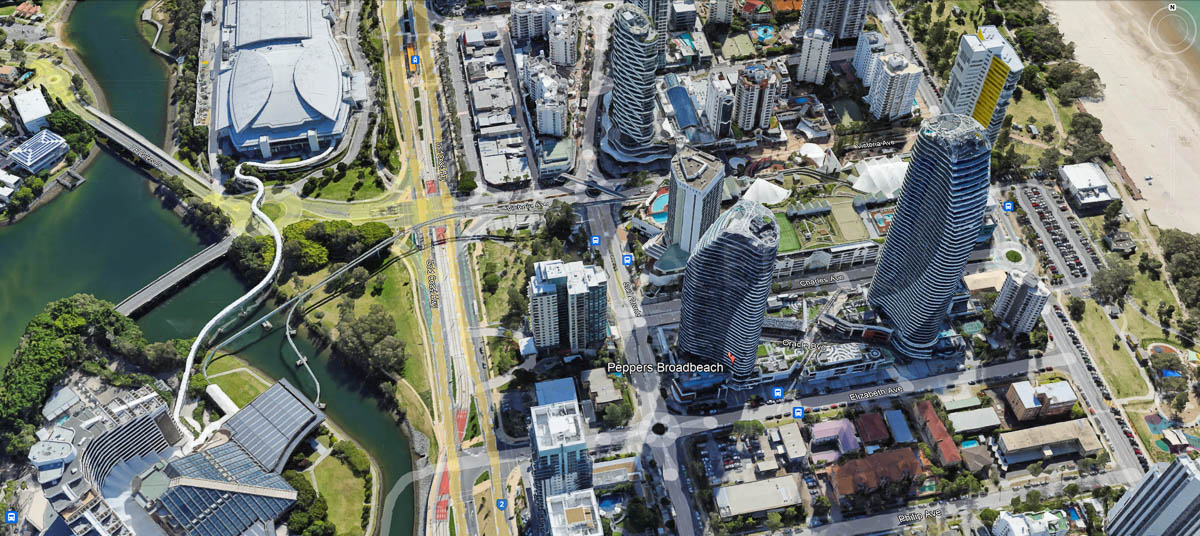 Getting around
For a stretch of nearly 60km, with lots to see and explore, you're going to need more options that your feet to get you around. That's why we very much appreciated our go explore cards which gave us unlimited one day travel on bus and trams for $10 a day, $5 for children between 5 and 14 years inclusive. Children under 5 years travel free. Cards can be purchased at the Gold Coast Airport, machines on G-Link platforms and selected local retailers and can be reloaded with extra days. You can load up to 8 day passes upon purchase. They don't have to be used consecutively. Download this useful brochure which shows the train and bus routes as well as stops.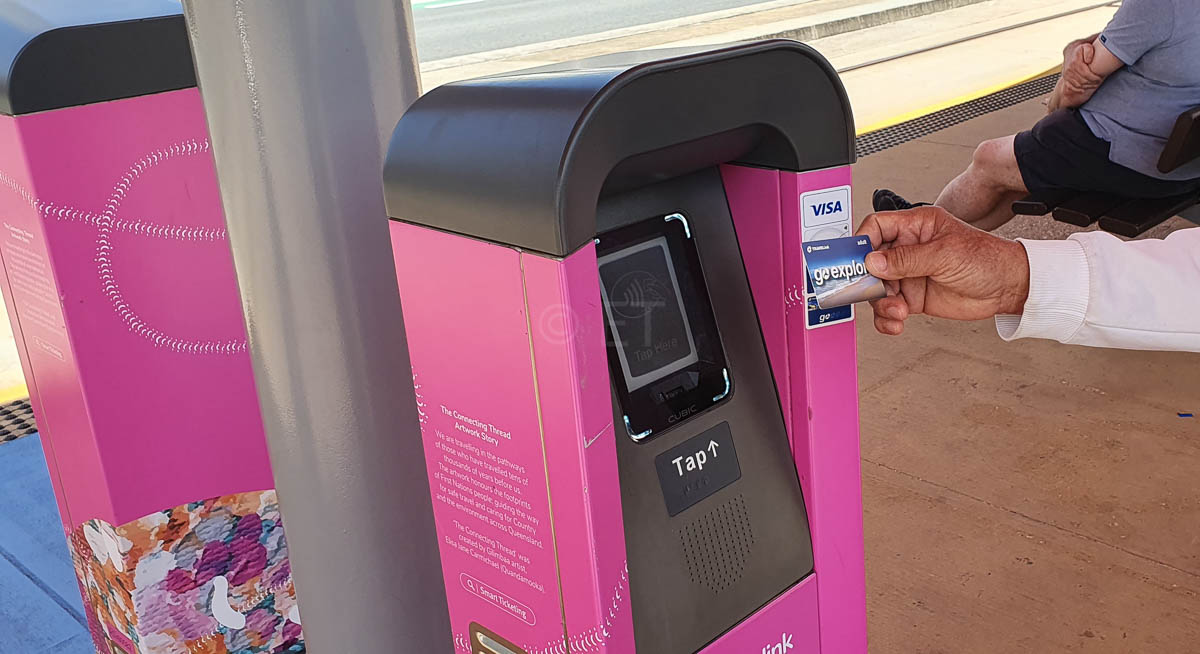 Try the tram
G-Link is easy to access and we used our Go Explore cards to easily get along the 'strip' as well as the next day to reach Helensvale on our way back to Brisbane. We are very much looking forward to an extension of the tram service to the Gold Coast Airport (OOL).
The tram stops are located in the middle of roads, with access via pedestrian crossings from either side. The trams are not high above the ground and the platforms are the same level, so you do not need to use steps or ramps to access them. Likewise, entry to the tram is not difficult as the doors are wide and make it easy for travellers needing assistance.
Make sure you tap your ticket at the machine on the platform before you enter the tram. You'll be shown a green tick when it's accepted. You must also tap off at the machine on the platform when you get off the tram so you are charged correctly. If you don't have a ticket/Go Card or Go Explore card, you can purchase one at the kiosk on the platform. The machine accepts credit and debit cards/eftpos and coins.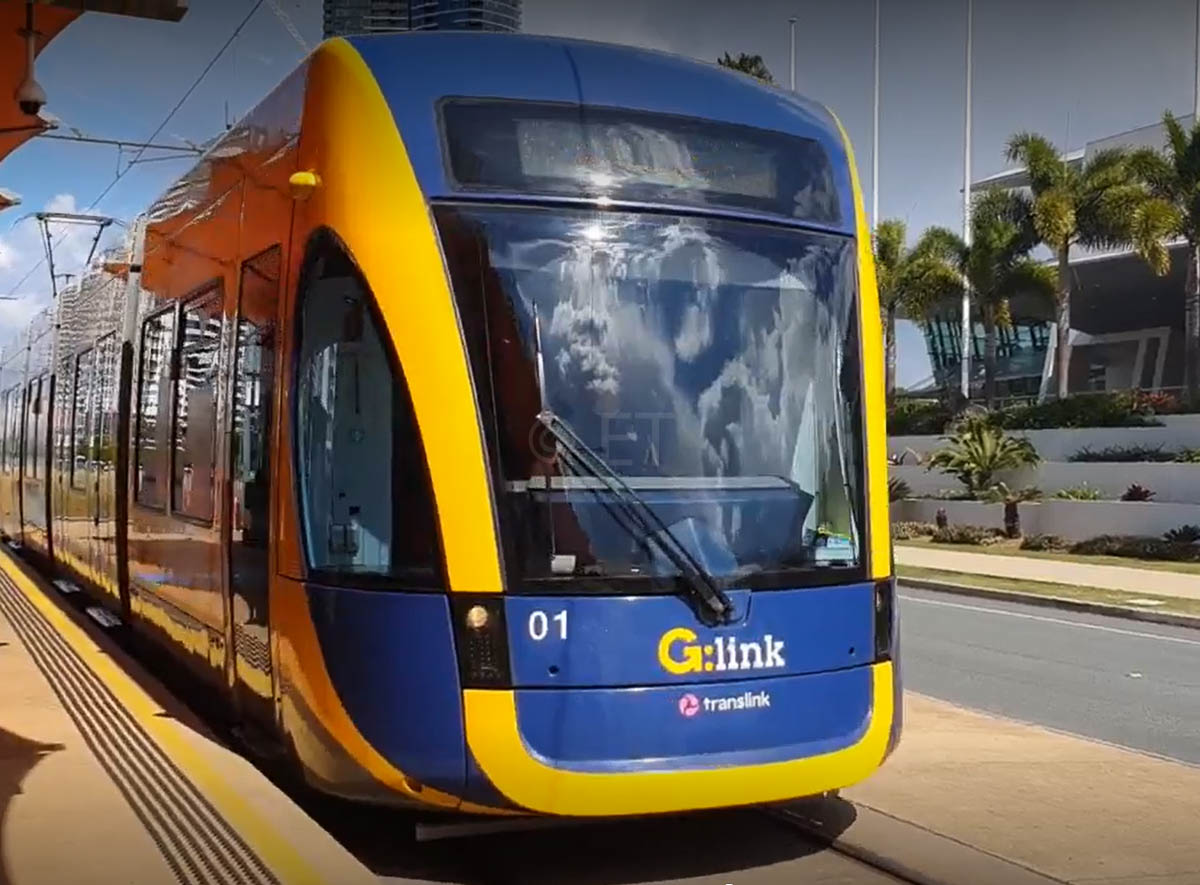 The trams run frequently (About every 15 minutes in each direction) and you can use the Translink journey planner to check the ones you want.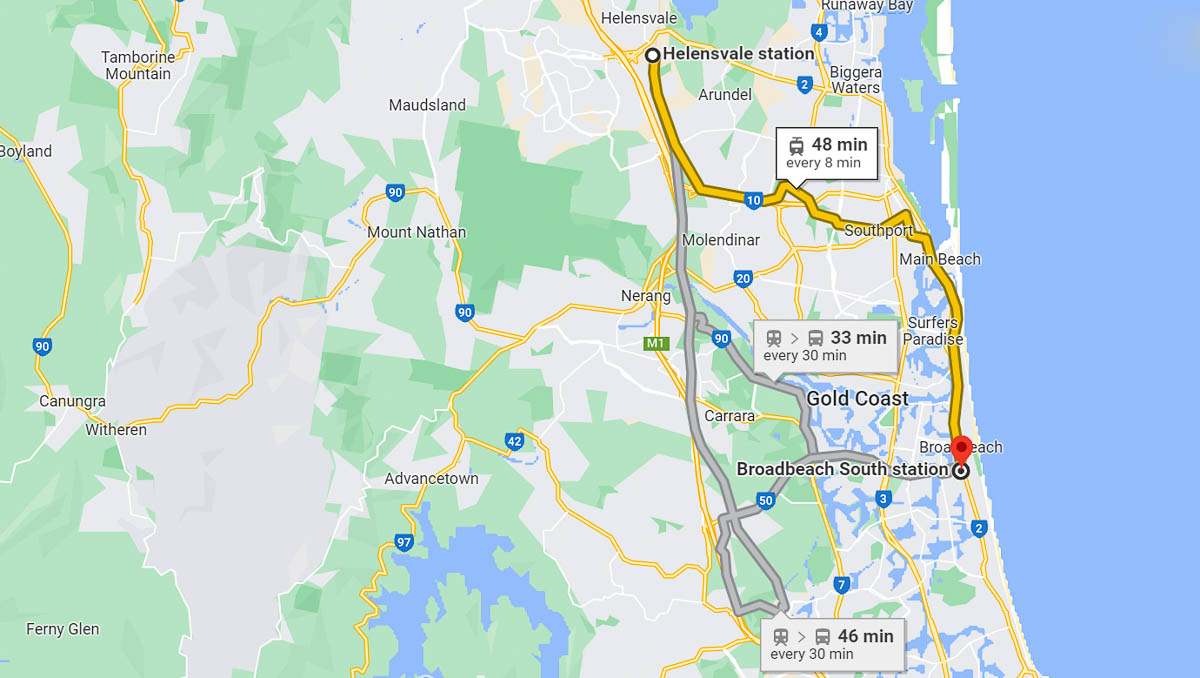 Hop On Hop Off Ferry (HOPO)
Ferry Stop 1 Appel Park,
10 Ferny Ave
Surfers Paradise
Phone: (07) 5655 3528
Facebook
Instagram
Twitter (X)
HOPO Sightseeing Ferry website
The Gold Coast is a water city. On the eastern side, you have the beautiful beaches fronting the Pacific Ocean, on the Western, inland side, the Nerang River and a network of canals. Most private housing is on the inland side but there are lots of attractions and points of interest on the water. The HOPO ferry fulfills this need, offering a one or two two day pass that allows you to hop on and off at any of the five stops on the route. They are currently offering a buy one day, get two deal, check their website for details. They also have a handy pictorial map that you can download to help. The website also gives details of each stop and things to do there.
There are five stops, the first of which is a short walk from Cavill Ave G-link stop across Appel Park, your stop is Surfers Paradise. There is a booth at the roadside beside the path at which you can collect tickets, brochures and the map. The public toilets just beside the ferry landing are clean and well equipped with paper and running water. There are also seats where you can wait for the next ferry to arrive. The ferry is clean and seats are well space and all are shaded. You can purchase drinks on board from the ferry captain. 
The five stops on the route are Surfers Paradise, HOTA, Home of the Arts, Marina Mirage, Broadwater Parklands and at the end of the trip, Sea World. You can stay on board if you wish, as the Ferry runs in the reverse direction on the return to Surfers Paradise.
We used the HOPO to stop off at HOTA, though we didn't have time for a good look, we saw enough to know that a revisit would be very much worth the effort. Even if you don't have the time to go into the actual gallery, the surrounding gardens are home to various large three dimensional artworks. There is even a small beach where one brave soul was catching the sun despite the cool weather. Toilets are available close to a large open air performance stage and there are many public areas where events can be held.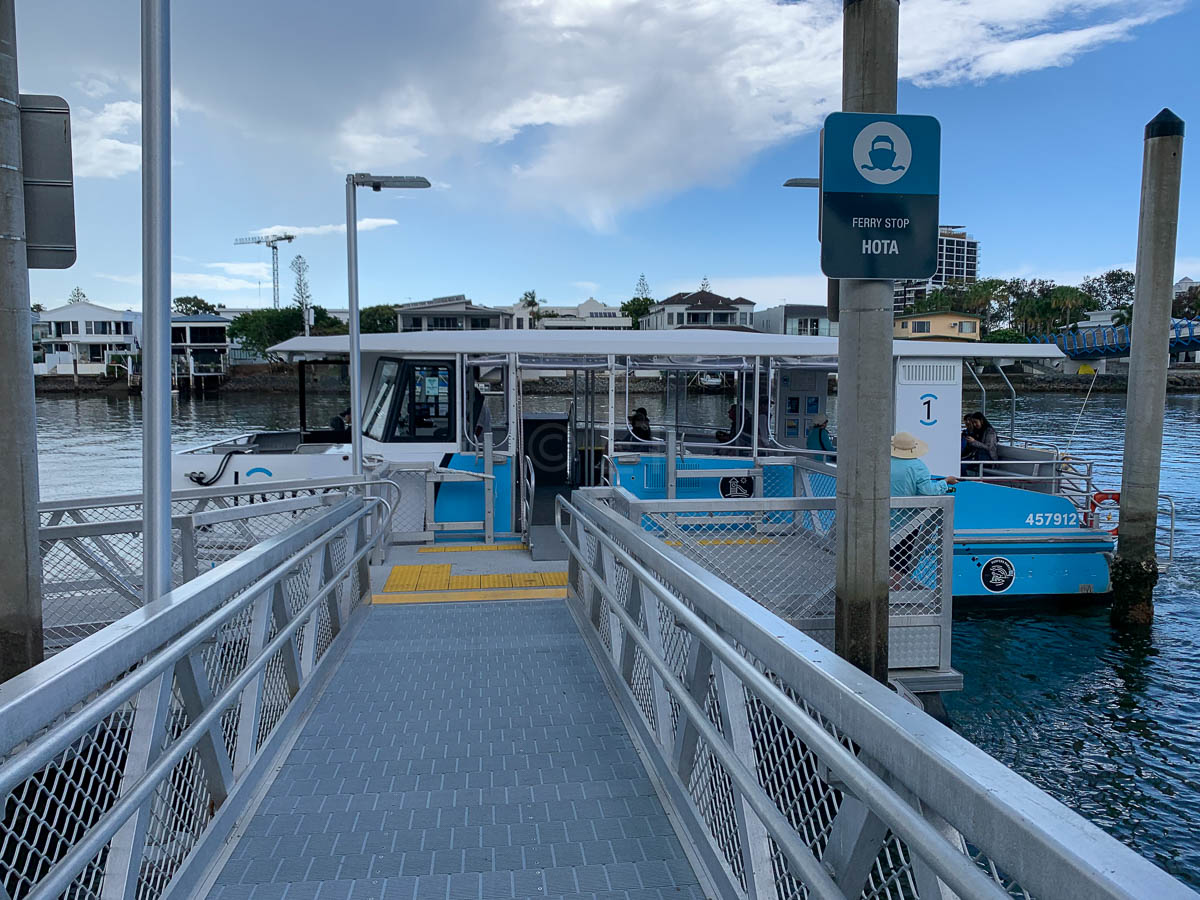 Need something more but don't want to rent a car?
Pineapple Tours
Phone: 0466331232
Facebook
Instagram
YouTube
website
If you're a lone traveller, not confident on public transport, travelling in a group (big or small), or just don't want the hassle of renting a car, Pineapple Tours can almost certainly meet your requirements. We were fortunate to have the company founder taking us to our first and second stops of the day in one of the company's luxury vehicles. His partner collected us at the end of the day in one of their shuttle vans, which was also very comfortable. If the rest of their drivers are as knowledgeable, you're in good hands.  
Pineapple Peter was a terrific guide and communicator with stories about the history of the area and the different places to visit. We felt we were out with a friend, rather than a tour guide. We also liked the moving map on the dashboard, or rather, our actual location in relation to where we were as per Google Earth. He also took the scenic route, rather than the highway for part of our rides, telling stories as we went. As a result, we were busy listening and taking photos so we don't have photos of the vehicles, which are all white, with a big pineapple on the side.
We can definitely recommend Pineapple Tours based on our experience, whether you travel in the fancy transport or use the shuttle service. Check out their Facebook, Instagram and YouTube channels above and get more information/make a booking on their website.

Our quick trip to the beautiful Gold Coast was enough to get a good feel for using various travel options to get around easily. Staying overnight made this possible and we also picked up and some useful tips for when you're travelling alone or in a group of two, three four or more in this part of Queensland.
COMING SOON: Our video on transport and pieces and video on things to do in and around the Gold Coast.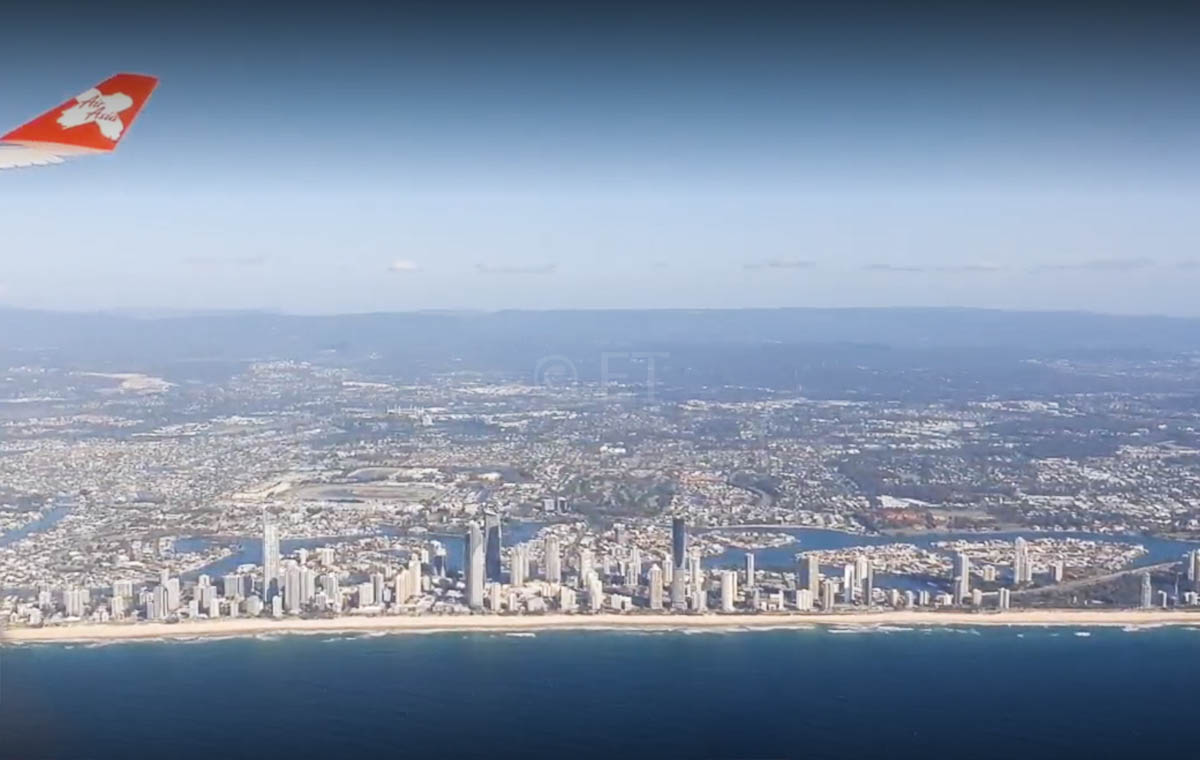 EconomyTraveller visited the beautiful Gold Coast courtesy of Destination Gold Coast. We flew in via the Gold Coast airport at Coolangatta with AirAsia X from Kuala Lumpur.