The Brisbane Festival 2023 is the latest in the month long annual event that attracts locals and visitors to a range of diverse activities between 1st and 23rd September. We're fortunate to be in the city during the early part of the month and did our best to enjoy as much as possible of what's on offer during this time. There are both free and ticketed activities and events and the list is quite lengthy.  While a lot are centred around the Brisbane River and Southbank, you can also find something to suit in parks and theatres across the city.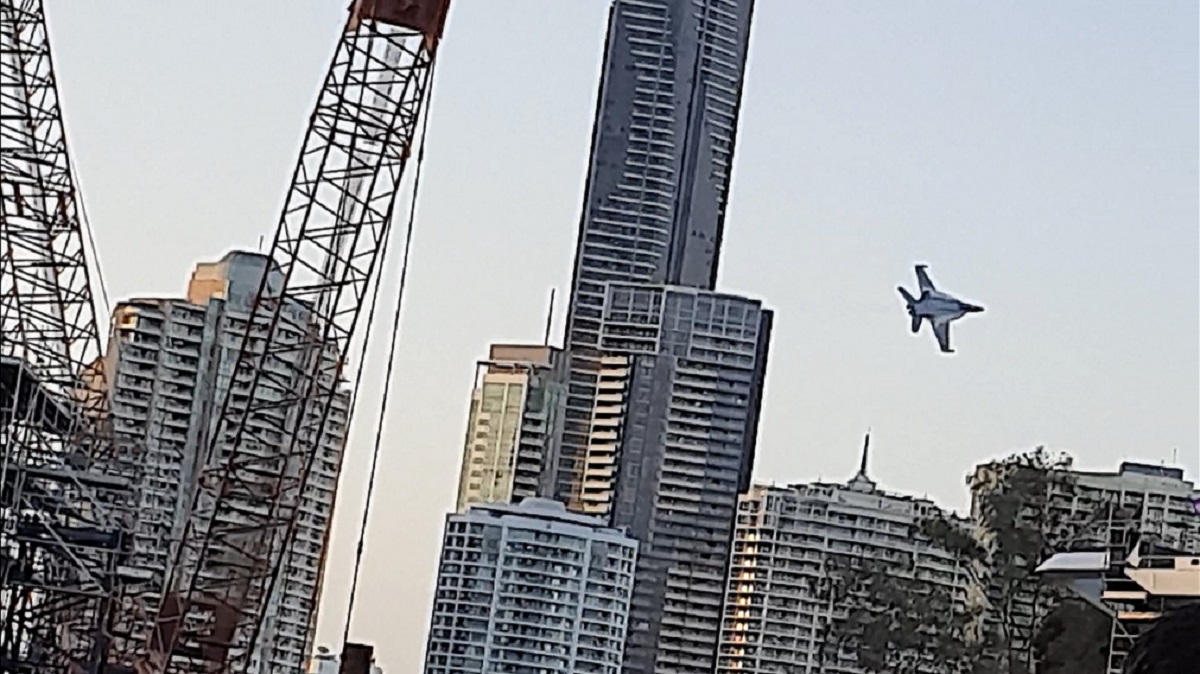 Brisbane Festival 2023 – What's on?
While a lot of the ticketed events are happening close to the city centre, you'll find lots of free events and activities in parks and other public spaces throughout the city.
Find out what's on and make your choices in advance. The sun goes down early this time of year, so by 6pm it's dark enough to enjoy events using light at their best. Some of the events are held early, finish early so never mind if you have to get home early for an early start the next day, there's also plenty of public transport handy. We made very good use of the Kitty Kat, the free Cross River City Hopper to reach Southbank and Howard Smith Wharves for easy access. There were so many things to see all, so we had to choose, and checked out these, both paid (Thanks #BrisFest) and free events. Entertainment precincts in King St and Brunswick St Mall in Fortitude have lots to see and do, some paid, others free. Lot's of partying going on at Big Sounds in the Mall, so hop along and check it out. Open early to late to suit all time budgets. 
Ticketed events
There's plenty to choose from. We got an early look-in at one of the highlight events of the Festival with the 5.45pm slot to view Lightscape, a two kilometre stroll through an internationally acclaimed, multi-sensory immersive experience in the City Botanical Gardens with music and lights up, down and surrounding us. With music from #sonymusic, you have a walk of a lifetime. If like many of us, you wondered how anyone could light up a few trees and make it more interesting that they already are, this will certainly change your mind. From the first display of the Lotus Pond which kicked off the 'Wow!, we moved on to beautiful light painted indigenous art on the footpath. We were careful to walk around the works, both to show respect to the art and also not affect it for others, although many didn't bother.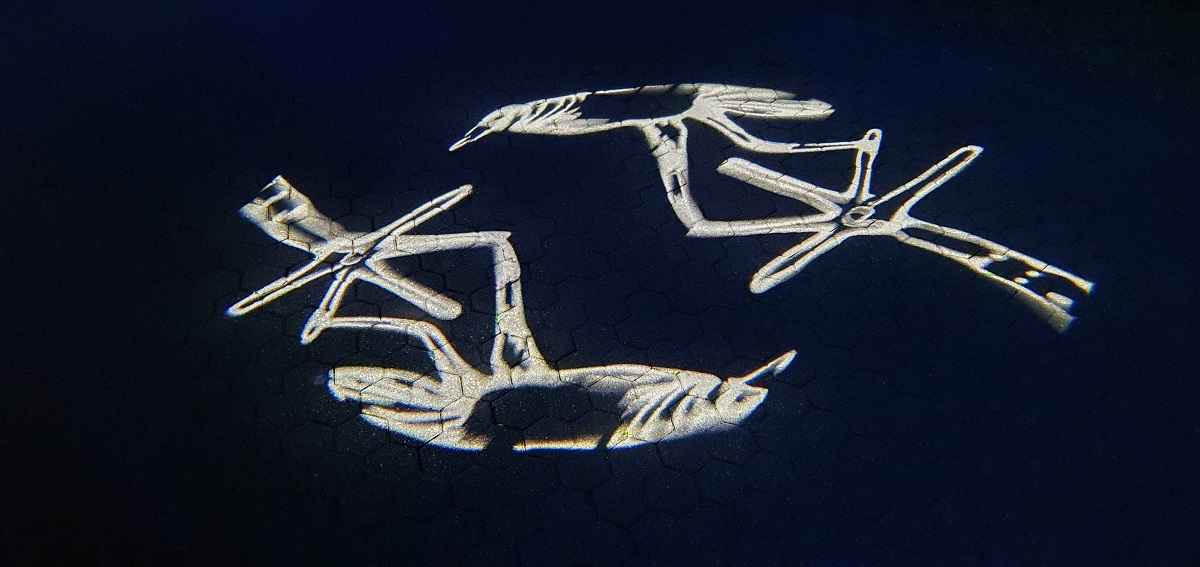 From there on it was LEDs and lasers and even real fire, in every colour across the spectrum. Here are a few useful pieces of information to read before you go.
There's Something About Music
On Wednesday evening, we caught the eye popping There's Something About Music, kicking off at 6/6.30pm at South Bank Piazza,  only until 10th September. It's a fast passed campy performance with lots of Rom Com humour and plenty of music you can sing along with. so grab your tickets before they finish their run on 10th Sept.
Get up close with Cabaret table seats or if you're going with friends, you can fit up to eight in a comfortable private booth. We were happy with our general seats behind, which may have had the best view of everything going on.  They have a bar and finger food on sale which is handy if you've come from work and are hungry. Performances start at 6.30 and there's no intermission. They also had the energy for a couple of encore numbers.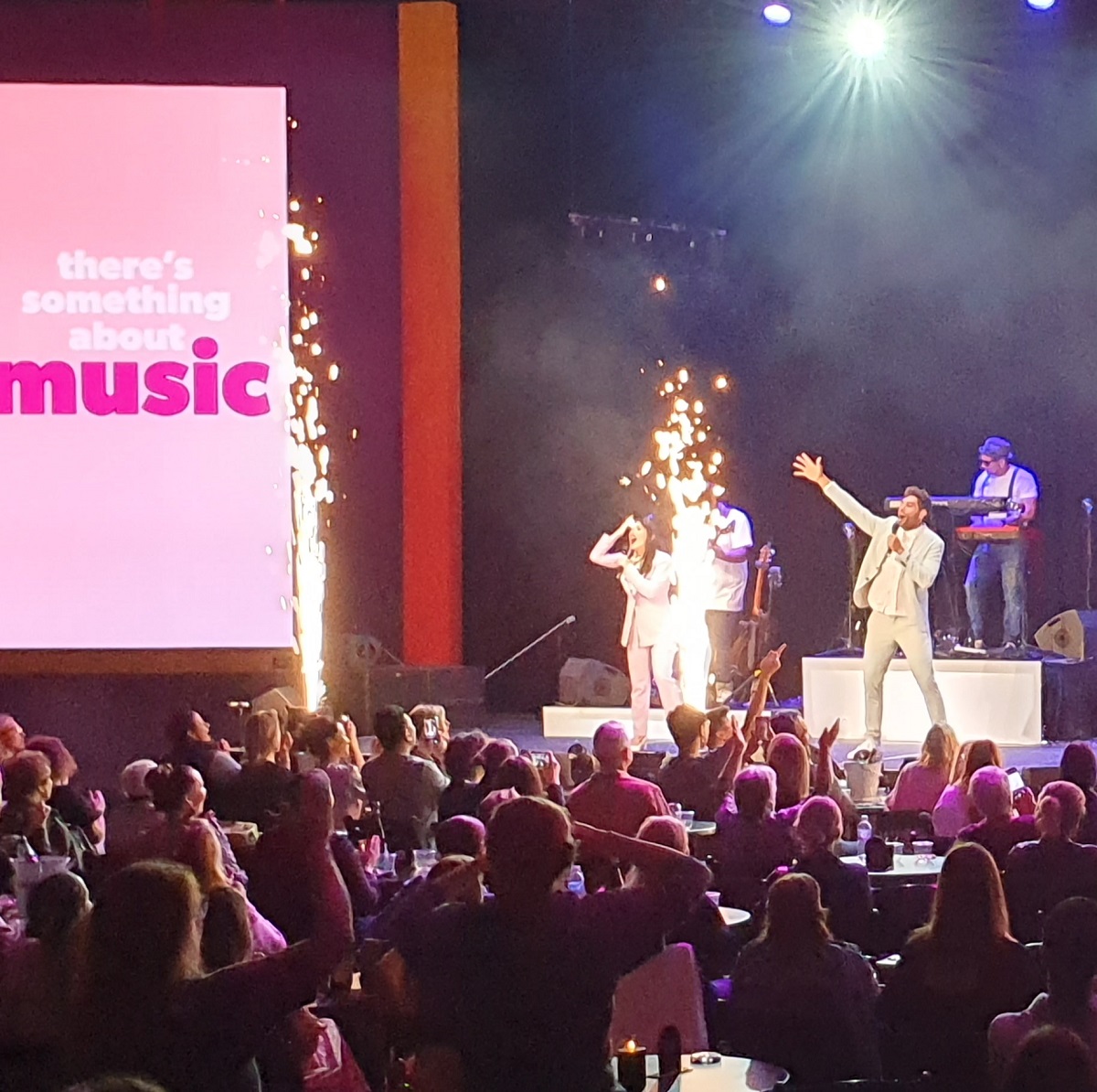 The Party
After the 6.30pm show finishes, the crew has a busy time preparing for the The Party which kicks off at 8.30pm in the South Bank Piazza. By the time we were let in on Thursday evening, with strict reminders not to take photos or videos through the show, everything was in place and ready to go. 
Whether you're late teens or in your fifties, sixties or seventies, there's something when you're part of The Party. This is an amazing show, incredibly fast paced, with incredibly very fit artists, naughty and very funny. Reminiscent of Laugh In from the 70s with lots of fast opening windows, there's even a toilet appearance. Great music, snippets pricking the memories of people from each generation. Remember Tiny Tim's 'Tiptoe through the tulips'?  Figaro got a run by in one naughty number. Likewise the old song 'Fascination'. There's one guy showing off his skills pole dancing, he's fantastic, but you have a couple of surprises after the 20 min intermission! This show is truly 'Everything Everywhere, all at once'.  Brilliant. 
If you sit at the cabaret tables close to the stage, be prepared to be part of the show.  The performers mingled with the audience before they started on the stage and presumably identified the good sports then. Nothing too naughty there though, although the show did become rather raunchy towards the end, this was hilarious and all performed by accomplished artists and athletes. If you're up to some cheeky fun and incredible athletics, this is a must see event and it's on until 23rd September.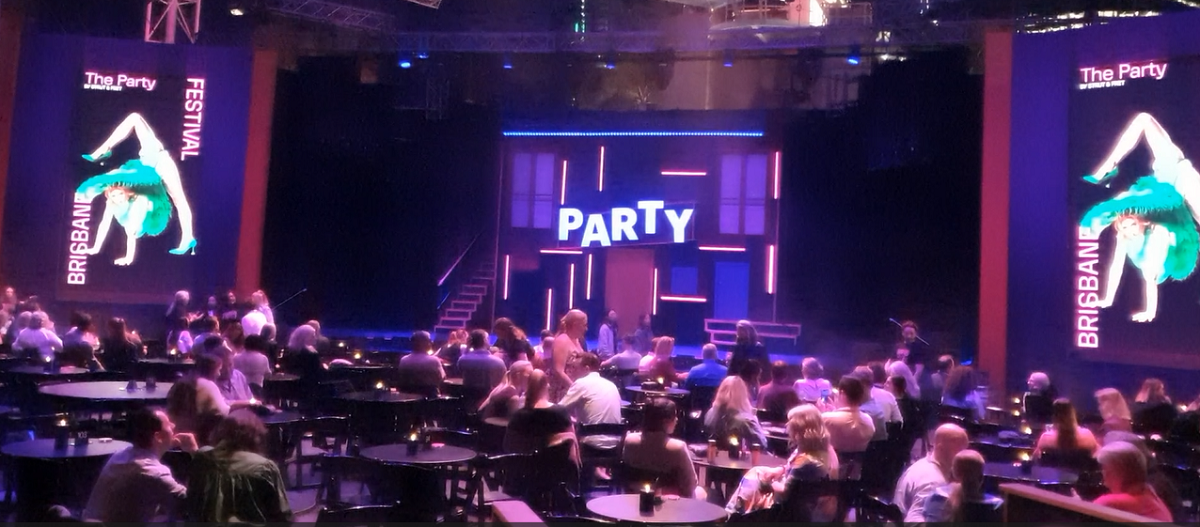 If you're sitting at these tables during The Party, you may just find yourself part of the show! They were all full by the time the show started.
Free things to look for
Riverfire officially kicked off the Festival again in 2023, with an early flypast just before dark. This year we weren't able to enjoy the helicopters, which stayed home as a mark of respect to those lost in recent helicopter incidents. This was followed by a fireworks display
Check out the Festival Garden before and/or after performances at Piazza or just drop by for a drink at the verandah bar, or relax on the garden furniture enjoying the view. Watch for the cheeky bubble makers or be a kid again an catch a few. You can't take them home!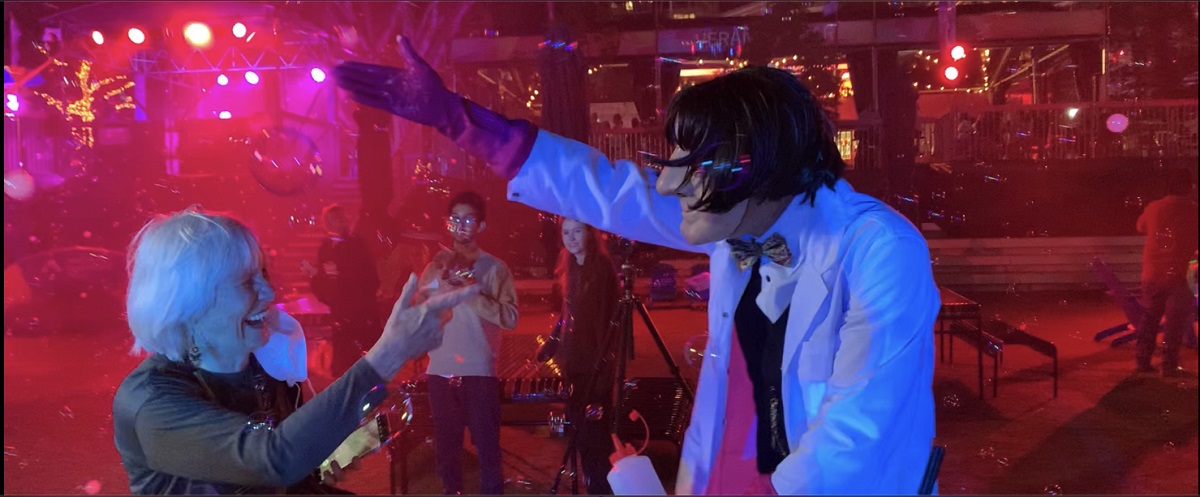 Hiromi Hotel: YU KA 夢花   (Visual Art Installation) 1st-23rd Sept
You can also find Hiromi Tango's beautiful peony flowers (Yu Ka – Dream Flower) installation at the eastern end of the Verandah Bar in the Festival Garden during the Brisbane Festival. Enjoy their changing colours, exploring the ideas of transformation and take lots of photos. Post your best to Instagram and tag @imbatuq @hiromitango @brisbanefestival and one friend to win a restaurant voucher and a lab tour at UQ's Institute of Molecular Bioscience.
Festival Garden is located in the middle of South Bank, directly in front of The Piazza. Check it out during the Festival, Tue-Thu: 5-11pm, Fri: 4pm-midnight, Sat: 12pm-midnight, Sun: 12-11pm. Here's some info on how to find your way there, it's definitely worth it!
Lord Mayor's City Hall Concerts
There are three of these great free concerts every Tuesday between 12pm and 1pm during the Festival. We went along to 'ConFusion' the first one on Tuesday 5th September and were blown away by the performance by young and enthusiastic musicians. A mix of jazz-rock and fusion genres, we were sitting on the edge of our seats and this writer for one applauds the group and their guide, who was filming them from above, for converting a previous non jazz lover.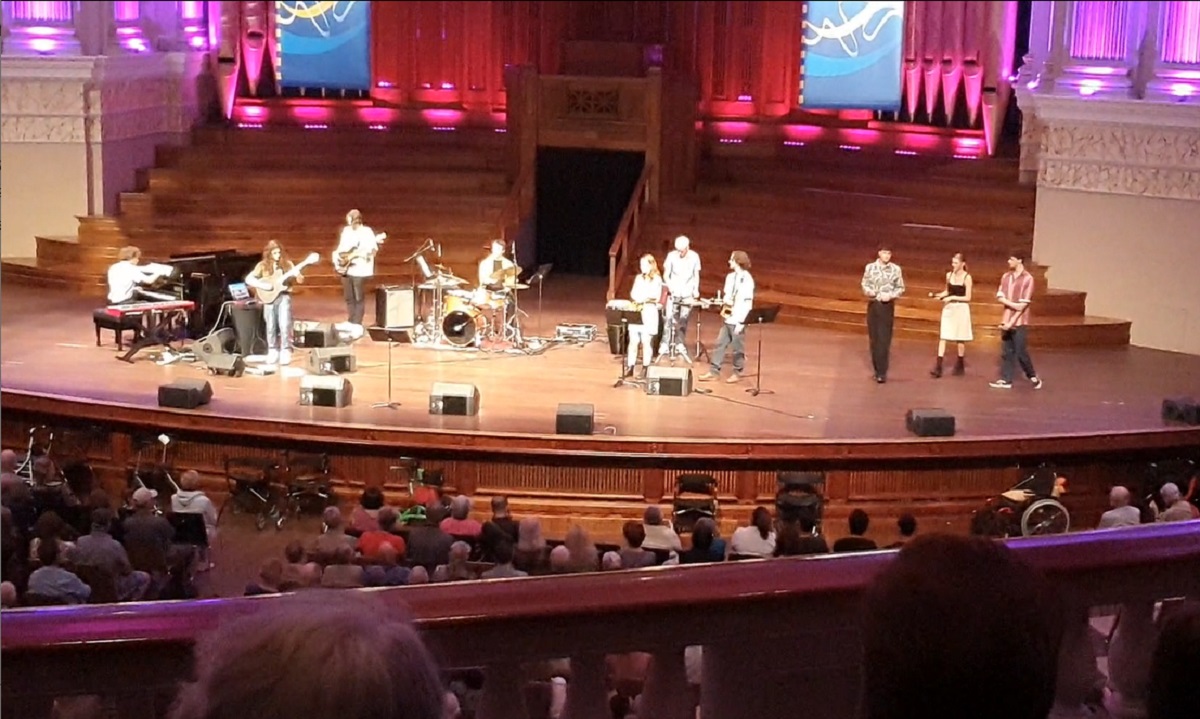 Coming up:
These wonderful free events are on in various parks around Brisbane each weekend of the Festival. We're hoping to be able to catch 'CAMERATA WITH NINA KORBE' in New Farm Park (1042 Brunswick St, New Farm) on Sunday afternoon 2:00 PM – 2:40 PM
And hopefully we can squeeze in a wander along King St Bowen Hills any afternoon 4pm – 10pm, this September, for their ongoing Esc. With Us.  On until 22nd, you should also pencil in Saturday 16th, between 5pm – 9pm for their 80s Street Party.
Here's a short summary of some of the great events, both free and ticketed, on offer during the festival. You can see a longer version of the video here.
images and video©ET  EconomyTraveller attended the ticketed events courtesy of the Brisbane Festival.